As Tulsans start to think about the holiday season — with its outgoing trips or incoming family — plans are likely to include Tulsa International Airport (TUL).
More than 3 million passengers travel through TUL each year. Beyond ticket counters, baggage claims and security lines exists a micro-universe of administrators, vendors, concessioners and staff. This village includes 13,000 employees on airport property, including approximately 1,300 in the terminal, 148 paid Tulsa Airports Improvement Trust personnel and 170 volunteers. The remaining employees work at tenant facilities on airport property, including American Airlines, Spirit AeroSystems, Bizjet and Omni Air International.
Three employees who are new to their positions this year are particularly dedicated to making travel more affordable, convenient and enjoyable, and they're already making changes.
People. Planes. Property.
When Alexis Higgins was named CEO earlier this year, she became part of the 4% of U.S. airport CEOs who are women, according to Statista, a global business data company. But that number is growing.
When Higgins entered the airline industry 20 years ago, most CEOs came from engineering or operations backgrounds — then, decidedly male territory. Today, more CEOs arrive at airport management positions with business or marketing experience. "It's all about relationship building," she says.
A marketing degree from the University of Tulsa was her ticket to join the airport's marketing department, where she eventually became the director.
Higgins found a strong mentor, overcame her fear of public speaking and addressed every aspect of airport management. When she didn't get the CEO position on her first try, "it was kind of a gut check," she says. She studied her boss' leadership style, focused intensely on her work, and it paid off. She went from COO to interim CEO to CEO.
The learning process never stopped. Higgins expanded her knowledge and sharpened her expertise. She is now certified by the American Association of Airport Executives. "It's like the CPA of the financial world," she explains.
"There's a saying in the airline industry that if you've seen one airport, you've seen one airport," she says. Her vision is to concentrate on three Ps: people, planes and property.
Airports are funded 100% by user fees. No tax dollars. That's worth repeating: No tax dollars. Every ticket purchased at TUL includes a $4.50 passenger charge, which is collected by the airlines and remitted monthly to the Tulsa Airports Improvement Trust, aka the Tulsa Airport Authority, a City of Tulsa authority with a board of trustees. Passengers also pay a fee that goes to the Federal Aviation Trust Fund for the FAA to redistribute.
Tulsa International Airport receives approximately $4 million annually from the FAA in entitlement funds for infrastructure projects like pavement and snow equipment. Airport operating revenues are funded from fees paid by airlines, fees paid by tenants and revenues collected from on-site parking, restaurants, shops and advertising. The next TUL project is the resurfacing of the west runway. After that, fire equipment. "Fire trucks are replaced every 15 years. We have two functional at all times," Higgins says. Each truck costs approximately $880,000.
Tulsans might be surprised to know the R.L. Jones Jr. airport in Jenks also is part of TAIT. RVS, as it is known in the industry (short for Riverside), is the busiest airport in the state and the 26th busiest for general aviation in the U.S. Rankings are based on operations: takeoffs, landings and flyovers. RVS records 200,000 operations each year.
That impressive number comes from being a training hub. Tulsa Community College runs a flight training program there, as well as an air traffic controller flight program. Tulsa Tech focuses on airplane maintenance and repair. Spartan College of Aeronautics and Technology attracts international students for its flight instruction and aviation technology programs. "They come from all over the world to train there," Higgins says. "We have the equipment and materials they need to do the job." Six flight schools are based at RVS, offering training for beginning to advanced certifications.
Because Higgins sees current employees as tomorrow's leaders, TAIT increased its educational tuition reimbursement to $5,200 a year per employee. The goal is to encourage employees to pursue educational degrees and certifications that support their progression within the organization and help build a pipeline of talent for the next line of airport leaders. "Many of the jobs here require a bachelor's degree," she says.
Everything the airport employees do every day affects customers. To stress that point to her staff, Higgins created the Customer Experience Division in April.
The airport has data on how many passengers drive to Dallas, Oklahoma City, Kansas City or Northwest Arkansas to catch a flight. The technical term is leakage. What keeps Tulsans in Tulsa for flights are cheaper fares, more nonstops, more airlines, more flights, more options.
Feedback from the airport's summer 2019 passenger survey shows 90.4% positive experiences at TUL. The Division constantly monitors social media, as well as reviews on Yelp, Facebook and Google. Social media "allows us to engage with the customer, even if it's negative," she says.
Higgins' plan is to overdeliver on customer expectations. "I feel an extra sense of responsibility," she says. "The airport is the gateway to our city."
Leases. Leases. Leases.
Several months ago, TUL named its first director of real estate. "The position is new, and I'm new to it," says Jonathan Gobbo.
The stats are simple. The airport sits on 4,929 acres; Gobbo has 300 leases to maintain and 547 acres ready to develop.
"Everything that sits on the airport (property) has a lease," he explains. "The airport owns the land; companies own buildings. My main focus is non-airline revenue. The more money the airport makes, the less it can charge airlines, resulting in an improved economic case for expanded airline service."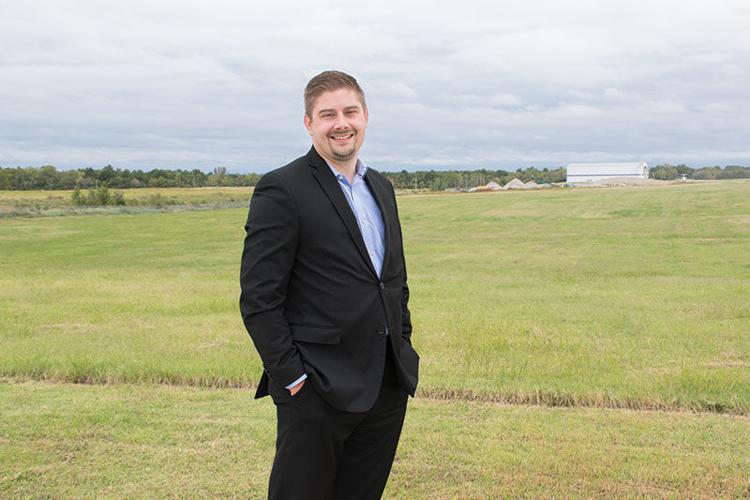 Potential clients vary from cargo, maintenance or assembling to corporate aviation and can include vendors or suppliers to existing tenants. B-to-B, in the vernacular.
"I know real estate," Gobbo says, referring to his nine-year commercial career, "but FAA guidelines and regulations come with a steep learning curve." Coming from outside the airport world, he brought new ideas. "Sometimes those were shot down, but I keep throwing out new ones," he jokes.
A portion of the land available for development was purchased in the 1980s for a third north/south runway. Since then, needs have changed, and that runway is no longer needed. Gobbo's strategy is to knock on doors instead of waiting for companies to call him. "I credit Alexis with bringing someone in to be proactive," he says.
The R.L. Jones Jr. airport in Jenks, which also is in his jurisdiction, is at capacity. And beyond. "Basically, we have a waiting list," he explains. The airport services a mix of private and corporate planes, including charters. "People like being 10 to 15 minutes away from their private planes," Gobbo says.
The American/Delta terminal Airline Use and Lease Agreement was his first big deal to sign, although negotiations had been going on for two years. Gobbo's first "baby" will be Andolini's Tulsa Flag Mart, featuring sandwiches and Tulsa-themed merchandise, maybe even pizza, opening hopefully by year's end.
Years from now, he looks forward to saying, "'I leased all 700 acres.' I like that challenge."
Feedback. Feedback. Feedback.
If the airport grounds are green, restrooms are clean, surroundings are bright and comfortable, and food and souvenir options are plentiful, travelers can thank Bryan Crook. "I'm the largest voice for our customer within the organization," says the new director of customer experience.
Since 1989, he has been a fixture in the maintenance department, including 22 years as locksmith (the facility has 3,000 doors). His job now is to focus on the people aspect of the people/planes/property mantra.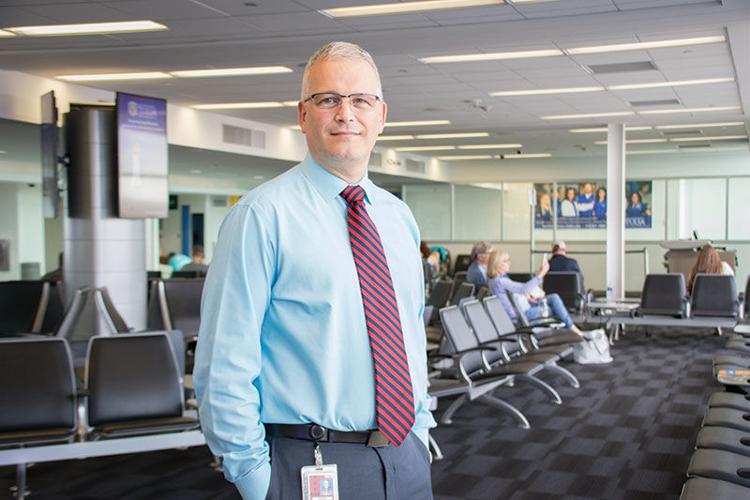 Much of his direction comes from feedback. Passenger, pilot and tenant surveys. Social media, website and comment cards. When customers wanted more food options on the non-secure side, TUL was added to the Grab app, where visitors can order and pay online and have their food delivered just outside the security checkpoint.
Recent updates include skylights, business centers, furniture with charging stations and water bottle-filling stations.
Coming soon are improved restrooms with large doors that swing out, trough sinks to eliminate standing water, and soap dispensers that don't drip onto floors. Moms and babies will appreciate the privacy of lactation lounges.
One big hit with passengers and employees is Crook's dog therapy program, Welcome Waggin'.Volunteers walk therapy dogs through secure and non-secure areas in the terminal. "They're there to hug and love on," he explains.
The pups provide comfort to stressed travelers (and employees) who miss their own dogs. They're also social media photo magnets. Southwest Airlines even announces the dog visits so everyone knows where to pet the pooches.
Crook also oversees the 161-member volunteer/ambassador program. Three have been with the program since its inception 24 years ago, answering questions and directing passengers. "They're a huge asset to us and to the traveling public," he says.