Fifteen years ago, Cufe, a young Seminole/Muscogee man, left his hometown of Holdenville, Oklahoma, after his father's death by suicide. He traveled to Tulsa, where he found a new start.  
Six years ago, a Muscogee man named Mekko was released from prison and came to Tulsa, where he spent most of his time on the streets in the Kendall Whittier District, often posted up just outside Circle Cinema.
Their stories are intimate, known by few. 
Then in fall 2021, four teenagers growing up in a small community on the Muscogee Nation Reservation just south of Tulsa captured America's attention. 
The dark comedic adventures of the "Reservation Dogs" have audiences laughing across the country as the show knocks down Hollywood barriers while garnering critical acclaim and awards, and in the process catapulting co-creator Sterlin Harjo to the next level of fame.  
The 42-year-old Seminole/Muscogee filmmaker has grinded out a career focusing on local stories about Native families and communities. He's realistically depicted Native life in Tulsa and Oklahoma through his films and documentaries and proved you don't have to go to Hollywood to find success in the movie and television industries. You can do it at home with your friends. 
Harjo's work is changing the Hollywood playbook regarding how Native Americans are presented in film and TV. His show is the first to have an all-Indigenous writer's room. He has debunked the longstanding Tinseltown myth that there is no interest in authentic Native stories being told. It also was the first scripted network television series to film the entirety of its season in Oklahoma. 
For these reasons Harjo is our Tulsan of the Year.  
"That's the ultimate praise," Harjo says. "If you can make people at home proud, then you really did something good. I didn't leave here. I've only tried my best to bring the work here. We've brought a lot of money into town. It just feels really good to be recognized. I'm very proud to be Tulsan of the Year. It's awesome."
Harjo is still trying to grasp the changes that have come with finding success by Hollywood standards. In the fall he presented at the Emmys and has given award acceptance speeches in New York City and Hawaii. He's sat on panels in Los Angeles with comedian and actor Marc Maron and appeared on his popular podcast. His sunglassed smiling face constantly appears in Hollywood trade publications with the announcement of a new project in development.
A Tulsa Talks podcast conversation with the filmmaker from November 2020. 
As Harjo recently walked through a Los Angeles airport, a stranger recognized the filmmaker. That was a first.
When he's at home in Tulsa, which is rare the past few months, he can no longer frequent his favorite coffee shop, bar or go anywhere in town without a stranger approaching him expecting him to be something bigger than he is, he says. 
"In some ways it bowls you over like a giant bowling ball or drowns you like a giant wave," Harjo says. "Then in other ways, it'll probably hit me five years from now, but I definitely feel it, and I definitely wasn't ready for it. It's been a whirlwind. It's kind of hard to process and really hard to reflect on because I'm still going through it." 
On Aug. 2, Harjo, along with many of the cast and crew, celebrated the Tulsa premiere of "Reservation Dogs" at Circle Cinema. Within days they repeated the process in LA. Then the FX show premiered Aug. 9 on Hulu and became an overnight success.  
Harjo's life changed in an instant after years of hard work. There was a quick announcement that the second season is official. There was the Sept. 19 red carpet walk into the Emmys and standing on stage with the cast to present an award. There were post-show selfies with Oscar winner Barry Jenkins and comedians Cedric the Entertainer and Conan O'Brien. There was his first NBA game sitting courtside in Oklahoma City and in-game recognition on the Jumbotron.
His social media accounts exploded with people following and tagging him as they shared their love for the show and his previous works. 
Industry executives were finally interested in Harjo's stories and ideas. There were meetings followed by announcements of more projects in development, including a Netflix project with basketball star LeBron James.
So when did it all sink in that his life has changed?  
"I saw a young Native girl online dressed up as ('Rez Dogs') actress Paulina Alexis at the Emmys," Harjo says. "She wasn't even dressed up as the character (Willie Jack) but dressed as the actress when she was at the Emmys. That blew me away because we all know how Halloween is tricky for Native people when you get all the people dressed up in fake buckskin and stuff. Not only did we see characters, but to see a young girl dressed as one of the actors from the show when they were at the Emmys — that really blew me away and made me very proud." 
Bringing Native stories to life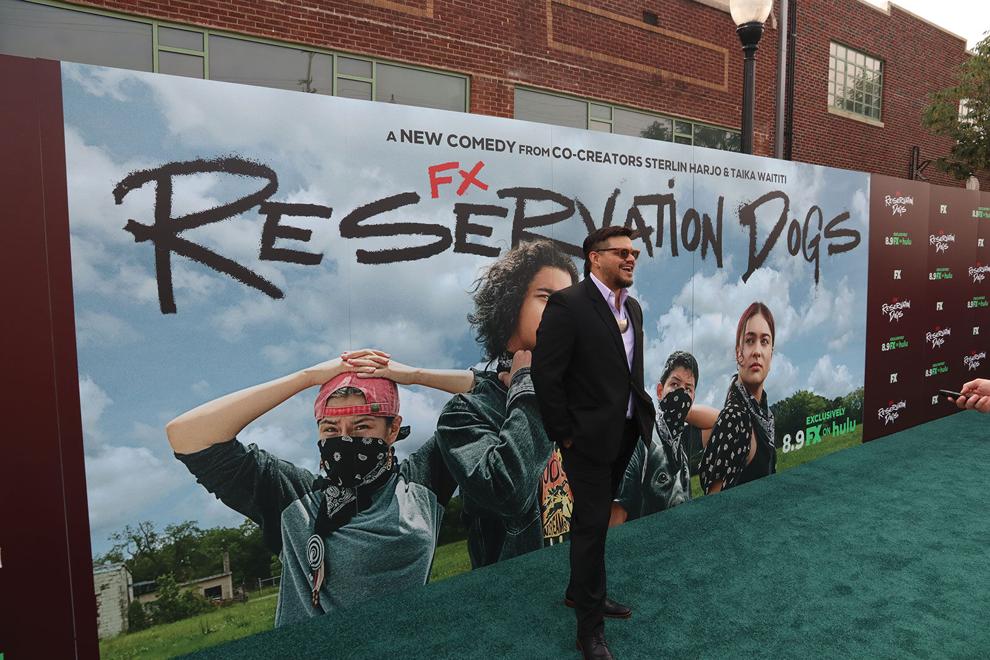 Harjo grew up in Holdenville, which had a population just under 5,000 when he graduated in 1998 and left for the University of Oklahoma to learn how to become a painter.
He had a little too much fun and found himself on academic probation. He quit for a bit, tried writing a script on his own, then returned and enrolled in an Intro to Film and Video Studies class taught by Misha Nedeljkovich that solidified his new career path. 
Harjo grew up in a family of artists and storytellers. He enjoyed listening to the adults talk about past adventures as they sat around the table holding cups of coffee. They were simple, often funny, stories of life as Native folks in rural Oklahoma.
He also loved watching movies. There was "The Outsiders," "Rumble Fish," "Stand By Me," "The Goonies" and whatever else he could watch on HBO after it was hooked it up illegally by a family friend. He and his dad, Brownie Harjo, would watch war movies like "Big Red One," "Hamburger Hill" and "Platoon." They'd also watch movies featuring outdated and stereotypical depictions of Native Americans full of errors because that's all there was. When his dad brought home a copy of Michael Jackson's short film for "Thriller" it was the first time Harjo had seen a making-of feature, which revealed the magic happening behind the scenes.
Harjo's work in film school caught the attention of Sundance Labs, which had previously helped launch the careers of Paul Thomas Anderson, Quentin Tarantino, Wes Anderson and other Hollywood heavyweights. In 2004 he received a fellowship from the Sundance Institute, and the next year he premiered his short film "Goodnight, Irene" at Sundance Film Festival. 
Next Harjo made his first feature, "Four Sheets to the Wind," in Holdenville and his new home of Tulsa, then took the movie to Sundance in 2007, where it was nominated for a grand jury prize. He had found his voice and style, and he was making friends with other creatives that would change everyone's lives after years of grinding out more movies and documentaries on micro budgets.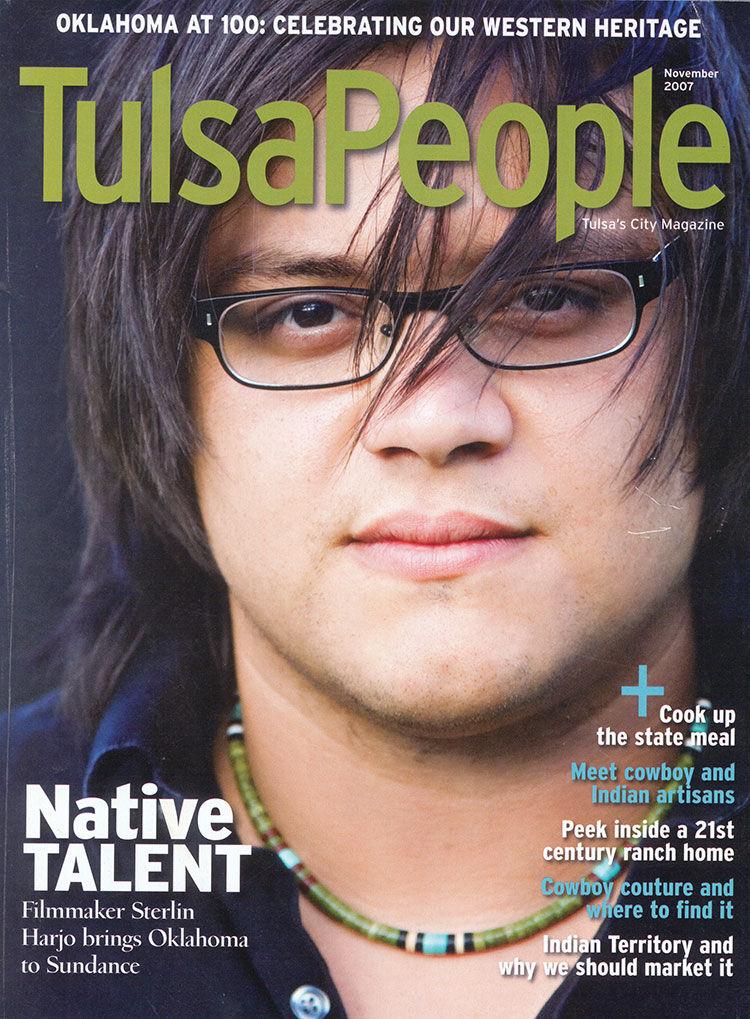 Shane Brown met Harjo at the Cherokee International Film Festival in 2005. They reunited years later at This Land Press, where Brown served as a photographer and Harjo made documentary shorts. In 2013, Harjo asked Brown to be cinematographer for his documentary "This May Be the Last Time." In it, Harjo investigates the 1962 disappearance of his grandfather and examines the songs of encouragement sung by the friends and family who searched for him. 
That was followed in 2015 with Brown back behind the camera taking Harjo's direction to film "Mekko." Brown says not only did he have a good chemistry working with his friend, but he, too, believed in the subject matter.  
"At some point my career just became heavily involved with environmental and Indigenous issues, and I have Ryan Redcorn and Sterlin to thank for that," says Brown, a Cherokee Nation citizen from Skiatook. "Those are stories I want to tell that are a part of American history and also just telling these stories in a different way." 
While nearly all of Harjo's work has been done in Oklahoma, his documentary "Love and Fury" sent Harjo, Brown and other Tulsa-based crew across the country and into Europe as they followed Native musical and visual artists.  
It premiered at the 2020 Hot Docs Canadian International Documentary Festival and filmmaker Ava DuVernay's ARRAY bought the distribution rights, then released it on Netflix in December 2021, making it Harjo's biggest film launch to date.   
'Skoden'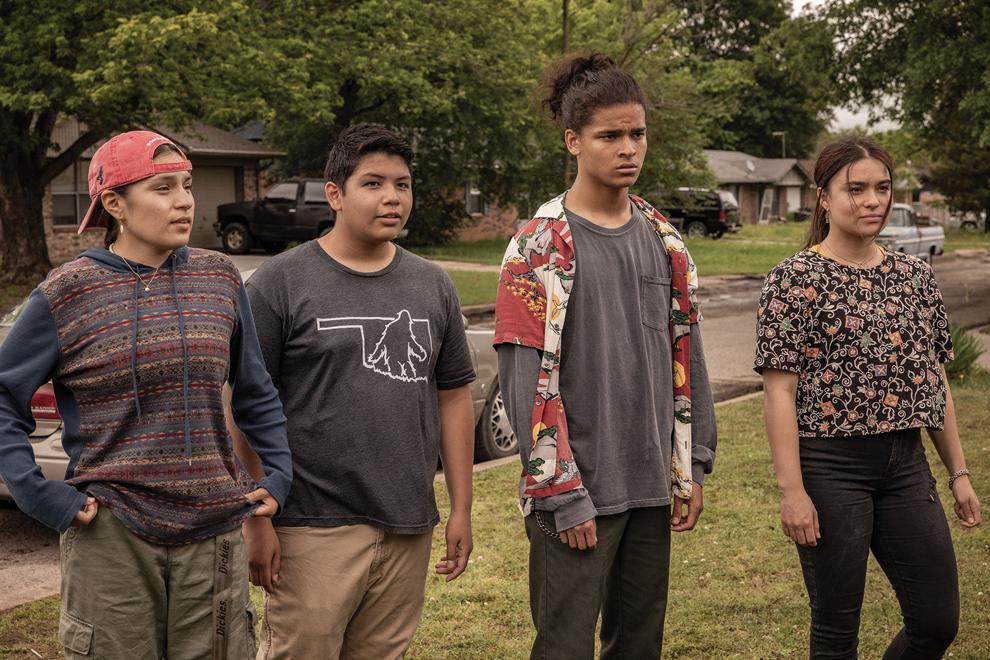 While at Sundance in 2004, Harjo met New Zealand filmmaker Taika Waititi and they hit it off. Over the years they traveled together, hung out and often talked about their childhood adventures. Waititi would talk about his Maori heritage. Sterlin would share stories of his tribal upbringing in small-town Oklahoma. They realized they were on to something.
"We just hooked up through that and became friends over the years, and I think our friendship really developed just based on the fact that we came from completely different places on the other side of the world, separated by 200,000 miles, but that our experiences growing up were pretty much exactly the same," Waititi told Entertainment Weekly in an August 2021 interview. "So all of our conversations always inevitably led to stories about where we're from, and we related to each other deeply over those stories and our backgrounds." 
It was February 2020. Waititi had just won an Academy Award for his adapted screenplay for "Jojo Rabbit." The gold statute laid on a bed between the Oscar winner and Harjo as they watched audition footage of teenagers vying for roles for their new show, "Reservation Dogs."  
FX had wanted to shoot the show in New Mexico, but Harjo pushed back for an Oklahoma set. He drove around small towns taking pictures of possible locations and emailed them to the executives with a message. 
"I said, 'When you're doing a Native story, the land you shoot it on is the most important part. A lot of people survived attempted genocide to get here, and that's who these characters are representing, so if we're doing it in New Mexico, I need to change the story,'" Harjo says. "To their credit, they said, 'Yeah, let's do it.' Then the next question was crew, and I was like, 'There are so many talented people here.' We filled it with local crew, and it was a great experience."
Abby Kurin, executive director of the Tulsa Office of Film, Music, Art and Culture, says they were thrilled when Harjo sold FX on making it at home because it sent a message to other local filmmakers they can stay home to create high quality content.
"To have somebody who's so passionate about Oklahoma and Indigenous stories, and to bring those productions to the area is a huge opportunity," Kurin says. "He's really opening the doors for more opportunities for everyone. And bringing such a huge scope to stories of Oklahoma to a worldwide view. It's a huge impact." 
Longtime collaborator Dylan Brodie came on board as associate producer, and more local crew helped on set. Harjo's 1491s comedy troupe mates Dallas Goldtooth and Ryan Redcorn helped in the writer's room, and Goldtooth appeared as Spirit, one of the show's most popular characters.  
"This project felt different and special," says Brown, who served as set photographer. "I know there are probably a dozen, maybe two dozen or more people who would agree with me. It's just there were so many friends that had worked together on other projects who came together to make the show. That's the thing, Sterlin didn't forget when Hollywood offered him an opportunity. He brought everybody else up with him."
When it came to casting the teens, they hired D'Pharaoh Woon-A-Tai as the lead, Bear Smallhill. He was joined by Devery Jacobs as Elora Danan Postoak, Paulina Alexis as Willie Jack and Lane Factor as Cheese, rounding out the gang that lives by the slogan, "Skoden" meaning "Let's go then."
They filmed eight episodes during spring and summer 2021, wrapping production in July. According to an Oklahoma Film and Music Office estimate, the production had an economic impact of over $10 million spent directly in-state with the creation of over 800 local career opportunities.
When it came time to celebrate the Tulsa premiere, Woon-A-Tai was glowing with excitement as he posed for photos and talked about his experience. 
"It's surreal to think this all started with two guys sitting in the backyard thinking about it, then they brought in all these talented people to make it happen," he says. "Sterlin is a creative genius. Watching all this unfold and how he's making cultural changes and how he's comfortable with that when a lot of directors aren't ... He's a once-in-a-lifetime kind of guy."  
Woon-A-Tai saw something critics agree with. The show has been praised for its authentic representation and depiction of Native youth. Hulu saw subscriptions increase in Oklahoma, New Mexico and Arizona and then up through the plains states, as well as in Alaska, which Harjo says "incentivizes Hulu to do more Native content, which is the ultimate goal." 
Entertainment Weekly named it the best show of the year. Rolling Stone, The New Yorker, American Film Institute, New York Times and many more have ranked "Reservation Dogs" among the best shows of 2021. It picked up the Gotham Award for breakthrough series in late November to kick off an awards season that could bring more trophies to Harjo's shelves.  
"The work Sterlin Harjo and his team have done in bringing an authentic storytelling of modern Indigenous American life to a global audience will have an influential impact for years to come," says Muscogee Nation Principal Chief David Hill, who announced the creation of the Sterlin Harjo Scholarship to go toward a career path in the film and television industries. "The impact on our Reservation, the city of Tulsa and the state of Oklahoma cannot be overstated. Representation matters, and for so long our people, and specifically our youth, have not been able to enjoy an accurate reflection of their daily lives on screen. The trail Sterlin has blazed will be followed by so many who know the fulfillment of their dreams is now possible." 
FX Networks' "Reservation Dogs" has a soundtrack loaded with music by Native musicians and artists with strong Oklahoma ties.
Harjo has a full slate. He has season 2 of "Rez Dogs" filming soon. He is co-developing "Rez Ball" for Netflix, adapting the book "Yellow Bird" for Paramount+, and then there's a new heist miniseries for FX. Harjo says there are even more projects he can't talk about.
After years of stressing about financing and getting projects made, the future is bright for Harjo and Native storytelling. It wouldn't be possible without the success of his "Reservation Dogs." 
"I'm really proud of what it did, and what it's doing. It feels like it really has changed something," says Harjo, who Hollywood Reporter named one of the most influential people in comedy. "We talk a lot about changing stuff, but it really does feel like something shifted with 'Reservation Dogs.' I'm very proud it has done what it's done and is so popular because it really did break through, and it has crossed over.
"It's something I knew could happen if given the opportunity to tell our stories the right way. It's something I've gambled on my whole career, and honestly felt like I failed at a lot throughout my career because I made independent films. It's easy to feel like there's no audience ... A lot of things lined up, and we did prove there's an audience for Native stories." 
Skoden, indeed.