After a successful seven-year run as the head coach at Louisiana Tech, where he compiled a record of 153-75, Eric Konkol was hired as the new head coach for the University of Tulsa men's basketball team on March 21. That heralded a sort of homecoming for Konkol, who spent one season at TU as a student assistant coach in 2000-01. 
While he is thrilled to be back, it won't be easy. The Golden Hurricane are coming off an 11-20 season and returning a lone senior on a roster that is half comprised of freshmen and sophomores. 
But with a new court design and an exciting blend of returning players like junior Sam Griffin, who averaged 14.6 points per game last season, and up-and-comers like local Webster High School grad Anthony Pritchard, Konkol believes the squad can lure back the fan support.
Besides feeling like he is back home, Konkol is surrounded by even more familiarity after bringing along assistant coaches Duffy Conroy (his old college teammate), Desmond Haymon and Yaphett King who worked with him at Louisiana Tech. 
What is your mindset heading into the new season?
We've inherited and recruited a good number of players; this is new for them. Our staff has a lot of familiarity with one another, so that's a great thing. We're just trying to build the core values of our program, and hold our guys accountable to that every day, and then we're just trying to get a little better every day — stronger, faster, more skilled, the mental aspect.
(Pro Football Hall of Fame coach) Bill Walsh wrote a great book, saying, 'the score takes care of itself,' and that's how we want to be focused, just be very process-oriented and the performance in the games will take care of itself, if we just work every day to get a little bit better.
Last year's team had a disappointing 11-20 record and issues with attendance. What's the key to turning that around?
First, we want to be able to keep improving our team, improve the players in our program. We've got a number of guys that were on last year's team, they're very hungry to improve. I think the work ethic that we've had has been tremendous. Now we've got to keep working on the execution, and how to play well together, and with the influx of some of the new guys that we've got into the program and build that type of chemistry. We've got a great focus on the people in our program. 
And second, we've got a great focus on the people in this community. We want to make them aware of us. I tell our team, I tell our staff, all the time, "We have to give people a reason to come to the game." When you're a relative, it's naturally a reason. But if you're not related, we've got to make them feel like they're related to us.
And third, invest in the atmosphere. We've got a brand-new court design, we're doing a lot of new things to increase the fan experience, to make this a place that's fun. And then, as they come and enjoy and be entertained, we want them to see a team that's the hardest playing, most connected team in the country. That's our hope.  
What key players on your team are you excited to see play, how they blend together, newcomers or holdovers?
We've got a number of guys competing to become the best version of themselves, that's what we're focused on. But some of the guys with experience — of course Sam Griffin's a double-figure scorer from last year and he's had a really good summer and is growing into more of a leadership role. Very excited about Anthony Pritchard from Webster High School, a hard-playing, tough worker. He's everything you want in a guy that's a young player with a chance to keep growing, so I'm very excited about him.
And then we've got a number of other guys that are really trying to find their way. Both Sam and AP had some experience last year, whereas a number of other guys had spotty minutes or are brand new to the program, so we've got a lot of new faces. We've got a very challenging schedule to start the year and we're going to find out a lot about ourselves very early, but I will say, we've got a hard-working group of guys. When you start with that, you can get some stuff done.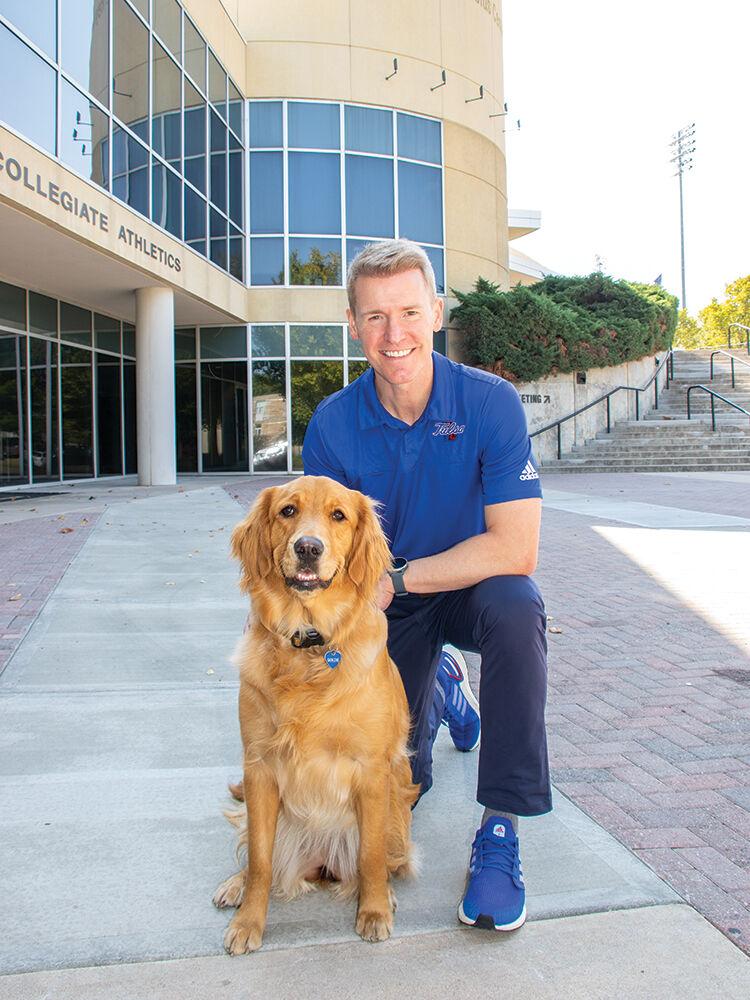 Your wife, Meagan, and sons, Ethan and Ryan, joined you for your introductory press conference. How does that reflect your goals for the program?
I had been here for a year in a graduate assistant role and had seen Tulsa really wrap its arms around the program, and what a family-oriented place this is. I've got some dear friends that have lived here almost their entire lives and they're raising their children here and they just talk about what a wonderful place it is to raise a family.
This is the University of Tulsa, and we represent not just the student body now, our alums all over the place, but this city. So we want to create an environment that's fun for kids. We did that with our summer camps, and we did that with that initial press conference, to really be inclusive and bring as many people in as possible, to do it with a high-energy vibe, and that's what we want to have all the time.
With the kind of success you enjoyed at Louisiana Tech, why leave?
Without a doubt, I will forever be grateful to the people at Louisiana Tech. They were the first to take a shot on me for my first head coaching job. It was a very, very special seven years there.
On a personal level, we loved the place, but we also felt like this was an opportunity that was just the right place for us to be now, on a number of levels. Not just the past and having some type of history here, although I will say that was a big part of it.
I love this place. I still have Tulsa things that I've kept on all the different moves over the years. But still, as a basketball coach, you only leave a situation like Louisiana Tech if you feel like you've got a real opportunity to do something special here.  And really peeling back a number of different layers and looking at this, I think there's great opportunity and I'm very excited to be here. 
What are the challenges of recruiting players to Tulsa as one of the smallest Division I schools and not a Power 5 Conference member? What is your pitch to players?
I think this is always going to be about fit. I think the University of Tulsa is absolutely the right place for someone who wants a great combination of high-level basketball and also a world-class degree and do it in a way where they are less hidden.
There are some universities where you can go sit in the back of a 500-seat auditorium and basically fall asleep and no one is going to care, and that's if you're a student or a student-athlete.
Here, the president of the university, the athletic director, coaching staff, your professors, everybody on campus — they're going to know who you are. So if you're looking for a family environment, where people really care and not just look at you as a number or just that you can put the ball in the basket, TU is an incredible place for that, on top of being in a community with a million people.
If you come to the University of Tulsa to play basketball, it's a big deal here in a big city, so that's a pretty cool thing.
Tell me about that year you were here as a student assistant. What was that experience like and how did that make this an easier move for you to come back?
It was an incredible opportunity for me to come here the first time around. It changed my life. I absolutely loved working here on campus, the people were just incredible, some are still here. The fan base, the community, was just a wonderful place to be. So when they called and asked if I'd be interested in the head coaching job, immediately I was interested, just from my feelings about this place, and how this was really where it started for me. And without this place, I really have no idea what I'd be doing now. 
When did you first get into basketball and what did it mean to your life?
It's been a huge part of my life for a long time. I grew up in a very small town — Amherst Junction, Wisconsin. In 1995, when I graduated high school, (the population) was 791 people. But that's where my parents grew up, where my parents went to high school. Both sets of grandparents grew up in that area. My parents grew up on dairy farms. I had some summer jobs on family farms, helping out uncles, things like that, but it wasn't an everyday part of your life, so we were given opportunities, and basketball was the thing that I was attracted to most. 
I'm the oldest of three. My younger brother is the dean of Hendrix Chapel at Syracuse University. My sister is also in higher education at Arizona State.  My dad, I just remember him introducing us to sports at a very young age. I know some of it was he just wanted us to have opportunities that he just didn't have. I had some summer jobs on family farms, helping out uncles, things like that, but it wasn't an everyday part of your life, so we were given opportunities, and basketball was the thing that I was attracted to most.
I had some cousins who were also playing who were a little bit older than me, and I just liked it immediately. I played some baseball in high school and growing up, ran cross country — small school, you play multiple sports, but basketball was my thing. I ended up getting to play early in my high school career, along with my younger brother, and I had a good high school career, ended up as our school's all-time leading scorer, and then got a chance to play Division III basketball. I wasn't quite good enough to be a D2 scholarship. Wisconsin is a little bit different, there's only one D2 (college) and four D1s and then a very strong Division III state league, that I grew up a huge fan of.  
So you were a fan of the local smaller college scene in Wisconsin. Were you also an NBA fan? Who were your favorite players?
Division III Wisconsin-Stevens Point was the team I followed most growing up. They were 15 minutes away, I went to I don't know how many straight years of summer basketball camp there, but Terry Porter was the player who graduated from there that went on to play for the Portland Trail Blazers, so that was my favorite player.
I was a Milwaukee Bucks fan, so back when they played at the old MECCA, this was about two-and-a-half hours from my hometown, but we would try to figure out when Portland was coming to play the Bucks, and if it worked out, then try to go there and watch the Bucks and Terry Porter play. And then of course, I loved Michael Jordan like everybody else, too.  
---
About Coach Konkol
Starting in a small town in Wisconsin, Konkol's basketball odyssey has taken many turns before winding up back in Tulsa. His journey after completing his Division III basketball career at Wisconsin-Eau Claire began with him working various basketball camps around the country with his college teammate Duffy Conroy, which led to him getting hired by Duffy's brother Ed as a graduate assistant at a Division II college in Florence, South Carolina. That turned into the opportunity to come to Tulsa the first time when Ed was hired as an assistant in 2000 by former Tulsa coach Buzz Peterson.  
Konkol then had stints working on the coaching staff at Tennessee (following Peterson there), George Mason University, Hopkins High School in Minnesota, back to George Mason, then Miami before landing the head coaching job at Louisiana Tech in 2015. After leading the Bulldogs to a third-place finish in the NIT tournament in 2020 and going 24-10 last season, Konkol was offered the Tulsa job nine days after Frank Haith resigned.