The headlines can be depressing. We live in a complicated world where bad news often seems to outweigh the good. It can be overwhelming and even paralyzing for individuals hoping to effect positive change.
It's hard to know where to start and harder to believe one person's efforts can make a difference. But there is reason for hope right here in Tulsa, where numerous individuals are doing just that — making a difference in many ways, both big and small. We're inspired by their stories, and we hope you are, too.
Sustainability and community in north Tulsa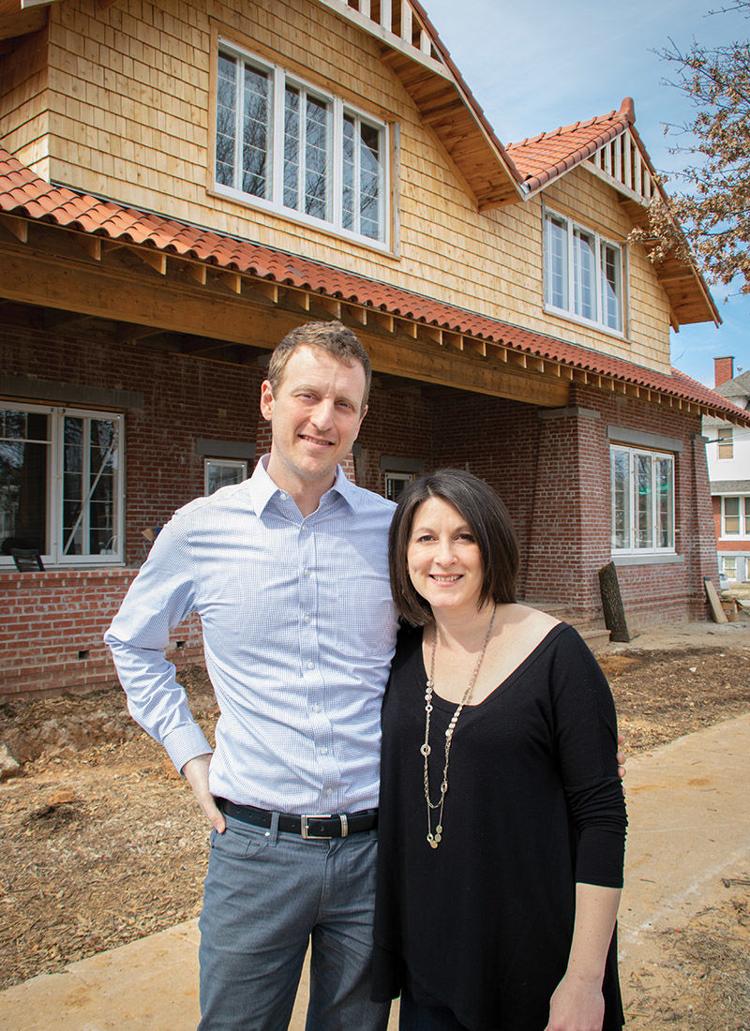 Nestled in the Heights like an old friend, the Joinery blends in beautifully in this north Tulsa neighborhood.
With its red brick exterior, and warm wood features, the two-story, 3,180-square-foot structure at 640 N. Denver Ave. looks as though it has always been a part of this century-old historic district. Take a closer look, however, and you'll see state-of-the-art sustainability.
The Joinery is the first building in Oklahoma to seek the Living Building Challenge certification from the International Living Future Institute. Though that might sound more like science fiction than residential construction, what it boils down to is creating a space that is not only self-sufficient, but that actually gives back more than it takes.
This "regenerative" building is the dream of Tulsa resident Nathan Pickard and his wife, Kristin. Longtime inhabitants of the Heights, the couple is no stranger to sustainable living. They established a community garden shortly after moving in, teaching cooking classes out of their own kitchen to neighboring kids, many of whom had little familiarity with fresh vegetables, much less knowledge of how to prepare them.
The Pickards also are the driving force behind the Tisdale Food Forest, a planting of nut, fruit and evergreen trees along a nearby section of highway that serves as a source of nourishment, protection against pollution and run off, and a sound barrier for the neighborhood. They are stealth eco-warriors, quietly and steadily creating positive change in their community.
Nathan Pickard discovered his passion for "New Urbanism" — city planning focused on human-scale design — while working as a city auditor. That quickly expanded to encompass concepts of urban agriculture and permaculture, all of which come into play with the Joinery.
"The whole purpose of it is to actually build something that's better for the environment than if it weren't built," Nathan explains. "There are 20 imperatives you have to meet (for certification) — things like beauty, caring for the community, justice. You have to have an urban farm onsite, and the building itself has to provide 105% of its own energy and treat and collect its own water."
The project, which is primarily funded out of the Pickards' pockets, is being designed by Molly Jones, an adviser to NASA on sustainability and president of Jones Design Studio in Tulsa. Neighbor and architect Katelyn Parker also contributed her time and expertise. Pickard and a few neighbors work on it during their free time using almost all reclaimed materials.
The single-family residence will have the Pickards occupying the second story and Nathan's company — 9b, a public benefit corporation — taking the first, which also will be open to entertaining, skill sharing seminars and community get-togethers.
"We designed it to where we can live upstairs on a regular basis as a family and have the downstairs used more as a public house for the neighborhood," Pickard says. "This public house can have people hanging out while they are working on laptops, do yoga in the mornings, learn how to cook with our open kitchen and enjoy a lot of community dinners. It will also have a hand tool wood shop inside where people can learn traditional skills." The hope is to have the building finished by the end of 2020.
To learn more about the project, visit joinerylbc.org.
Saving the planet one baby at a time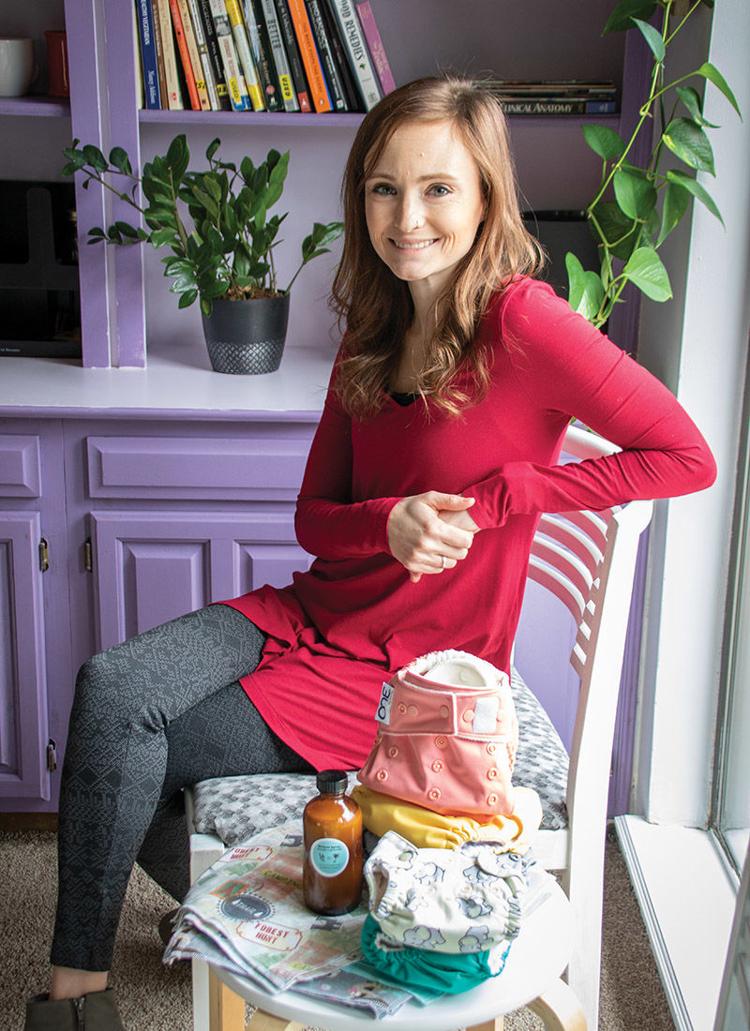 "If you don't want to store your food in plastic, why would you store your baby in it?" asks Cheeky Things founder Maddy Martin.
Martin was an eco-conscious teen, but the birth of her son in 2016 turned that long-held passion into a viable business venture. Cheeky Things, Martin's cloth diaper service, marries Martin's concern for the health of the planet with her concern for the health of its smaller inhabitants.
"I've always been environmentally conscious, and then I had a baby," she says. "I got way more paranoid about my baby's future and the way the world is going."
Martin provides some persuasive statistics. The average baby creates about 2,400 pounds of disposable diaper waste for landfills in the first year of life — roughly the weight of a Honda Fit. It would take 130 reusable cloth diaper-wearing tots to produce that equivalent.
In addition to the green benefits, according to Martin, cloth diapers also provide a good alternative for health-conscious parents, too. Disposable diapers contain a variety of materials, some of which manufacturers aren't required to disclose. Concerns exist about the potential toxicity of these chemicals, both known and unknown, resting so closely and constantly to a baby's body during their first few years of life.
Martin believes the health of the Earth and its inhabitants goes hand-in-hand.
"You can't have one without the other," she says. "The trash you're putting into the Earth will be the trash you're putting into your body. Plastic is bad for the environment. Lo and behold, plastic is bad for your body. The more environmentally conscious you are, the more health-conscious you become because you realize there is a connection."
Martin says there are plenty of practical reasons to switch to cloth diapers, too. Diaper service costs less per day than a morning latte, and clients love the convenience. Customers can choose from a number of diaper fabrics — everything from synthetic to organic cotton and hemp. Martin will do the dirty work, too, providing laundering services and home pickup and delivery.
Martin also offers a paperless towel service for home and office. Subscribers can purchase their own or buy Cheeky Things' snuggle flannel towels, which are cleaned and prepped for their specific needs. The service replaces one's need for paper towels with reusable cloth ones. Martin plans to expand her business with a variety of natural products like alcohol-free hand sanitizers and body lotions. For more information, visit cheekythings.org.
Ranching with a purpose
Anyone who has moved knows the process can be difficult. Add a young child to the mix, and the challenges grow exponentially. What if your move also involves, pigs, cattle and chickens? Not to mention all the equipment needed to house and feed them.
Meet Daniel and Maria Rose, owners of Grassroots Ranch, a "beyond organic" farm providing grass-fed and finished beef, pasture-raised poultry, fresh eggs and forest-raised pork to hungry, health-conscious
Tulsans. They can tell you all about it. The couple recently moved their family and their ranch from the Osage Hills to Porter, giving them plenty of room to grow.
"We've moved the whole farm, the equipment and the infrastructure, and we're finally here," Maria Rose says. "It's an expansion, and it's kind of just better in every way."
Maria worked as a sign language interpreter and Daniel as a certified nursing assistant before starting their business in 2015. Unless you count Daniel's passion for survivalist camping and a one-off experience raising a flock of sheep ("My husband's just a quirky dude," Maria laughs), neither of them has a background in agriculture.
"It's been a sharp learning curve, especially because, ultimately, it's lives on the line. It sounds crazy, but whenever you're learning the hard way with living, breathing things, that hurts," Maria notes, recalling a particularly discouraging encounter between their flock of nearly 200 chickens and one stray dog early on in their business.
On the other hand, Maria believes there are advantages to arriving at ranching with fresh eyes and no bad habits.
"We haven't inherited anything like, 'Well, Grandpa always said, or my dad always said,'" she says. "In the past two or three generations as commercial farming has really taken hold, people are inheriting these bad habits. It's difficult for younger generations to make that operational shift. We're not going to do things the same old way. We're going back to what worked in the early 1900s, before the world wars happened and (before) we had all of this excess of nitrogen and phosphorus we started dumping on our crops."
The Roses are regulars at the Broken Arrow Farmers' Market, and you can also order their products online at their website, grassrootsranch.com. If you're in a Tulsa-area zip code, they'll deliver directly to your door two days a week in their temperature-controlled van.
In addition to increasing their production, the move to Porter enables the Roses to expand other aspects of their business, including education and farm tours. They're strong proponents of the "Family Table," a concept that mealtime is not just nourishment, but something that has a story and should be invested in. They hope to eventually add farm-to-table dinners to their adventure, too.
"We're passionate about building your life around good food and the story and integrity behind it," Marie says. "We want to offer a resource to people and make it a little bit easier."
A Florence Park sanctuary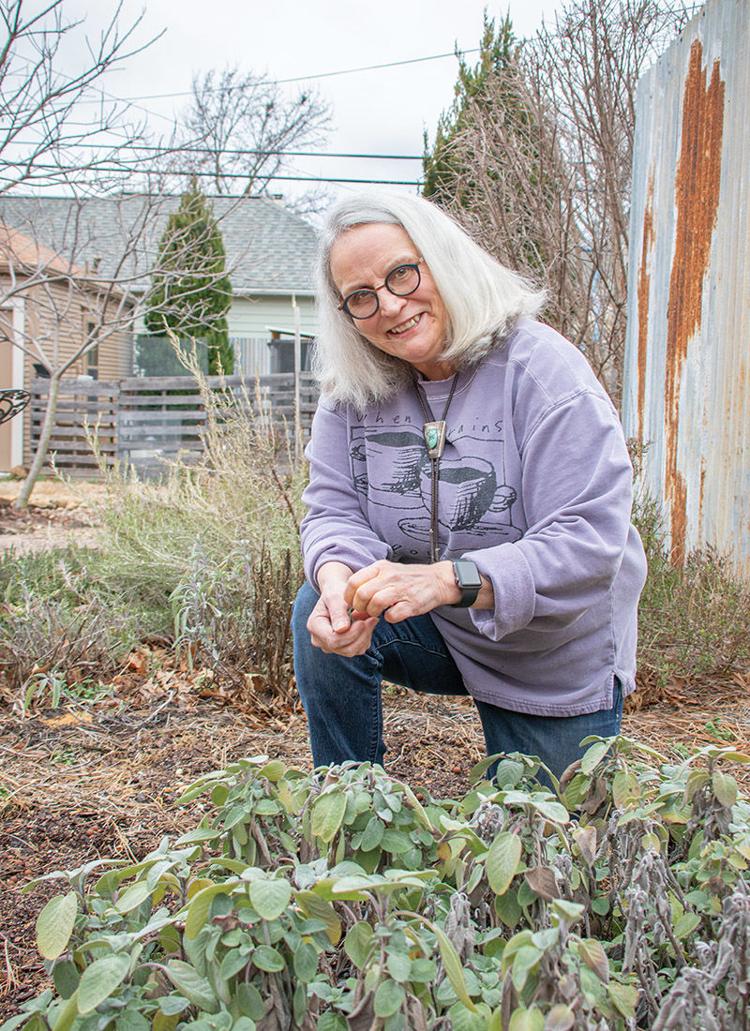 Teresa Blue was born in South Carolina and moved to Tulsa when she was 4. Now 63, Blue recalls her childhood fondly, growing up in the '50s with summers on her godparents' farm and tending to her own plot of the home garden. A resident of Florence Park for close to two decades, Blue has slowly converted her corner lot into an eco-friendly nature sanctuary.
"I practice sustainability throughout every facet of my life," she says. "I recycle. I buy second-hand. I mend my clothes. I don't color my hair. I don't wear makeup. I don't paint my nails. That's the way it has always been. It's in my DNA."
Blue started out with vegetables and herbs — the fresh, homegrown things she loved eating as a child. She moved on to flowers and native fauna. Today, her lawn is a prairie garden full of native plants and even edible fungi.
She uses no pesticide and gathers the water she needs to sustain her plants in a 1,000-gallon rain barrel. Neighbors bring her their leaves in the fall, which she combines with pine needles for a natural mulch.
"To a lot of people, it probably looks pretty eccentric," she laughs. "I'm sure some people think I do these things because I can't afford it. I just don't care about all of that stuff."
Her approach has not only resulted in a return of wildlife to her yard, but it's also helped resolve a flooding issue on her street. Native plants with deep roots and a creek bed of Oklahoma rock help slow run off from heavy rains, allowing water to sink into the soil and directing any excess straight to the sewer drain.
A lot of what Blue practices is self-taught. After years working as a surgical assistant, a growing interest in the environment eventually led her back to school at Tulsa Community College, where she obtained an associate's degree in horticulture. She has also completed Tulsa County's Master Gardener training. She's happy to share her knowledge with anyone who is interested.
Blue's grandfather was a preacher, and she often recalls his words from the pulpit, applying them to her belief in environmental stewardship.
"He used to say, 'Put your money where your mouth is,' before he passed the offering plate, and it's always stuck in my head," she says. "Don't go on griping about stuff, and then not do anything about it."
EVs come sweeping down the plains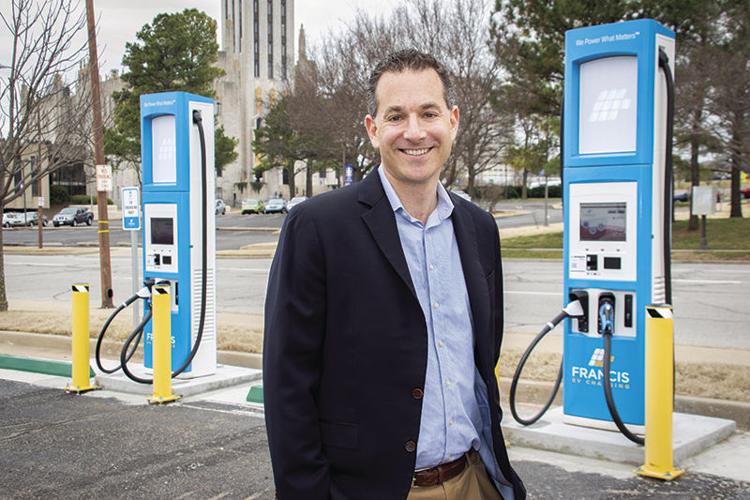 In a state where oil has long been king, there's a new player in town, one with the potential to change our relationship with our vehicles, and more importantly, with our environment, in significant ways. This month, Tulsa-based Francis Energy is rolling out an entire network of electronic vehicle charging stations that might very well transform the way we drive in Oklahoma.
These superchargers have the ability to fully charge an electric vehicle, or "EV," in a short amount of time — anywhere from 8-90 minutes. The stations are strategically located across the state, including rural and remote areas, which means no EV driver will ever be more than 50 miles away from a charge, effectively eliminating one of the greatest concerns most folks have when contemplating the switch from gasoline to electric.
"We have 109 sites spread out across the entire state, including very rural, economically depressed areas, with 225 stations across these sites," says David Jankowsky, the company's founder and president. "It's the first comprehensive statewide, fast-charging EV network in the country. It's probably fourth in the country in terms of total chargers installed and No. 1 per capita."
Jankowsky, 41, is no stranger to the energy business. His great grandfather was Sam Miller, who founded Francis Oil and Gas in 1934. Although Jankowsky didn't grow up in the state, his Oklahoma roots run deep, with frequent trips back for family visits and football games.
After graduating from law school, Jankowsky was an energy finance project attorney for a large Washington, D.C., law firm, eventually moving to SunEdison, a renewable energy company, where he worked in business development in the Asia-Pacific and Sub-Saharan Africa regions.
Jankowsky eventually moved to Tulsa, opening what became Francis Energy in 2015. Jankowsky sees his work as both a way to support the environment and to diversify within the history of a family business.
"It makes me feel good to be in an industry where I think I'm making an impact," he says. "It's also a diversification play. We know the mix of energy is going to include renewables in a very big way. It's just a natural place to be in the energy industry."
For more information, visit francis.energy.