Aunj Braggs is the artist behind "Inseparable," the painting and collage featured on this month's magazine cover. Braggs, who has called Tulsa home since age 9, is a member of Black Moon Collective, a group of Black creatives in Tulsa whose work is featured in Philbook Museum of Art's "From the Limitation of Now" exhibit on display through Sept. 5. "Inseparable," as well as its companion piece, "Resilience," is a part of the show. 
Tell me about the woman in "Inseparable."
I think artwork is very personal, and it has a lot to do with who you are. I represent myself in my artwork very often. I don't like to literally depict myself — but I do like to depict people who look like me because I want to highlight my perspective in the matter without quite literally saying, "This is me." She is just representative of a Black individual who is fully integrated with her history. She definitely reflects how I feel living here and knowing about the history of Tulsa — the racial history of Tulsa, in particular.
You used newspaper clippings and pieces of photographic postcards you found online to create a collage effect with these two pieces. What were you trying to say with those elements?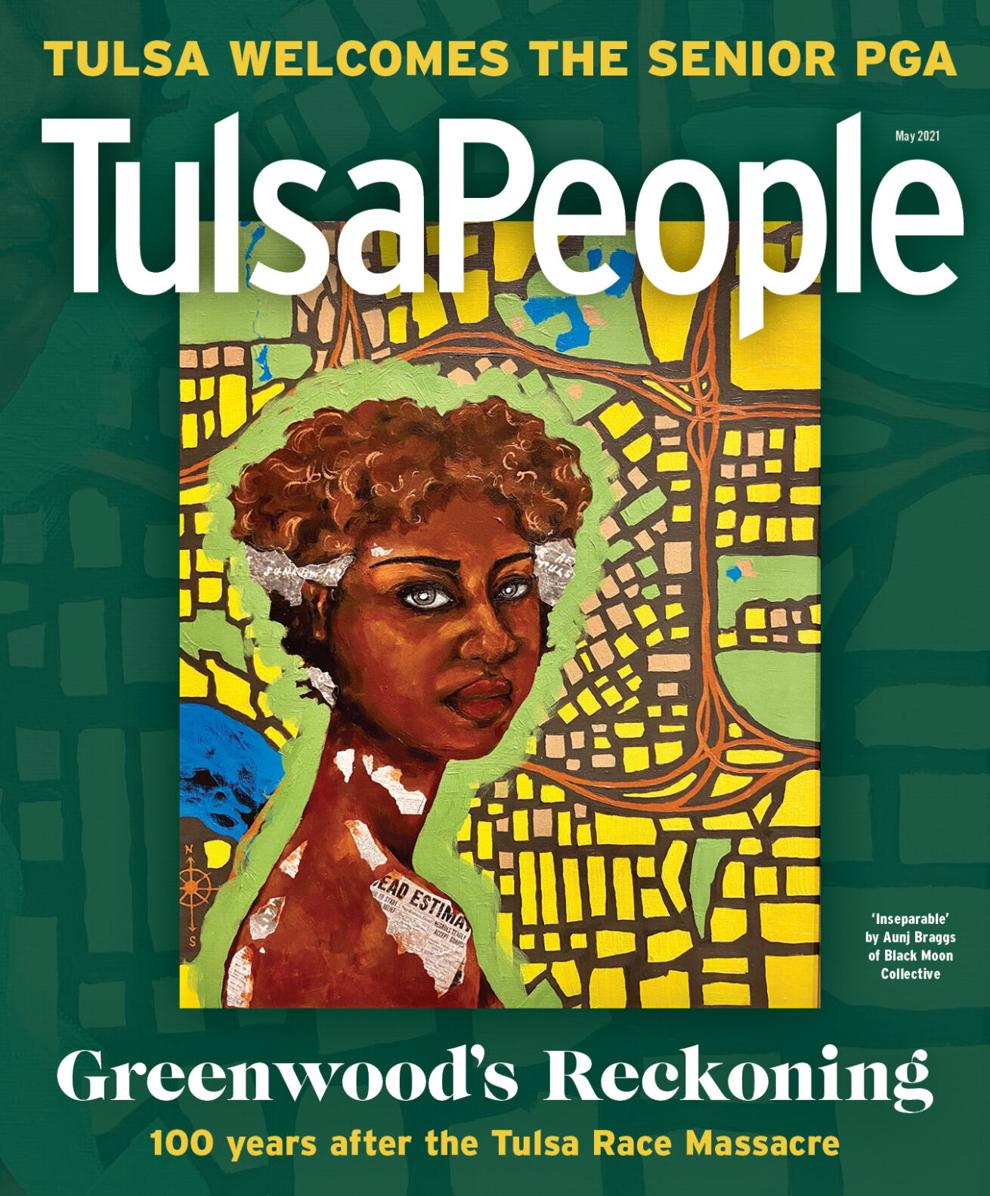 With "Inseparable," it's present day and that's why it's in full color and that's why the map is more indicative of Tulsa today. There were postcards made of a community that was burned to the ground for being Black and that literally sickens me at the thought. It sickens me to know how proud white members of the community were to do such a thing. That is why I chose those clippings specifically. The pieces in her hair are from those postcards, "Fire in Little Africa 1921." And then some of the pieces on her body are also from newspapers, as well, but they're less specific. They're just meant to highlight how she's in present day, and reflecting on her past, and how that can be a very painful thing. But the world is full of color, and you have to look to the past to move forward and to know how to even navigate the world you live in. It's incredibly important.
What inspired this piece?
I'm a Tulsan even though I wasn't born here. This is my home. And the fact I didn't know about (the Massacre) until I was out of school is just all the more reason we need to highlight these things. These things should be taught, but the fact that it wasn't just shook me. If you don't do the digging, you don't know.
Tell me about your journey as an artist. 
It depends on how you define an artist and if you define an artist as someone who creates something either out of boredom or desire or passion — then I've been an artist ever since I was maybe 10 or so. … When I went to high school I ended up taking an art class and I really loved it. I didn't have a great time in high school. I felt very displaced and isolated and when I took an art class I felt at home. I went to Tulsa Community College where I was a Tulsa Achieves student and I ended up taking art classes there as well. Once again, when I was in the art community, I felt like these are my people. I went to University of Central Oklahoma after that, to pursue my bachelor's and I tried a few different majors, but nothing stuck. I fell back to art. It's just been my calling for a while. It's just where I feel the most comfortable. It's where I meet people who are more like me, it's where I don't feel so different. And it's a great place for me to express myself. I've always been really artistic and creative, but I would say my art career started when I graduated college in 2018.
Are you primarily a painter? Or what kind of mediums do you use as an artist? 
I'm trying to branch out more. A big part of going to college is they want you to be multidisciplinary, so I've dabbled in printmaking and three-dimensional artwork and digital artwork. But I would say my primary medium is paint. Currently, I'm using more acrylic than I ever have. The piece that is going to be on the cover is an acrylic paint piece, and also mixed media because there's a little bit of collage that's used. I do want to move in that direction more. And I want to start making more digital artwork. But, I would say I'm a painter.
When you say digital artwork, what does that mean? 
Just anything that can be created with a digital platform, like anything that can be created with Photoshop or a drawing pad or Illustrator. So sometimes, like when I was in college, I made collages — digital collages. It's just like the physical, but you're doing it in the digital realm.
You joined Black Moon Collective in 2019 when you moved back to Tulsa. What has the experience been like? 
I remember one of the first things I did was meet with everyone and we just had an onboarding, dinner party night. It was really casual. We introduced ourselves and got to know each other and I remember thinking like 'OK, this is this is going to be really great.' I think there were about 10 members at that time and we were all at different levels. Some of the members are really fully established working artists and that's all they do. A lot of us have part-time work or full-time work.
They started a year before I joined, so we're still pretty young. We actually just became a nonprofit and we just got a space and we are currently working on getting that space ready. I shouldn't take any credit for that. Our founder (Elizabeth Henley) is doing all of that. She's getting the space ready. We feed off of each other; we motivate each other; we help give opportunities to one another; we elevate each other.
Within the arts community of Tulsa it can be a little lonely being a Black artist, and especially if you aren't known yet, so sometimes when we get shows together it's really great and it's really empowering to approach this institution together because it's not always perfect and we're not always given the same opportunities and so when we come together it definitely makes us stronger.
Can you tell me more about Black Moon's new space? 
It's this huge warehouse being developed on Charles Page Boulevard and there's a bunch of different suites and offices within it. There's also a huge outdoor atrium area that they've been doing live music and different events and gatherings. Obviously that hasn't really been happening because COVID, but this area is in development.
It honestly feels like the next big space for creatives. It feels like it's going to be a hub for creativity and I'm really excited that we're going to be there on the ground level as things are starting to really fully develop at that space. We are planning on doing shows within the space that we're renting, plus we want to give the members an opportunity to have studio within that space as well. So we're going to try to do both. I'm just super excited for the future and what it holds.