Call it kismet or just a perceptive business move, but when a young insuranceman, Ray Siegfried II, took over a struggling machine shop, it was the first round in the new life of what is now an iconic Tulsa aerospace business: NORDAM.
The now-international company celebrated its 50th anniversary this year. It has grown exponentially since Siegfried started operating the shop in the spring of 1969.
Today, NORDAM is a major player in the aerospace and aviation industry whose customers include aircraft giants like Airbus, Boeing, Cessna, Gulfstream, American Airlines, Southwest Airlines and most airlines around the world. The family-owned business employs more than 1,800 people in Tulsa, with over 500 more in nine operations and customer support facilities on three continents.
NORDAM has had its share of challenges. A tragic plane crash in 2001 took the life of the company's then-President and CEO Charles B. Ryan and badly injured Ray Siegfried's brother, Robin. Ray received a diagnosis of ALS, Lou Gehrig's disease, only a few weeks later and died from the disease in 2005.
In 2018, the company filed for Chapter 11 Bankruptcy from which they recently emerged. Nevertheless, it has remained a powerful contender in a highly competitive and specialized market, and a significant contributor to the local economy. Entering its sixth decade, NORDAM continues on a path of growth and innovation.
Origins
Founder Ray Siegfried is often described as a visionary and a leader. A former Golden Gloves boxer with time in the Army and a business degree under his belt, 26-year-old Ray was working for his grandfather's insurance firm when he saw opportunity in a floundering Tulsa machine shop.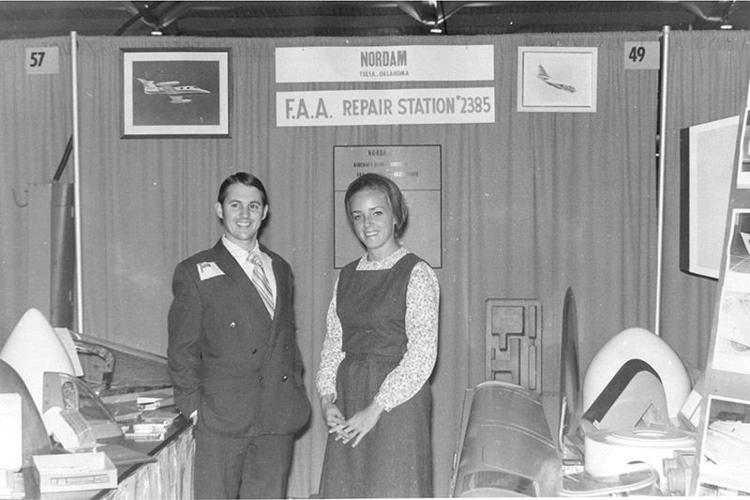 Ray was looking for a challenge when he discovered that "Northeastern Oklahoma Research, Development and Manufacturing," which had a performance bond with the insurance company, was bankrupt. Ray recognized the potential in the small company whose initials, N.O.R.D.A.M., echoed those of his alma mater, Notre Dame.
"There were about six people working there at the shop, and I think he really thought they were talented and capable engineers, but they needed a little bit more organization, leadership and sales capability," explains Meredith Siegfried Madden, Ray's daughter and NORDAM's CEO.
"He actually thought there was some fate involved, or some destiny, because of the name," she explains. "He really felt like it was his calling to be involved."
Ray took over the business, eventually renaming it NORDAM to honor his alma mater and what he saw as providence.
According to those who knew him, Ray had a knack for finding the right person for the job, surrounding himself from the beginning with people who could help him take the business into the future.
"Ray Siegfried was a visionary. I'm telling you. This guy, I never met anybody like him," says longtime NORDAM employee Willie Allen.
Industry leader
Ray led the company for over 36 years, growing the once-bankrupt machine shop into a global leader in aerospace manufacturing and repair.
In fact, "If you've been on an airplane, you've flown on NORDAM-engineered, designed, repaired or manufactured parts," says Bailey Siegfried, vice president of culture, communication, IT, HR and corporate responsibility.
Today, NORDAM engineers composite materials, products and repairs for aircraft
manufacturers, engine manufacturers, airlines and the U.S. military.
It also designs, certifies and manufactures propulsion systems, nacelles (the housing on the outside of an aircraft that holds the engine) and thrust reversers (the mechanism that helps slow an aircraft after touchdown) for business jets, as well as radomes (the dome-like structure on the nose of a plane that protects the radar system). Another key area for the business is "aircraft transparencies," which includes cabin windows, wingtip lenses, landing light lenses and flight simulator screens.
"We make the majority of the windows on an Airbus airplane," Madden says, illustrating the reach of NORDAM in the aerospace industry.
NORDAM parts and repairs are an integral part of the airline industry. The Siegfried family and NORDAM's employees take this seriously. "What we do here is everything in aerospace," says Bailey Siegfried. On average, "eight million people are up in the air every 24 hours. Eight million people go up and then come back down, and that's why NORDAM's motto is, 'We fly families safely.'"
Family and stakeholders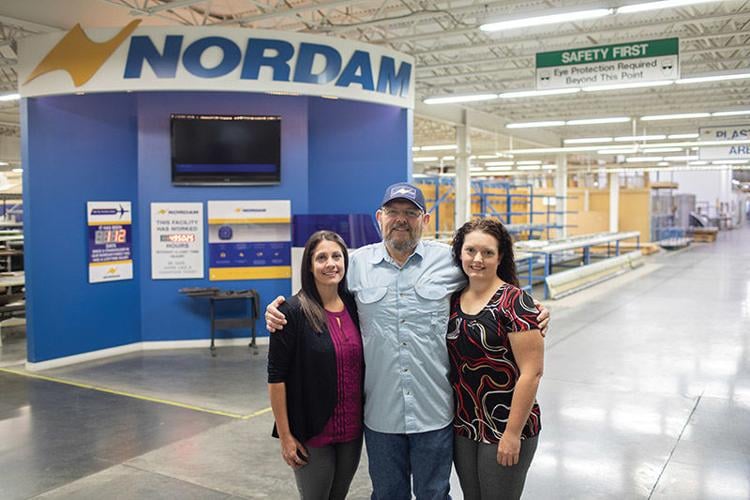 Family is literally front and center at NORDAM. Not only in the number of Siegfrieds actively involved in the business, but also among the employees, or "stakeholders," as they are called.
Rick Cook is well into his fourth decade at NORDAM. Although that's an impressive accomplishment, he's not the only member of his family with ties to the company. Cook's mother and father-in-law, Jamie and Herman Crabtree, were with NORDAM at its start, and his wife's grandfather even spent six years with the company. Today, Cook's daughters, Jamey Cook and Toni Douglas, as well as Douglas' husband, Chris, and his brother Barry and a handful of nephews, cousins and aunts are on the payroll, too.
"My father-in-law suggested that I come on here," recalls Rick, who's worked at NORDAM in everything from maintenance to systems and processes during his 37-year career with the company. "He said, 'Give it a try.'"
Family and leadership
Both Jamey, who recently celebrated her sixth anniversary with the company, and Rick credit the company's leadership for creating a positive working environment. Job training, opportunities for growth, employee appreciation and a commitment to excellence are just a few of the things they mention.
"You realize they walk the walk," Rick says. "A lot of executives — and the Siegfrieds are no exception — they all did it at one point early in their career. They will get on the floor and work a week as a bonder and work a week as a mechanic to see what they do. They're actually out there, turning wrenches."
"The family puts in so much time to get to know their stakeholders," Jamey adds. "People don't mind working overtime because they do so much for us. Stakeholders are going to give 110% because they know the family would do that for them."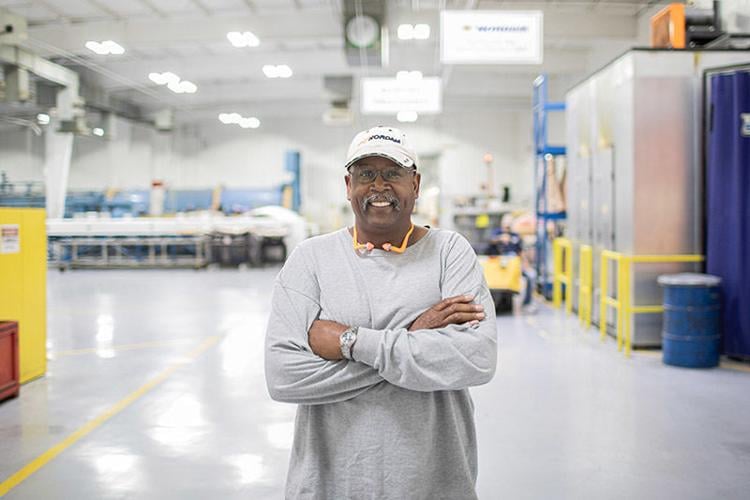 Willie Allen agrees. A shipping and receiving coordinator who has been with NORDAM for 40 years, Allen met Ray shortly after he came to work for the company, and the two men soon became good friends. Allen believes Ray set the tone for the company.
"He was a wonderful person. He wasn't like anybody I've ever met," Allen recalls. "It didn't matter to Ray Siegfried if you were homeless or if you had $10 billion, he treated you the same — with dignity and respect. He did some amazing things when it came to employee-employer relationships and how we should treat each other. Ray really cared about me as a person and about his employees."
Allen sees Ray's philosophy continuing in his children and their leadership.
"The children, they have the same thing their dad had, and they care about their employees in the same way," he says. "They are an amazing group of people."
Madden and Bailey Siegfried's brothers, T. Hastings and J. Terrell Siegfried, also are part of the NORDAM leadership team, as well as their cousin, Raegen Siegfried, the son of Ray's brother Robin, who helped Ray build the company.
According to Bailey Siegfried, his parents, Ray and Milann, stressed the importance of "family" in a "family business." He recalls a vacation in Colorado when he was 10 or 11. His parents asked him and his five siblings to create their own set of family bylaws to help ensure a smooth transition of the business from one generation to the next.
"They told us, 'This company is a gift. It's not our family that makes it. It's all the stakeholders and their families who have created what it is that gave us this livelihood,'" Bailey Siegfried says.
The bylaws the Siegfried siblings wrote for themselves still apply today.
"Number one is you have to have to go to college," Bailey Siegfried recalls. "We also say you have to have at least three years of a steady job outside NORDAM first, and then if you'd like to work here, you have to apply to an existing position that is equal to or less than what you were doing before. So, if you were a mechanic, awesome. You can come in and start as a mechanic. But you can't come in and be vice president of sales."
"They gave us the education and the faith to help us get through," says Madden of her parents. "It's easy to manage during easy times, but where it really counts is when the pressure is high."
Chapter 11
For Madden, one of those challenging times was the company's Chapter 11 Bankruptcy filing in 2018 as the result of a contract dispute with a customer on a particular program.
"Carving out this contract, NORDAM was financially healthy, as the business was profitable and generated positive cash flow," Madden explains. "Unable to resolve the contract dispute with the customer, it was determined the most practical path to resolution was through bankruptcy protection. This turned out to be the case, as the contract dispute was resolved through a 'global resolution' with Gulfstream within six weeks of filing."
On the heels of the resolution, NORDAM sought new exit funding, which included partnering financially with private equity firm The Carlyle Group. The Siegfried family retains majority ownership and control of the business while Carlyle holds a minority position. NORDAM is in the process of paying all of its creditors 100 cents on the dollar.
Madden is relieved to have that difficult time behind her and to once again focus on the future of the business.
"I am very pleased about the outcome and am forever thankful for the support of our stakeholders, customers, suppliers and our community through that time," she says.
Community involvement
Community involvement and philanthropy have been an important part of NORDAM's identity since its beginning. The company and its employees are longtime supporters of the Tulsa Area United Way, and for years NORDAM was the presenting sponsor of "Charity Fight Night," created by Ray Siegfried and continued by his children and nephew. For over 20 years, money raised from the boxing-themed event supported numerous local charities. In 2014, Fight Night revamped its format to become "Flight Night," focusing on igniting community support to power STEM education for students and teachers.
The next 50 years
Madden is excited about the partnership with Carlyle and the opportunities it brings.
"We have a strategy to grow our business," she says. "We were heavily weighted toward the business jet market and the commercial repair business, so we made a five-year plan to really develop two other markets, and that's the commercial OEM (original equipment manufacturer) business and the military defense business.
"Our next five-year plan is about people and excellence. How do we make sure we do it right every single time? We have to be more than just OK. We have to be excellent."
Employees like Rick and Jamey Cook and Willie Allen plan to stick around to see what the company's future holds.
"I plan on staying here until they kick me out the door," Jamey Cook laughs. "I don't have any kids now, but if my kids wanted to work here, I would encourage it. I would encourage everybody. If you need a job that's stable and for the future, I would say, 'Check out NORDAM.'"
---
Fun facts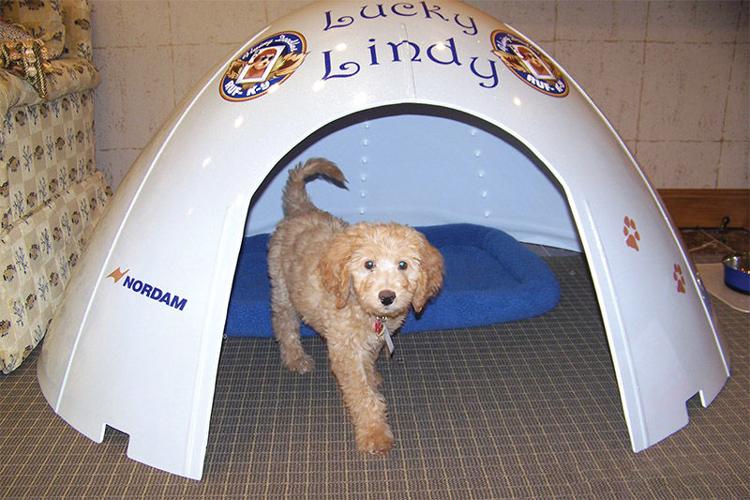 Lindy, NORDAM CEO Meredith Siegfried Madden's Goldendoodle whose name is inspired by Charles Lindbergh, often accompanies Madden to work where she has her own radome (nose cone) doghouse in Madden's office. Lindy has her own company email address and business card stating her title as "Chief Cuddle Officer."
In addition to its headquarters in Tulsa, NORDAM has repair, manufacturing or customer support locations in California, Mexico, United Kingdom and France.
NORDAM manufactures or repairs parts on numerous U.S. military aircraft from the Air Force's F-35, B-52 and F-16 to the Army's Black Hawk helicopters, A-10 and the Navy's F-18.
In 1987, NORDAM manufactured the interior parts for Boeing's new 747 Air Force One aircraft.
The NORDAM-sponsored "Flight Night" charity event raises over $500,000 each year to support STEM educational programs to approximately 180,000 Oklahoma students annually.
Each Halloween, the Siegfried family creates a group costume and visits the Tulsa-area NORDAM facilities, visiting stakeholders, distributing candy and posing for photos. Past costume themes have included the rock group KISS, the Wizard of Oz, The Lord of the Rings and this year's Austin Powers.