Just a few miles west of downtown, amid industrial buildings, is former fire station turned event center, Station 13.
It's a historical building featuring the art deco zigzag designs of prominent Tulsa architect Albert Joseph Love. Branded fencing encloses a shaded lawn space, and there is a new parking lot.
It was to be the second summer of events in the revitalized building that was recently added to the National Register of Historic Places. Then the COVID-19 pandemic crashed a lot of parties.
Owners Chad and Jackie Potter started making phone calls and working out ways to still host some of the fun, whether it is slightly downscaled and/or moved to a later date. "It's been a little bit difficult because people are hesitant to get together as a group, so we've tried to be creative with how we've presented the station to people," Jackie says.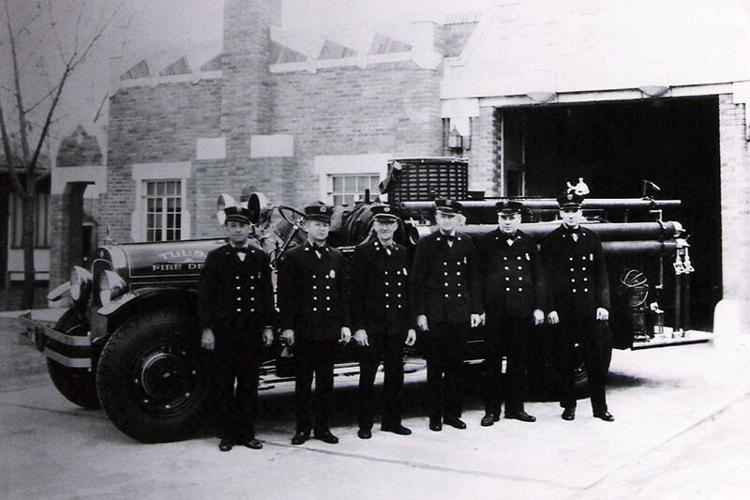 Offering their large lawn has proved to be helpful because of social distancing. The outdoor space is comprised of 14,000 square feet of grass on the east and west sides of the building, allowing for multiple setups like a wedding on one side and a reception on the other. This summer it has hosted graduation and birthday parties.
Station 13, at 3924 Charles Page Blvd., features 2,200 square feet of indoor space, including a catering kitchen. Recent events have set up the food inside the engine bay that has direct access to the outdoor space. Maximum occupancy is 98 people.
Station 13 was designed by Love and completed in 1933. Its firefighters served the west side of the city until 1964, when it was replaced by a larger station a couple miles east on Charles Page Boulevard. Fast forward to 2018 when the Potters were looking to expand their portfolio.
"We invest in commercial property around Tulsa. I've got a construction company and we like old, cool buildings," Chad says. "We heard it was for sale and went and checked it out and jumped on it.
"We bought the properties around it so we could have some outdoor space. When we bought it, we really didn't know what we were going to do with it. It was just a cool building we wanted to restore and through the construction process decided to try to do an event center."
When the Potters purchased the former fire house, it still had many of its original features like the doors, light fixtures and even the lockers labeled with firefighters' names. The only thing missing was a fire truck.
"We bought a (1936 Chevy) fire truck when we bought the fire station because you can't have one without the other," says Chad about the popular photo prop and a source of family entertainment. "During the construction of the fire station we kept it at the house. So on Sundays, we'd throw the kids in the fire truck and go drive around Maple Ridge."
The Potters are scheduling fall events and have open dates. They're also looking beyond the pandemic and dreaming up ideas.
"Once everything settles down, we have some public events that we would like to do," Jackie says. "We have so many ideas for the place. We're just excited to get it going and excited to get past COVID so we can bring people out and let them enjoy the space as much as we do."
Take a look inside Station 13