It's dark outside the radius of the streetlight at North 19th and West Union streets in Collinsville.
A couple hundred yards to the east, another light: from the orange-lit steeple of a church that sits just off the road. A row of lights illuminates the parking spots near the church entrance; then it's darkness to the street.
"It was right in here that her body was found," says Rick Lawrence, a Tulsa County Sheriff Office's Cold Case Task Force investigator. He sits in the passenger seat of an unmarked TCSO SUV as it rolls into the light.
Sgt. Tressi Mizell, Task Force supervisor, brakes. "The suspect lived a block from here?"
"Just right up there on the corner," responds Lawrence as the vehicle resumes rolling north back into the dark.
It was prom night. April 23, 1995. Rebekah Barrett was an 18-year-old high school senior. She didn't have a prom date, so she and her friends opted to instead go in search of an Owasso prom party.
"Things didn't go the way the storybook would like to go," Lawrence says.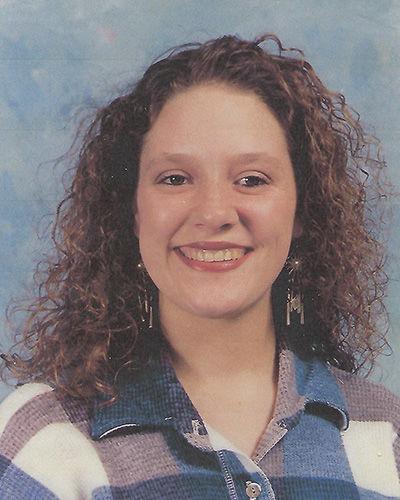 According to their investigation, Barrett's ex-boyfriend, Greg Alan Roach, had recently ended their relationship. The car full of girls drove by his house and saw his truck in the driveway, so they continued half a mile down the road to a gas station, where Barrett called him to meet her there.
He arrived; they fought, and she left in her friend's car. The young women began traveling east on old Highway 69 toward Owasso when Roach drove up behind the car, flashing his lights. He then sped around the car and cut them off.
"It's drizzling rain, the streets are pretty slick. He proceeds to circle the car, yelling, screaming, hitting on the car," Lawrence says, repeating the eyewitness accounts. "Then he goes around to the passenger side and starts banging on the passenger window, which is where Becky is sitting."
Concerned for her friends' safety, Barrett agreed to ride with him back to his house. She instructed her friends to follow them and pick her up there. She told her friends the plan was to talk him down.
Barrett got into the truck and Roach sped off. By the time the girls turned around, the truck was out of sight.
Lawrence says Roach took a shortcut from the highway that circumvented the main streets and led him directly toward his house. They passed the old Collinsville Park that many locals called the bird sanctuary.
Barrett's friends took the Main Street route, turning north on 19th. They drove about a quarter of a mile north when they came upon two cars pulled over to the side of the road.
Barrett lay in the middle of the road with no apparent injuries. She was unconscious, but breathing, her friends told investigators that night.
"She hasn't been there very long because she's not soaked from the drizzle yet," Lawrence says. "She's still relatively dry."
Lawrence says Roach rushed up to the scene from his house asking what had happened.
"He tells three stories in a span of 24 hours as to what happened," Lawrence says. "The third story is the one he stuck with all these years."
According to Lawrence, no witnesses saw Barrett standing in the road. The last person known to be with her was Roach.
Barrett died en route to the hospital.
Creating a task force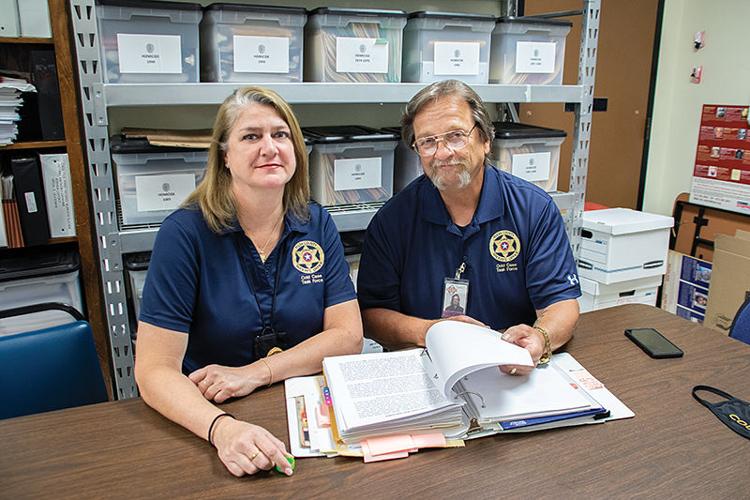 TCSO investigates murders that occur outside Tulsa's city limits and within the county jurisdiction. A small team of investigators handle one to three homicides a year. Some cases go "cold" or remain an unsolved criminal investigation, which remains open pending the discovery of new evidence.
The Barrett case is one of 26 cold cases being investigated by the Cold Case Task Force. It's comprised of retired law enforcement officers who voluntarily work the cases, attempting to bring closure to victims' families — and bring murderers to justice. As supervisor, Mizell is the only TCSO employee on the team.
The taskforce came about after Vic Regalado was elected sheriff in 2016. A retired 23-year veteran of the Tulsa Police Department, Regalado brought with him more than a decade of experience in solving murders.
"I spent most of my career investigating homicides at Tulsa Police Department," Regalado says. "It's something I was always passionate about having been an investigator, and seeing what it takes to investigate those, and more importantly, seeing the impact that it has on families of those who have suffered the loss of a loved one or friend through violence."
He says one of the first things on his list was the stack of cold cases. The problem was they were a mess, cases were disorganized and not properly stored. Historically, Regalado says, smaller agencies never received proper funding for training or funding for a state-of-the-art property room.
When a department can't train staff and help them develop an expertise, Regalado says, then you get what you pay for. He shares examples of deputies mishandling evidences, improperly filling out paperwork, case files being mixed together or missing.
"It's disappointing, disheartening," Regalado says. "But I wasn't surprised. And it didn't mean I couldn't change it."
He called his friend and former boss Mike Huff, a retired TPD sergeant and homicide detective, for help. Could he volunteer to sift through and organize the mess?
When Huff saw the storage room and its floor-to-ceiling stacks of boxes, he told Regalado it was a yearlong job. Later, at a luncheon for FBI retirees, Huff started recruiting help.
Posse of legends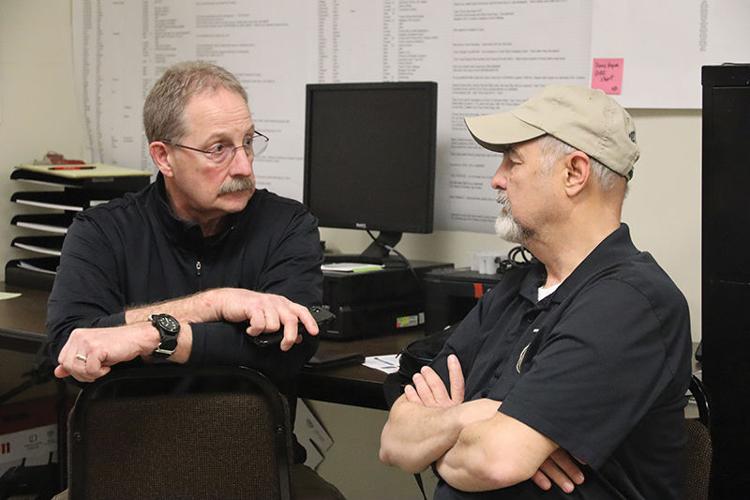 Huff began with retired FBI agent Mick Harrington, who he'd met when investigating a bank robbery.
He also called on former Alcohol, Tobacco and Firearms agent Lowell Sprague; they attended the Tulsa Police Academy together. Sprague soon left TPD for a long career at the ATF that included the Branch Davidian standoff and escorting Timothy McVeigh to jail following the Oklahoma City bombing.
Another helper, Doc Shannon, a retired Drug Enforcement Administration agent, worked undercover on many high-profile cases throughout his career. The two met when Huff worked in the TPD records room before going to the academy. They've since worked together throughout their careers.
Others involved in the early days of the Task Force were Huff's hero, former FBI agent Wayne Lord, Ph.D., now a professor at the University of Central Oklahoma; retired FBI agent Jim Norman, who oversaw the Oklahoma City bombing investigation; and the late Jim Hardin, a former TCSO reserve deputy and investigator.
"You can't solve a case by yourself," Huff says. "You need a small army, and I got a small army of guys who were legendary in their careers, and now they want to share their free time to solve cases."
With this team, Huff says he knew what was about to happen before they pulled the first box off a stack.
"I was hooked before I walked in the door," he says. "I was hoping I would find exactly what I found. I knew it gave me a chance to do something for those people. We had cold cases at Tulsa PD, but we also had all the fresh murders, and it was a scramble to keep up with that. Not that we disregarded cold cases at all, but if there is a 15-year-old kid laying dead in the middle of the street, that's the first priority. Now I get to play a game of chess as opposed to playing a game of checkers."
It was up to Regalado to assign someone to oversee Task Force operations. The person he chose also had a connection to Huff.
Detective Jay Cronley P.I.
For as long as she can remember, Tressi Mizell wanted to be a detective.
Born in the mid-1970s, Mizell says she grew up in a south Tulsa bubble. It was an insulated childhood, she says, noting she never crossed East 21st Street until 2004 when she started working for TCSO.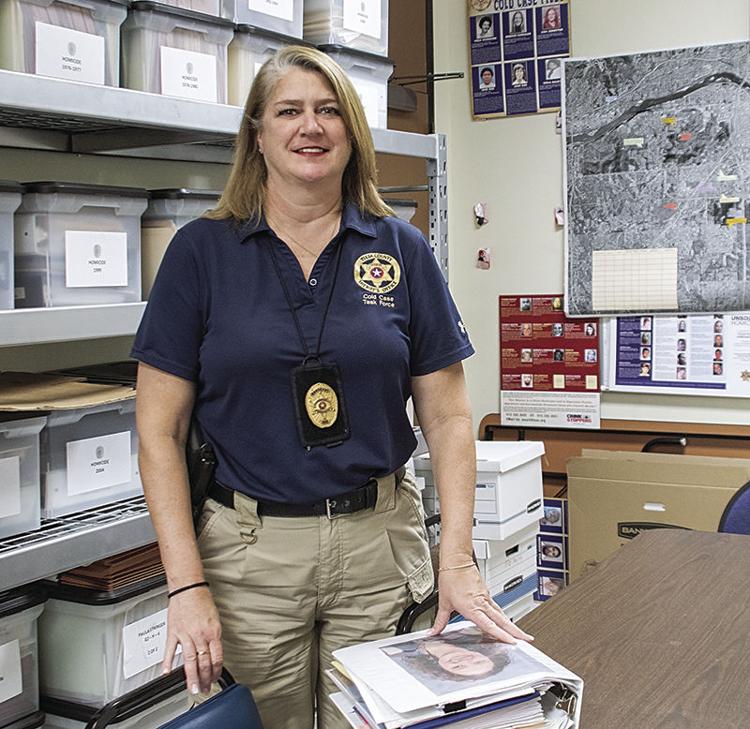 She and her two younger sisters weren't interested in dolls or playing house. They played detective, with Mizell taking the lead to solve the whodunit. All she needed was an ID stating who she was.
A Tulsa Tribune was always laying around.
"I would cut out a picture of Jay Cronley in the paper and use that as my badge," Mizell laughs. "You know, Detective Jay Cronley P.I. It's really cheesy, but I've always been interested in solving crimes, really solving puzzles of any kind."
On June 22, 2004, Mizell was in her third week on the job at the Tulsa County Courthouse. She hadn't been at work long that day when her corporal called and asked Mizell to come downstairs.
"He said, 'Your sister's been shot and she's at St. John, and I need you to go to the hospital,'" Mizell says. "He got someone to drive me. She ended up passing away several hours later."
Her sister, Amber Rogers, 26, worked as a bank teller at First Fidelity Bank, then located at East 21st Street and South Columbia Avenue. Two masked men entered the bank demanding money. After Rogers handed it over, the men shot her and bank President Mark Poole, who survived. They also shot customer Howard Smith, who survived.
While Mizell was at the hospital with her family, Huff, then a homicide sergeant, worked the scene of the crime. Huff remembers everything about that day because he says it's rare to have bank robberies that involve actual shootings.
"You don't start from scratch, you start in the hole," Huff says. "It's not like a series of gang murders where there's a mood and you gather intelligence about who's doing what, who has what kind of gun and its escalation. You start off behind the eight ball. They did something so heinous and crazy, you don't know where to start but with the facts and go from there."
Huff credits his team of investigators for quickly identifying the suspects based on similarities in a convenience store robbery a week earlier. That night Tulsa Police arrested four suspects connected to the robbery, including the two shooters and the getaway driver.
Mizell says her sister's death made her question her ability to continue working in law enforcement, and it's something that sticks with her.
"Every time I would hear something about a bank robbery or an innocent person getting shot it brought it right back," Mizell says. "I remember being in CLEET (Council on Law Enforcement Education and Training), and one of the instructors brought up my sister's case, not knowing I was in that class.
"It was like your body just takes over. It was like a freight train started running through my ears, and I had to get up and leave. One of my classmates kindly let the instructor know what was going on. It's tough, and there are some times where you have to get a hold of yourself and say, 'You know, don't take this personally. This is someone else who needs your help.'"
Mizell never met Huff over the next 12 years, but she followed his career. She read the reports of his arrests and watched him on TV. She admired and looked up to him from afar as she herself worked as a detective for more than a decade.
During her career Mizell built a good relationship with Hardin, who had helped Huff get the cold case files in order. Mizell says she was surprised and thrilled when Hardin called and said she had been chosen to supervise the Cold Case Task Force.
The time came to meet Huff, the homicide detective who meant so much to her. "It was a total fangirl moment," she says. "For me it was things coming full circle. To be able to thank him personally."
Huff says it didn't take him long to understand why she's perfect for the role. "She's smart, and she stays on us," he says of Mizell. "You can teach people how to investigate a case. But you can't teach people how to care. They either do or they don't. Caring is such a big part of what we do, and she's perfect for it."
The maverick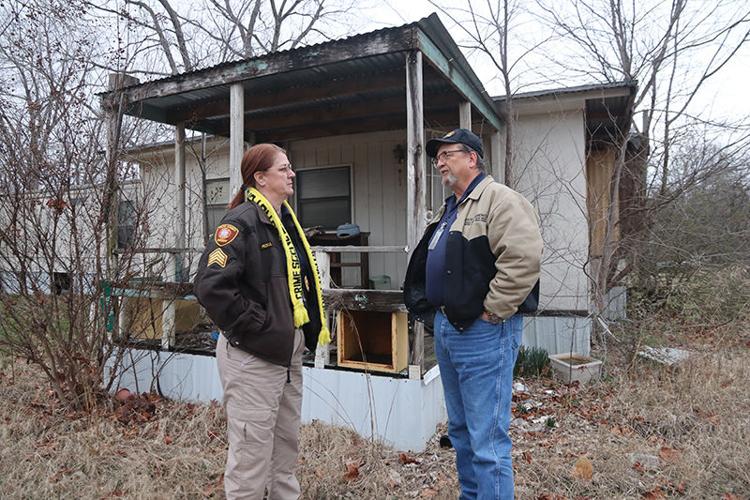 The Cold Case Task Force eventually got its own space to work cases, an area set aside from the daily operations of the Sheriff's Department. It's not much different from the basement offices depicted in "Mindhunter" or "The X-Files."
Long white plastic tables are set up end-to-end in the middle of the room. Seated around the table are many of the Task Force members. Behind them, along the wall, are shelves of clear plastic tubs containing homicide case files. A label on the front of each box identifies what homicide they pertain to or the year for closed cases. There are eight containers full of files from Dena Dean's 1998 murder. There are a few bins each for Veda Woodson and Martha Moore. Each of the 26 cases has at least one bin. The number of bins depends on the amount of files and evidence.
At the north end of the room are two desks: one for Mizell and one often occupied by Rick Lawrence, a volunteer of the Cold Case Task Force.
Behind Lawrence is a massive spreadsheet covering much of a wall. It's a breakdown of every cold case homicide with key points listed below each victim's photo. There are hundreds of small boxes, each filled with tidbits of information to help jog the memories of investigators.
Most of the Task Force members file out of the room after a briefing update. There has been progress on a few cases. Some are working on different parts of the same cases. Some are focused on only one or two. Lawrence is focused on several.
"He's sort of a maverick," Mizell says. "He likes to take on as many as possible and do his thing."
Lawrence pulls two white binders from a row and places them on a table. What appears to be a school photo of Rebekah Barrett is slid inside the clear plastic cover. She has curly brown hair and a smile inside dimples. Inside, the next photos are from a post-mortem examination.
According to a Sept. 7, 1995, Tulsa World article, Roach denied involvement through his attorney John Flippo, who told the paper investigators believed Barrett died from natural causes or a drug overdose.
That September, the state medical examiner asked to exhume her body to further investigate after a toxicology report stated she had no drugs or alcohol in her system.
As Lawrence flips through the photos he shares what they believe really happened the night of April 23, 1995. There was no road rash, scarring or tire marks, which Lawrence says debunks the hit-and-run story Roach had told investigators. He claimed after he parked the truck, he went inside to get a cigarette and Barrett walked away from his house and got hit before the witnesses arrived.
The only visible marks on her body were a small gouge on her left chin and small abrasions on her eye socket and temporal area.
"The other theory is she jumped out of the truck, but the injuries don't suggest that," Mizell adds. "There are no movement wounds. She slammed into the ground."
Once Barrett's body was exhumed, investigators say forensic pathologist Dr. Ronald Distefano did a full exam and formulated a new theory based on his findings.
"He made two incisions on her spinal column and found where she had a hemorrhage," says Lawrence, pointing at his neck. "In laymen's terms, the pivot joint that makes her neck move around. It was caused by 'probable blunt force trauma.' She was somehow hit there, and my suspect has a long history of domestic violence."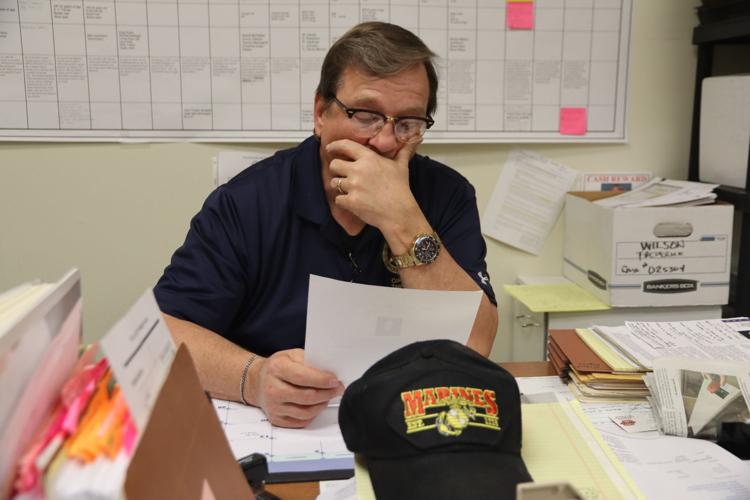 So why, after her body was exhumed and it was determined her death was not from natural cases, were charges never filed?
Investigators say it's likely the case was never worked beyond the initial days after the crime. The official line is "Newer cases happened, and there wasn't the manpower to solve it."
"I think I can get a conviction," Lawrence says. "But it sure would be nice to have at least one person come forward (to corroborate what happened) and stand by it."
Lawrence is one of the most recent volunteers to join the task force. He came on in January 2019 following a late-night conversation with Huff, who Lawrence has known since they attended Tulsa Junior College together in the early '70s.
Lawrence served 12 years in the Marines and 13 years in the Air Force Reserve's security police. In 1976, he worked for the Owasso Police Department, where he helped on one homicide case, which he says got him interested in doing investigative work. Since then his career has taken him from the Oklahoma Department of Corrections to Tulsa, where he worked in probation and parole, specializing in street gangs and outlaw motorcycle gangs. He also worked on the U.S. Attorney's Violent Crimes Task Force.
Lawrence says his experience dealing with constant criminals was needed on the team.
"I know just about everybody who's involved in these homicides up here (pointing at the giant spreadsheet)," he says. "Many of the victims are former gang members, some of the suspects are former or current gang members. I bring that to the table. And the fact that I've been a lifelong Tulsan, a lot of these cases, somehow or another, I either know somebody who's a witness, know who is deceased or know their family."
Setbacks
Ask a cold case investigator what the odds are of getting a conviction and they all say the same thing. "Only 1% of cold cases ever get a conviction," Mizell says. "The odds are stacked against us, no matter what."
Working cold cases, especially older ones, is challenging for numerous reasons. Suspects and witnesses die. Evidence from the pre-DNA era was often mishandled, improperly stored or tossed. As case files moved multiple times over the year, files were lost.
The Cold Case Task Force also relies on privately raised money to operate. Fundraising pays for travel to follow leads outside the Tulsa area and for DNA testing. Investigators say the state lab has a six-month wait, so they often need to turn to private labs where the cost is $5,000 to test a piece of evidence. To date they have raised about $50,000 through the Sheriff's Foundation, a nonprofit that allows citizens to donate anonymously to the Task Force.
In the Barrett case, a witness came forward in November 2019 with information that the suspect had admitted to killing Barrett. The next day investigators say she recanted her statement after the suspect intimidated her.
"On cold cases when we do focus on a suspect, they can't help themselves from getting involved some way or another, like reaching out to witnesses and intimidating them," Huff says. "There's always activity when you get focused on the right suspect."
Investigators say the witness who recanted her statement previously filed a domestic violence assault on the suspect in Pittsburgh County. Then years later they were both arrested in Louisiana for unauthorized use of a food stamps card, and there are misdemeanor warrants for both. She continues to live in Louisiana, but the suspect is back in Oklahoma, according to Lawrence.
The setbacks haven't just come in case work.
Doc Shannon, who has been the team's main fundraiser, nearly died during open heart surgery in late 2018.
Jim Hardin, one of the original Task Force members, died in November. In his final days of life, he helped raised $5,500 for the Task Force.
On Dec. 3, Huff suffered a stroke while home alone. Despite the constant numbness in his left hand, leg and foot, despite the slowed speech and waves of depression, despite the fact he cannot drive, Huff says he will keep working because he has cases to solve.
"I'm not going to let that stop me," says the 64-year-old, who acknowledges his work was a major contributor to the stroke. "I hope I have a lot of use left because there are a lot of people that need what I got, and I need to be able to do what I do."
On April 1, the Task Force lost volunteer Joanne Emmons, who died after contracting COVID-19. She served as the minute keeper for the team and as an organizer. Her husband, Jerry, is a former FBI agent who also volunteers on the Task Force.
Solving cases
Since January, the Task Force has closed six cases by "death of offender." On May 15, Mizell arrested Tommy Edward Harris for the May 23, 1992, murder of Kim McVey. Harris allegedly shot McVey in the head during an altercation involving a methamphetamine deal that went bad. As Lawrence investigated the case, he was able to locate a witness who confirmed Harris pulled the trigger.
"I'm just so proud that Rick followed this through because this is not a sexy case," Huff says. "This is somebody that was in a risky lifestyle. I think this really says a lot for the Sheriff's mission, for us and Rick because nobody should put a value on a human life. That's way above our pay grade."
With success comes phone calls asking how TCSO was able to assemble a team that voluntarily works and solves cold cases.
"I have agencies from across the country calling and going, 'How on Earth did you get people to do this?' and I said, 'I wish I had the answer. All I know is that we got lucky,'" Regalado says. "We found people that were committed to the truth, and are willing to do it on their own time ... it's just amazing."
A lot of work is still to be done. Twenty-six families continue hoping for closure and justice for the death of a loved one. Lawrence is confident the team will soon help create both those things for Barrett's family.
"Her mother and sisters are 1,000% supportive of what I'm doing," says Lawrence, who constantly updates the family. "No matter how long it takes to do it, it matters to that mother or father or husband or a wife or child that's still missing their loved one."
---
It has been 25 years since Barrett died. It's early May. The spring air is warm. A breeze carries the smells of the nearby rendering plant into Collinsville. Cars occasionally drive through the area where Barrett lay taking her final breaths.
The sun has gone down. The streetlight illuminates the area. A subtle reminder that where there is darkness there is light.