Update: On March 17, Holberton School officials announced they will be expanding the school with the addition of an 18,000+ square-foot building, which more than doubles the size of the school. 
---
Open since January 2020, Holberton School Tulsa is a two-year software engineering program based at 15 N. Cheyenne Ave. The campus is part of a global network of schools with more than 15 campuses across five continents, including two in the United States. 
Libby Ediger is executive director of Holberton School Tulsa, which welcomed its fourth cohort of students in January and recently hired its seventh staff member.
Tell me about your average student. Where do they come from?
The vast majority of students are pivoting their career. The average age of our student class is 29, so they have been in an industry, maybe multiple industries, and for whatever reason have decided to change course. For some, it's financial, or their capped earning potential in their current career. For some there's always been a desire to go into the technology sector or they've been coding on their own; maybe they game in their free time. But for many others, it may have been a pivot that was forced; they were laid off. Their job was eliminated, either because of the pandemic, or because of things like automation and artificial intelligence changing so many different sectors. And so they went online and said, "Hey, what can I do that's different?" and maybe hadn't even thought of coding in the first place. We do have a couple of students who have come to us in their late teens to early 20s. You have to be 18 to come to school at Holberton. But we see most of our students come in later as a pivot.
What percentage of your students are female?
Obviously it changes for each cohort, with a class size of about 40 per cohort. But we are at about 30% female right now, which is a statistic we are excited to build upon and want to see improve. And yet even in our first year, baseline data is still better than a lot of data points in the technology sector. It's certainly higher than industry average. And it depends on how you decide to splice it, whether you look at just software engineering roles, or all positions within a technology company. But from a technical perspective, absolutely. I think the fun thing now for us, as we grow, is thinking about how we get from having something that's better than industry standard to really excelling.
Tulsa has become an entrepreneurial hub. Do you attract business owners who, for example, want to learn how to build their own website?
We certainly see an attitude of entrepreneurship in our students, and I think it's because a lot of the qualities we look for in a student are very similar to that of an entrepreneur. We look for curiosity, we look for creativity, we certainly have students that demonstrate grit. I would say to anyone who's interested in learning about coding to look online, try free resources. Our application is free. And so we encourage people to give it a shot and see if it's something that's for them.
But what we're trying to do is really focus on building a pathway for a career in software development for our students. So it isn't necessarily for people who are wanting to do a little side project hoping to be able to augment some of the things they do. This is a skill they know will be central to their profession. Now, there are plenty of technology companies or startups that have tech founders. And so we would certainly love to see that from our graduates.
What sort of jobs might students find after graduation?
All of our students spend the first half of the program getting the fundamentals of software engineering. So they're able to touch on some low-level programming concepts, some high level programming concepts, and really pick up the terminology and languages needed to then pick a path. And then we offer four different pathways. One of those pathways is web development. That's probably what you think of when you think of software engineering; you think of building websites, which in and of itself, there's a front-end and a back-end version. And so we train students in both so they could choose to do either type of development.
But our other pathways explore concepts like machine learning and augmented reality, virtual reality. So you could go be a game developer, you could go be a machine learning developer and work on technology that's automating other machinery. We have a low-level algorithms and blockchain course. And so it really does open up quite a few different pathways within the technology sector. We think it may even be a good fit for someone who is in a technical role, or even a technical adjacent role, like a product manager at a technology company. We certainly know some of our graduates will be software engineers, and that will be their title, but it may be even more specialized within the field they choose.
Read more about Holberton School Tulsa from our March issue. 
What's the program format? Is this something a student can do on nights and weekends?
We are absolutely a school, so there's a very specific reason why we don't use the word "boot camp." Our program is 20 months; it's full time. And it's pretty time intensive. We ask a lot of our students, and our hope is to give them as much of a foundation in software engineering as we can within that limited window. What's great is that we have a physical building. And so students are able to come utilize the space, utilize computers and some best-in-class technology to further their education. And really learn as much as we can squeeze into 20 months.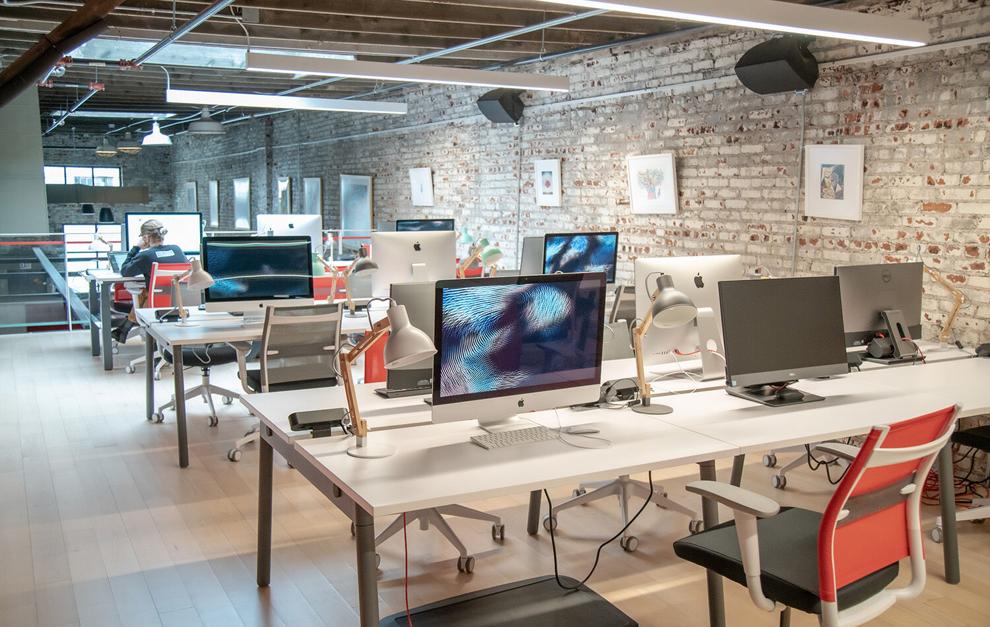 Is instruction in person or virtual?
In light of the pandemic, we've had to adjust as so many other businesses have, and so we are offering students a very hybrid model. Campus is open, students can come here; they actually have 24-7 access to our space. They can utilize it in a way that best meets their educational needs. But we're facilitating a lot of our peer-to-peer work via online and distance education that would have been done pre-pandemic up at a whiteboard, sharing the same very small space. A lot of our students are taking advantage of being able to be home, making sure they're safe and have those precautions, but still can engage in the curriculum. And the way the actual curriculum is deployed is through heavily project-based and peer-based learning modules.
What does that mean?
The project-based learning is where we give students a series of assignments or tasks, and we give them a pathway to find the answers. We don't give them the answers. So instead of standing at a lecture hall, and having a teacher spend an hour explaining a concept, we give them all of the right information to get started understanding that concept, and then set them on a path to self discovery. The reason we do this is because that's what learning information in the real world looks like when you get on the job and your boss assigns you a project. They're not going to sit down and explain it for hours and hours and then have you regurgitate it. They're going to say, "Hey, we're dealing with this bug on the site. We think it may come from here, but we're not 100% sure, please go fix it." And then you're off on your own. So we teach concepts and also build muscle memory on how that kind of project-based discovery or problem-solving really does happen in the workforce.
Then the other type of module is through peer-based curriculum because in the workforce you will have co-workers and peers you're collaborating with. Our students may work on a project on their own one day, and then the next day be gathered together and have the opportunity to review all the same material, but as a group. And we have education facilitators that work for us to sort of oversee and manage those modules in that process. But our aim is not to give students the answer. It's to help them figure out how to find the answers so they can repeat it time and time again.
Can you explain your deferred payment model?
Students can choose to pay as they go or pay deferred tuition. With the deferred tuition model, graduates don't begin paying for their education until after they've secured a job making at least $40,000 per year. They pay a percentage of their income for 3 ½ years or up to $85,000, whichever comes first.
The No. 1 factor in thinking about going back to school is often financial. What this model does for us is it means that the student's success is equally the school's success. I'm not just bought in on giving someone an education by saying, "Hey, you're going to pay us and then find a job, and best of luck." Instead, I say, "You're going to pay us proportionally to how well we delivered on that value proposition. You know, we're giving you this education to set you up for success in this technology fields. And we're not only going to work hard to get you there from a technical perspective, but it incentivizes the school to help with professional development, to help with interview prep, to help make introductions to companies that are hiring."
Is this model common in the industry?
In other parts of the country, it is certainly a model that we have seen within the technology education sector, among either schools like ours or boot camps that have existed for many years. But it is certainly concentrated on the coasts. And so when we thought about bringing our school to Tulsa, part of that's bringing Silicon Valley-developed curriculum, but it's also bringing this type of a model to the state. When we think about the ethos of the school, it's about bringing new perspectives, diversity and lowering the barrier to an education that is so critical to the future of our worlds. And making sure people from diverse backgrounds have access to that, can get bought in on that and can be part of that success.
One of the very first things we started doing as a school, before we had even taken on students in our first cohort, was talking to companies and asking, "What do you need? How difficult is hiring?" What we found is there's a budding startup scene here with a desperate need for talent. And B, existing businesses in town in some of our legacy industries are seeing more and more software needs, and they're having to go multiple states away to find that talent. And I think that what's so powerful is, across those different sectors, be it a traditional Oklahoma sector like oil and gas, or a brand new startup, there's a desire to hire local. I think that's part of who we are as a city; we want to keep people here, we want to provide opportunity here. And there hasn't been a great pathway to that because there hasn't been a whole lot of software talent. 
In 2019, the state of Oklahoma graduated 500 software engineers in total. If you look at Bureau of Labor Statistics data, it shows that over the next decade, there will be over 130,000 new jobs in this sector. And that's just for software engineers, or software developers. So that's not game developers. That's not a AR/VR developers. It's just for software developers — more than 130,000 new jobs in the U.S. in the next decade. So 500 a year is not going to be enough. And that's why we're here. It's why we're in Oklahoma: to make sure businesses here can continue to thrive or can pivot and continue to be more technology enabled as the world changes. 
Is there a financial incentive for students to stay in Tulsa after they graduate?
Absolutely. What we've done is said that in our income share agreement, which is the deferred tuition that we offer to students, is the percentage of your income you'll pay back after you secure a job upon graduation drops from 17% to 10% of your gross annual income if you stay in Tulsa.
That is a resource we have because of the generosity of the George Kaiser Family Foundation. Building up this talent population in Tulsa is part recruitment, part retention of talent. We would love to bring people to Tulsa to come to school. Right now about 30% of students in our community have moved from somewhere else, and 70% are from Tulsa or the surrounding area. What happens when you give them this critical skill that's very much in demand, not just in Tulsa, but across the entire U.S., and they graduate? We really want to keep people here. I look forward to the day when we have a massive alumni network of Holberton students who are working in the field in Tulsa, hiring our students coming back for tech talks, and hanging out and mentoring our existing students.
How much did GKFF's Tulsa Remote program play into Holberton's decision to open a campus in Tulsa?
The George Kaiser Family Foundation had, even before Tulsa Remote, been working on this Vibrant and Inclusive Tulsa initiative. And that includes building the park (Gathering Place), it includes some housing projects, and it really was a notable shift from their several decades of work around early childhood education and in K-12 education, kind of looking up on the horizon and saying, "OK, what happens when we see high school graduation rates in certain communities improve? We want to keep them here, we want to help build that wealth and that opportunity in Tulsa."
And so Holberton had seen that evolution and watched Tulsa Remote launch in 2019 very successfully, with over 100 people offered to move to the Tulsa area. And I think not only was that a great indicator to Holberton, that there's something really special here, but I think that was also an indicator to the George Kaiser Family Foundation that they had struck a chord. 
People want to move here. There's something special about our community. And it's not just the relocation cost. People want a place where they can invest their time and invest their energy, have a high quality of life and still pursue a career they're excited about. And what's really powerful for our graduates is that incentive to stay in Tulsa is actually tied to residency, not employment. So should our students decide to reside in Tulsa for employment upon graduation, they can actually still take remote jobs. It's not just the technology sector in Tulsa that becomes their job market, but because of the path Tulsa Remote has laid, and because now of the relationships with employers we have through Tulsa Remote, they've got an entire remote workforce, so they could consider joining without having to leave town.
Tell us about yourself.
I grew up in Stillwater and then actually moved. Growing up five minutes from campus made me not want to go to Oklahoma State, although I bleed orange and am still a big Cowboys fan. I moved up to Washington, D.C., did school in D.C. and then ended up starting a company with friends there. I intended to stay in the political sector and instead got pulled into startup land.
It was a technology startup that aggregated vast amounts of congressional data and legislative data so that people who were advocating to Congress could actually see historical information, look at trends, identify where members were effective at passing legislation, or where they were most bipartisan and sort of use the power of data analytics to better help their advocacy efforts. The company's called Quorum. They're doing very well. The data sets they now have are at the local level, the state level, the federal level; they have international products. I was there on business development and marketing teams. I was at hire No. 6, and when I left, they were at about 100 people. So I really got to experience the technology sector firsthand and had a hand in a lot of our hiring practices. 
And so when I moved to Tulsa for love, my boyfriend (now husband) and I had dated long distance for far too long. When I looked at moving back, I started to pay attention to what's the startup scene like here, what's happening at 36 Degrees North, who are the investors playing in the startup scene, and saw there was a lot of momentum not only around individual startups, but also around the ecosystem. I was looking for something different than just being at a startup, doing sales, doing marketing. And I got in touch with the George Kaiser Family Foundation, at which point they pitched me on this opportunity. So I got to be here on the ground floor and really helped make sure we could launch well, and we get ourselves up and running to be part of this ecosystem for a very long time.