Allan Trimble looked around the room, awestruck at the outpouring of support.
Stricken with ALS, the legendary Jenks High School football coach and his family had prepared for the worst with a local fundraiser, a 2016 gala to defray upcoming treatments, medicine, home alterations and more.
It was a huge success. But Trimble saw the potential for much more. So wife Courtney Trimble and their daughters went to work figuring out how they could help others.
"Dad always wanted to do something for other people," says Tylar Trimble-Isenberg, Trimble's oldest daughter. "That was just his personality."
Courtney says that during a 2016 barbecue, some friends from church suggested starting a charitable foundation. Her husband said he knew nothing about it, but was willing to try.
"He didn't know how much time he had left," Courtney says, "and he wanted to find a way to help others."
They created the Trimble Strong Foundation. At first they just sold "Trimble Strong" T-shirts and rubber bracelets to offset medical costs. But that gala showed the Trimbles what was possible.
"It was out of the park," Tylar says. "It was amazing. So many people, so many supporters, and Dad was like, 'Wow, if we can raise this for my medicine, think what we can do for other people.' From that point on, it went straight to other people."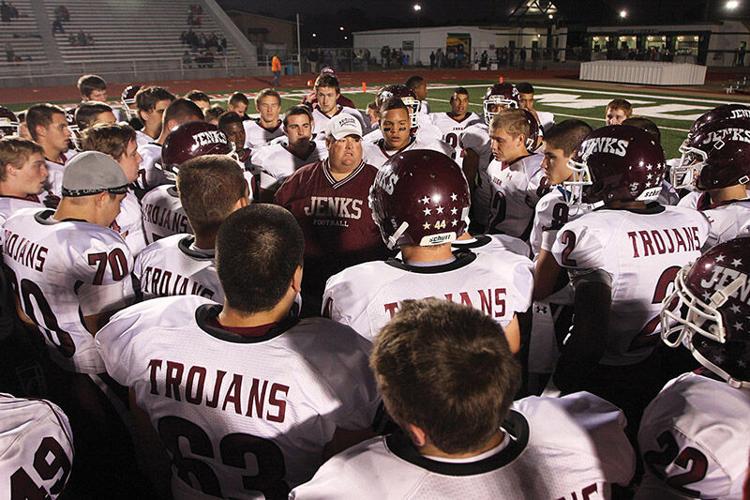 Allan Trimble succumbed to ALS on Dec. 1, 2019, three and a half years after his diagnosis. But his legacy continues, thanks to the women in his life.
"After Allan died," Courtney says, "we had a lot of people ask us, 'You guys still doing the Foundation?' Yeah, we're still doing the Foundation; we've just got to regroup.'"
"We just kind of needed a fresh start," Tylar echoes.
The coronavirus pandemic temporarily shut down fundraisers, but the Foundation has teamed up with J. David Jewelers to produce a championship "ring" that incorporates elements of all 13 state championship rings the Trojans won under Trimble. It was unveiled Aug. 14: Trimble's birthday.
"Just something to kind of kick off the restart of fundraising this year," says youngest daughter Tori Trimble. "Those will go to Trimble Strong, and then hopefully everything from there will be COVID-free and we can start planning our next events."
The Trimble Strong Foundation reported contributions of just over $60,000 in 2018. But the work ahead is going to require so much more — and not just financially.
"We want people to join our family," Tylar says. "Dad always said, 'I don't want your money. I want you to be part of our team.'"
Trimble Strong relies on volunteers. At 2019's Extra Mile event, Trimble Strong hosted special needs families and provided dinner and a comedy show. More than 200 volunteers — doctors, nurses, specialists, teachers, church friends — came out to care for the kids while parents enjoyed a "night out."
"We need people who are interested in our mission and want to serve other people," Tylar says.
Tori Trimble explained that her dad was constantly trying to help those in need — anyone who asked, and some who didn't.
"We decided we need some pillars," Tori says, "because my dad was full force, 110 miles an hour — 'I want to help this person. I want to help that person.' We had to say, 'OK, we need to be able to narrow this down.'"
So they honed in on four pillars "of Dad's heart," Tylar says: adoption and family support, educational scholarships, missionary work in Honduras and inner-city Tulsa.
"We really had to drill down on his vision of everything," Tori says.
There's more to come. And yes, the T-shirts are still for sale. Courtney and the girls pack and ship them from their home in Jenks.
"There's nothing my dad wanted more," Tori says, "than for people to get that feeling of, 'Wow, this is what it feels like to help people. This is bigger than me.'"
Visit trimblestrong.org to volunteer, donate or find out more.