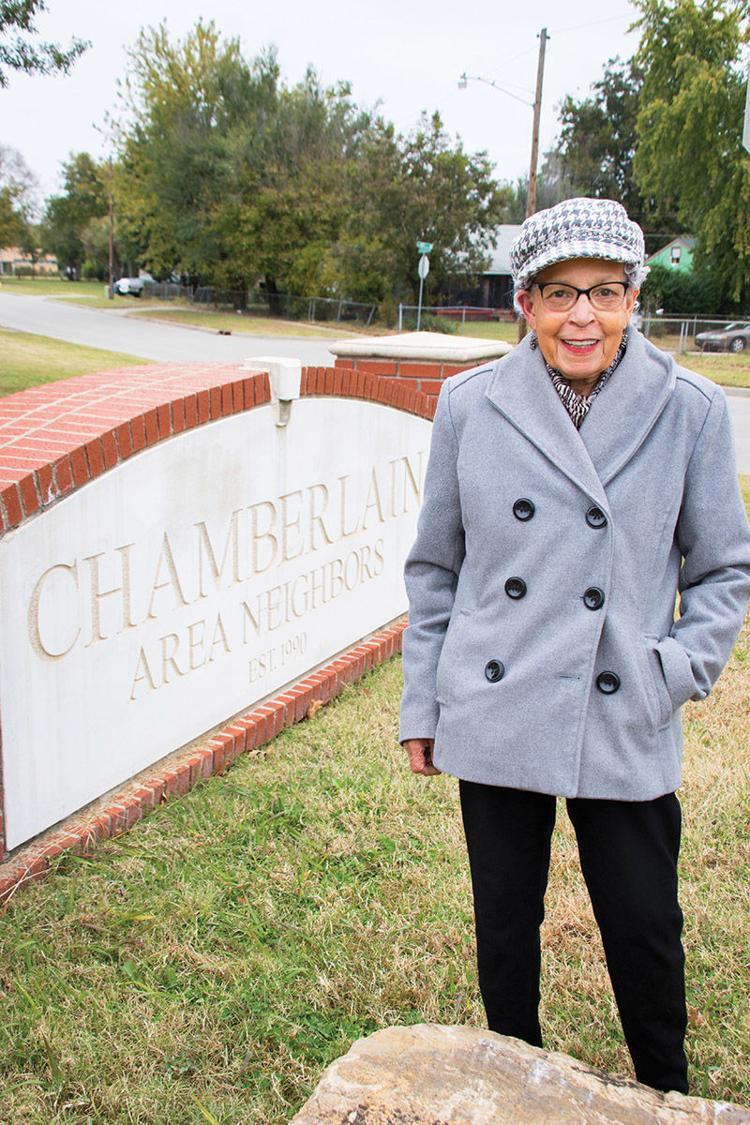 Jane A. Malone is spunky. At 81 years old, she still has an 8-to-5 job at the Tulsa Development Authority, where she has worked for the past 10 years. A longtime resident of her Chamberlain Park neighborhood located between Martin Luther King Jr. Boulevard and North Hartford Avenue and between East 46th and 56th Streets North, she has advocated for community enrichment and improvements to the Chamberlain Park Recreation Center for decades. Earlier this year, the Tulsa City Council announced it would honor Malone and her dedication to the neighborhood by renaming the facility the Jane A. Malone Center.
Since moving to Tulsa in 1962, she has held leadership roles with Neighborhood Housing Services, the NAACP, the Greenwood Chamber of Commerce and the Oklahoma Jazz Hall of Fame. Raised by her father and grandparents in Bartlesville, she faced adversity as a young adult and was the only African American to graduate from Bartlesville's College High School in 1956. The racial discrimination she has experienced is never far from her mind, but she doesn't allow the memories to damper her spirit and heart for the community.
---
Where did you go to school/university? Why?
I went to Douglass School in Bartlesville. It was the black school for grades 1-12. My senior year integration was coming into existence, and I lived on the east side of the tracks. I had to go to a white school or pay a transfer fee to stay at Douglass, so I went to College High, the all-white school, by myself. It should've been my best year, but it was lonely. People would only talk to me in class sometimes, and my teacher would never call on me when I raised my hand. One day, I asked the teacher why she didn't call on me, and she said she didn't see me raise my hand. I said, "How do you not see me? I'm the only person of color in this class." After that, she started calling on me. I guess that was the beginning of Jane's assertiveness (laughs), but I was assertive when I was younger, too.
I was in the band and had an excellent band teacher at Douglass. We had operettas and band contests, and I played the clarinet. On band trips with the white band we would stop to get food, and the band director would have to go into the eating establishment to see if it was OK if I could go in. If they said no, then the director would get my money and bring my food back out to the bus. I would have to sit on the bus and eat my food by myself. I had to just deal with it. Had it not been for a praying grandmama, granddaddy and daddy, I really don't know. My basic education came from Douglass School, and I was enrolled in several business classes there. The classes prepared me to the extent that I was able to become gainfully employed as a secretary and executive assistant in Minnesota.
What led you to Minnesota?
I couldn't get a job in Bartlesville, and I had friends in Minnesota, so I moved there in '56. I worked as a secretary for six years. I came back to Bartlesville and applied to Phillips, but they said they had no openings. My uncle worked at City Service in maintenance. I applied there, took the test, but they said they had no openings. This was because of my race.
What field were you interested in pursuing?
When I moved to Tulsa in '62, the Tulsa Urban League helped me find a job working for an attorney. I got my secretarial skills from my schooling at Douglass. I took shorthand and typing; we had excellent teachers. I wanted to go to college, but when I had to go to College High, they didn't make me aware of any scholarships that were available to go on to college. I wanted to be a school teacher, but black school teacher contracts were not renewed because of integration. Why go to school when you couldn't get a job?
What was one of your most defining moments in life?
The birth of my son, Edwin Robert "Hank" Malone, is the most defining moment in my life.
What age do you feel right now and why?
I feel my age is between 60 and 65 because I am still working as a full-time executive assistant. I am able to produce quality work within the designated time frame. My skillset is still very high, and I am very active in my church and community.
How would your friends describe you?
I am quoting one of my former colleagues and friends. She describes me as highly intelligent, a woman of integrity, loyal, organized, a workaholic, dependable and trustworthy.
Another friend describes me as faithful; dedicated to my family, friends and church; committed; and level-headed. I'm also described as passionate, kind, giving and determined to improve my community in north Tulsa.
You've helped save the Chamberlain Park Recreation Center in your neighborhood for many years. What has inspired or motivated you to keep it open?
When my husband and I bought our home out there on Detroit, it was right around the corner from Chamberlain. We chose our house because Chamberlain had a swimming pool and so many activities for families. That's why we moved there. When they closed the pool in 2008, that was horrible. We could've had Olympic swimmers if they'd had a place to learn. Each time they were going to close the center, Joe Williams and Jack Henderson made sure it was in the budget to have some type of funding so that it wouldn't be shuttered and then subsequently demolished. Had it not been for those two former city councilors, I know it would've been shut down, but I just kept saying no.
Tell me about your husband.
His name was Elbert Malone Jr., but they called him "Slim." He was a long, tall Texan and an excellent saxophonist. He passed in '77. He was a good cook. They say the way to a man's heart is through his stomach, but the way to my heart is through my stomach. He did most of the cooking.
What would people be surprised to know about you?
People would be surprised to know that I have a great, dry sense of humor. They mostly see my serious side 99% of the time. I have feelings that can be hurt by some of the things they say or do. I pray that God changes the hearts of people so that they are not so hurtful. You cannot change people but, hopefully, their hearts can be changed.
If you could witness any event of the past, present or future, what would it be?
I would love to revisit the time when Natalie Cole, Nat King Cole's daughter, came to Tulsa to perform for Juneteenth several years ago. The crowd was enormous, and it was all inclusive of the citizenry of Tulsa.
The event I would be most interested in witnessing is in the future. Although I am proud and excited that Chamberlain Park is being renamed in my honor, I would like to see a state-of-the-art Chamberlain Neighborhood Park with a swimming pool and ongoing activities for all ages to participate in and enjoy.
What was a "worst time" and how did you pull through it?
The worst time of my life was the prejudice I encountered at my all-white high school in Bartlesville. I was the first and only Negro to attend the white high school. I was able to survive through the grace of God, my dad, my grandparents, my family and community.
What concerns you today?
The lack of diversity in some of the corporate positions at the federal, state and local levels. Also, it concerns me that people in the north Tulsa community do not believe they have the ability to change outcomes in our community. Still today, inequities exist in education, housing and the economy for people of color and low socio-economic status. For the Chamberlain neighborhood to be a thriving community again, we need families. They need to socialize, get off their phones and out of the house, and enjoy what we have (at the recreation center).
How do you measure success?
I measure success by the attainment of one's goals and aspirations in a chosen field or accomplished project.
My philosophy is, "If I can help somebody as I travel on, then my living will not be in vain."
What is a favorite Tulsa memory?
The most memorable to me is Black Wall Street. There were multiple black-owned thriving businesses on Greenwood when I moved from Minnesota. There was no need to travel south of Archer to get anything because we had such a wide variety in our own community. I worked for a lawyer on Greenwood. My church, historic Vernon AME, is on Greenwood. There were restaurants, dry goods; whatever we wanted was right there. Then, things evolved. I want to see it get better.
Describe a perfect weekend in Tulsa or elsewhere.
A perfect weekend in Tulsa is a weekend with a variation in activities like educational programs, sports, musical concerts, traveling art exhibits and Broadway shows.
Are these the hobbies you enjoy?
I like to go to sporting events and concerts. At Douglass, Ms. Henry taught us music appreciation, so we learned to appreciate all music. I love the blues — not the down and dirty kind — and I love jazz. I listen to Kenny G, Bobby Bland and Joe Tex. I love good music. I don't like this rap and vulgarity. I like real music. I also like being outdoors, except for on a bad hair day.
What do you miss the most in Tulsa?
I miss the Big 10 Ballroom. It was a venue where many celebrities performed. It was like being in New York on Broadway.
What are the most significant changes you've experienced?
The most significant changes have been the revitalization of the downtown and Greenwood areas with all of the new housing development, restaurants, ONEOK Field and hotels. Tulsa is beginning to see progress equal to some of the cities on the east and west coasts.