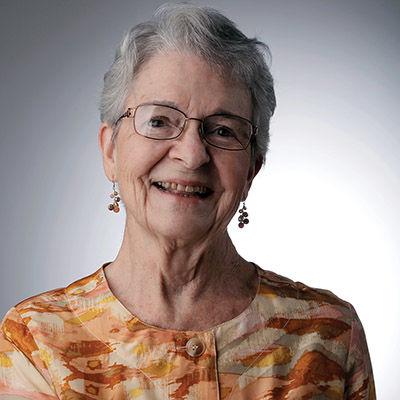 Sally Bright, a long-time member of the Tulsa Junior College/Tulsa Community College faculty, died on Aug. 3 at the age of 84. Her death hit me harder than anyone else's ever had, including my parents'. Here's why.
This is me when I encountered Sally Bright in January 1987: Married at 16, a mother at 18, divorced at 20, a high school dropout with a GED, clinically depressed, emotionally fragile, absolutely without self-esteem or direction.
At 32, I showed up at TJC because my therapist told me I had a lot of insight into why I was the way I was, but that insight never cured anyone. Only the corrective experience could save me. Which, to me meant, "Great. I have to go out and find a new place to fail."
Over the first 16 years of my life, my parents dragged me from pillar to post, enrolling me in and removing me from 18 schools before I dropped out as a junior in high school. Sometimes they didn't even bother to enroll me, and those were the worst of the bad times. Schools and teachers had saved me, I always thought. Wherever I was, a teacher, sometimes a librarian, would take me under her wing and shelter me from at least some of the turbulence of my home life.
So, I chose school as what that therapist saw as the "corrective experience" and what I saw as the place where I could enjoy myself while working up to my epic fail. I didn't count on Sally Bright.
She stood in front of my very first class, Composition I, with a beatific smile. If you've ever met her, you know the smile I'm talking about.
The first thing she did was have us write a paragraph. Mine earned a C because I had a comma splice. So there you go. I knew I wasn't smart. I didn't even know what a comma splice was. What kind of idiot doesn't know that? I would have quit right then, but I didn't feel I had failed spectacularly enough. I needed to keep working on it.
With every sentence, paragraph, journal entry, and paper I wrote, I waited for the hammer to fall. I saw other students' papers come back with marginal entries all over them, but mine contained few comments. I finally visited Sally during her office hours and got up the nerve to ask her what was wrong with my writing. She smiled that smile and asked me what I meant.
"You don't mark all over mine like you do others," I blurted. To me, this was the equivalent of, "You like everybody better than you do me."
She laughed. "I don't have to. Your writing is wonderful. I tell you that in my comments on every paper." She held her hand out for the paper in question and pointed. "See? 'Excellent use of description.'" She pointed to another place. "'You're so creative!'"
To say I was stunned would be an understatement. I had just refused to see the positive because it didn't fit in with my failure scenario.
In that class, Sally taught me everything I needed to know, not only about writing, but about college. Sally managed to include every single significant topic from what we now know as First Year Experience, or Strategies for Academic Success — I don't even know what we do call those classes now. I just know that anybody who ever took her Composition I class learned about syllabi, credit hours, transferring to other schools, how to study, how to take tests — everything!
I can honestly say that, other than studying, I never, ever sought out contests, scholarly opportunities, or anything else not directly connected with whatever class I was taking. I never introduced myself to anybody who could be beneficial to my college career. It was Sally who tracked me to where I was hiding in the library and gave me an application for the PTK-USA Today Academic All-American Team, then stood by while I completed it. Nobody was more surprised than I was when I was named to the second team.
It was Sally who encouraged me to join Phi Theta Kappa honor society and to take an office if they offered it, because I'd be more likely to get a scholarship later.
It was Sally who kept telling me to take a short story class, and even though I was convinced I couldn't write fiction, I did it for her.
It was Sally who told me to submit my short story to the library contest and an essay to PTK for the Pace Rimmer Award.
It was Sally who made sure that anybody who was the least bit relevant at TJC knew my name. I am sure Dean VanTrease was heartily sick of hearing about Carol Johnson, but not so sick that he didn't call me out during commencement and ask me to stand. I was mortified, but my husband said he'd never seen my mother beam as she did then.
As for that commencement — I had no intention of graduating. Why would I leave this place whose people had so embraced me, this school where at least one teacher saw more in me than I would have believed existed? However, in my fifth year at TJC, I was passing Sally's office and she called to me. I stopped and entered. Folding her hands on her desk, she gave me that smile.
"So. When are you going to graduate?" she asked.
"Graduate? I don't want to graduate," I responded. "Why would I want to do that?"
"So you can get your bachelor's, of course."
A bachelor's? Leave TJC? No, no, a thousand times no. What use did anybody have for a bachelor's degree in English? (I mean, really. I still ask this.) Sally was relentless, though, so graduate I did. She wrote letters of recommendation and, just as she had predicted, I went to Northeastern State University on a PTK scholarship. When I was finished there, I didn't miss it a bit, but I had no idea what I was going to do. In my mind, the best choice was to go find some more classes at then-TCC.
Oh, no, said Sally. "You'll go to graduate school."
Seriously? I had no idea what graduate school was. I did know I probably couldn't get a job without it, and while I didn't really want a job — or at least, I didn't know what kind of job I wanted — I did want to keep going to school.
When I heard about the Parriott Scholarship at the University of Tulsa, I doubted I would get it. However, on the strength of the skills Sally taught me and the letters she wrote, I was awarded the prestigious $17,500 scholarship.
From there I returned to what had become TCC and secured a job in the writing center, where I stayed for three years. I taught part time, and Sally gave me a key to her office, where she kept a small desk and chair for me to use. She decided I could teach Honors Classes, while I was sure I couldn't, plus I was part time. Part-timers didn't teach Honors Class. But I did. She said I could, and so I did.
When Sally was ready to retire, I applied for the vacancy, and I have no doubt she lobbied hard for me. I'd never had a job interview in my life that consisted of more than "can you count change" or "do you have a health card," but somehow, I made it and was hired. When Sally moved out of her office, I moved in. Even now, 20 years later, I treasure that little square room. She gave me her scissors, with S. Bright printed on the blade; her Oxford English Dictionary, magnifying glass and all; and, in the file cabinet, every paper I'd ever written for her.
She was at my son's wedding, the baby showers for my granddaughters, every fish fry we had, every one of my graduation ceremonies. (After the last one in 2013, I said, "How many of my commencements are you going to go to?" She smiled and said, "However many you have.") She never, ever forgot my birthday, sometimes making me her famous chocolate cake. When my mother died, Sally and Hugh drove to Joplin to the funeral then took Jim and me to lunch.
The TulsaPeople issue celebrating TCC's 50th anniversary recently came out, with small mentions of both Sally and me. I picked up one for myself and one for Sally, because that's what she would have done. I took hers to Hugh, and we hugged each other long and tight as he clenched the magazine.
We didn't speak. There was nothing to say.