A Tulsa Fire Department ladder truck pulls into Station 4's bay and comes to a stop. The driver's door opens and out pops Kendall Williams. 
"You should see the looks I get when people see me driving this thing," Williams says as she leans against the front bumper. The basket connected to the ladder hangs about 5 feet above her head. On Feb. 16, she spent a frigid afternoon in that basket 100 feet high as she helped extinguish a three-alarm fire at Fischer Brothers Office Supply, 1738 E. Sixth St., next door to Marshall Brewing Co. 
This August will mark 30 years since Debra Kuffel and Norita Bridges took the oath to become TFD's first female firefighters. Bridges is still on the job and is a role model, according to Williams. They are two of the nearly 20 women on staff out of 676 firefighters. 
It's Williams' fourth year on the job, and it's not one she ever imagined doing until a chance encounter with a group of firefighters at the Helmzar Challenge Course led to her apply. She had quit her Wagoner County law enforcement job after six years, was recently divorced and was running a CrossFit gym when she signed up for the academy. 
"We had four females in my academy class, which is the most females in a class that we've had so far," says the 37-year-old. "I've always been an athlete. I grew up on a ball field, so I've always been more on the active side, and I like to get dirty. I'm not a high-heeled businesswoman."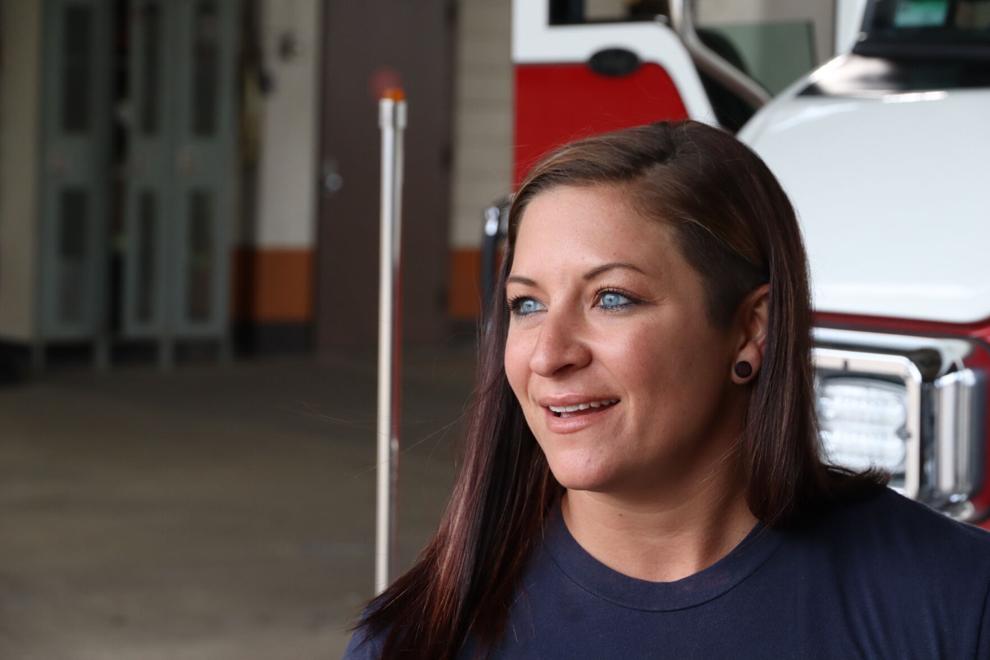 She says it's more socially acceptable for women to work in law enforcement than in firefighting, and it took her time to adjust to the new way of life. She describes her first year as "mind blowing" in learning how to adapt and thrive in a new environment that she says is "definitely a guy's job." 
She cites finding the right station and crew in her second year on the job as the breakthrough she needed. That, and she can easily carry a 24-foot extension ladder on her shoulder. 
"I don't mind working hard. I've been a CrossFitter. I coach at a gym, all that kind of stuff," says Williams, who coaches at Dynamic Sports Development. "You really just have to prove your worth a lot more, I feel." 
Not only does Williams drive the ladder truck, she also serves on TFD's urban search and rescue team. To date, she has been deployed three times for hurricane response. She says her toughest day on the job came last spring in Bird Creek when she was on the rescue crew that recovered the body of 2-year-old Tony Crook. 
"That sucked, especially when you've got your own kids," Williams says. "I supervised sex offenders for six years, so I had dealt with that horrible crap on the job. Thankfully that's the only child (victim) I've had to deal with. I'm glad we were able to find them (the bodies of Tony and his 3-year-old sister, Miracle) and bring the family closure, but that was a tough week." 
Williams is a member of the group Tulsa Metro Female Firefighters, which is hosting Camp Fierce on May 22-23. It is a camp for women 15 and older who are interested in learning more about the fire service. EMSA and Oklahoma National Guard also will take part in the event. 
The group also publishes the calendar "Tulsa Metro Women on Fire," with proceeds going to Hydrants of Hope, a nonprofit started by late Tulsa firefighter Mark Meyer to help fight pediatric cancer. Williams says proceeds from the calendar, in its third year, have raised about $50,000 and counting.
On April 24, Tulsa Metro Female Firefighters will host a camp for kids with cancer at TFD's training center. 
"We're donating bikes and PlayStation 4 controllers and stuff like that to kids who either have cancer or they've recovered from it," Williams says. "Right now we've got about 40 kids. It's fun. I will never be able to write a big check out of my own pocket, so it's cool to be able to help in this way."