On June 11, Dani Byrd stood before hundreds of people on the Guthrie Green lawn to share her story.
She told the audience at the Rally for Black Lives what it means to be a Black trans woman.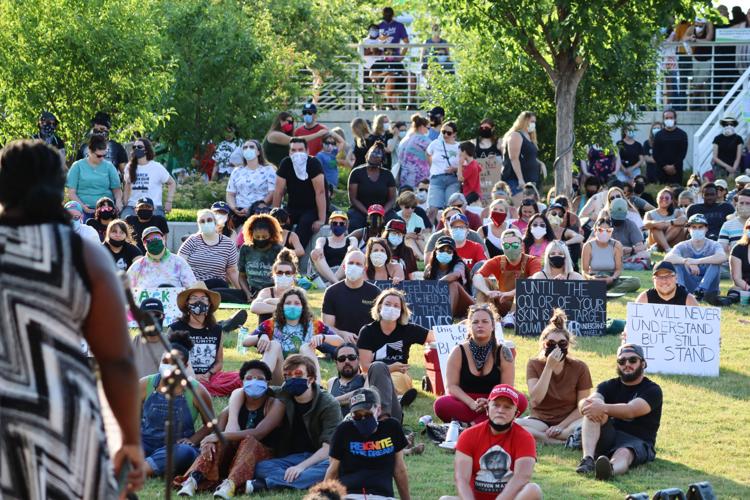 "I wanted to elevate my voice speaking in solidarity because there are Black trans women who are hanging in the balance," says Byrd six weeks later as she reflects on that night. "In my speech I said, 'Black lives matter, not just straight ones.'
"There are so many layers of the African-American community that matter, that need representation. I can speak to several of those layers. So you know, if I can speak to it, and I don't do it, I wouldn't be able to sleep at night."
The same week Byrd stood on the Guthrie Green stage, Dominique Fells of Philadelphia and Riah Milton of Liberty Township, Ohio, were murdered. Both were Black trans women.
According to the Human Rights Campaign, at least 26 transgender or gender non-conforming people have been murdered in 2020. Of those, nearly half were Black trans individuals, mostly trans women. HRC states "at least" because trans murders often go unreported or misreported.
"We're talking about COVID-19 being a pandemic. The murder rate for Black trans women is becoming a pandemic, its own epidemic, its own real problem," says Byrd, who serves on the board for Oklahomans for Equality. "So I think about that, and I make sure that if I am somewhere that one of my friends knows where I am. I have a cool app on my phone that basically will let people know where I am at all times. I try and keep good situational awareness. So I do that, and I typically feel safe."
Tulsa-born Byrd, 29, says she knew from an early age she was different, "But in the masculine culture, you don't necessarily go talk to your dude bros and say, 'Hey, that dress is nice, huh?' Or, 'Hey, why don't we ever paint our nails?' This isn't a conversation that you have with your guys. So I never really had an outlet to figure out, 'Wow, I am really different.'"
That moment occurred when she visited Club Majestic for the first time a couple years ago. She says she met a trans woman and learned their experiences were similar. Soon Byrd started her transition.
At the time she was a married father of three. Byrd says her now ex-wife and children were understanding, which made it easier. She says some family members have struggled with it, but she found an accepting community in Tulsa.
"I would say nine times out of 10, I don't think people know that I'm a transgender woman, and I think that's awesome," she says. "Most who knew me pre-transition are still treating me like a person they love and esteem."
For nearly a decade Byrd has worked in the Tulsa office of Oklahoma City IT company BankOnIt. She says leadership and her coworkers have been supportive of her.
"My employer has several LGBTQ people, so it wasn't a big a big shock to the system," says Byrd, who runs the help desk. "They basically said, 'Whenever you're ready, we've got your back, and we're ready to do that for you.' It's been great."
Byrd worked with Tallgrass Estate Planning to make all her identification congruent. The next step is transitional surgery. Byrd has one scheduled for Sept. 25, but it could move due to the pandemic. She has fundraised thousands of dollars toward her $25,000 goal.
"It would mean everything to me," she says. "It would be an affirmation that I'm valid, I exist and that my life matters, too."