Bostonian Nashaira Ofori was ready for her next move. She never dreamed it would be to Tulsa.
She and her husband, Kyle, moved to the eastern metropolis for her job and his graduate studies. Because her education technology firm, Panorama Education, allowed employees to work remotely, and Kyle had finished graduate school, they could move anywhere they wanted.
Tulsa wasn't at the top of their list, but that all changed with a single email. "My husband and I subscribe to a newsletter called CityLab, and they did an article on Tulsa Remote," Ofori says.
A new initiative by the George Kaiser Family Foundation, Tulsa Remote launched in November 2018, promising to pay $10,000 to any eligible professionals who wanted to move to Tulsa.
Aaron Bolzle, executive director of Tulsa Remote, says news quickly spread worldwide. "We studied the coverage, and it reached around two and a half billion people," he says.
Over 10,000 applicants were narrowed to 100 participants, Ofori included. The vast majority leverage technology in some way for their jobs, and about half have traditionally defined tech roles.
As of press time, almost everyone has made the transition to Tulsa, where they are interacting with native Tulsans, eating at local restaurants, attending local events and bringing new energy to the area.
The moves bring in new neighbors and new taxpayers, but that's not the sole goal of Tulsa Remote. Bolzle says the young, diverse participants bring a renewed energy to the Tulsa community, and in many cases, a technological savvy that could inspire local workers.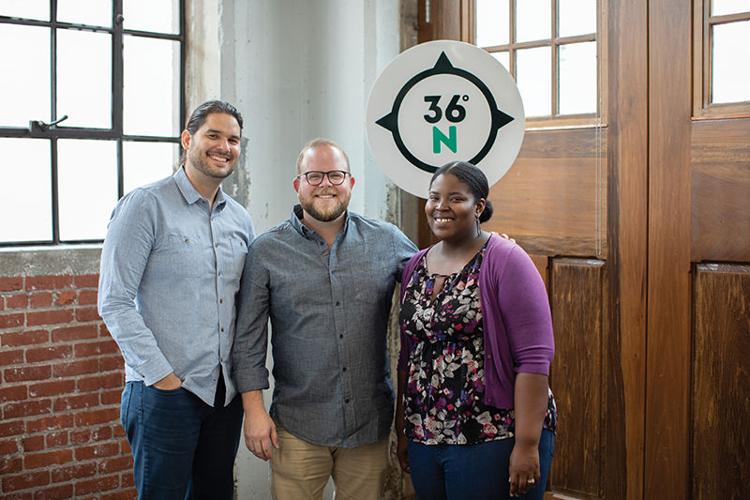 Building Tulsa into a tech hub
Many have compared Tulsa to buzzworthy cities such as Austin or Seattle, but thanks to a collaborative effort, Tulsa is steadily building a reputation as a tech hub.
Though Tulsans aren't yet seeing many big-name tech facilities in the area, other than the Google data center in Pryor, tech jobs have become a key driver of area employment. Local companies are trying to fill an estimated 4,000 tech jobs, says Jennifer Hankins, vice president of entrepreneurship and small business at the Tulsa Regional Chamber. According to the Standard Occupation Classification from the Bureau of Labor Statistics, tech jobs are broadly categorized as computer and information research scientists, computer systems analysts, information security analysts, computer programmers, software developers and computer network architects.
She says much of that growth comes from the continued spread of advanced technology into nearly every type of business. "A company can't go without technology enabling their business," Hankins says. "They're starting to realize that's what will help them grow."
But filling all those tech jobs isn't easy, even during a strong economy. The positions often require special knowledge and training that might not have been common even a few years ago.
That's why the Chamber and other organizations aren't just concerned with creating tech jobs; they want to make Tulsa itself more tech-friendly, so local companies can find tech workers in their backyards and give young tech entrepreneurs the chance to thrive in their hometown.
Additionally, having skilled tech workers available to pitch in and share information can help local businesses thrive and ensure Tulsans have the best job opportunities possible.
Bringing already skilled tech workers into Tulsa can be tricky, since many young workers don't yet consider Tulsa to be a cool place to live.
However, "Companies are telling us that once we can get people here to look at Tulsa, getting them to move here is a piece of cake," Hankins says.
Unfortunately, not every company can afford to sponsor frequent trips to Tulsa. That's why the Chamber is actively studying the local workforce and seeking ways to find strong tech workers without cross-country moves.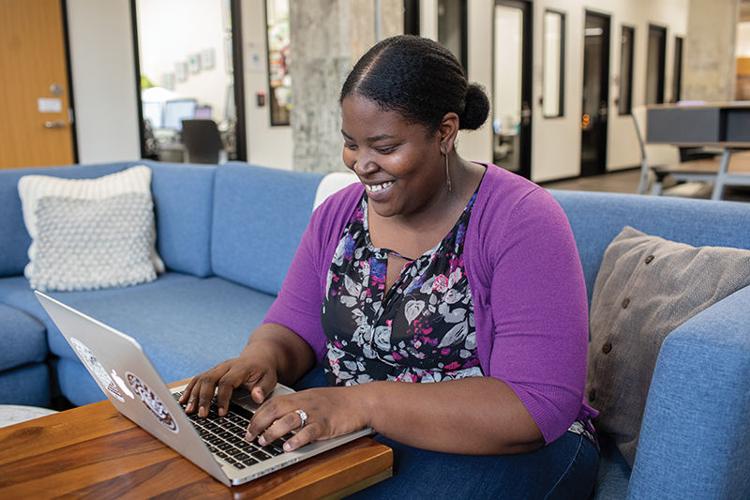 "How do we upscale underemployed Tulsans and get them into tech jobs? How do we get them ready for these positions quickly?" Hankins says these are the questions the organization seeks to answer.
The Chamber heads its own incubator for innovative, high-growth companies known as the Forge. For the past decade, the Forge has assisted individuals and groups with strong business ideas through a 50-person mentor group, a business growth curriculum, office space and more. To date, 13 growing businesses have their roots in the Forge.
Beyond that, the Chamber is collaborating with a number of organizations to help make Tulsa a more nurturing place for future tech workers. One example is its relationship with Tulsa Technology Center, which continues to sharpen classes and certificate programs to help workers transition into tech jobs as quickly as possible.
And then there's the community of remote workers entering Tulsa through Tulsa Remote.
Or, in at least one case, re-entering.
Reconnecting Tulsans with new opportunities
Adam Recvlohe, a citizen of the Muscogee (Creek) Nation, grew up in Florida but moved to Tulsa in 2009. He moved back to Florida in 2012 to address a health issue and to change careers from education to software development. He now works as a developer for SimSpace.
"Tulsa was a little different back then; there wasn't the Gathering Place," he says. "Downtown wasn't as developed."
However, Recvlohe didn't want to cut ties with Tulsa completely. "The reason for coming back to Tulsa was so that I could have an impact in my community, face-to-face," he says. "Having a remote job allows me to do this so I wanted to take advantage of it."
Last year, he found the perfect opportunity to return permanently. He discovered Tulsa Remote through a friend and applied.
Tulsa Remote only required four things from applicants: must be at least 18 years old, have the legal ability to work within the U.S., work full time for a company based outside of Oklahoma, and have the ability to move to Tulsa within six months of acceptance for 12 consecutive months. He fit the criteria and jumped at the chance.
Bolzle says applicants were asked a number of yes or no questions, as well as questions such as, "Why do you feel you're a good fit for the program?" and "How would you get involved in the Tulsa community?"
Additionally, a 30-person areawide panel helped narrow the 10,000 applicants to 1,000 finalists. "We wanted the community to be involved in who we bring here," Bolzle says.
The finalists were, appropriately enough, interviewed remotely via videoconferencing. Ofori says her interview focused on questions such as how she contributes to her community, what she's passionate about, and how she likes to spend her time.
She says her job conveniently brought her to Tulsa briefly before she made the final decision to move here in May. "I did some work with Tulsa Public Schools, so we had an opportunity to visit," she says.
For Tulsa Remote, the selection and the financial award are only the start of the organization's work.
"The money got people's attention, but the real draw is the integration into the community," Bolzle says. "Making connections is the hardest part of moving to a new city. Many people had been considering a move for a long time and had never considered Tulsa as an option. This program helped put Tulsa on the top of their list."
He and his team work with Tulsa Remote participants to address any questions or frustrations that might arise. Even before they arrived, the staff connected them with real estate agents and apartment managers to help with relocation.
Thanks in part to a dedicated channel on the group communication app Slack, the new Tulsans are quickly learning where they can get their hair cut, who the best auto mechanics are and where to go for a margarita on a patio.
Additionally, Tulsa Remote is giving participants ample opportunities to get involved with volunteering opportunities or community events, such as an informational meeting with the Tulsa Area United Way, a mixer of Tulsa Remote participants and longtime Tulsans at a Tulsa Drillers game, or alerts about special events such as Juneteenth or activities at the Philbrook Museum of Art.
Tulsa Remote partners with organizations including the City of Tulsa, Tulsa's Young Professionals and 36 Degrees North, which describes itself as a basecamp for entrepreneurs. Since 2016, that organization has provided workspace for entrepreneurs to connect with like-minded, passionate individuals growing their businesses. Expert remote workers and entrepreneurs work side by side.
Sarah Stephenson, operations manager for 36 Degrees North, says coworking and group events at the facility not only provide excellent networking opportunities, they also cross-pollinate talent and skills.
"We've found that the community here helps the entrepreneurial ecosystem so much," she says. "We have an entrepreneur working next to a remote worker. The entrepreneur may not know much about tech, but she'll be working next to a Mozilla employee."
Over half of those officing at 36 Degrees North incorporate some form of internet-based or emerging technology, Stephenson says. For instance, Mozilla, the not-for-profit company that develops the Firefox internet browser, now employs six people working remotely from the 36 Degrees North coworking space.
Local tech companies that have grown in and around 36 Degrees North include Indigo Technology, a software development and startup accelerator company; Brigade Technology, a data protection company; and Last Night's Game, a website that recaps sports events.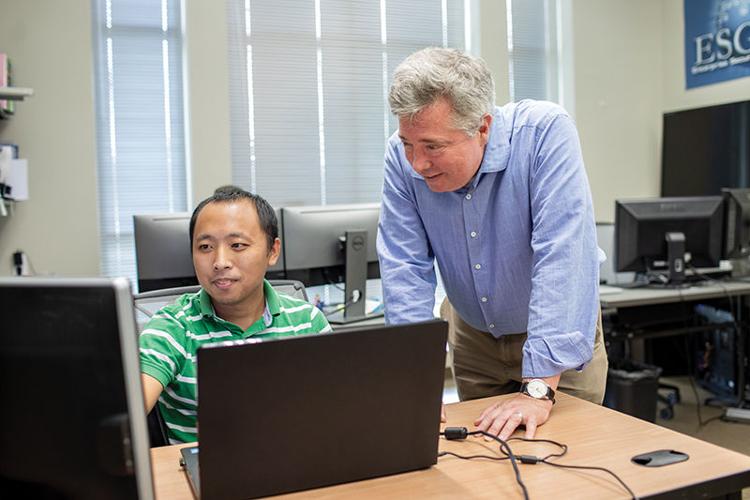 Spurring more development
36 Degrees North also is one of the sites for events sponsored by the Tulsa chapter of Techlahoma. The nonprofit group was founded six years ago in Oklahoma City to advance the grassroots technology community across the state. It spread to Tulsa one year later, says Tulsan Luke Crouch, Techlahoma's vice president.
"Before, the tech community was a little haphazard and disconnected, with lots of little pockets," he says. "Techlahoma helped bring people together."
Techlahoma was founded around local tech conferences, including 200 OK, an annual web developer conference now in its fifth year in Tulsa. The organization brings together groups of like-minded people more frequently through its user groups, which number 38 across the state and 13 in Tulsa. For example, Tulsa Web Developers has monthly Hack Nights, which allow people to work on projects, show off their developments or share tips
with others.
But Techlahoma isn't just based around those already deep in the tech community, Crouch says. The group offers frequent workshops designed to help introduce new people to tech concepts and provide them with the tools needed to succeed. One of these is Django Girls, an introduction to coding workshop for women.
A group of Techlahoma members, Code for Tulsa, works to improve the lives of community members by simplifying government procedures. Its current project is Courtbot, an automated service that texts reminders to people required to appear in court. "A lot of people sit in jail for no reason because they don't know about their court date, and a warrant goes out for their arrest," Crouch says.
Crouch, who works for Mozilla, says Techlahoma and other efforts to build a thriving tech community in Tulsa are necessary to keep talented workers from being snapped up by large companies such as Microsoft, Amazon and Google that are likely to ship them out of state.
"Technology professionals want other technology professionals," he says. "We need smart technology workers active in Tulsa in order to attract other technology workers."
Building a strong tech community in Tulsa is already helping build the community as a whole, Crouch says. Tulsa Remote participant Ofori has already participated in multiple city council meetings, while her husband now works in the Mayor's Office to develop a model for the census that ensures all Tulsans' voices are heard.
Recvlohe has started a nonprofit, Native in Tech, to both elevate Native Americans in software development and develop all kinds of native-based applications. He's personally working on a Creek dictionary app to help people search for Creek words in English and Creek, and eventually learn the tribal language. "Being part of the Tulsa Remote program really plugs me into efforts to improve the community," he says.
Bolzle says many other cities and states are trying to build programs similar to Tulsa Remote.
Vermont's government passed a bill called Think Vermont that will reimburse new Vermonters up to $10,000 for up to two years, but only for moving expenses and office setup. And Shoals, Alabama, is in the process of putting together its own program.
"I have conversations with communities on almost a weekly basis that are interested in what we're doing," Bolzle says.
Tulsa Remote was originally set to be a one-year program that would move 25 people to Tulsa, Bolzle says. That grew to 100 people, with 54% of them female and 40% people of color. The program was so successful, it will be revived next year to bring even more new workers to the area.
Thanks in part to new technology that enables remote work, the George Kaiser Family Foundation has opened a new front in their mission to make Tulsa a better place for everyone while providing the most amount of opportunity for current residents.
"Ultimately, we want to disrupt intergenerational poverty, and part of that is to create the most vibrant, inclusive city we can," Bolzle says. 
Cutting-edge education keeps Tulsa at the forefront
One of Tulsa's strongest tech draws has produced new generations of tech workers for over four decades — and it's now more popular than ever.
John Hale is the department chair for the Tandy School for Computer Science at the University of Tulsa. Though the department gained the respect of nationwide tech companies and institutions long ago, it's now growing at a rapid pace.
"Recently, our enrollment has grown by leaps and bounds," Hale says. "Just a few years ago we had 200 students, and now we're at nearly 300."
Hale says part of that growth comes from a nationwide increase in tech students, though the University of Tulsa benefits from the school's strength in three cutting-edge fields: cybersecurity, artificial intelligence and bioinformatics.
With cyberattacks on the rise globally and locally, nearly every modern company has an interest in staying safe, Hale says. The university emerged as one of the first leaders in cybersecurity research over two decades ago, and was named a Center of Academic Excellence in Information Assurance and Cyber Defense Education by the U.S. government in 2000.
"Our students enter the workforce and act as the front-line defense for cybersecurity," Hale says. "Many of them go on to work for the government on cyberdefense."
Artificial intelligence also has exploded over the years, with the field now a common element of nearly every type of computer development, he says. Students at TU harness AI to develop better sensors or create statistical learning techniques to solve complex problems, for example.
Finally, bioinformatics melds life science with computer science by acquiring, processing and analyzing biological data.
"This could be data about the bioinformation in the Tallgrass Prairie, or it could be your personal DNA," Hale says.
TU now collaborates with the Laureate Institute for Brain Research to analyze brain activity. Since a single Laureate brain scan can generate terabytes of data, researchers require increasingly complex forms of analysis to deepen their studies of the human mind.
For years, many graduates from the Tandy School for Computer Science have moved on to big companies like Google or Amazon, or the federal government. But Hale says he's seeing more opportunities for tech students to keep using their talents in Tulsa.
"Once a month, I'll meet up with someone starting up a new company and looking to bring in some talent," he says. "It's an exciting time."