For 35 years, 12&12, Inc. has helped Tulsans overcome substance abuse disorders and have diverted many from incarceration.
12&12 provides multiple levels of treatment including detoxification, intensive residential treatment, outpatient and intensive outpatient treatment, counseling, transitional living, and sober living.
Many of those who arrive to the nonprofit seeking help only own the clothes they are wearing.
Three years ago the nonprofit organization launched 12&12 Day to help aid those suffering from addiction in our community, while bringing awareness to this disease.
The third annual 12&12 Day will be held from 8 a.m. to 3 p.m. on Saturday, Dec.12, with an additional drop off time of 9 a.m. to 2 p.m. on Friday, Dec. 11.
Drop off locations (listed below) will help collect items for those at 12&12, Inc. Donors can bring $12 (cash or check) or an item from their 12 most-needed list to one of the locations. Monetary donations are also accepted at 12and12.org/donate/ and www.facebook.com/12and12Inc/.
12 most-needed items:
Shoes
Socks
Board Games
Jackets
Hoodies
Hats
Underwear
Toiletries
Playing Cards
Puzzles
Gloves
Books
Drop-off locations:
Luxe Furniture & Design, 10545 S Memorial Dr, Tulsa, OK 74133
Greenhouse Clothing, 6129 E 31st St, Tulsa, OK 74135
Chris Lile - State Farm, 3820 E 51st St, Tulsa, OK 74135
HCS Roofing & Restoration, 2108 N Willow Ave, Broken Arrow, OK 74012
Kiddlestix, 3815 S Harvard Ave, Tulsa, OK 74135
12&12, Inc., 6333 E Skelly Dr, Tulsa, OK 74135
On top of the donation stations, OKCookie Momster is donating all proceeds of their 12&12 Day cookies and cakes. For each shirt sold in store or online at Buck Atom's Cosmic Curios on Satuday, they will donate a shirt. Tori Johnston Styling is donating all proceeds from product sales and appointments on 12&12 Day. Artist Samantha Jezek is creating a 12&12 painting and will put it up for auction on her Instagram page with all proceeds going to 12&12, Inc.
TulsaPeople checked in with CEO Bryan Day and 12&12 Day Coordinator Jen Kerckhoff to learn more about the nonprofit and why it's important to help them this weekend.
12&12 has come a long way since it launched downtown in 1985, especially in the last few years. How many people does it serve today and what is the program's biggest impact on Tulsa and Oklahoma?
Day: 12&12 served 1,894 clients last year plus 868 persons were diverted from jail. 12&12's continuum of care includes Joint Commission accreditation for detoxification, intensive residential, transitional living, outpatient and more.  
This continuum enables 12&12 to serve "most addicted of the addicted" and "the sickest of the sick". The biggest impact of having such a comprehensive treatment approach for Tulsa and Oklahoma is 12&12 reduces incarceration and hospitalization rates. 12&12 biggest impact is recognized in improved health of our community and the well-being for each client served and dramatic fiscal savings.  
12&12 Day is entering its third year. How has it evolved since you started it and what does it mean to see where it is today? 
Kerckhoff: 12&12 Day is an opportunity to shine a light on the effects of addiction and learn how 12&12, Inc. is impacting our community in this battle. Three years ago 12&12 Day was small but mighty. The entire concept of this day occurred for a few reasons.  
First, I realized how many people in the Tulsa community are not aware of what 12&12, Inc. is doing to fight the disease of addiction. Yet every person I know has a loved one who is suffering from addiction. The idea for 12&12 Day is to spread awareness and help break the stigma with addiction. Have more individuals learn about 12&12 while supporting this non-profit and the clients that seek treatment at 12&12.  
Donating $12 or an item from our 12 most needed donations goes a long way. Most of the individuals who seek treatment at 12&12 arrive at the facility with the clothes they are wearing. Donations are used immediately. The funds raised on 12&12 Day are used for client services. To help fund everything client related.  
Once I started asking people if they wanted to volunteer at 12&12 with a focus on organizing 12&12 Day word of mouth set in. People reached out to me and told me their heartfelt stories on how addiction has impacted their lives. The local Tulsa local businesses are the kindest community. Many of them created fundraisers to help highlight this day or serve as a drop off location. 
For the second year in a row we have 12 Faces that represent the various ways 12&12, Inc. is working to fight the disease. The 12 Faces of 12&12 Day each share how 12&12 impacts their lives. These are individuals who work in the community to give those with addiction a chance for change. To people who are in recovery and those who work at 12&12. Through all of these people this grass roots event is spreading. One donation of $12 or one social post share does make a difference. 
Why are you so passionate about this cause?
Kerckhoff: Ten years ago my dad, Terry Clark, died the day he was supposed to check in for rehab at 12&12 Inc. I grew up with no knowledge of addiction. My dad was the most magnetic person. His heart was almost too big to fit into a room. He was the closest person to my heart. Yet the disease of addiction stole him from me at the age of 49. Due to health problems doctors prescribed my dad painkillers. He became addicted. It felt like I was living a bad dream.  
I was constantly in shock that this was my new reality with my dad. How can this person who was kind, successful, giving and fun but robbed of his old life because of addiction?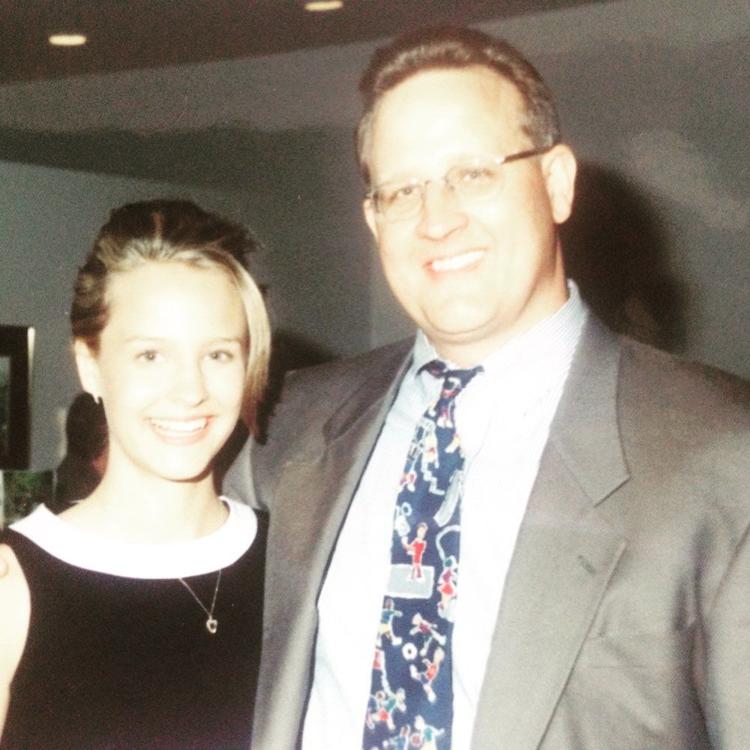 Then I realized this is not just my dad. There are thousands of people suffering. With endless loved ones who want to get their loved ones to recover. The beast of grief lives with me daily. My genuine joy of life is a gift. One that I want to use to help others who need a voice. While advocating for understanding that addiction is a disease. Recovery can happen.  
Through volunteering at 12&12 I have met people who have changed me. I got asked once if my dad would be upset that I talk so openly about his addiction. My response was simple: NO!
Now if you want to ask me all of the endless memories and moments with my dad I will share them. But he was a helper. If I can help someone he would want me to advocate for those suffering with addiction. 12&12's mission statement says it all.... "we offer life-saving recovery tools for adults suffering with addiction and co-occurring mental health and substance use disorders to achieve individualized recoveries". Addiction can and does take life... my passion is centered on that. Saving lives!  
What is your advice for anyone who is questioning if they need help or are battling a substance abuse disorder and feel alone or lost? 
Day: There is help. You are not alone. Don't lose hope. The brain disease of addiction is very treatable. Life after addiction is not only possible but recovery is happening every day!