Long involved in the fishing industry, Falcon Rods founder John Beckwith looks back to his early days and acknowledges, "Tulsa was the place. It was just the place to be."
"I moved here from Lenexa, Kansas, where I worked for Johnson Outboards. I did a lot of fishing all over that state, but in Oklahoma it was a different deal. Just the intensity of the fishing business and just the fishing — the average guy here in Tulsa compared to the average guy in Kansas would be an expert angler."
Tulsa had Zebco; it had Carl Lowrance and the early fish finders. The city was home to people who had early influence in the formation of the Bass Angler Sportsman Society (B.A.S.S.) with Don Butler and his Okiebug tackle shop frequented by guys like the now famous pro fisherman Roland Martin. Tulsa Tribune outdoor editor Bob Cobb would go on to be the recognized voice of B.A.S.S. worldwide. The weekly Joe Krieger Sportsman Show on Channel 2 introduced the world to a young fella by the name of Jimmy Houston — now known as the most recognized angler in the world.
Pick up a rod and reel and buy a boat in Tulsa and you're not just going fishing, you're taking your place in a city with a legacy of worldwide influence on the art of fishing that continues to this day.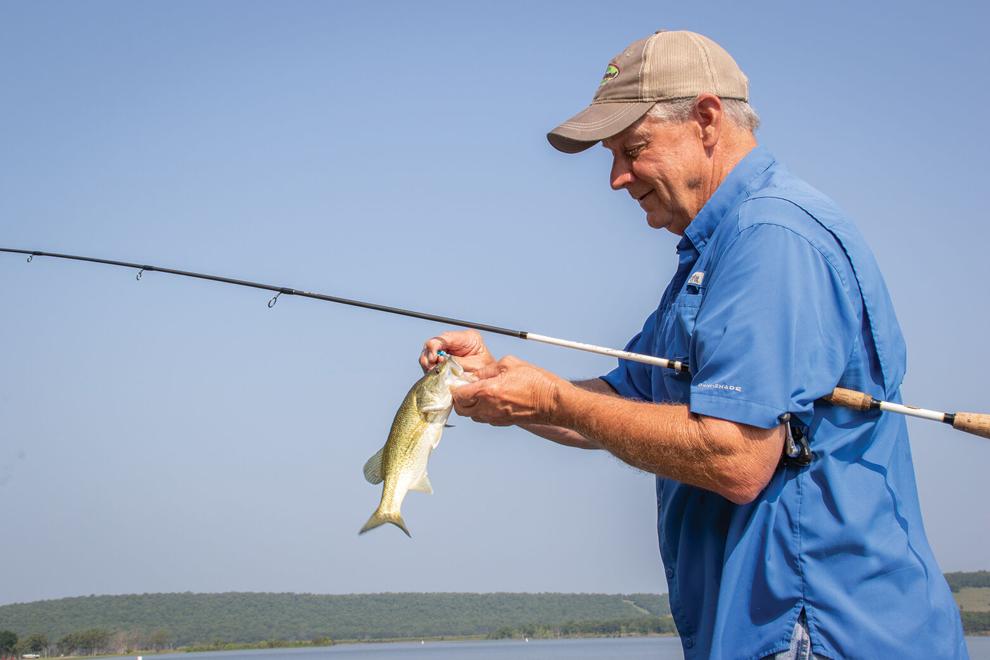 "It's just a hotbed of fishing," says Gary Dollahon, an expert angler in his own right and owner of Dollahon PR, a communications firm that has represented many of the local fishing industry companies at one point or another — or at least taken leaders of those companies fishing.
For several years he was part of the Bobby Garland/Gene Larew company that, until 2019, manufactured and distributed the most popular crappie baits and one of the top bass baits in the world in east Tulsa. PRADCO Outdoor Brands, a national manufacturer and owner of multiple fishing product lines, purchased the operation. The machines designed in Tulsa, and specialized specifically for those baits, were moved to Fort Smith, Arkansas.
"Tulsa is a unique situation with six large and really good fishing lakes within an hour's drive of the center of the city," Dollahon says. "It has turned out a lot of great anglers and in the heyday many of these fishing companies were started by people who actively fished."
Carl Lowrance, with his sons Darrell and Arlen, debuted the Fish Lo-K-Tor in 1957 in Joplin, Missouri, when the patriarch of that fishing family applied his knowledge of World War II sonar to his fishing interests. When the company relocated to Tulsa in 1965 the "Little Green Box" was in use from Australia to Scotland's Loch Ness. The company sold more than a million of what became the most popular fish sonar produced worldwide through 1984.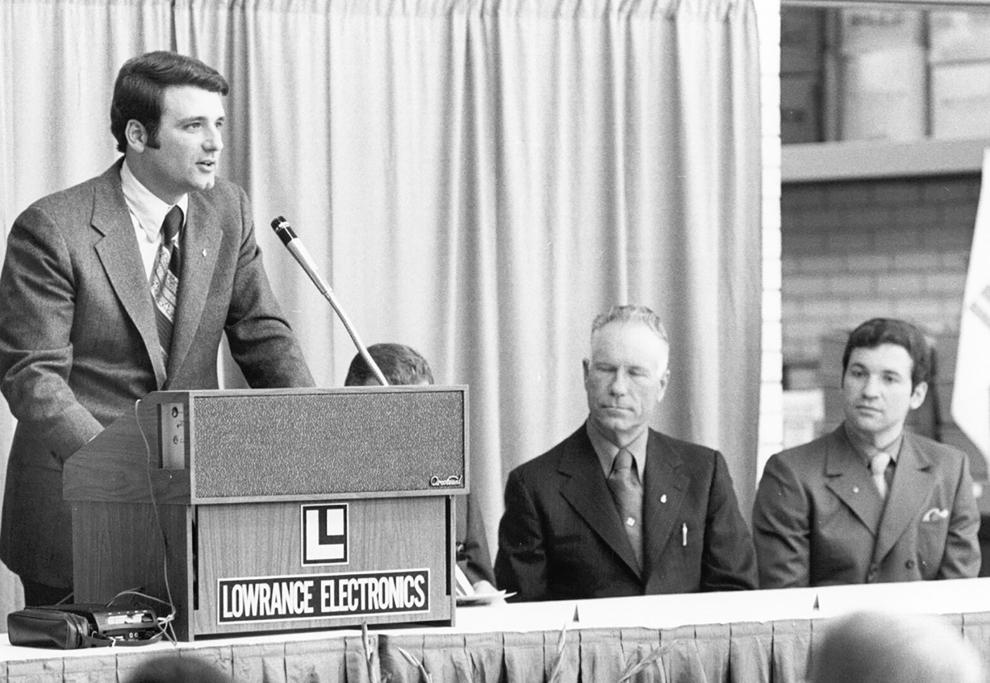 The company has come a long way from blips on a screen to live-vision sonar units found on competition fishing boats from Skiatook Lake to Sweden as a brand under the umbrella of international Navico marine electronics company, but its American headquarters remain in Tulsa.
Kansas-based Garmin opened a research and development facility in Tulsa in 2012, where a team concentrates on development of marine products that compete with the Lowrance brand. 
In the 1930s and during World War II Tulsa's Zero Hour Bomb Co. made electronic time bombs to break up rock formations for oil drilling, which helped supply the world with petroleum. Things changed after the war and the company went in search of a new purpose, connecting with an inventor by the name of R.D. Hull.
Hull and Zero Hour teamed up to change the fishing industry forever with the debut of their no-backlash "push-button" fishing reel in 1949. The iconic Model 33 was released in 1954, securing the company's place in history when it became Zebco in 1956.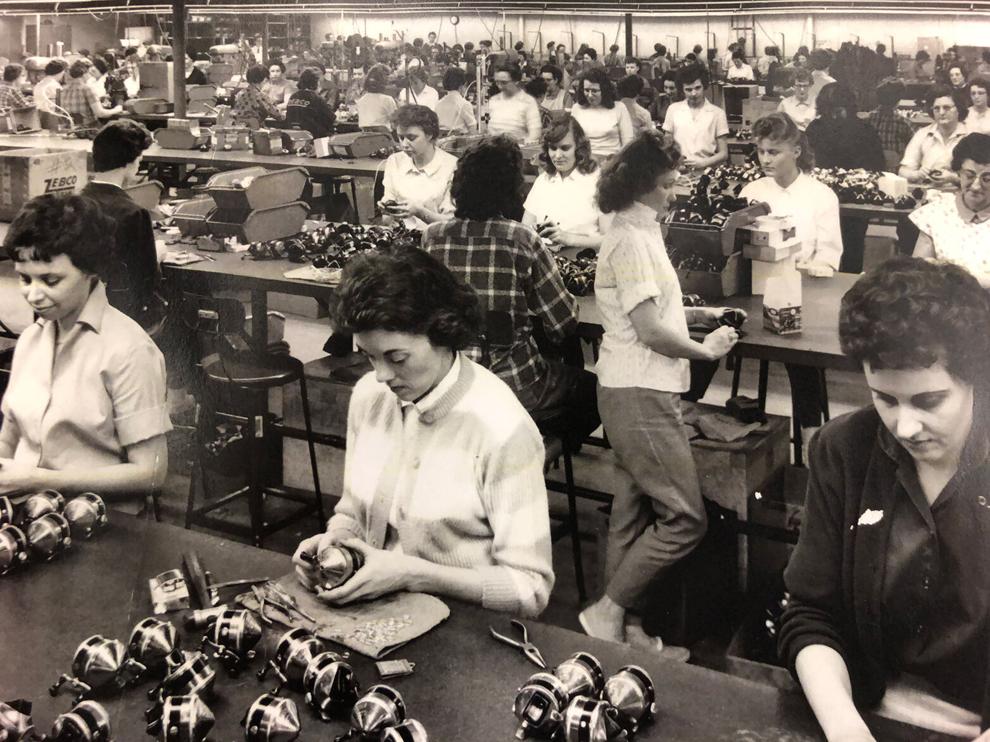 Recently acquired by the international Rather Outdoors Corp., Zebco headquarters remain in Tulsa.
Zebco has called Tulsa home since 1949 and maintains robust operations in the city, according to Balay Hartman, Zebco brand manager at the Tulsa headquarters. It houses multiple departments, including engineering and innovation, product testing, operations, marketing and sales, as well as warehousing.
Those classic (but slightly updated) Zebco 33 reels still fly off the shelves, along with other well-known Zebcos with model numbers recognizable to most anglers. The 202, 404 and 606 reels are sold in North America. 
It was into this world of innovation and international influence that John Beckwith came when he transferred in 1975 from Johnson Outboards to sell Shakespeare's products, but started to see a need for specialty bass rods.
Looking back at that transition in the late 1980s, "I had never thought about being a vendor," he says. "I was a rep. I was a salesman."
He also had a friend who was a banker and who agreed to help him start a business. "I told him I was worried about how I was going to pay him back," Beckwith says. "Today that kind of thing probably would never happen because a bank wouldn't offer that line of credit."
Most fishing rods in those days were designed for a consistent parabolic bend, handle to tip, but Beckwith saw a market for rods for specific techniques. 
"No one made a rod to throw a particular kind of lure," he says. He also was still a sales rep for Fuji fishing rod components, and he learned something from them.
"They had world championships for long-distance casting and they had choked down the line to run through smaller guides, so that's where that idea came from," he says. "We actually started with fly-rod guides on a new rod blank and, man, it changed everything."
The new small guides on the rod kept the line low, close to the rod, and provided the Lowrider name.
By 1995 a fishing trip to Falcon Lake in Texas gave rise to the new name for the fledgling company and sponsorship of a pro angler who was a whiz at using a popular new technique called the Carolina Rig proved pivotal. Carolina rigging is a fishing technique that uses a sinker trailed by a plastic bait that looks like a crawdad or a lizard. Beckwith came up with a rod with the right kind of flex in the tip to make the technique more effective, and called it the Lowrider Lizard Dragger. 
"We were sponsoring Mark Davis and he was Angler of the Year, and I remember we air-freighted rods to him fishing the Bassmaster Classic and he won the Classic using the new lowrider," Beckwith says. "That put us on the map."
Beckwith and his son, Chris, head up the company based in Broken Arrow where, with a staff of about 15 people, they design, product test and distribute rods chiefly made overseas and sold worldwide. Italy is one of their biggest international clients. They also have a line of rods designed especially for peacock bass and other trophies on the Amazon River.
"In northern Brazil I think our rods are thought of as the best," Beckwith says.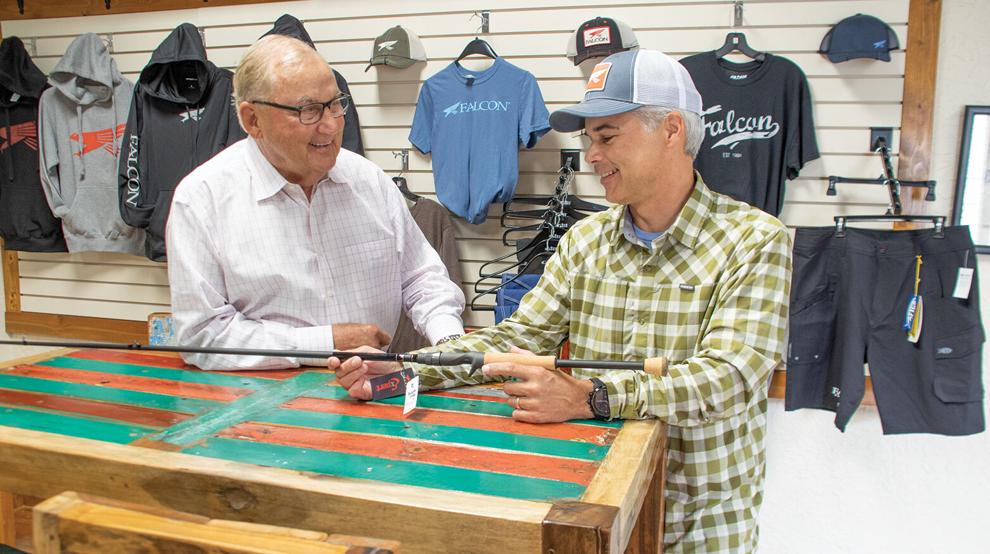 Falcon pioneered the idea of naming rods for the specialty uses they provide rather than just a length measurement and light, medium or heavy action. Shoppers can comb the catalog or local store shelves for everything from the BuCoo Ultralight to the Lowrider Heavy Cover Jig or a Jason Christie Signature Jig/Worm Pitchin Stik.
Jason Christie, a bass pro from Park Hill, is another in a long line of Oklahoma anglers with national and international followings and Tulsa-area roots. Currently ranked second on the Bassmaster Elite Series circuit, he hits the water in a boat wrapped with the Falcon logo.
"Falcon is the only rod he has used since he started fishing nationally," Beckwith says. "He is another great example of a local guy that made it big on the bass circuit, plus he is a local Native American and sponsored by the Cherokee Nation. People like Jason have made our brand."
Dollahon agrees it is people like Christie, Tommy Biffle and other local pros, amateurs and everyday anglers who keep Tulsa's legacy rolling.
"One of the coolest things about Tulsa is if you drive any one of the highways out of town from about 10 a.m. Friday on, there is a stream of boats heading in every direction — and it doesn't matter what the weather is," he says. "That's what is behind it all, just all those people going fishing."
---
Did you know?
Other fishing products created and designed in Tulsa or area communities are found on sporting goods store shelves nearby and worldwide, or in use on lakes and rivers internationally. See if you recognize these brands: 
HydroHoist Boat Lifts
World's premier boat-lift maker based in Claremore since 1964.
Wohali Outdoors
Claremore-based Wohali has international reach and is home to Team Catfish and Fle-Fly Tackle.
Elk River Jigs
The family-owned Broken Arrow business ships hand-tied jigs across the country.
The Bass Tank
One of the fastest-growing companies in the fishing industry, the Tulsa-based distributors sell and service a variety of fishing and outdoors products.
Todd Huckabee Rods
Tulsan Ken Roberson, owner of Power Crappie, distributes signature series rods inspired by Lake Eufaula fishing guide Todd Huckabee. Todd Huckabee rods are found in several local stores.
Redneck Rubber
The Owasso-based family business distributes its crappie baits and jigs through bait shops across the southern region and nationally online.