The sun is minutes away from rising over Turkey Mountain, where a group of military combat veterans are doing their weekly walk. It's an opportunity for men and women who have witnessed the darkest parts of war to come together and go for a stroll.
Everyone is wearing desert camouflage hats or shorts. Some have the tan camo backpack. All of them served in Iraq and/or Afghanistan. This group is all in their 30s, and all receive disability pay for various reasons.
As the terrain changes from an open field to a wooded area, the group shares memories of walking through the mountains of Afghanistan. Some naturally fall to the back of the pack as they can't handle having anyone behind them — a lingering effect of the threats of war. Their lingo still includes terms like "on your six" and "on your 12," when discussing formation. Many of the jokes are only funny if you've been in a war or lived in barracks.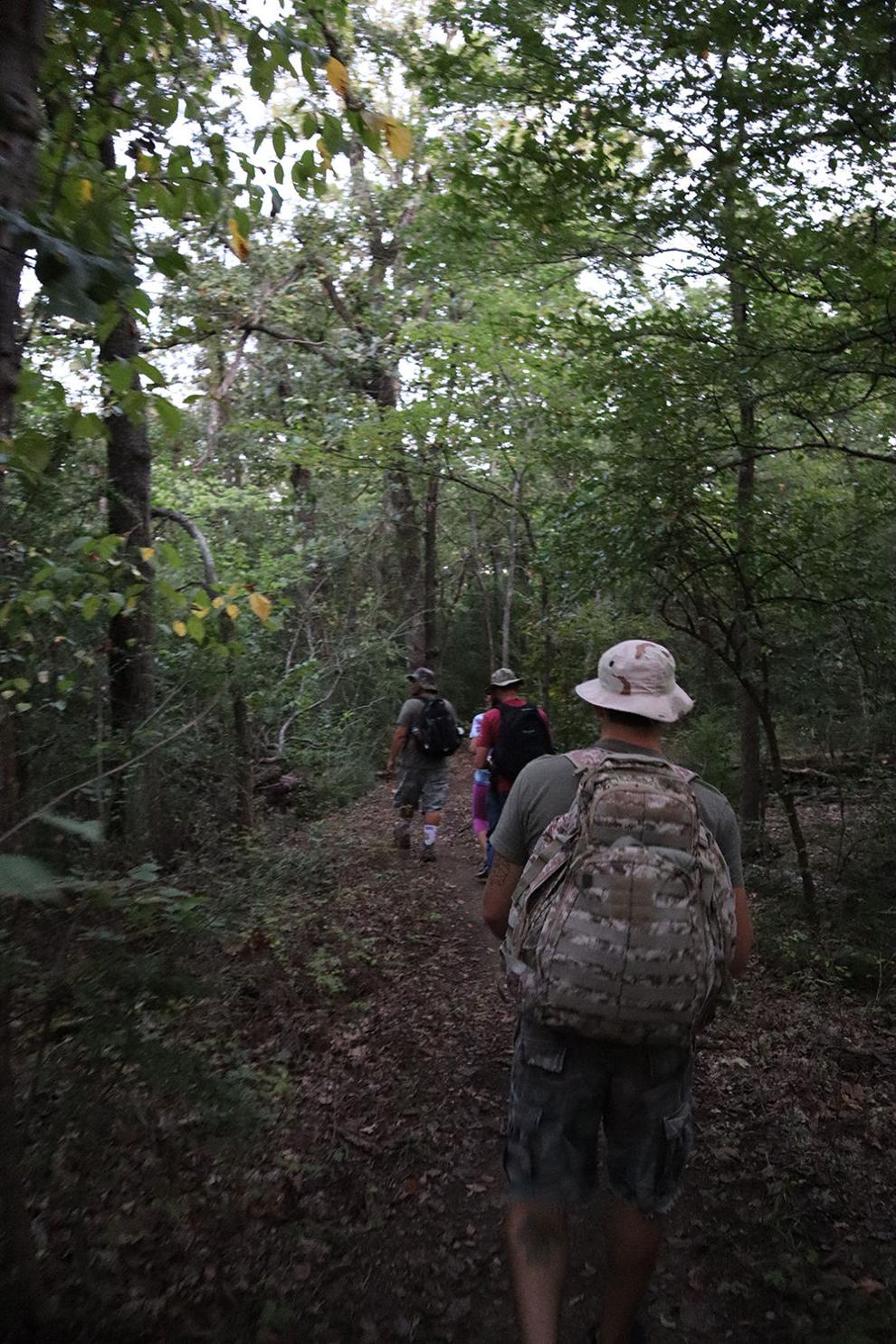 During the hour hike, they all talk about their distrust of mainstream media and national political leaders. Although some talk about their indifference of both. 
All say they came home from war angry. Some of them have found peace.
Turk Escalada, a Southern California guy who was inspired to enlist after 9/11 and served in the Marines from 2006-2012 and was deployed to Afghanistan from 2009-10, chased the gold rush that is the medicinal cannabis industry. As soon as SQ 788 passed in June 2018, Escalada's research informed him Tulsa was an ideal business location with a lower cost of living than his West Coast residence. He loaded his car and drove east. 
"When I got to Oklahoma City, I was blown away. It was like LA lite," says Escalada, following a slight incline along the trail. "I took the short turnpike, and when I started to see hills then all the trees, I couldn't believe it. It was so beautiful and green, I knew I was where I'm meant to be."
Related: A resource guide of local, statewide and national veteran services and organizations.
Escalada also brought to Tulsa a membership in Veterans Walk and Talk, an LA-based veterans' nonprofit. He immediately launched an Oklahoma chapter and began recruiting others to join him on weekly treks. Some Sundays its Turkey Mountain, and other weeks it's a high school track or park path for those who need a less challenging walk. One Sunday each month is reserved for a community service event. When a person takes part in both activities, they receive a club shirt.
"The reason we like to walk and talk is it gets the cardio up," says Escalada as he wipes sweat from his brow and replaces his hat all in stride. "It's why in the Marines we sing in formation."
"I thought it was to mask the pain," Levi Avera says. 
---
Avera and I are childhood friends. We grew up together in Claremore, and upon high school graduation in 2000 took two very different paths. That August I began my pursuit of a college degree, while he entered Marines basic training in San Diego, California, to become an infantryman.
A little over a year later, in September 2001, everything changed.
"We're in the field on day six of a seven-day field exercise, and they told us to gather up and then they said, 'They just blew up the trade centers,'" says Avera as he sits in a chair across from me on his back porch a couple weeks after the hike. "Trucks came and got us, and we went back to barracks. They locked down the base like you wouldn't believe. That's when I saw it on TV. I still couldn't believe it."
In 2002, he trained in Okinawa, Japan, followed by a deployment to Bahrain to do ship security for merchant marine ships in the Gulf of Oman.
Avera was at home on leave celebrating the new year when he received a call from a former squad mate now stationed at another base. Avera's company was headed to the Middle East.
Upon returning to Base Camp Lejeune, Avera packed his travel bag, secretly cramming in his horsey blanket he'd had since he was 3. Next stop: Kuwait. 
By early February Avera says they arrived in the desert decked out in green camouflage uniforms and black boots and traveling in green vehicles. Their chemical protective suits, bulletproof vest and flak jackets were all green, and against the sandy terrain the color might as well have been a red-and-white target. Over time the soldiers collected pieces of desert camo, but their rides continued to stand out. They also lacked armor.
"We were not ready for the desert," Avera says. "They say they keep us pissed off all the time to make sure you are a monster of destruction on the battlefield."
Avera says he never believed there would be a ground war, even as they rolled into Iraq on March 20, 2003, in the midst of major air strikes commonly referred to as "shock and awe."
Early on March 23, the Army's 507th Maintenance Company took a wrong turn and was ambushed near Nasiriyah. Eleven U.S. soldiers were killed and five were taken hostage, including private Jessica Lynch. A few escaped, shielded the wounded and waited.
A few hours later, Charlie Company, 1st Battalion, 2nd Marines, which included Avera, made its approach on the city. Their mission was to secure a bridge a few miles north of Nasiriyah. There were no tanks for support since they had been used to retrieve survivors of the earlier combat and burned their fuel. Bravo Company was supposed to provide support, but their vehicles sank in mud flats.
Charlie Company re-routed and entered the city using a highway lined with buildings and alleyways. It was known by intelligence as "Ambush Alley."
Even then, Avera says he believed they wouldn't see combat as they cruised into the city in their aluminum-skinned assault amphibious vehicle, called a "track." Avera provided security at the back left side of the vehicle, as the right had a mounted turret with limited range.
It was quiet as they entered the city, and then it wasn't.
"I still thought nothing was going to happen, right?" Avera says. "It wasn't until a rocket-propelled grenade literally just flew right off the nose of our freaking track and sailed over my head. Then I was like, 'Oh, we're in the shit.'"
As Levi sits on his porch thinking back to the day, there are a lot of pauses in his recounting. He describes mortars exploding nearby, bullets hitting the wall beside his face, lots of explosions and gunfire coming from everywhere, including the sky.
Two U.S. Air Force A-10 Thunderbolts flew over and opened fire on the tracks. Not once, but numerous times, according to Avera.
His squad leader and friend, Sgt. Brendon C. Reiss, 23, returned to their track to get more ammo when the vehicle exploded. He was one of 18 Marines killed that day. An investigation confirmed eight were killed by hostile fire. The rest had been hit by both U.S. and Iraqi weapons. An additional 17 Marines were wounded in the fight, two solely by Iraqi fire.
Sixteen years later, Avera still doesn't understand why the fratricide occurred. He says even he was provided illustrated guides of U.S. military vehicles. The tracks were still painted green. Soldiers popped smoke and waved flags to indicate they were friendly.
"I'm trying to figure out how to fight the enemy while not getting killed by them," recalls Avera as he reenacts the A-10s firing their guns in a clear advantage. "At 10,000 feet they have over a mile to see these vehicles. Like, we're not fighting each other in the same vehicles."
The U.S. Central Command in March 2004 recommended disciplinary action against an unnamed Marine captain, who called in the airstrikes. The investigation determined the captain mistakenly believed the track had been taken by the enemy, so he called in a strike by an A-10 that fired a Maverick missile and destroyed the vehicle. The A-10 cockpit videotapes went missing.
Since that day, Avera replays the battle in his mind. He questions if he had done something differently maybe his friends would still be alive. If only he had taken out the Iraqis on the bridge. He questions why the pilot and gunner weren't held responsible for their actions.
"If I would have done this or that, my friends might still be alive," Avera says. "That's a different kind of guilt you're putting on yourself, even knowing that it was possibly Air Force doing it, but it doesn't change anything."
On May 10, 2003, Avera left Iraq and returned home on leave where he spent $300 a night at bars. Sometimes at midnight he'd return to the ATM to get more cash after his daily limit refreshed. July 4 was a terrifying experience that propelled him into blackout drunk mode.
From November 2003 to June 2004, he served in Afghanistan, where skirmishes popped off here and there, but explosive reminders were constant.
"There'd be salsa dance night on base and we'd be dancing, and then there are six rockets coming in," Avera says. "You have no idea where they're coming from. Just in alert mode. And they just put you right back to, 'Am I dying right now? OK, I didn't die.' Then back to dancing."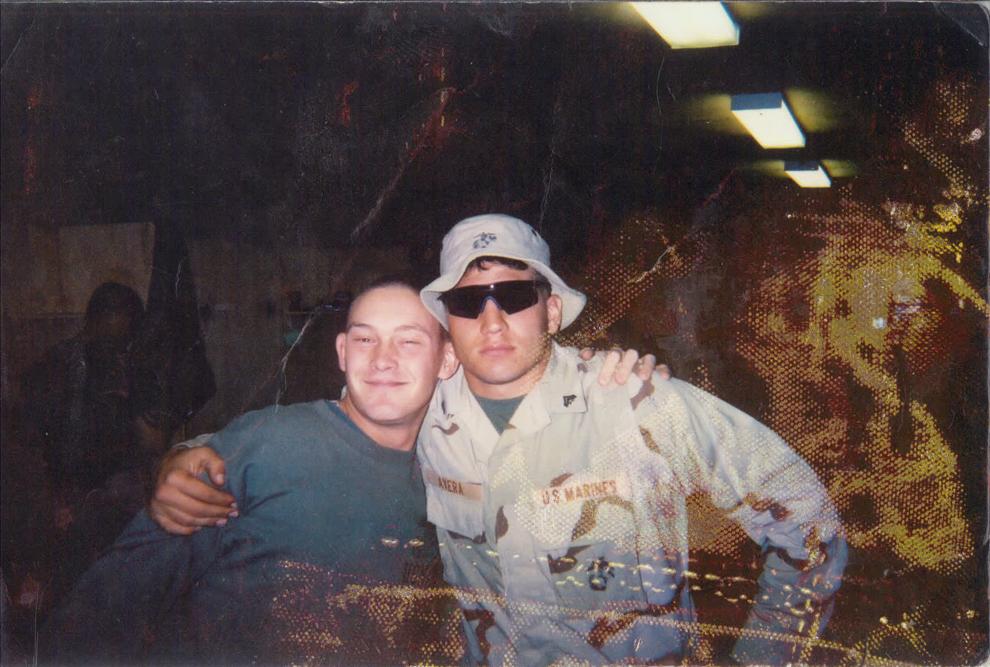 Following that deployment, Avera, who once thought he would serve 20 years, ended his service on July 31, 2004. Four years and two wars later.
"I didn't feel like I was getting paid enough to be shot at all the time," he says. "I never made more than $3,000 in a month with combat pay."
Shortly after returning home, he fell in love, married and had a daughter, Brynn Reiss, named after his fallen squad leader. The marriage was short lived.
Not knowing what to do with his life, Avera chose to keep fighting, but in different ways. A multi-sport athlete growing up, he turned to mixed martial arts to help provide an outlet from everyday stresses. From June 2006 to September 2014, he compiled a record of 17-15.
When he wasn't in an octagon, Avera was fighting the system. Struggling with post-traumatic stress disorder, he visited a doctor and then applied for disability in 2007. He initially received 30% from the Department of Veteran Affairs. His brothers from the service encouraged him to keep fighting for more. For 11 years, he repeatedly appealed the slight increases in pay, including a five-year wait for a board of appeals review that got him up to 80%. He saw plenty of doctors and therapists over the years, taking medication that didn't agree with him.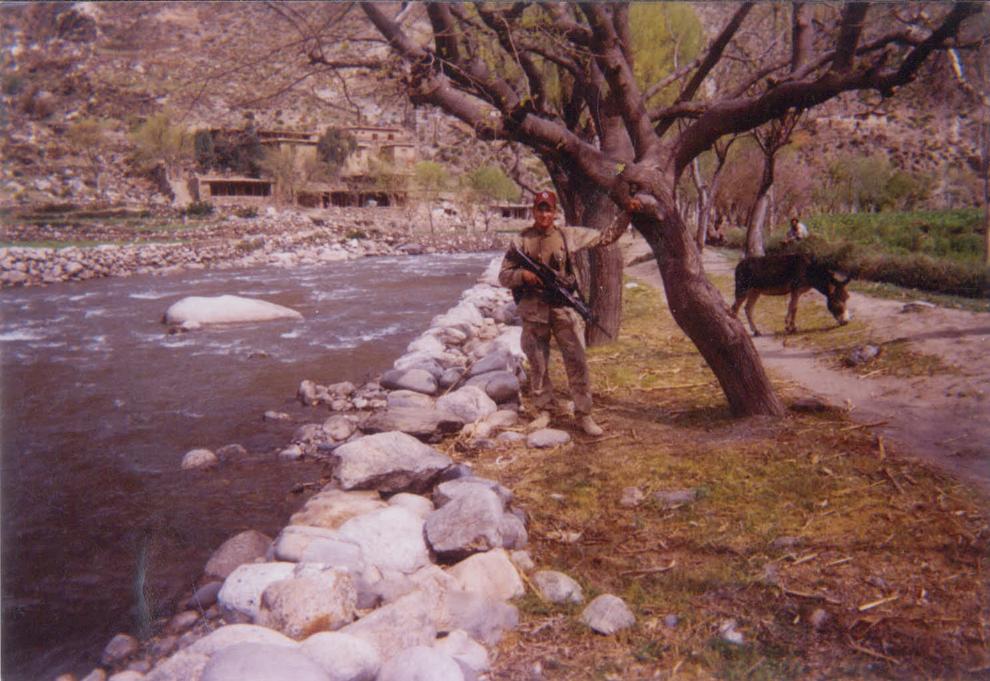 Amidst his battles, he met and married Jenny. She stood by his side as he dealt with his demons. The heavy drinking. The suicidal ideations. The anger. 
There were many drunken nights and a couple of drunken driving infractions. The first one was when he hit a bridge guardrail and flipped his truck into a ravine. "I probably should have died that night," he says.
Throughout all the challenges, he says Jenny continually encouraged him they would get through it together. They've now been married 11 years. When asked if she's tougher than him, he says, "Yes."
In 2014 she had their son, Finn. That changed everything. "I didn't want my son to have a piece-of-shit father," Avera says.
Two years later came his second daughter, Violet, which gave him even more motivation to keep getting better.
Avera has found happiness in being a husband and dad, who takes the kids to school and provides support around the house. He works part time in an upholstery shop. There's no more two margarita lunches.
He sometimes struggles being around a lot of people. When in public, if a person steps away from their bag it makes him anxious. When he smells diesel fuel or sees dust, he's instantly taken back to the Iraqi desert. But each day he reminds himself he can be better than he was before.
"I'm always saying to myself, 'I gotta be better every day.' Like, 'I'm better today than I was six years ago, nine years ago,'" he says. "Just keep getting better."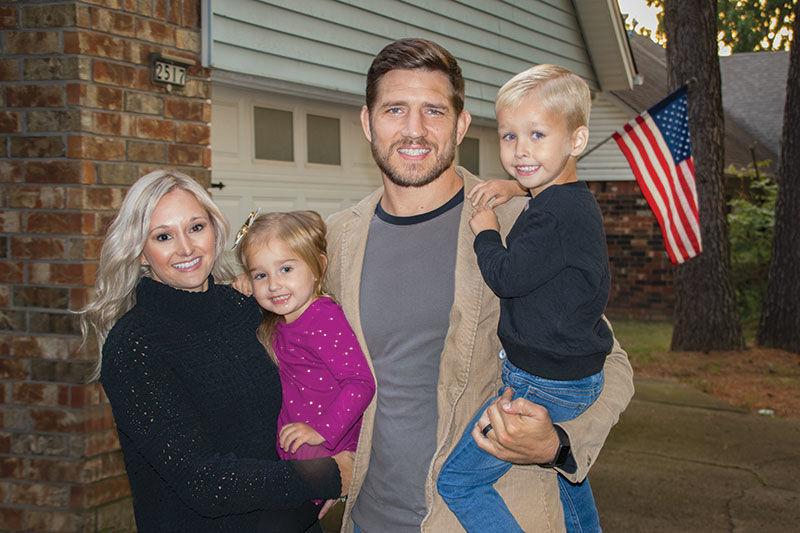 He now participates in Brazilian Jiu Jitsu, where he finds himself often in a defensive position against someone younger and scrappier. It's like he does it just to keep tabs on where he ranks in the world. With age the warrior phase fades. Avera has found peace and happiness.
---
The sun has gone down. It's the kids' bedtime. As we talk, Finn climbs in his dad's lap, gives him a kiss and hug. They say goodnight. His son climbs down and runs into the house and grabs his mom's hand.
It's the eve of Finn's 5th birthday. He looks like his father once did and is close to the same age as Levi was when I first met him. We were once young boys without a worry in the world ... just playing outdoors.