Local artist Dalvay (Daria DeValve) has had a curiosity for fashion and style since she was a young child, ever expressing her bold and outspoken personality through her wardrobe. 
"In elementary school I started to come into my own fashion sense," she says. "(I) wore tutu dresses, mismatched polka dots and stripes, zebra arm warmers and sequin hats." 
Born in Hartford, Connecticut, and raised in Lone Grove, Oklahoma, until eighth grade, Dalvay found art and creativity wherever she lived, which also included Arizona, Wisconsin and Michigan. Her mother, encouraging and supportive of her creativity from the start, signed her up for sewing lessons when she was 10 years old.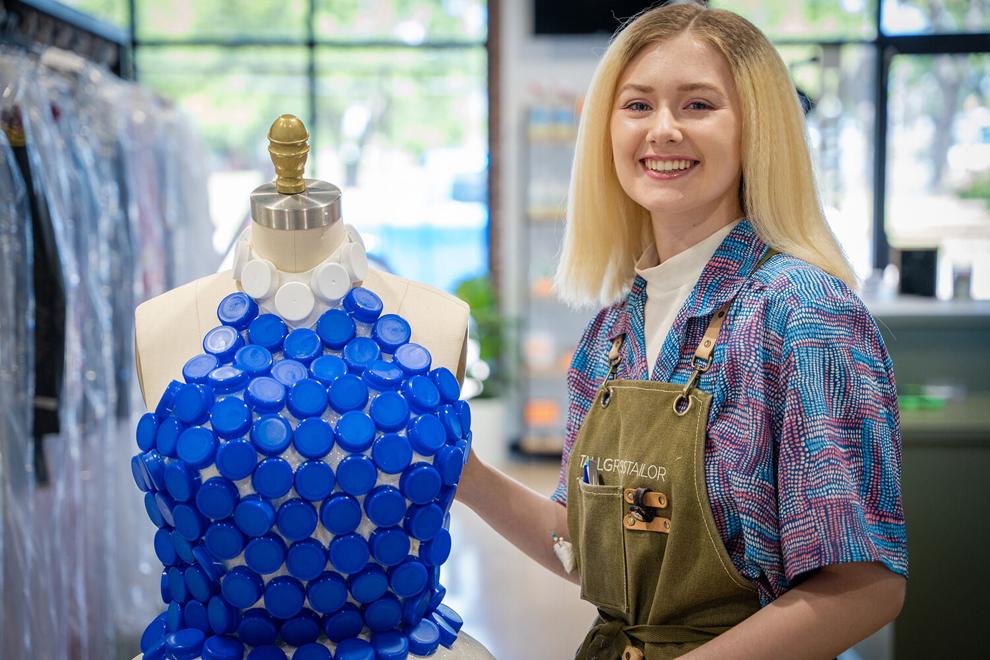 A natural seamstress, Dalvay attended her first overnight fashion camp at Texas Woman's University at age 11, where she was introduced to clothing construction, design and color theory. From 2014-2019, she attended the Chickasaw Arts Academy, where she really honed her craft of design and learned new skills like weaving and dyeing.
Many of Dalvay's fashion ideas come from nature. For example, she was inspired by the shaggy and rough texture of the Joshua Tree to create a jumpsuit comprised of more than 10,000 toothpicks that she glued on one by one. Dalvay also loves the challenge of creating something wearable out of unwearable things, which led to a hand-sewn dress constructed from Chick-Fil-A cups, straws and lids.
Dalvay's creations have won awards in both the Chickasaw Nation's Artesian Online Arts Market — her toothpick jumpsuit took first place in the textiles division — and the RT 66 Native Arts Alliance art show competition, where her outfit, titled "The Mother Road: A Never Ending Journey," won the Route 66 Purchase Award. 
Despite her success, Dalvay says to never expect a fashion line with her name on it. "I have little to no interest in mass producing things I create. I find joy in the happiness someone expresses when I create something specifically for them," she says. "I've started to find my own footprint and style within the fashion design community and hope to continue to cultivate and solidify my craft."
Dalvay graduated high school in 2020 in Las Vegas and currently attends Oral Roberts University to study another of her passions: dance. 
"I became more interested in dance once I started figure skating during my sophomore year in Michigan in 2017," Dalvay says. "I learned to love interpretive skating while I was on the Las Vegas Theater on Ice team for their first two seasons. I've made a few costumes for dance/skating and hope to create even more during my time at ORU."