Downtown Tulsa is known for many things: live music, great food, a beautiful skyline and a maddening knot of one-way streets that never seem to have enough parking.  
Visitors and longtime Tulsans alike complain downtown's Gordian layout makes it difficult to navigate, let alone use or enjoy. 
But all that should change soon. South Boulder Avenue underwent infrastructure updates starting in February 2019, reopening in March as a two-way street. The $4,904,166 project, which also added on-street parking and bike lanes to Boulder Avenue, was funded by the 2014 Improve Our Tulsa package.
The Downtown Tulsa Walkability Study, commissioned by the Downtown Coordinating Council and adopted as part of the City's Comprehensive Plan in late 2018, proposed many of these improvements. 
The Council "collaborated with other City departments to establish a study and ultimately recommend that downtown streets be reconfigured, that one-way streets be converted to two-way streets, and that a network of bike lanes be implemented," says DCC Executive Director Brian Kurtz. 
The walkability study recommends adding 10 miles of bike lanes to downtown over the coming years as funding becomes available. Since the study was released in 2018, about half of that has already been installed. The bike lanes in the downtown area will not only improve transportation and walkability, but also will help connect downtown to a network of trails that run throughout northeast Oklahoma.
Next on the agenda is Cheyenne Avenue, which will undergo a similar conversion to a two-way street funded through the 2014 Improve Our Tulsa package. Completion is projected for early next year. 
The Improve Our Tulsa 2 package that passed this past November included funds to convert Detroit Avenue, Cincinnati Avenue and Martin Luther King Jr. Boulevard within the IDL to two-way traffic and incorporate bike lanes north of Archer Street. These projects will be broken into two phases. 
Phase 1 will be projects north of Archer Street at a cost of $1,827,000 and an expected completion date of fall 2021. Phase 2 will begin in 2021, finishing in late 2022 at an estimated cost of $10 million. It will include Cincinnati (Eighth to 13th streets), Lansing  Avenue (Second to Fourth streets) and Fourth Street (Detroit to Lansing avenues), as well as converting Detroit and Cincinnati to two-way traffic. 
"All of this is part of the overall City philosophy of Complete Streets," says D. Douglas Helt, the City's lead engineer for transportation design. "And the complete streets philosophy focuses the design around all the users of a particular road." 
Although many find the bike lanes a welcome contribution to the city, Helt has received calls from those irritated with or skeptical of the results.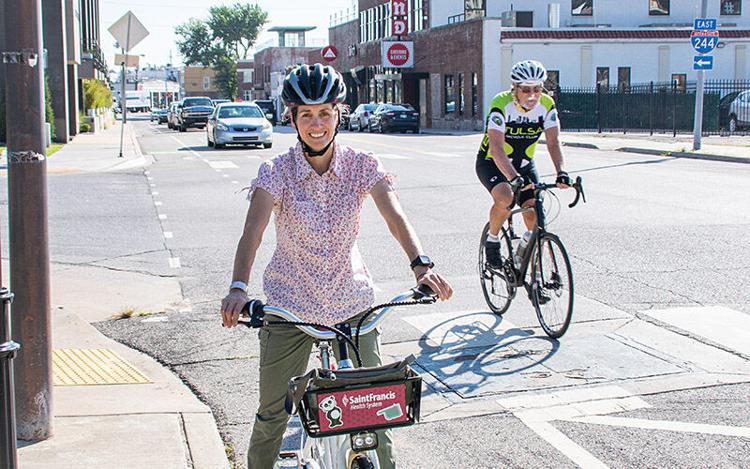 Still, many Tulsans stand to benefit from the Complete Streets approach. Navigating the city can be difficult for people without access to a vehicle. Wide streets, one-ways, urban sprawl and lack of on-street parking all make it difficult to get around on foot. Those without access to a vehicle are sometimes left with few options for getting around in a city built for automobiles. 
"There are many households in our region, in our Tulsa community, that have one car or none," says INCOG Transportation Planner Jane Ziegler. "Some of those households consciously make that choice, but there are many who financially don't have an option." 
The Complete Streets approach can help remedy this problem. When other modes of transportation are incorporated into our infrastructure, the city becomes more accessible for everyone. 
Kurtz adds, downtown's business community stands to benefit, as well. A more accessible street means a more accessible storefront, restaurant or concert venue. 
"We have a number of small businesses that have helped build downtown into what it is today, in addition to our entertainment venues and destinations," Kurtz says. "And we want to make it easier and more manageable for people to access those businesses and to experience them for themselves."