Ask Thomas Carlson about the Gunboat Park neighborhood, and he will tell you there is no one more passionate or bullish about it.
Carlson, owner of the Carlson Group, has spent the past year and a half revitalizing and investing millions of dollars into the neighborhood, located between East 11th and 13th streets and South Elgin and Frankfort avenues.
"I'm heavily invested," he said one Friday morning by phone while he was working in the neighborhood. "We have about 90,000 square feet of land — millions of dollars in it — but I also put in my own office down here."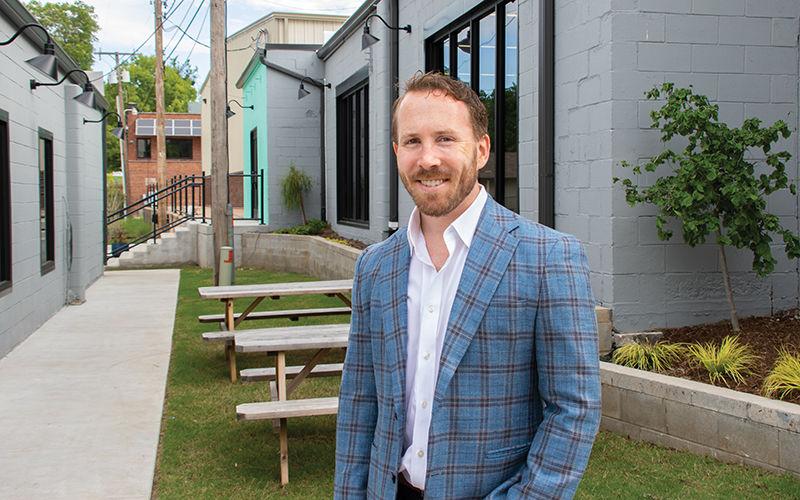 In addition, a few other well-known community organizations have selected Carlson's up-and-coming development, Gunboat Plaza, to house their headquarters. This includes Leadership Tulsa, which plans to open this summer, and FC Tulsa (formerly the Tulsa Roughnecks), which moved in May 1. A multitude of smaller businesses, homes and apartments, as well as two parks in the vicinity, already call the neighborhood home.
"The location is one of the best in the city," Carlson says. "We are so close to Cherry Street, 11th Street. We have immediate highway access. We're basically three-quarters of a mile from eight different districts, such as Blue Dome, the Arts District, SoBo, Cherry Street, Maple Ridge.
"It's all right there — you don't have to drive through the traffic of downtown to get to where we are. We're just this incredible gem, but it's pretty easy to overlook it."
Carlson and his team started looking at Gunboat Park — so named because the streets of Frankfort and Elgin form a boat shape — because they saw they could devise a large master plan instead of purchasing lots and building piecemeal. Many of the dilapidated buildings had been demolished a decade before the team's investment, leaving empty lots, he says.
The approach allowed them to focus on smaller details, such as front entrance design and other key elements to renovating the area.
"You have this wonderful mix of live-work Craftsman-style homes next to warehouses next to historic 1920s brick buildings," he says.
Before it was called Gunboat Park, the area was known as Elm Creek: one of Tulsa's first and oldest planned neighborhoods, Carlson says.
Tulsa's new hub?
Opening in the former warehouse of Catholic art and gift supplier FC Ziegler Co., Leadership Tulsa's 7,800-square-foot Leadership Center will include office space, co-working areas, a catering kitchen, and meeting and training rooms. It also will host many of the organization's own classes, says Wendy Thomas, executive director of Leadership Tulsa, which provides community leadership development programs.
Thomas says the project started because the organization had outgrown the office space it had occupied for 12 years. Since 2008, the organization has tripled staff and programs.
"We desperately needed our own meeting and training space, too," Thomas says. "We couldn't even host a board meeting without borrowing or renting space from a friend."
The new location will offer members a way to connect with each other through the co-working space, which, Thomas says, is a reflection of the way people are now working in the digital world.
"Whether people need an occasional downtown hangout between meetings or a regular place to do focused work or small meetings, the Leadership Center will be a place that offers modern convenience as well as companionship," she says. "Our two training rooms, one serving up to 50 and one serving up to 30, will also be available at reasonable fees for organizations and businesses to offer company off-sites."
The team will be in the new Leadership Center by July, she adds, with programs, events and co-working later this year.
Thomas says the Gunboat Park neighborhood had not been on Leadership Tulsa's radar for the new facility until Thomas Carlson reached out as part of the request for proposals.
"(Carlson) really spent time diving into our business model and offered us a perfect solution for all our needs as part of his development. We are proud to be an anchor tenant in this newly emerging district," she says. "There is a fun mix of residential and light industrial development already in the area, and we felt our Leadership Center would benefit from being downtown. Gunboat Park offers a relaxed environment, convenient parking and a creative urban vibe."
Thomas says she was surprised many people are unfamiliar with the Gunboat Park area, but is excited to help usher in a new era by bringing thousands of people to the soon-to-open Center.
"With the other businesses and building owners in the area, we look forward to bringing not only increased attention but also smart updates to the parks, streets and landscaping in the area," she says. "At the same time, we intend to be good neighbors, bringing increased property values without heavy truck or other industrial traffic that some other uses of the property might have stimulated. We've been getting very positive feedback from people who appreciate the updates to the building and the area generally."
For Ed Sharrer, project manager at Leadership Tulsa, the revitalization of Gunboat Park harkens to his work as former executive director of Kendall Whittier Main Street.
"Gunboat Park and Kendall Whittier were both largely forgotten neighborhoods that are in the process of being rediscovered and brought back to life," Sharrer says. "Gunboat Park is unique because of just how close residential, commercial and light industrial properties are to one another. It's all jumbled up together with great old red brick apartment buildings, Craftsman bungalows, parks with mature trees and formerly vacant warehouses coming back to life."
Just as Ziegler Art and Frame and Circle Cinema are anchors for Kendall Whittier, Sharrer says, "We're hoping the Leadership Center is an anchor for Gunboat Park — not as an entertainment or retail hub, but as a place where Tulsa's leaders grow and gather.
"And we want to do that in a way that is neighborly to the residents of Gunboat Park. We want the folks who live across the street and down the block to be happy we're here."
One of the first new tenants to the area was goPuff, an on-demand delivery service for various items — everything from a bag of chips to Clorox wipes, Carlson says. In the time of COVID-19, it became extremely popular. But even before the coronavirus, delivery services were growing exponentially.
"They took a big gamble before we even poured our parking lots, but we are just so centrally located with such great access to the highways," Carlson says.
Elizabeth Romaine, spokesperson for goPuff, says the company launched in Tulsa in May 2019. It has 175 locations nationwide as of April 2020.
"goPuff does well in markets where the consumers are digitally savvy and looking for more convenience in their lives," Romaine says. "As you know, Tulsa residents are quite digitally savvy, comfortable using apps on their phone and having products delivered to their home."
She says the real estate in Gunboat Park could support their delivery needs.
Another tenant is the Engine Room, a boxing gym, which was previously located in the Pearl District.
Owner and head coach Aaron Sloan says he and his fiancée, Tamara Wagman, are excited to be a part of a rapidly developing neighborhood.
"We have a very diverse membership at our gym and multiple classes each day, which will bring an influx of new traffic to the area," Sloan says. "When the weather is nice, we often bring our training outside, too. We're planning to have regularly scheduled boxing events, some of which will take place outside, which we think will also help introduce more people to the neighborhood.
"With the gym, we'll have the largest footprint (15,000 square feet) in Gunboat Park, and we want our business to have a positive impact on the other businesses and residents around us."
What the future holds
Ryan McGahan has been living in the neighborhood for five years in an apartment. He likes being near downtown but also close to Reasor's at East 15th Street and South Lewis Avenue. He works nearby as a designer and art director. One drawback has been the poor condition of the neighborhood roads, something Carlson also noted. Carlson hopes they will be repaved in 2021.
Future renovation work includes defining the parks more, Carlson says. Maybe one day they'll get a local establishment for food or drink, though Carlson is unsure with COVID-19 whether such businesses will be looking to expand.
Still, he's proud of the work underway in the neighborhood and looks forward to continued growth.
"Rather than the most economical or fastest way, we focus on what will make (the) best long-term change, which usually comes with a higher price tag," Carlson says, adding: "We (the Carlson Group) bit off about 10% of the entire neighborhood, maybe a little more, and I think that was one of the big catalysts for change."