Tulsan Daryl Cantrell graciously offers her 6-year-old Cavalier King Charles Spaniel, Charlee, to support children through difficult proceedings at the Tulsa County Courthouse.
For these kids, sometimes that means petting the court dog as they testify against their abuser. Other times it means playing a game of fetch in the waiting room.
Between meetings, "I will get on the floor with the kids and bring nail polish for us to paint the dog's nails," says Meghan Darst, victim advocate for the Tulsa County court dog program. "It's just about making them comfortable in an uncomfortable situation."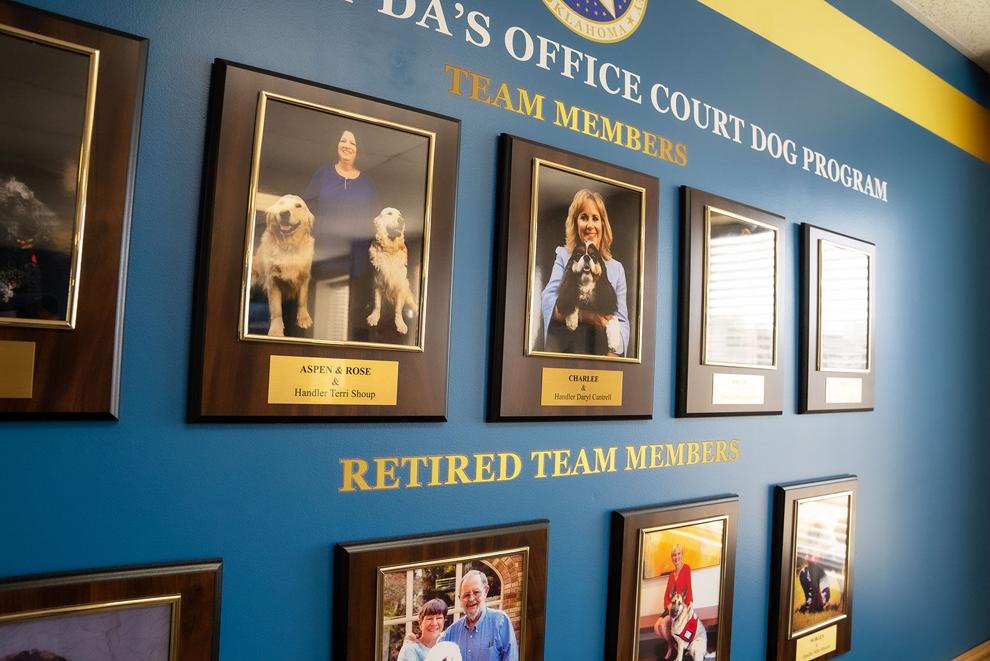 In the Victim Witness Center of the Tulsa County Courthouse hang portraits of therapy dogs and their handlers. The trained dogs accompany child victims to the witness stand when they testify against their abusers. 
Tulsa County District Attorney Steve Kunzweiler established the volunteer-based dog program to comfort child abuse victims during court proceedings.
"The first jury trial we did with a therapy dog was in 2011," says Darst. "Back then it was a fight to get to use them. But since then, the program has grown to have five dogs."
When assigned to a witness age 12 or under, handlers offer their canine companions to the child throughout the trial, which boosts their confidence and helps them be more articulate, Darst says. "No one wants to come to the courthouse and testify in front of their abuser. But when you tell them, 'Your court dog will be here waiting for you in the kids' room,' it gives them something to look forward to."
She vividly recalls her first jury trial as an advocate — a sexual abuse case involving a 7-year-old girl who was on the witness stand for three hours with her court dog.
"I remember this case so much because she did not cry until the court dog had to leave," Darst says. "She just burst into tears because she didn't want her court dog to leave." 
After months of suspension due to the pandemic, the dog handlers are back supporting children through difficult court cases.