Commuters, and occasionally a semi-truck, woosh and hum across a bridge over the Verdigris River on Route 66 between Catoosa and Claremore. Along the west side of the bridge, a train pulls 50 railcars loaded with coal and other materials.
Below, a towboat quietly pushes 12 hopper barges of grain — equal to 720 semi loads —through the 9-foot-deep river channel. From the Tulsa Port of Catoosa, the cargo begins its journey to the other side of the world.
The shipment — which will travel 445 miles on the McClellan-Kerr Arkansas River Navigation System from Catoosa to Little Rock before floating down the Mississippi River until it reaches New Orleans, then heads to China — is one of the more than 50,000 barge loads that have departed one of the most inland ports in the country. In its lifetime, there have been more than 87 million tons shipped from there to date.
Tulsa Port of Catoosa is 50 years old. Located on its 2,000-acre grounds are 70 companies employing more than 3,000 people and generating an annual economic impact over $300 million.
What started as an expensive experiment continues to adapt, evolve and grow. A new acquisition in Inola will double capacity. But first, a bit of history.
"I can remember like it was yesterday, driving up on top of the hill up there that we affectionately called Early Cass Overlook," says Port Director Emeritus Bob Portiss about a hill to the northwest of the campus named after the port's first developer. "In 1973 there was maybe a light here or there, but you didn't really expect to see anything, and you didn't. It wasn't that many years afterward that it transformed. Now you look down. By God, it's just a city unto itself."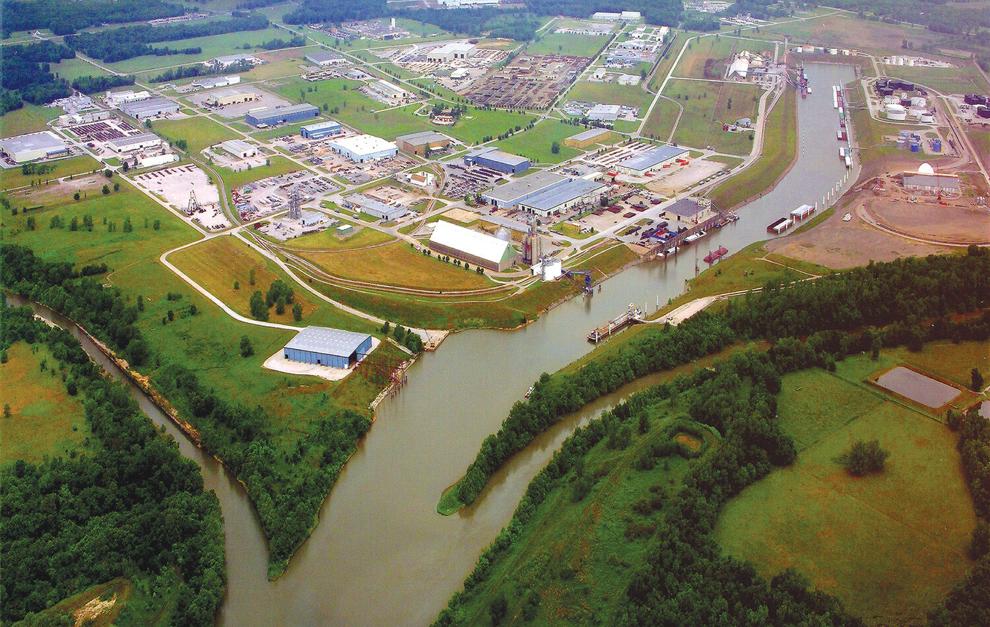 The two-county approach
Call it fate. Call it natural evolution. Three years after floods ravaged the Arkansas River in eastern Oklahoma in spring 1943, federal authorities approved $55 million for what would become the McClellan-Kerr Arkansas River Navigation System (MKARNS), named for former Oklahoma governor turned U.S. Sen. Robert S. Kerr and Arkansas Sen. John L. McClellan. 
The legislators partnered to obtain federal funding needed to mitigate future flooding that would eventually also create a major business opportunity for northeast Oklahoma. Billions were spent over the next two decades for a lock system. 
That collaboration echoed in the approach of the City of Tulsa and Rogers County to push forward a nine-person City of Tulsa — Rogers County Port Authority. The Port Authority's mission is to promote the long-term viability of the waterway and its ability to provide water transport, while growing the employment and economic base of northeast Oklahoma. The Port Authority also works to optimize the region's barge and related rail and truck bulk freight patterns, while overall operating with financial independence.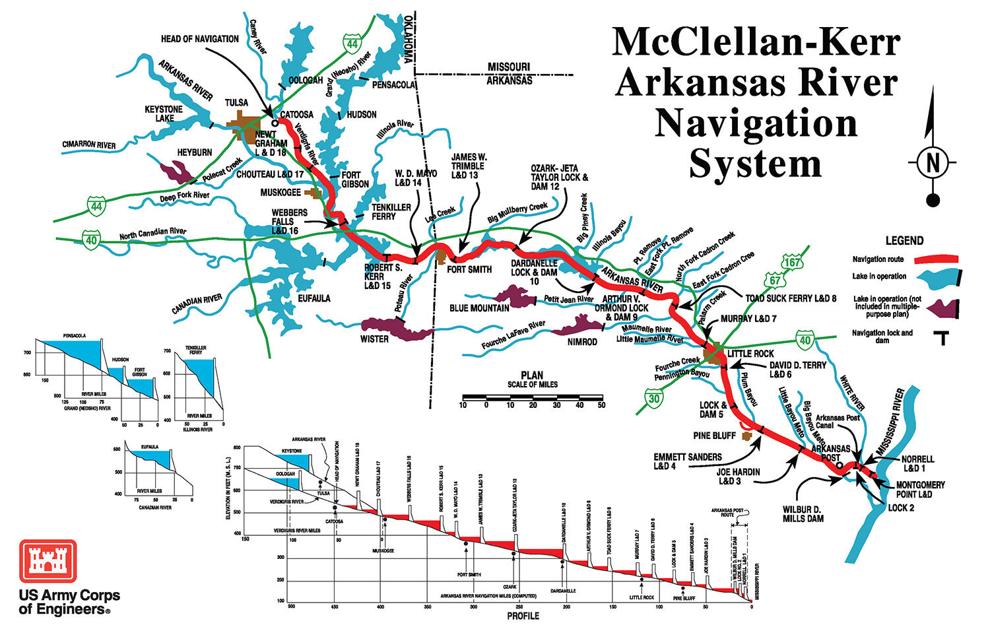 The Bob Portiss era
It was 1973 and the port had been open two years when 30-year-old Bob Portiss received a phone call about a job opportunity to help develop the Tulsa Port of Catoosa as manager of sales and traffic. He says his background in economic development and transportation had intrigued then-director Harley Ladd.
"There was nothing here," Portiss says. "There were like, three or four facilities in place, very small. They cautioned me not to get discouraged by what I was seeing, because it was just the beginning ... I was young, very young. And I thought, fantastic. I love a challenge. But it was just rather overwhelming when I saw the task in front of me, trying to be a part of this team, because we had a very small staff, as we always have." 
Within less than two years, it became too overwhelming, and Portiss accepted a job with a land development company that took him to Arizona and Louisiana for a few years. Then came a call from Ladd with an offer to return. 
"I said, 'You don't have to twist my arm much because I really didn't want to stay in Louisiana,'" Portiss says. "So I came back, and the rest is history." 
By the time Portiss returned to Catoosa, there had been some business additions, including Steel and Pipe Supply Co., which originated in Manhattan, Kansas, in 1933. The company expanded to Muskogee in 1972 and added a location at the port in 1975.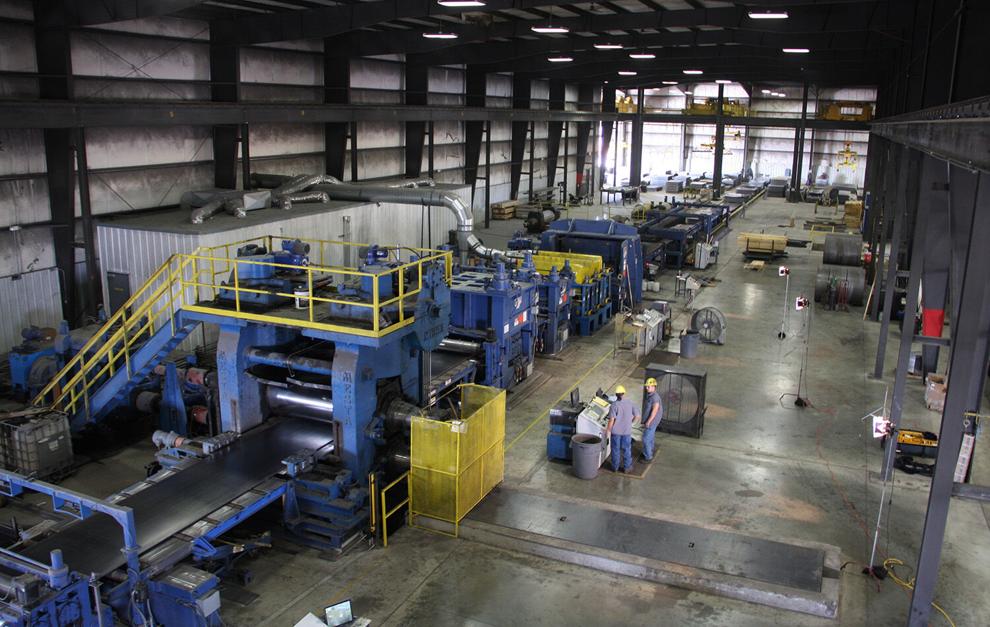 "The port is centrally located to service our customers and acts as a hub for our network of distribution centers," says John C. Conley, vice president of operations for Steel and Pipe Supply Co. "The port is conveniently located near several major highways and has good rail access, which is like most of our service centers, but one advantage for us of being in the Port of Catoosa is the ability to receive steel via barge, which is an important aspect of our supply chain."
In part because the port sat in a perfect spot for the firm to conduct its business, its operation thrived. 
"After renting several buildings to accommodate our needs, in 1985 we built a 63,000-square-foot warehouse," Conley says. "Over the decades, we have added additional space as our business grew. Today, the Port of Catoosa facility is our largest service center, where we have nearly 288,000 square feet of space on 29 acres. In addition to our distribution business, the company purchased the Huntco Coil Processing facility in the Port of Catoosa on Bird Creek Avenue in 2002."
Another company, Kelvion, relocated its manufacturing facility to the port in 1981 and its offices came four years later. Kelvion designs and manufactures heat exchangers for the power, petrochemical and industrial markets. 
"In 1981, we had one facility with a revenue of about $15 million," says Kelvion Managing Director Christine O'Connor. "We currently occupy five facilities here at the port, employ approximately 250 people locally, and our turnover averages around $100 million. As we've added product lines and grown into different markets, we've worked to stay here due to the tremendous support we receive from the port's leadership." 
Those weren't the only businesses relocating and growing. The entire campus was buzzing with activity thanks to the oil boom of the early '80s. 
"With the oil industry going as strong as it was, then we hit our 2-million-ton mark in '81 or '82 because of tremendous volumes of fuel oil that we moved out of here to the northeast," says Portiss, who became port director in 1984. "Things just came together at the right time and place."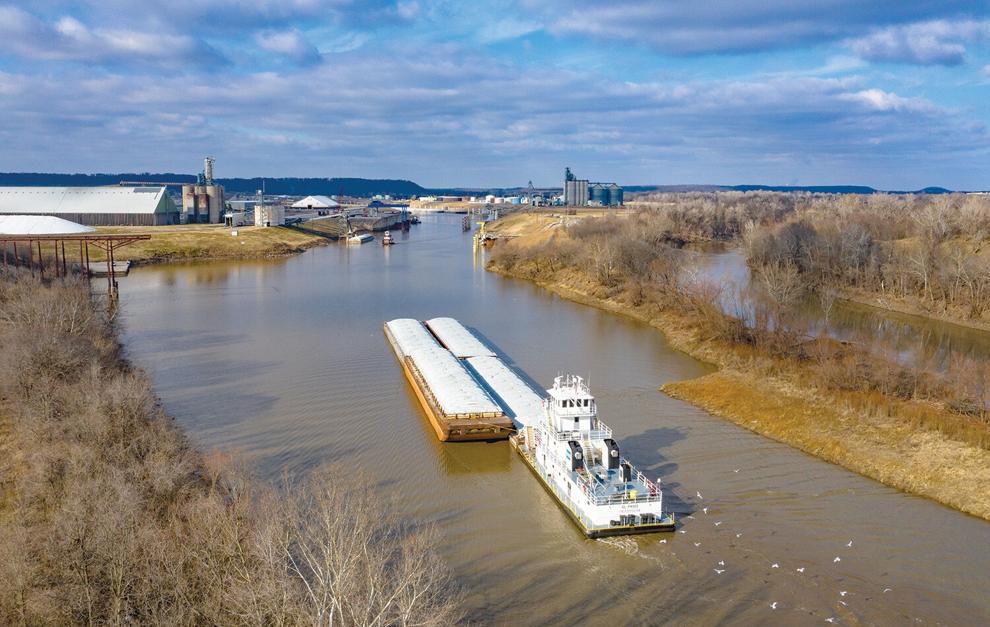 Then came the oil bust. This forced the port to get creative to fill vacated buildings. It partnered with the University of Tulsa to host an entrepreneurial program that focused on non-waterway-related industries to generate income and bring attention to the port. Portiss considers the short-lived program a tremendous success for multiple reasons, including how it brought current tenant Advanced Research Chemicals to the port. 
"We actually had a building we were getting ready to fix up because it was in pretty bad shape," Portiss says. "Dayal Meshri came to us and said, 'You should just let me have that. I'll fix it up.' So we leased it to him for like $1 a year and then ultimately, we gave them the building. But since then, you have to see the facility to believe it." 
ARC's main focus has been chemical manufacturing of fluorine-based chemicals. Meshri says they still operate that division, but ARC also mass produces specialty chemicals, semiconductor materials, sanitizers, waxes and a multitude of products. Overall, ARC makes 300 different products on a large scale.
"We have gone from two employees in 1987 to an estimated 200-plus employees in 2021," Meshri says. "We focus on new areas, new products and hiring the best team members in the world. The Port of Catoosa has been by our side and supported us through good times and rough times. The partnership, professional relationships and friendships have lifted us to where we are today." 
Leading Tulsa Ports into the future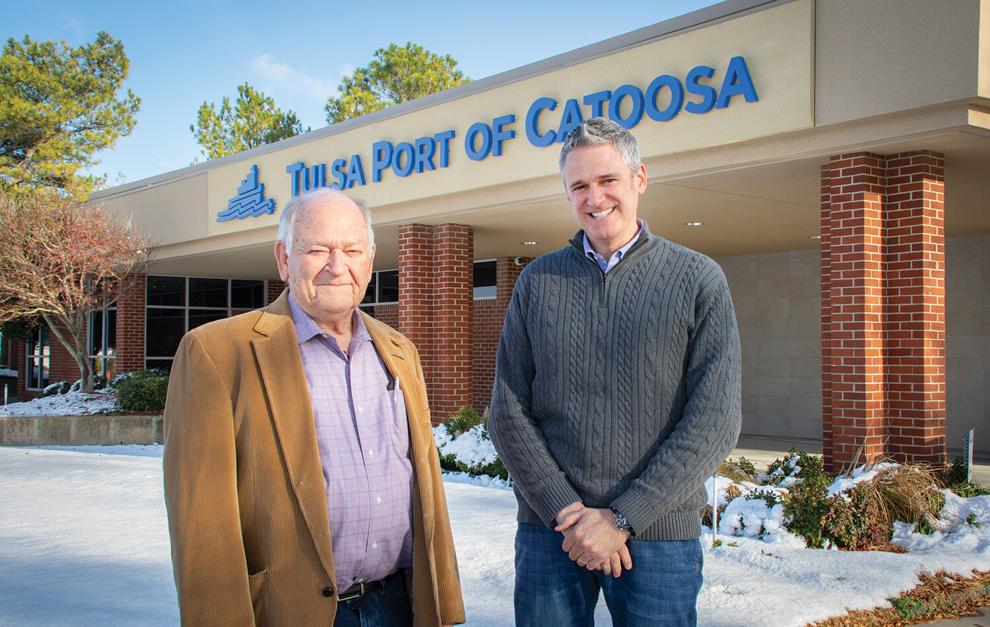 When David Yarbrough joined the staff in 2006 as operations manager, the thought of being port director hadn't crossed his mind. Two years later, after then-Deputy Director Dick Voth announced his retirement, Portiss promoted Yarbrough to deputy director.
"There are two people who shaped me into whatever person I am. One is my dad, and the other is Bob Portiss," Yarbrough says. "My dad taught me to work and instill a sense of integrity, and Bob taught me how to be a businessman." 
Yarbrough says he soon realized Portiss spent a lot of his time in Washington, D.C., to lobby politicians and give speeches. Portiss did things that were out of Yarbrough's comfort zone, but he started learning. Then came the opportunity to take over as director on Feb. 1, 2017, when Portiss retired. 
"I finally had to realize that David Yarbrough can't fill Bob Portiss' shoes. David Yarbrough has got to wear his own shoes," Yarbrough says. "He gave me the tools, and he gave me the opportunity. He showed me the way and then he stepped out of the way, and you couldn't ask for a better thing for a boss/mentor to do, which is to empower you with the knowledge to do what you need to do and then get out of your way." 
During Yarbrough's port career he has helped add companies and watched many businesses expand operations. 
Tristar Glass started as a small fabrication company but quickly outgrew its first plant in Tulsa, resulting in its 2012 relocation to the port. The company expanded from a local to a regional supplier, servicing Oklahoma and its surrounding states.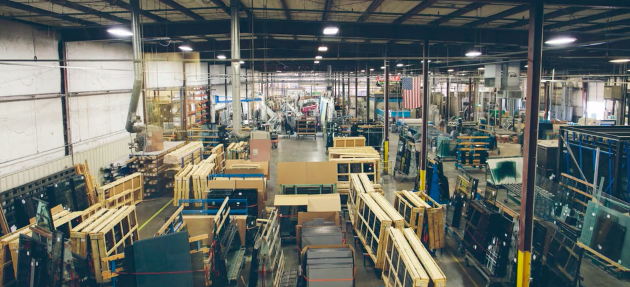 "The location is very business friendly and can easily accommodate our trucks making deliveries to our plant as well as our trucks going out," says Tristar Glass CFO Karen Kelley. "We have found a good labor market in the communities surrounding the port, and the port has helped with providing job fairs and postings for open positions." 
Yarbrough says the biggest lesson he took from Portiss is that "Bob was never set in his ways. He was here over 40 years, but he is one of the most out-of-the-box thinkers you will ever meet. He was always forcing us to ask, 'What more can we offer?'" 
Enter Sheila Shook, who joined the staff in 2015 to lead education and workforce development as the maritime education coordinator. 
Since then, she has educated an estimated 10,000 students a year (before the COVID-19 pandemic) through tours and presentations. She also provides tours of the port for prospective business partners and elected leaders and oversees a job training partnership with Tulsa Tech. 
"She recognized and taught the rest of us that to have a workforce that's ready to go to work at the port when they get into their 20s, we need to start teaching them in sixth grade why they should care about manufacturing or the waterway or the Tulsa Port of Catoosa," Yarbrough says. 
In 2018, Yarbrough hired Andrew Ralston to join the staff of 12 and oversee economic development. Ralston previously served as director of existing business and energy for the Tulsa Regional Chamber, where his work created 9,000 new jobs and brought in $500 million in new capital investment to the Tulsa region. 
"That helped us prepare for the newest chapter in our history that's unfolding in front of us, which is the development of 2,000-plus more acres near Inola," Yarbrough says.  
The potential ahead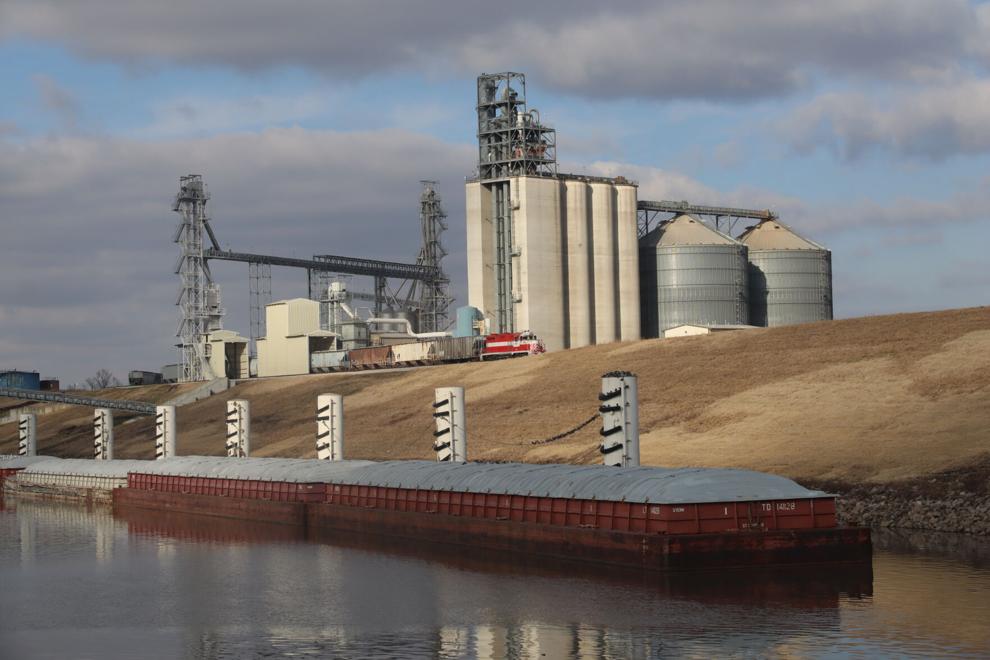 In October 2019, Public Service Co. of Oklahoma announced its historic land transfer to the City of Tulsa-Rogers County Port Authority to oversee economic development as well as develop and enhance the property's infrastructure on the 2,000 acres that doubles the port authority's overall footprint. PSO will continue to be the electricity provider, co-develop a master plan with the port and help in co-marketing efforts. 
The property is located along the Verdigris River, which is a part of the MKARNS and connects to the Port Authority's existing facilities at the Tulsa Port of Catoosa. The Inola site offers both barge and rail access, making it ideal for much-needed expansion of Port operations and for future industrial development. With the addition came a 2020 rebranding to become Tulsa Ports. 
Before the land transfer had occurred, in 2018, the Italian tissue paper manufacturer Sofidel purchased 240 acres at the site to construct a $360 million facility. The 1.8-million-square-foot plant will permanently employ 300 people and have an estimated annual economic impact of $100 million. 
In June 2020, Tulsa Ports was awarded a $6.1 million grant from the U.S. Department of Transportation through the Infrastructure for Rebuilding America Program to improve an existing 3-mile industrial rail spur from the Union Pacific Railroad mainline, as well as other improvements.
The total development encompasses over 6.5 miles of new and upgraded railroad track. The overall cost for the project, dubbed the Inola Industrial Park Rail Switching Enhancement Project, is $12.1 million, with the additional funding coming from numerous partners, including Tulsa Ports, Sofidel America, WATCO transportation company, Rogers County, Oklahoma Department of Commerce and Oklahoma Department of Transportation.
"Seventy percent of our revenues are coming from land leasing, and we just acquired 2,000 acres of land," Yarbrough says. "Inola brings to our toolbox something we haven't had in my time here. I never had a parcel larger than 40 acres to offer to a potential tenant. Today we can offer a tenant a 1,000-acre site. Hello, Tesla." 
In 2020, City and Chamber leaders flirted with the electric car manufacturer, but Elon Musk chose Austin over Tulsa for its Cybertruck factory. Yarbrough says they might have lost that bid, but he believes that is not the end of the story. 
"Tesla proved Tulsa is ready to be that next destination for manufacturing and businesses to locate. And not just manufacturing in the old school way, but the newer technologies, the higher tech, computer-based type stuff (like automation)," Yarbrough says. "Technology, this is the place to be and Tesla proved that to us, and I don't think we've heard the last from those folks. I think we'll have a role to play, us being Tulsa, in that in the future." 
The combination of both sites on the river provides tremendous opportunities for Tulsa Ports. As they look to add businesses, Yarbrough finds himself following in Portiss' footsteps, talking to Washington leaders about the needed infrastructure work on the lock and dam system that is now over 50 years old. The updates are vital to the future success of Tulsa Ports and for managing floods, like what occurred in 2019 when communities lining the Arkansas River were flooded, residents were forced to evacuate and some ports along the MKARNS had to shut down for months. 
"As a nation, we have to recognize the importance of investing in infrastructure," says Yarbrough, who is serving this year as chairman of the board for the National Waterways Conference. "It's not sexy. There's no ribbon cutting for a dredge project — nobody would show up for it if there were — but it's essential. Last year showed us what it would look like if we didn't have a navigable river in Oklahoma, and it wasn't good. It's millions of dollars' cost per day to shippers and beneficiaries when this waterway is not working. If we lose it, shame on us; this will just become a really nice industrial park, and what a shame that would be." 
Yarbrough credits his board for their vision, which includes even the little things like planting hundreds of trees along the port entries to make it more visually pleasing and an environmental boost. He applauds his staff for doing everything they do to recruit and retain businesses, and he says it's their work that excites him for the future of Tulsa Ports. 
"I want the people on our staff to be able to look back as Bob can today, when he saw this place for the first time, and it was a meadow. He can look out here now and he can say, 'I had something to do with that," Yarbrough says. "I'm excited that the staff that's here today will get to do that. We're very proud of this park, but to take the sandbox that we have today and try to imagine what it might look like in 20 or 30 years (after) we've handed it off to other folks with other talents ... We can say we had something to do with that."
Looking back
May 14, 1943
A Sequoyah County Times headline shouts "Death and destruction," followed by a secondary headline: "Floods: Highways Become Waterways Near Sallisaw." The day before, the river crested at 41.7 inches with water flowing into communities like Muskogee, Tulsa and Sand Springs. 
1946
The passage of the Federal Rivers and Harbors Act authorizes $55 million for a multi-purpose plan that will become the Arkansas River Navigation System. 
1948
Oklahoma Gov. Robert S. Kerr is elected U.S. Senator.
By 1952, his focus turns to the river system as he works with Arkansas Sen. John L. McClellan to obtain federal funding needed to mitigate flooding and create a major business opportunity for northeast Oklahoma.
1950s-1960s
The Army Corps of Engineers reconstructs the banks of the Arkansas River and builds a lock system for $1.2 billion, the most expensive civil works project undertaken by the Army Corps of Engineers at the time, according to port authority officials. 
Early 1960s
As work is being completed on the river, a group of 23 Tulsa businesspeople travel to learn about the Ohio River Valley navigation systems and its impact on industrial growth. The delegates like what they see, and the Tulsa Chamber of Commerce asks Early Cass of its water resources committee to chair a port authority committee. 
Jan. 23, 1963
Civic leaders establish a nine-person City of Tulsa-Rogers County Port Authority.
Feb. 1, 1963 
Kerr dies in a Washington, D.C., hospital as numerous dams are under construction back at home, assured his defining senatorial work will be completed in the coming years. 
1967
The Authority asks Rogers County voters to approve $21.2 million for construction of a port. Officials promise it will be the only time they'll ask for public financing. It passes, and construction soon commences.
January 21, 1971
The Tulsa Port of Catoosa opens for business. The first barge entered the port carrying 650 tons of newsprint.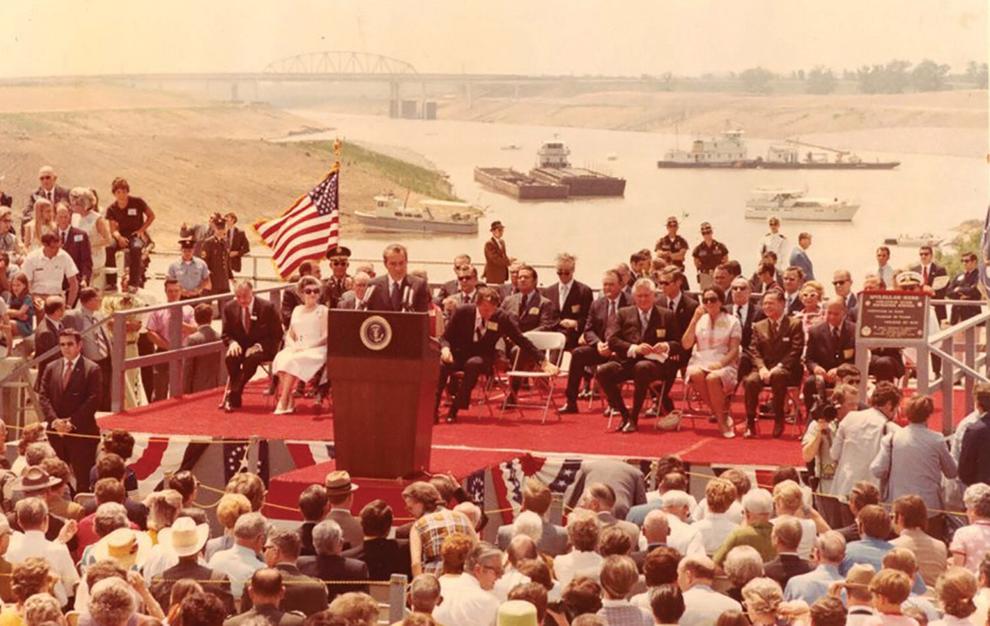 June 5, 1971
President Richard Nixon speaks to an estimated 20,000 spectators as he dedicates the navigation system and celebrates the opening of the Tulsa Port of Catoosa. "You have demonstrated once again the vitality of the American tradition of daring great things and achieving what we dare," Nixon tells the crowd. 
1980s
Advocates form the Coalition for Montgomery Point Lock and Dam and undertake a 25-year campaign to support the lock and dam at the confluence of the McClellan-Kerr Arkansas River Navigation System and the Mississippi River to resolve issues that threatened future navigation. The Montgomery Point Lock and Dam opened for service in July 2005. 
1984
Bob Portiss named port director. 
2009
Bob Portiss awarded the Bronze Order of the de Fleury Medal by the Army Corps of Engineers. 
2012
Tulsa Port of Catoosa awarded a $6.4 million matching grant through the 2012 Transportation Investment Generating Economic Recovery (TIGER) program.
The grant funds cover approximately 48% of a rehabilitation project for the Port's main dock, doubling its size and adding a second crane.
2015
Tulsa Port of Catoosa launches its maritime education program to inform local students and community partners on port operations and job opportunities.
Bob Portiss named a White House Transportation Champion of Change at a ceremony in Washington, D.C., for his work in forging a partnership between the U.S. Army Corps of Engineers and the Arkansas-Oklahoma Port Operators Association.
February 2017
David Yarbrough named port director.
October 2019
Public Service Co. of Oklahoma transfers 2,000-plus acres to the City of Tulsa-Rogers County Port Authority, doubling the port's operational size.
2020
The City of Tulsa-Rogers County Port Authority rebrands to Tulsa Ports after the inclusion of the Inola land transfer.
By the numbers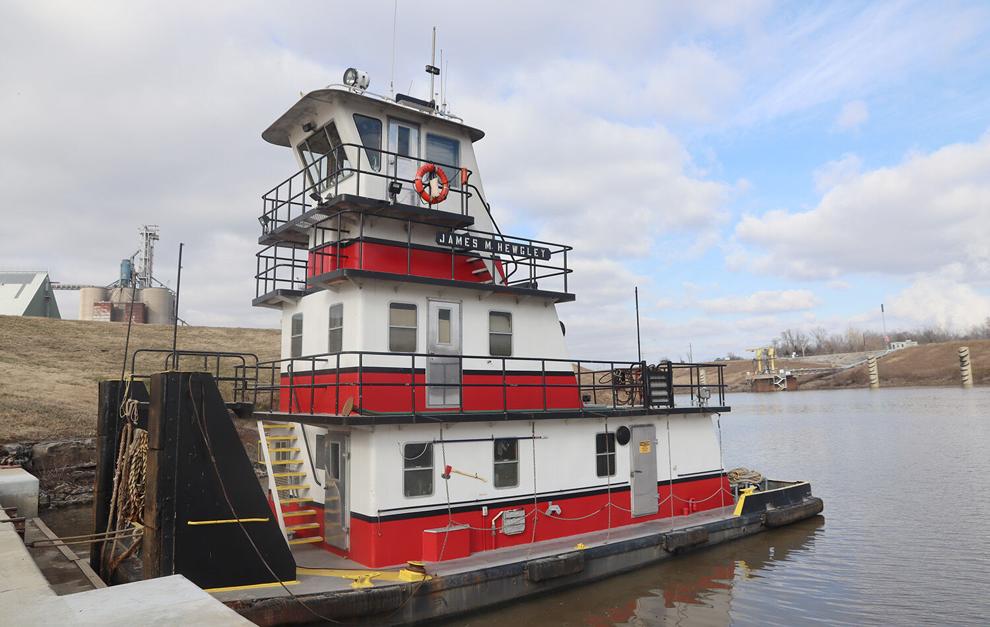 The navigation channel is a mere 9 feet deep.
Each hopper barge, a non-mechanical ship or vessel that cannot move by itself, is 195 feet long and 35 feet wide and carries up to 1,500 pounds of cargo. That's equal to 60 semi-trailer loads.
Shipments travel 445 miles on the McClellan-Kerr Arkansas River Navigation System from Catoosa to Little Rock.
During a normal shipping year, over 1,000 barges will pass through the port.
More than 50,000 barge loads carrying more than 87 million tons have departed the Port of Catoosa.
70 port-based companies employ over 3,000 people, generating an annual economic impact over $300 million.
More than $1.5 billion has been invested at the port by private companies.
The general dry cargo dock is 720 feet long, with a 230-foot wide concrete apron, equipped with an assortment of forklifts and cranes.
The Tulsa Port of Catoosa has two grain handling facilities, both operated by Gavilon Grain LLC. Facilities include outbound conveyance systems with 25,000-bushel-per-hour capacity, inbound unloading systems with a 30,000-bushel-per-hour capacity, grain samplers, dust control systems and an approximately 5-million-bushel storage capacity.
The port's dry bulk freight terminal is a public terminal operated by Gavilon Fertilizer LLC. Inbound and outbound systems can load or unload up to 400 tons per hour.
The port's low water wharf is 180 feet long with a 50-foot wide concrete apron
and embedded railroad tracks. Loads exceeding 600 tons can be driven directly onto and off flat-deck barges using rail cars, trucks or wheeled transporters.
The port is served by most of the nationwide contract carriers and averages about 1,000 trucks per day.