Phantasmagoria and the Zingo: These and other rides are gone physically from the Tulsa Fairgrounds, but their adrenaline rushes are long remembered by many Tulsans.
Bell's Amusement Park isn't like those abandoned theme parks you see online. After closing in 2006, it was gradually dismantled over the next year, then … gone.
What wasn't left behind: a steel boneyard for truant teens to poke through. What never left: sun-drenched memories of summers at Bell's.
"It's a part of my DNA," says Bell's President Robby Bell III of the family business founded in 1951.
The park has had a nearly 16-year hiatus at this point, but with its planned resurgence, Bell wants it to once again be "a place where people make memories that last generations, just like my grandfather and my dad did before me."
"Part of the reason why people feel the way they do about Bell's is because a lot of what I call 'mini milestones' in life happened there," says Bell III.
For example: It's the first place you can remember having a birthday party as a little kid. Maybe your first job; maybe you met your spouse there — and the list goes on.
Only there is no Bell's Amusement Park. Not since 2006, when the Tulsa County Fair Board did not renew the park's lease. Bell's gradually left Expo Square — its home since 1951 — over the next year. The rides were dismantled and shuttled to storage, and Bell's seemed to be no more.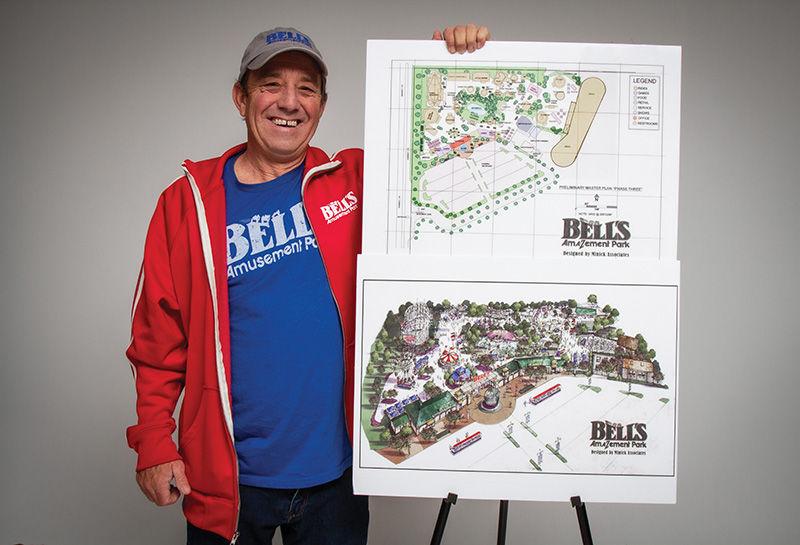 But for the next few years, news kept popping up and dissipating over potential new locations for the amusement park. Save for a partial coalescence at west Tulsa's Swick's Flea Market from 2012-2015, however, nothing came together.
"For many years after the park was closed, we were pursued by pretty much every municipality in northeastern Oklahoma at one point or another," Bell says. "Those deals would never come to fruition. … For whatever reason, it didn't happen."
Bell was playing a long game, though. Bell's would return, sure enough — it only needed the right opportunity. The right offer. Evidently, that has materialized.
This past September, the park's official Facebook account changed its profile picture. Above: the Bell's logo; below: unspoiled scenery; and taking center stage, a lens flare with the word "Loading …"
Response was immediate.
"We fired it up on a Wednesday," Bell says. "Before Sunday, it had been seen by a quarter-million people. … The response was nothing short of incredible."
A subsequent video from Bell himself garnered over 187,000 views, and the excitement grew.
Bell's is back. Or, it will be. Bell has yet to reveal the new location or any solid dates as to when fairgoers can expect to line up. We don't even know how big the new park will be, but Bell is willing to share this: "Bell's Amusement Park rented 10.2 acres at the fairgrounds. We will have over 10 times that."
The land is currently under contract, and when everything goes through, Bell's will begin its new rent-free residency.
"My dad (Robert Bell Jr., age 80) and I — it'll be like we've been let out of jail," Bell says. "We're gonna be able to go crazy. We're gonna be able to put in rides for days."
COVID-19, that shadow over every bit of recent good news, has had its effect on the Bell's revival, but not too severely.
"There's been a little bit of a slowdown with stuff, but we're powering through it just like everyone else," Bell says. "We'll just keep on moving forward, man, one step at a time."