The sun has just risen as David Rule drives north on U.S. Route 169 past his hometown of Chanute, Kansas. 
It's the first Friday of fall, and Rule, Jim DeLoach and Henry Bodden are on a mission to Olathe, Kansas. The three are members of the All Veterans Association. The group of about 30 older military vets and Bodden, who is a military historian, meets every Thursday morning at Tulsa church Kirk of the Hills.
Rule has two reasons to be driving through his home state. He's headed to Olathe to take part in a Gold Star Family Memorial Monument unveiling to honor his late father, Arthur. A Navy World War II pilot, he died in a 1953 plane crash while on a domestic mission during the Korean War. 
Though DeLoach and Bodden are going to support Rule, the secondary goal for all three is to learn more about how they can get a similar memorial built in Tulsa. In 48 of 50 states, there are more than 60 Gold Star Family monuments honoring the families of fallen service members who died while serving in a conflict. Oklahoma is one of two without one. 
"We've been trying to get a memorial in Tulsa for a while, and we had some movement until the pandemic," Rule says. "We really need to get it done to show that we honor the families of those who sacrificed their lives so we could have our freedom."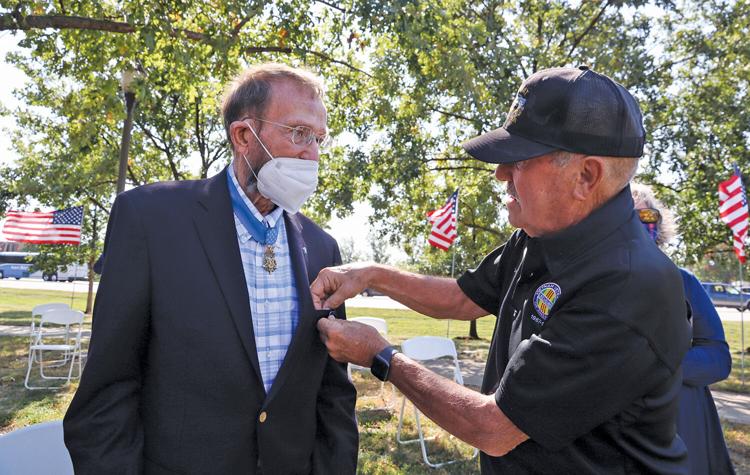 The sun's warm orange glow brightens the cab of his SUV as Rule reflects on his life's journey that included numerous trips up and down the two-lane highway. 
After graduating from Chanute High School, Rule started his secondary education at Chanute Junior College. He soon learned he was days away from being drafted to fight in the Vietnam War, so he enlisted in the U.S. Air Force on Jan. 3, 1965. Within a year he was stationed in Okinawa, Japan, at Kadena Air Base performing maintenance on F-105s flown as part of a three-year bombing campaign in North Vietnam called Operation Rolling Thunder. 
In 1967 Rule was reassigned to California's Beale Air Force Base where he worked on the top-secret SR-71 Blackbird reconnaissance aircraft that traveled up to 85,000 feet high at a top speed of 2,300 miles per hour. Rule says it was so top-secret President Lyndon B. Johnson didn't even know about it until 1968. 
At 6-feet and 130 pounds, 20-year-old Rule learned he could climb into the engine to ensure it was fit to fly. His ability to squeeze inside saved mechanics hours in disassembling and reassembling the engine before each flight. 
Instead of re-upping for more years of service, Rule opted to leave the Air Force and attended Spartan School of Aeronautics. He also took flight school classes in Bartlesville. A couple of years later, he landed a job with Cities Services (better known as Citgo) as a flight mechanic before becoming a corporate pilot based out of Bartlesville and Tulsa during his 20-year career. 
The 74-year-old says he made hundreds of trips up and down U.S. 169 to see his family and friends. Sometimes he'd rent a Cessna twin engine and fly up, buzzing his family's house to notify them of his approach toward the nearby landing strip.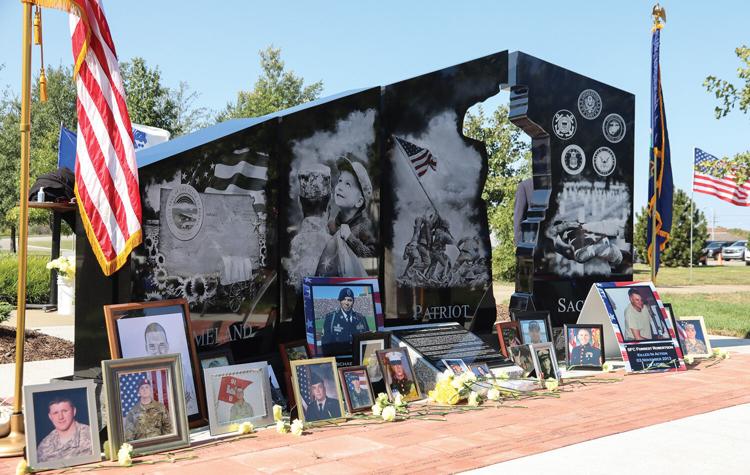 On this fall day, the group rolls into Olathe shortly before the program begins. They act like excited young boys when they snap photos with Woody Williams, one of two World War II Medal of Honor recipients still alive and the only one remaining from the Pacific Theater. The 97-year-old started the foundation that oversees placement of Gold Star Family Memorials. Even through the pandemic he continues to unveil new memorials with Gold Star Families. 
The trio of Tulsans tells Williams they're doing everything they can to make a memorial happen soon, so he can come to Tulsa and celebrate its unveiling. They discuss the cost and start strategizing how to come up with $50,000. 
A bit later, Williams gives a rousing speech after some local families share stories of their sons who died in war. Then Gold Star Families line up, and when it's Rule's turn he says his father's name into the microphone and then places a yellow rose at the base of the memorial. Then it's the next survivor in line's turn. 
"This is really nice," Rule says moments later. "I'm glad I could be here for my father. Now I hope we can do this for other families like them in Tulsa."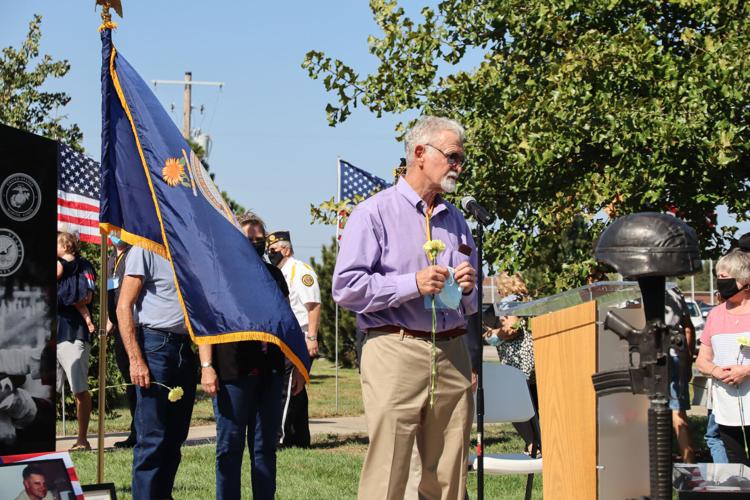 From World War II to All Veterans 
Originally the All Veterans Association was known as World War II Vets of Tulsa when Al Price and Paul Andert co-founded it about 25 years ago. At its peak there were about 90 WWII veterans attending the weekly meetings, but as the years passed, attendance shrank. 
About eight years ago, Andert and Price decided if the group were to keep meeting each week, they'd need to open it up to other veterans. Price passed away in 2018 and Andert in June. Word got around that Korean and Vietnam War vets were invited and some started showing up, including DeLoach. 
DeLoach is originally from Wilburton, Oklahoma. By age 25 he had moved to California to teach at a elementary school when someone from the Wilburton draft board called and told him he would soon be drafted despite being a college graduate and one month away from aging out of the draft. DeLoach drove home and immediately went to an Army recruiter's office to learn his options. 
The recruiter told DeLoach if he enlisted to enter officer candidate school, he'd only have to serve two years. One year of training and one year in Vietnam. DeLoach signed the paperwork in 1966, and by 1967 he was interrogating Viet Cong prisoners as part of an Army intelligence unit. As his one-year tour was nearing its end, DeLoach had an opportunity: Stay in Vietnam and work for the CIA, or go home and push papers until his service contract expired. He chose the latter, packing his bags and then shipping out to Fort Sill. 
Following his service, DeLoach returned to teaching elementary school in California, but by 1974 he was lured back to Oklahoma to become a principal at Sapulpa Public Schools, where he worked for 30 years, retiring in 2003. 
When he showed up at his first All Veterans meeting, DeLoach says it was exactly what he'd expected, and he was hooked. He had found a group of like-minded men with similar experiences. 
The group meets at 9:45 a.m. every Thursday in the Kirk of the Hills basement. Meetings typically go until 11, but sometimes stretch longer.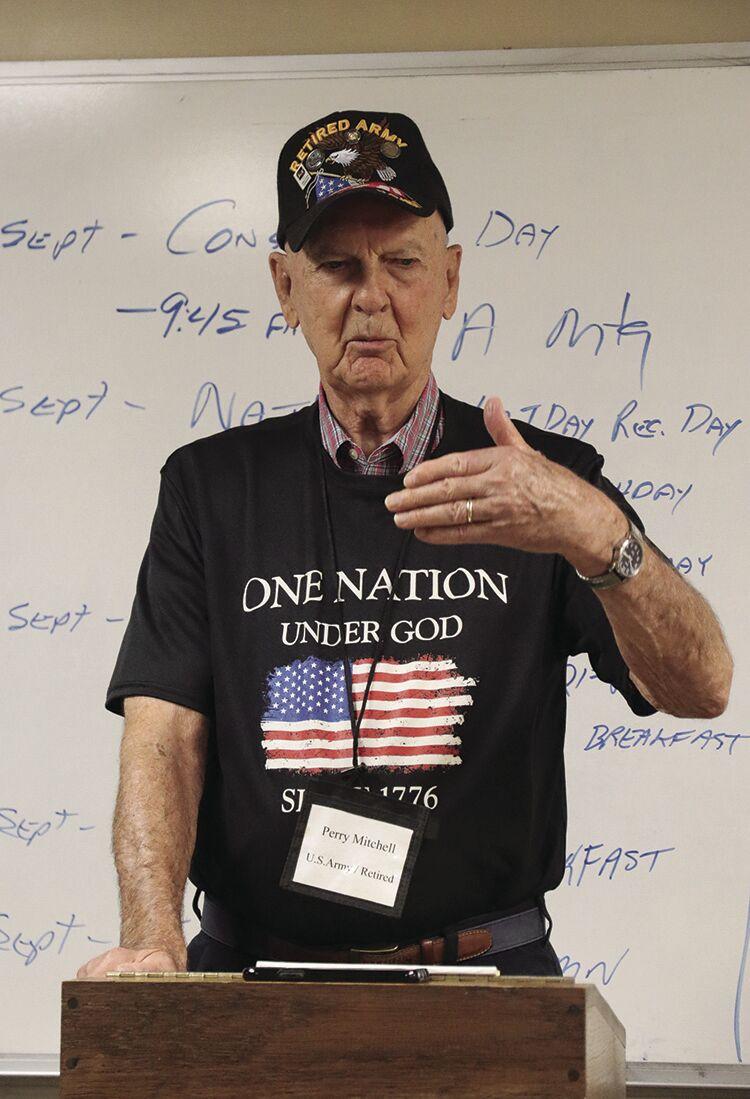 There was a hiatus in the spring due to the COVID-19 pandemic. Meetings were halted until late June when about half the group started coming back for get-togethers. 
Throughout the summer and fall, attendance has averaged close to 20 people, down from the 30 or so that attended in the months leading up to the pandemic. 
Each meeting starts with a prayer led by Perry Mitchell. The 88-year-old was born and raised in rural Alabama. He attended Georgia Military College, then played football for Wyoming before graduating in 1956. That fall he enlisted and worked in selective service; he served as a trainer as part of his reserve duty until 1991. Mitchell, who worked in oil and gas, relocated to Tulsa in 1980 and has since been heavily involved in nonprofit work throughout Tulsa. 
After Mitchell says the prayer, the group sings the "Star-Spangled Banner" and then recites the "Pledge of Allegiance." 
All Veterans was briefly a 501(c)3, but they learned that meant they could no longer talk politics, so they scrapped the official status. Each meeting they watch a couple of YouTube videos typically in support of President Donald Trump or criticizing Democrats and their stances. Of those who attend regularly all are Republican, and a few are former Democrats. There's always a political discussion, and each time DeLoach asks if anyone wants to rebut the topic at hand. Most are vocally in agreement.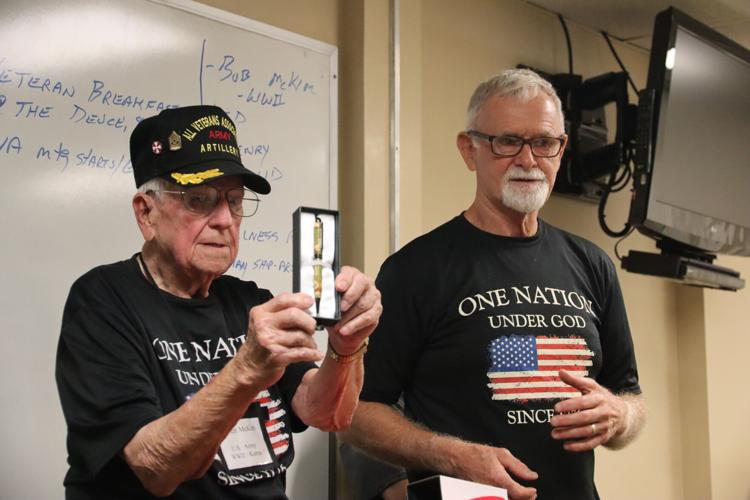 A popular feature of the group is having the men share their life stories, so the group can better understand each person. Robert McKim, 93, is one of the only remaining World War II vets who regularly attends meetings. On a recent Thursday he shared his life story with the group. 
Growing up in Tulsa, he lived on his own at 15, joined the Army at 17 and guarded POWs at Fort Chaffee in Arkansas before being shipped out to the Pacific Theater. He was slated to invade Tokyo as part of the infantry, but the atomic bombs ended the war. In 1952, he was called on to fight in Korea. Following his military service, McKim worked 20 years for Tulsa Police Department and 15 years for Tulsa County Sheriff's Office. 
Most of the veterans who attend are older, with a majority being veterans of the Korean and Vietnam wars. There are two who served in Afghanistan and Iraq who sometimes attend, but DeLoach points out many of those younger veterans are still working.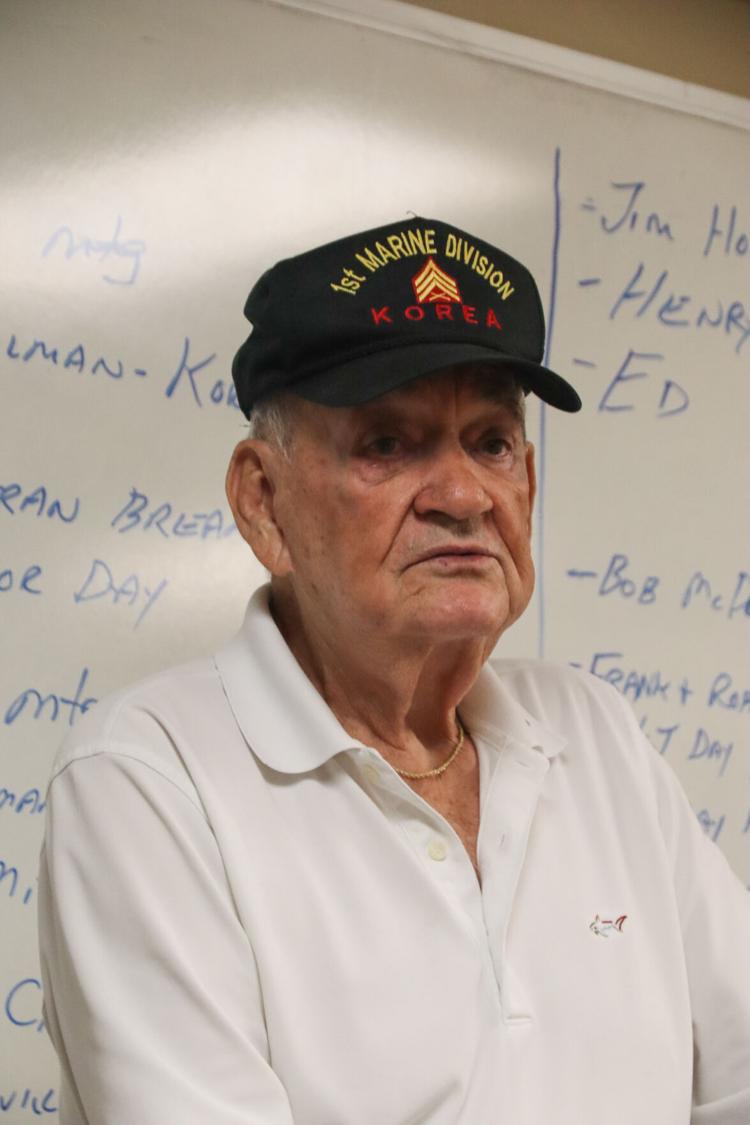 Seventy years after enlisting in the Marines at 16 with a forged birth certificate, Jim Holman still gets emotional when talking about his year serving in the Korean War. He recounts numerous stories of the people he fought with in many battles including a showdown with 200,000 Chinese soldiers, and also those around when he had body lice and the only treatment was repeatedly bathing in DDT, a pesticide linked to many harmful effects. 
"You have a bond with those guys that will never be replaced," says Holman as he fights back tears. 
DeLoach feels the same way about the group of veterans that gather with him every Thursday morning. 
"There's a brotherhood, a camaraderie," says the 80-year-old, who serves as the group's unofficial president. "It's a good group of guys who understand some things others don't. We can get together and enjoy a coffee and have a good talk. Anybody is welcome to come join us."