Sunlight shines through the south windows of the historic Vernon African Methodist Episcopal Church as the Rev. Robert Turner stands at the pulpit preaching from the book of Isaiah.  
It's the first Sunday of 2021. There are 13 women and three men, all masked and socially distanced across two levels of pews. There are lots of "Amens" and "Yeses" mixed in with "That's right" and "Hallelujah" as Turner preaches about it being a new year. A fresh start. His eyes often trail up to look at the camera that is broadcasting the service to those watching online.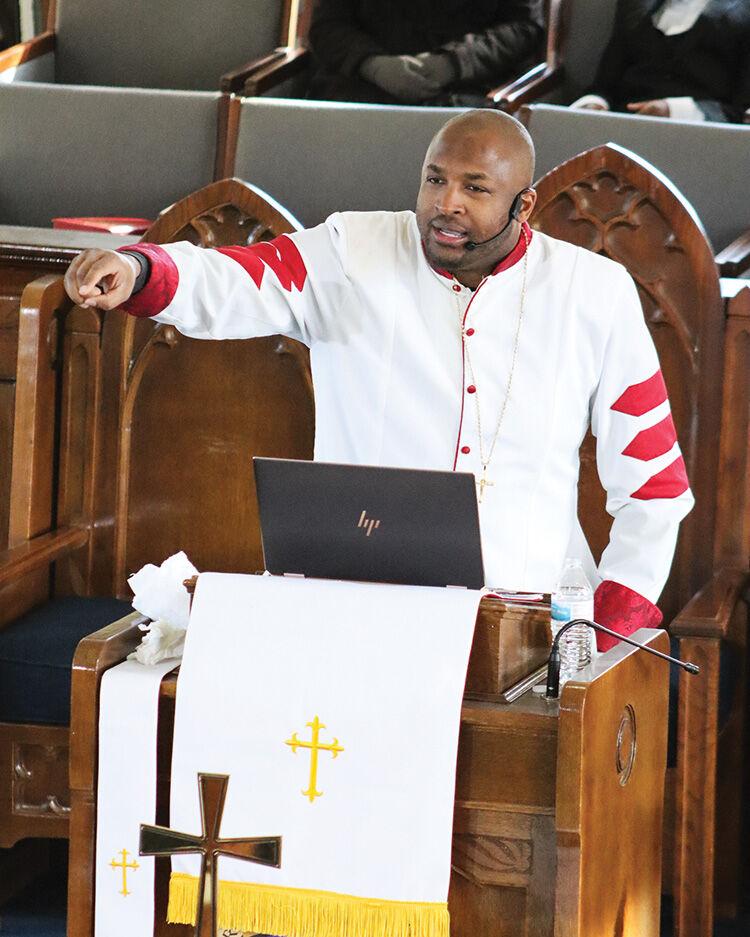 Turner starts off a little slow. His voice a bit hoarse. Then he gets more excited, stuttering at the beginning of sentences, which is a tell that he is about to go on a roll. His voice gets stronger and louder. He becomes more animated. A gold cross hanging from his neck swings and bounces off the middle of his chest. 
"We have walked through the fire, and God is telling us we won't be burned. The flames will not set you ablaze. He allowed Vernon to go through the fire of the Race Massacre of 1921, yet our basement still survives. Do you realize you got Teflon on?" says Turner as beads of sweat form on his bald head. Soon he'll grab a white towel and dab his forehead. By the end of the 37-minute sermon, it'll be on his right shoulder. 
Turner high-steps back and forth in front of the pulpit as he reminds his followers that the Alabama country boy is alive and well inside him. He steps up on a pew and begins stepping over the seat backs as he keeps preaching.
"N.W.A. had a song called 'Straight Outta Compton,'" says Turner. His wife, Shere, sits with their younger son, Bobby, behind the pulpit. Their other son, Robert Turner II, sits at the drums. "I think about God and everything good he has done in my life. He brought me straight outta 2020. He brought me straight outta a pandemic year. He brought me straight outta fear."  
He breaks bread and offers small cups of wine for communion. He then closes with a message about each person being precious. His voice softer. Tired. His first service of the year is over.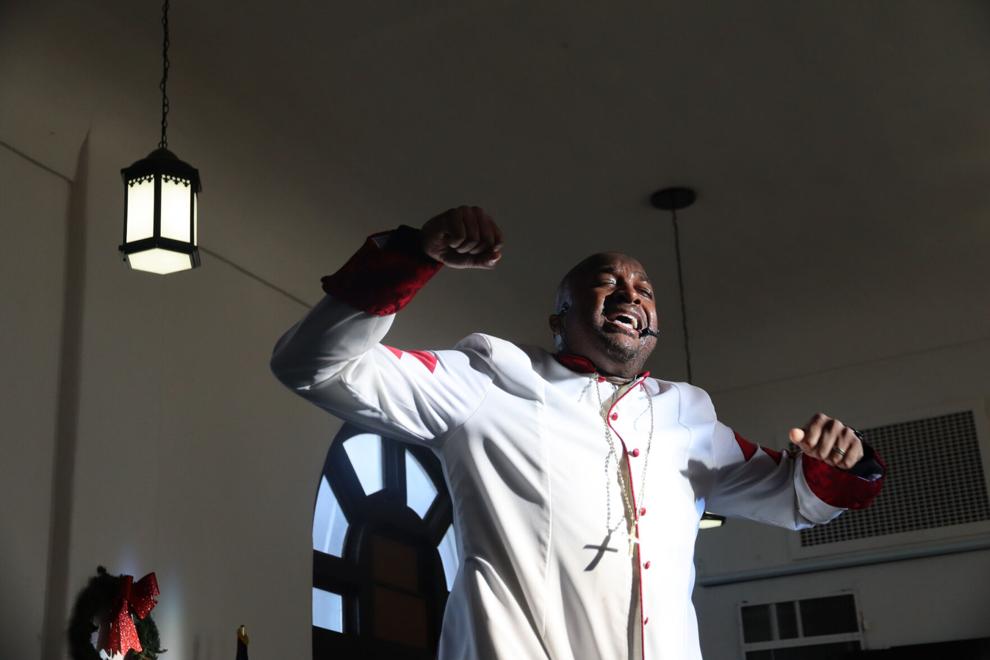 Turner, 38, has been one of the most widely seen faces representing Tulsa as we approach the 100th commemoration of one of the worst race massacres in U.S. history. On "60 Minutes," "CBS Evening News," "Good Morning America," CNN, MSNBC, NPR and EuroNews he has talked about the 112-year-old church being the lone structure standing on Greenwood Avenue after fires destroyed at least 35 city blocks of homes and commerce. He has been featured in articles from National Geographic, the New York Times and the Washington Post talking about the need for reparations for Race Massacre survivors and descendants. He says a Paris radio interview was broadcast in 18 African countries. The list goes on.
"When I come to this church every day… I see these pictures of folks who have been here who made this church what she is," says Turner as he points to framed pictures inside the church library. "They live in Tulsa, (were) born in Tulsa and died in Tulsa. I'm truly humbled to share their stories. I'm humbled God has allowed this person from Alabama to come to this place." 
The journey Turner took to get here reads like a modern biblical story that's about the continued pursuit of civil rights and criminal justice reform. It started with a very close family, a small rural church home and inspiration from his idols Martin Luther King Jr., Medgar Evers, Rosa Parks, John Lewis, Fannie Lou Hamer, and John and Robert Kennedy, all of whom he learned about by watching documentaries on a local channel after Saturday morning cartoons.  
A podcast conversation with the Vernon AME preacher about why he believes reparations are owed to Tulsa Race Massacre survivors and descendants.
Turner was born at Tuskegee's John A. Andrew Memorial Hospital. It was the first and last Black hospital in Alabama, and also infamously known as the home of the Tuskegee Syphilis Study, which observed untreated syphilis in Black men from 1932-1972.
His mother, Ruth, says Christianity has always been a strong part of her son's life with the family heavily involved in the church, but even then her son's faithful devotion started earlier than she anticipated.
It was during a revival week in 1987. Ruth recounts the moment like it happened last week. They were inside Midway, Alabama's Person Chapel AME Church. She was toward the back in what she calls the women's amen corner, where the older members sit and often lead the congregation in responsive "amens." Her husband, Bob, was over on the other side in the men's amen corner. Little 4-year-old Robert was up closer to the front in a row behind his older sister. It came time for the preacher to make his appeal for those who wanted to give their hearts to Jesus, and suddenly Robert popped up and started walking toward the front.
Ruth says she was flustered. Robert was too young, she thought. She exchanged looks with her husband and then decided it was time to go stop him, but Robert's grandmother seated next to Ruth stopped her as she rose and said, "No, no. Leave him alone. That boy knows what he's doing. My grandson knows what he's doing. Leave him alone." Robert and his older sister were saved that day. Ruth's and Bob's recollections of the seminal event are identical when he retells it.
She says from that moment on, she knew God had big plans for her son.  
"At 4 years old, it seems that he was on some type of pathway that we were not really understanding, but we knew that there was just something in him that was just very genuine, and very much giving him a heart of compassion for people," says his mother. 
Turner graduated from Tuskegee's Booker T. Washington High School, where he played football and basketball, while also singing in the church choir on Sundays.
Ruth says Robert would often come home late because he'd stopped by the hospital to pray for a friend's family member or do some other act of kindness, and then he'd be up late on the phone providing encouragement to a classmate the night before a big test.  
"It was just something very, very special about him being attentive to other person's needs," Ruth says. "We were just thankful that he was the kind of person that he was at that particular point in time, and it proceeded from there to him continuing to always attending to the needs of people in the community." 
Turner attended the University of Alabama, where he studied political science from 2000-2004. At the time he thought he wanted to be Robert Kennedy. He was the first Black chief of staff in the student government. Turner helped lead a movement to get the school to recognize the campus burials of Jack Rudolph and William "Boysey" Brown, two slaves once owned by University of Alabama. Turner's work landed him his first CNN appearance in 2004, and Ruth says she still has a VHS copy of it somewhere in her Tuskegee home. From there it was law school until a 2005 mission trip to Kenya that changed his direction in life.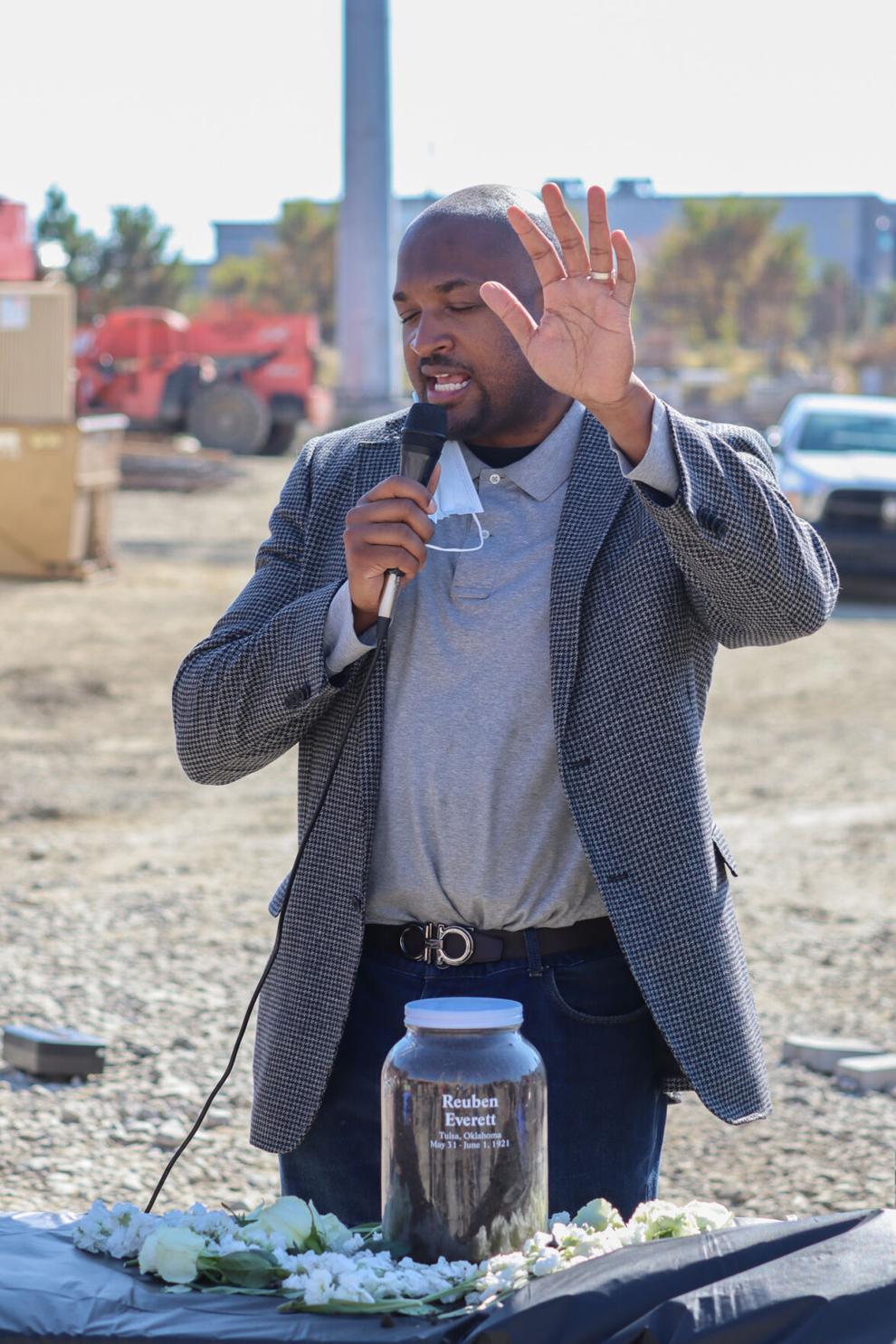 "I can't even begin to tell you just the wonders, the signs and wonders, that I saw," Turner says. "I needed that to confirm my ministry. I am not sure about a lot of things. But one thing I am sure of: God called me to preach on that trip." 
Turner graduated in 2010 with honors with a master's in divinity from the Interdenominational Theological Center's Turner Seminary in Atlanta. Four years later he received his Doctorate of Ministry from United Theological Seminary in Dayton, Ohio.  
Vernon AME is Turner's sixth church. Previously he led AME churches throughout Alabama in Birmingham, Brierfield, Mobile, Selma and Tuscaloosa. At each stop the churches were improved. There were new roofs and new floors, the creations of foundations and youth choirs. Then there's his current church home, where he started as pastor on Aug. 25, 2017. 
Boards and temporary frosted glass currently fill parts of the windows where there was once stained glass. The pieces, originally paid for by Race Massacre survivors, are being restored and will soon be reinstalled. It's a project that is partially funded by a $150,000 grant from the African American Cultural Heritage Action Fund and administered through the National Trust for Historic Preservation. Overall Turner says the church has raised over $1 million for capital improvement projects on the historic building.  
In response to the pandemic, the church launched a "God Provides" program to distribute meals to the growing number of those experiencing homelessness. In 2020, that totaled 240,000 meals.  
They use vegetables grown in the church garden, donated food and cash from congregants, citizens and other churches like All Souls Unitarian Church. 
"He's really doing an incredible food ministry," says  the Rev. Marlin Lavanhar, who met Turner in 2017 and then became friends in a similar way that called back to the old days when All Souls Rev. John Wolf worked alongside his friend, Vernon AME Rev. Ben Hill. "We have a food ministry, and we started directing a lot of our resources toward his efforts. We're regularly bringing shipments of food and packed grocery bags and things that his church is then doing the distribution of." 
Every Wednesday at 4:30 p.m., Turner can be seen at the northwest corner of East Second Street and South Cincinnati Avenue where he stands outside the entrance of City Hall demanding reparations for Race Massacre descendants through a megaphone. He has only missed a few Wednesdays since starting it in September 2018. Each time he marches from City Hall back to Vernon.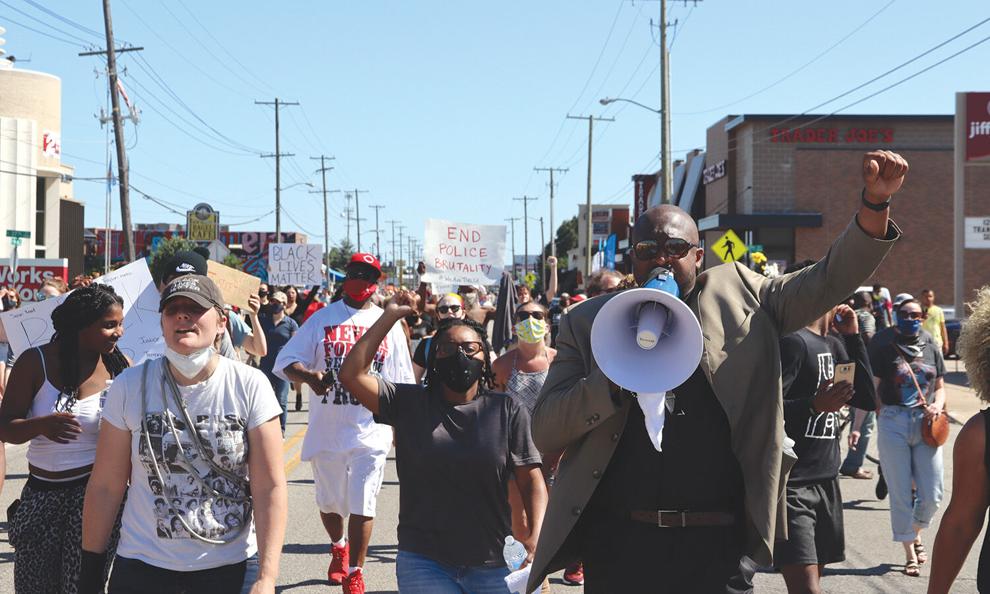 This summer he helped kick off the local protests against police brutality by leading hundreds through Brookside. The next day, moments before a march through downtown, he spoke to thousands more protesters about the need for criminal justice reform as he stood in the field behind his church.
"I always say that God gave Montgomery Dr. Martin Luther King Jr., and God gave Tulsa Dr. Robert Turner," says Tiffany Crutcher, founder and executive director of the Terence Crutcher Foundation, for which Turner serves as a board member. "He's someone that just came and jumped right into the fray with us (in the fight for reparations, racial equality and criminal justice reform). He's been raised up in a family of freedom fighters, so this is just a part of his DNA. We've been blessed to have him here fighting alongside us in the work that we've been doing." 
Throughout the fall, as officials searched Oaklawn Cemetery for possible mass graves resulting from the Race Massacre, Turner could be seen daily kneeling at the fence as he prayed for answers. He says he will continue to pray for positive outcomes. He says he'll keep preaching from the pulpit and keep yelling into his megaphone. He believes God still has lots of work to do through him.  
"I just really fell in love with this story of this church of perseverance and resilience," Turner says. "But I also saw there was a void from the history that I was learning from what I saw present-day. There was a time where there was no person consistently speaking about it from the faith community — at least, the whole spiritual need for repentance from this, and reparations for this — and God troubled my heart until I did it. 
"I'm so tired of talking about the problems of racism. I've been doing this stuff since my childhood. I do it as much as I do it now because I don't want my boys have to talk about it as much. It's humbling, and it's an honor for me to share their (Race Massacre survivors and descendants') story and to fight for their cause." 
Scenes from Rev. Robert Turner at work
TulsaPeople digital editor Tim Landes spent a lot of time documenting Rev. Robert Turner. Here are a collection of photos of the Vernon AME preacher in action at protests and inside in the church.