"I don't know that I would say I have no fear of heights — maybe just a healthy awareness and a real respect for the ground," says artist Alexander Tamahn, grinning beneath a hardhat, 125 feet above the streets of downtown.
For the past year, Tamahn has been restoring the façade of one of Tulsa's historic architectural gems, the 90-year-old Adams building near West Fourth Street and South Cheyenne Avenue. He uses everything from putty knives to sea sponges to repair and re-sculpt the building's decorative terra cotta features — an eclectic mix of art deco, neo-gothic, Italian renaissance and baroque architectural details.
Although the project is somewhat of a departure from the mural work for which Tamahn is known, the view from the rooftop is spectacular. 
Rose Rock Development Partners is undertaking the renovation of the iconic Adams Building, 403 S. Cheyenne Ave., in Tulsa's Arena District.
Originally known as the Mincks Hotel, the luxury accommodations opened in 1928, just in time for the First International Petroleum Exhibition. The Adams, as it came to be called in 1935, was added to the National Register of Historic Places in 1977 and has become one of the city's most photographed structures.
The hotel was converted to the Adams Office Tower in the early '80s. Current plans call for creating 65 multi-family apartments with a first-floor restaurant/retail space. A number of the units are already occupied.
Meanwhile, Tulsa artist Alexander Tamahn continues his painstaking work to restore the building's façade. "This has been an amazing learning experience, hanging on the side of the building and focusing on the work at hand while still enjoying the beautiful sights and sounds of the city landscape," he says. "I really want to take in as much of this experience as possible."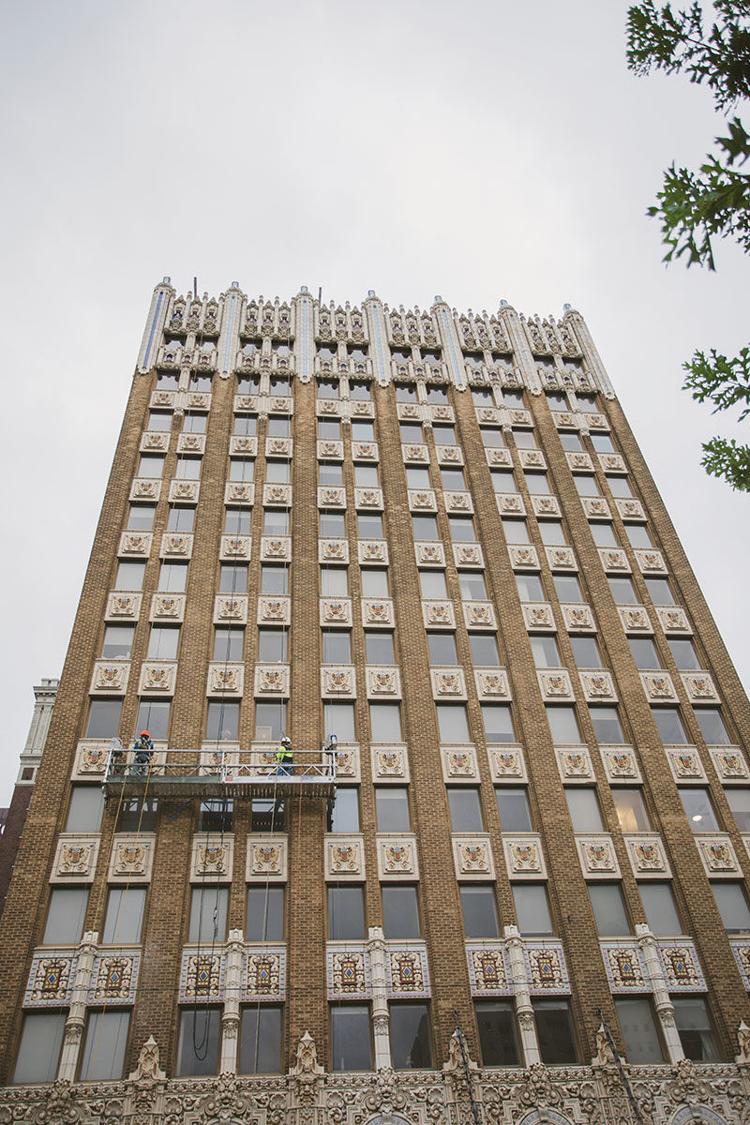 Tamahn, a Fort Worth, Texas, native who grew up in Chicago before moving to Tulsa, is thankful for the chance to leave his mark on his adopted city. "It's also opened up some insanely amazing doors," he says. "I'm appreciative of all the things I've learned and the skillset I've added to my wheelhouse."