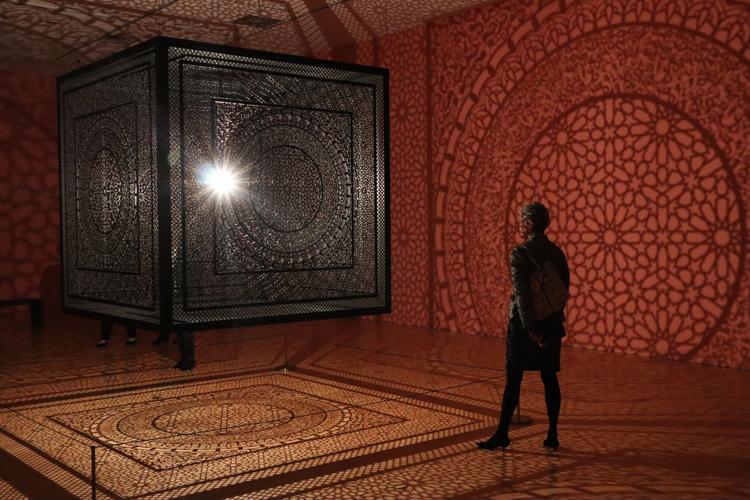 A giant black cube hangs from the ceiling of Philbrook Museum of Art's Helmerich Gallery. A single small lightbulb in the center blasts light through an intricate laser-cut design resulting in the space filling with shadows that create various patterns across the walls, ceiling, floor and support pillars. It is an entire room turned into a stunning work of art comprised of shadows and light.
Artist Anila Quayyum Agha looks at her creation titled "Intersections" as people walk around the installation taking it all in as patterned shadows cover their bodies.
Beginning Nov. 10, museum visitors will be able to witness the awe-inspiring creation when "Shadow of Time" opens to the public. It runs through Feb. 16.
It's an exhibit that was years in the making, dating back to Museum Director Scott Stulen's time working for the Indianapolis Museum of Art, where he met Agha. They started talking and Stulen started dreaming of a future collaboration. Two years ago, he asked her if she would be interested in bringing her work to Tulsa. Now it's here.
"Anila is one of the leading contemporary artists in the whole country, so it's special to have her here," Stulen says. "It's also the first time we've been able to do a big immersive installation exhibit like this. We're excited because her work has a lot of depth to it, but it's incredibly accessible, too. I'm just looking forward to seeing people's faces when they come in for the first time and see it and experience the show."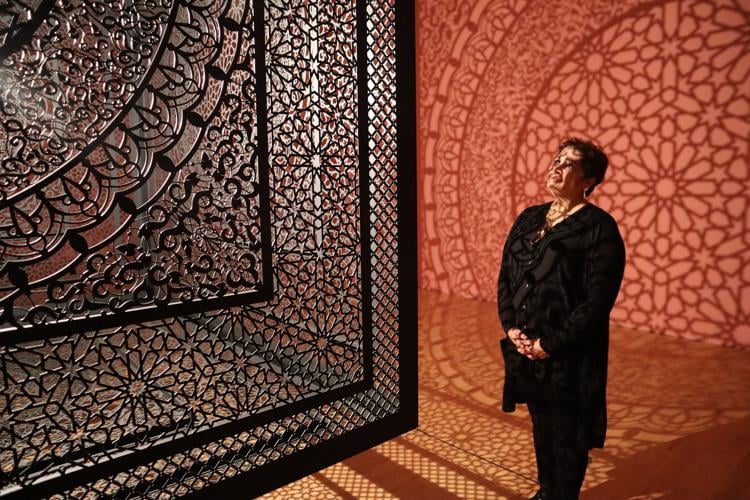 Agha spent a year creating "Intersections" in her home studio in Indianapolis, sometimes dragging it outside to work on it because her studio space was too small to assemble the 6-foot-6-inch cube artwork. In 2014, it earned the Public Grand Prize and tied for the Juried Grand Prize at the ArtPrize competition.
The temporary exhibit follows on the heels of the museum's special engagement Wonderous Worlds: Art and Islam Through Time and Place, which was the largest Islamic art exhibit in state history.
Agha's work continues that theme through her various pieces of displayed artwork that are based on ancient Islamic geometric patterns and Islamic interlace patterns.
The artist, who was born in Lahore, Pakistan, says it makes her proud to extend the opportunity for Oklahomans to learn more about a style of art rarely seen in this part of this country.
"That's the whole point. I think that the more I show in places considered conservative states, the better. I think those are the people that we need to reach to tell them that we are no different than you," says Agha, who also has an installation on the museum's front lawn. "I think that the message of art can be easier to digest than having didactic stuff told to us. And if they are willing to come into a space like that, where they are unfamiliar with what they're looking at, but they're willing to experience it, they may eventually translate that idea into like, real life and say, you know, I don't know what the Arab culture is, or I don't know what the Mexican culture is, but I'm willing to learn about it. And I think that that's an important thing."
Agha was inspired to create "Intersections" based on some things happening in her life, including a trip to southern Spain.
"I traveled there to visit the Alhambra, which is a palace complex that was built by the Moorish kings from the Middle East, who had conquered the southern part of Spain. They kind of set up a homeland there, and they had 100 or maybe 200 years of a wonderful explosion of culture," says Agha, who will host an artist talk 2 p.m., Nov. 10. "What was really interesting about the complex of the Alhambra is that it was built by artisans, from many backgrounds, Jewish, Muslim and Christian. And in my imagination, I thought it was a time when people from various backgrounds came together to create something really beautiful, and I often think of that moment in time and how the diverse things came together to create something interesting. I want that to happen now. I want that kind of synergy to happen around me, not because of me, but because of people coming together to create something beautiful."