Graveyard Party's debut, self-titled EP is available in a limited cassette format from Tulsa label Cult Love Sound Tapes. It's also streaming on Spotify. The final track, "Bloom," was featured recently on Tulsa Talks: A TulsaPeople Podcast. Catch them at Josey Records, Nov. 29, at 1 p.m., for Black Friday Record Store Day, and follow them on Instagram at @graveyard_party_.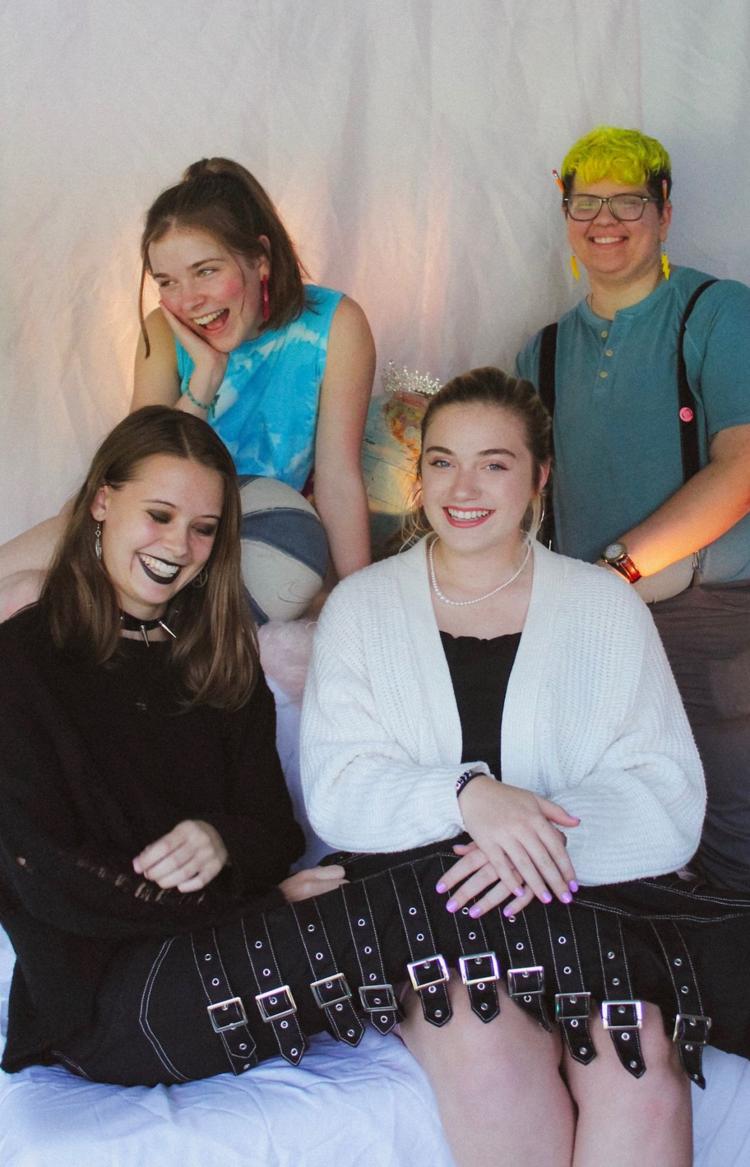 What inspired the name "Graveyard Party"? (Could it have to do with your self-description as "Lisa Frank ... but make it goth"?)
Charlotte Bumgarner (guitar/vocals): The name Graveyard Party came from my brain. I've always loved everything spooky and knew I wanted to use that name for something. I almost used it as a moniker for my solo stuff but decided against it. "Lisa Frank … but make it goth" was my bio a couple years ago. It's my motto and aesthetic.
How long were you performing together before dropping this EP? I know Charlotte, at least, has been releasing music on Soundcloud for at least three years, but when did Graveyard Party properly form? Do any other members release music under solo monikers or perform in other bands?
Bumgarner: We've been a band for a little over a year. The EP release was almost exactly a year after our first show. We formed in August 2018 but didn't play our first show until October. Jerica [Chante] (bass) and Brin [Lasiter] (guitar/vocals) both write amazing songs on their own. Brin sometimes plays 918 Coffee, and if you have the chance definitely go see her. Jerica plays solo less frequently, but her style is super cool and unique. I have my own solo stuff on Bandcamp and have been playing solo shows for the last three-ish years.
Jerica Chante (bass): I had performed with Brinley a couple years back at a spin-off show during summer of 2017 at Cain's Ballroom. I had been here and there with random bands and ensembles as predominantly the writer/singer and bassist, but Graveyard Party is my first and best group I've gotten to know and play with in my music career.
Jumping off that last question: I know from personal experience how difficult it can be to get friends together, jam, and keep it going, in terms of being a proper band. Have you all experienced difficulties in that regard? If so, how have you managed to keep up the momentum?
Bumgarner: We have definitely had trouble squeezing in a band practice before because we are all super busy, but we really care about the band and want to play well, so we make time to practice.
Chante: Timing and true connection are really everything with keeping a band, especially a band full of multi-talented and busy individuals together. So far, I think we've done a more than all right job. Though, I think it helps that we are all friends and love to see each other to begin with, so carving time out for rehearsals and booking is more of a celebration than a stress factor.
Brinley Lasiter (guitar/vocals): I think we can all agree that we've all faced numerous difficulties when it comes to friends in and outside of the band. Songs come from personal experience and unfortunately that can rub people the wrong way sometimes.
What's your recording/writing process like?
Bumgarner: The writing process has been different every time I think so it really depends on the song you're talking about. Sometimes Brin shows us a chord progression she likes, and I'll help with a melody and lyrics; sometimes we work together and bring what we came up with to the rest of the band. Normally, one of us has an idea and we help each other flesh it out. The recording process was super fun. It was our first time in a real studio and we had such a great first experience. Mike Rodriguez did our album and really helped us learn/add more to our music but never overstepped a boundary.
Chante: Usually Charlotte or Brinley or even I, having been recently added into the mix of the group, will come up with a chord progression and improvise from there with the overall layout of the song and the waves and troughs. We all kind of come together with lyrics at times, so it truly is a 4:4 ratio of creative input.
Lasiter: Typically, when we write something one of us has an idea and we present it to the group, which starts this whole snowball effect. Honestly, we write songs pretty quickly if we're all together, which I absolutely love.
Brinley said in an interview with The Tulsa Voice that the local scene can be intimidating, and that you "feel like there's this underlying pressure to impress people." Could you speak more to that?
Chante: I personally feel like with the music scene in general, but especially being in Tulsa as a young adult, there is such a pressure to try and socially climb to "make an impression" or have more of a creative impact than your "competitors." I think that may just be the culture of living in an area kind of underestimated by outside states, feeling like you have to work 10 times harder to get yourself taken seriously in the music business, that there's a great hypothesis that a band created in a well-known-to-be "artistic," "progressive" state already has a popular advantage over a band created in what other people may perceive Oklahoma as.
Lasiter: Yeah, I definitely think the music scene is still intimidating, especially to women! I know that I personally am very timid at gigs where I feel like maybe my guitar abilities aren't as good as somebody else we're playing with, which I hate! I think people just pass these judgements on all-female bands and it always feels like we have to overcompensate for that, and it creates so much pressure.
Your debut EP is currently on a limited cassette run with Tulsa DIY mainstay Cult Love Sound Tapes. How did that partnership come about?
Bumgarner: The partnership with Cult Love just came from being involved in the scene. I always had mutual friends with Cult Love and saw Natty [Gray Watson] at shows and he eventually just approached me about doing tapes for us! They were super cool and easy to work with and we feel lucky to have collaborated with them.
Chante: Cult Love Sound Tapes did an amazing job on the cassette tapes, and I'm very happy that we were able to, in a way, collaborate with them on a project and have the privilege of them being able to help us get our EP out there.
Almost if not all of the tracks on this EP are sung from the second-person: each song seems to be directed to someone (not necessarily the same someone for each track, either), sometimes lovingly and other times less so. What's the ethos behind this "from-me-to-you" approach? What's it like to belt these lyrics out in a live setting?
Bumgarner: I would say I write most of the lyrics, but Brin probably writes most of the chord progressions. Sometimes we collaborate on lyrics as well, we have gotten pretty good at doing them together. I don't think the second-person songwriting was really intentional. I wrote "Ant Bully" before the band even started with the intention of writing a more carefree song that I didn't have to stress over. I knew it didn't really fit with my solo stuff, so then Graveyard Party ended up tweaking it and using it.
I think since I usually write in the first-person for my solo stuff it made me want to write in that second-person perspective to let out some emotions toward others. It's a lot easier to write about other people's actions than your own. It can be therapeutic and a way to unpack what happened. Singing these songs can feel scary sometimes if I feel like they apply to anyone in the audience, but that can also be liberating.
In your track "Lilies," there's a line that goes, "I was made by the things I love" — what are the things you love?
Bumgarner: That line in "Lilies" was actually a dig at my friend who always made fun of me for being a sort of "fan girl" and being so passionate about people/books/movies/things to an obsessive degree: "I was made who I am, by the things I love, whether or not they love me back." Some of my biggest inspirations are Bikini Kill, Sylvia Plath, Patti Smith, Frida Kahlo, Stevie Nicks, too many amazing powerful women to name them all. We all have different music tastes that meet in the middle and then go separate ways. For me, that's punk and hardcore. I would say a common ground for all of us though is Soccer Mommy, Beabadoobee, Phoebe Bridgers, Clairo and Wolf Alice.
In another self-description, you all claim to be the band from "Freaky Friday" (I believe that's Pink Slip?). Can we expect any covers of that music in the future?
Bumgarner: We actually covered it at our EP release in October! It was a special occasion, so I'm not sure when/if we'll do it again but it was really fun.
Chante: We actually had did a cover of the song "Take Me Away" from "Freaky Friday" (which Jamie Lee Curtis killed in the concert scene, might I add … she might have been guitar-lip-syncing, but whatever) at our EP Release show which, ironically, I sang, being a newly added member. I'm hoping we do another "Freaky Friday"-esque spin-off again sometime in the future.
What does the future look like for Graveyard Party?
Bumgarner: I'm not really sure what the future looks like for Graveyard Party when I'm not even sure what the future looks like for me, so, hard question. More songs, hopefully.
Chante: Truly, you never know what the future holds, especially within the modern music business with how popular and dominant independent labeling and song releasing has become recently. We're playing everything by ear right now and maybe one day we'll strike the right note that makes everybody know our project, but I'm just as content with just the original fans and supporters knowing who we are.
Lasiter: Well, we just recently wrote a new song, so I think we all agree that we would love to release that as a single soon. Other than that, I think we'll just keep on rocking and hopefully find other great opportunities to get our name out there, such as this one.
Anyone you want to shout out?
Bumgarner: Always! Kyra Bruce at The Tulsa Voice, my queen! She does so much for the scene and has given me and Graveyard Party some pretty cool opportunities. Mike Rodriguez, again, for doing our EP. Cult Love Sound Tapes for reaching out to us and supporting us. Karli [Pool], our former bassist, for helping us get to this point. Peter, Abby [Redmond]'s (drums) stepdad for letting us use his gear and helping us set up for gigs sometimes (and never judging our lack of gear knowledge). Some of my favorite locals who deserve a shout-out: The Daddyo's (honestly any of Kylie Slabby's projects), Tom Boil, Downward, End on End. And, lastly, anyone who has listened to the EP or come to a show.