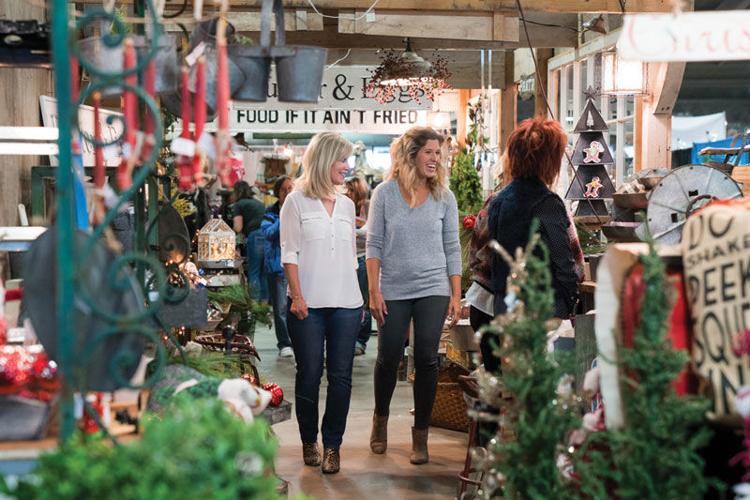 Braum's An Affair of the Heart provides shoppers with a unique opportunity to browse hundreds of retailers (about 450 to be exact) from across the nation selling unique, one-of-a-kind items celebrating the craft, skill, art and style of the vendor.
It is the largest arts, crafts and boutiques show in Oklahoma; a unique marketplace where local and national crafters, artisans, boutique owners and collectors can share and sell their products with the general public.
Many of these vendors are represented online only so this is the one show where you can experience their products in a completely different way. The market for arts and crafts has changed significantly. The traditional crafters are now exhibiting alongside a younger generation of artisans. Handmade items are still valued, but young retailers can also showcase their goods and products with or without a storefront.
You will find so many rows of booths and creative displays with unique finds like screen-printed baby onesies, leather bags, letter-pressed greeting cards, clothing and accessories, art, beauty products, apothecary, candles, housewares, and so much more! There truly is something for everyone on your list including yourself!
There is no shortage of gifts to find at the Nov. 22-24 show held at River Spirit Expo, and you could probably start and complete your holiday shopping here, but to help get the ideas flowing, here are some gift ideas you can find at the show.
Summer's Market Comet Dust Candle Ring 24", $12.95 and Summer's Market Santa's Ride 3 Pillar Mantlepiece - 20" $18
Winter decor is simple and can be rustic or incredibly modern depending on your taste! Summer's Market has everything you need to decorate for the holiday. And of course these items are just fantastic to gift. Every year when the giftee removes the decorations from their year-round storage box, they will always think of you! Summer's Market always has such a gorgeous festive booth at AAOTH so be sure to visit them for your decorating and gift giving needs! Find them in booths 424 and 425
Dog Collar World Buffalo Plaid Dog Collars, Bandanas, and Bow Ties $8-15
Happy soon-to-be Ruff-mas! We all know who the real MVPs are: our pets! Whether they've been naughty or nice, it's important to treat them to some stylish new gear this holiday season. Dog Collar World's custom dog accessories are extremely fashionable, and can also be customized by having your pet's information embroidered directly on the collar and bandanas. Embroidered dog collars and bandanas look excellent while also providing a measure of security in case your pet becomes lost. They have over 30 embroidery thread colors available so any of their patterns will look good embroidered! The bow ties are so dapper! Don't have a pet but want to impress a pet owner? Well look no further! And P.S., if you are dating a dog lover-you better get that pet something for Christmas! Find them in booths 196, 197, and 198
Wild Hare Art Studio is definitely a must on your AAOTH shopping list! They have something for the holiday lover, the coffee lover, the art lover and the OKIE lover. They are here to remind you of the feeling of home, wherever you may be! They offer custom and original items born out of their Oklahoma heritage. Their offerings come from the creative visions and talents of David Prichard, John Hare and Justin Hare and will focus on original artwork, photography, canvas prints, apparel and more. Christmas ornaments will be available for purchase at the November show. The ornaments range from $14.95-$10.00. The Oklahoma Scissortail Water Color (signed) Print features original watercolor artwork by Wild Hare's own Prichard. It's printed on heavy stock photo paper too so it feels very luxe. It's $15 which leaves me plenty of room in the budget to have it framed. And the Buffalo Santa Mug is the most adorable thing ever ($15). Perfect for your favorite cup of coffee or hot chocolate- or maybe even Santa's milk for his cookies. Whatever the case may be you will find so many amazing gift ideas for that OKIE in your life. Find them in booths 551 and 552
Farmhouse style is all the buzz these days in the decor world! Hey thanks Joanna and Chip! If you are familiar at all with farmhouse style you know that farmhouse signs are a key component. They can come in all different sizes, shapes, and styles too! Dawn at H&R Pallet Designs will make any custom sign you dream up! But already has an amazing selection too that you can shop at this year's show. Quality and attention to detail make them each a thing of beauty. Dawn is truly passionate about what she creates. She absolutely loves what she does and you can see it! You can feel it! She has small unframed 10x10s for just $20 all the way up to ginormous 14x48s for $120. Find them in booths 733, 734, and 735
Artisan Candles from Farwilde are the ultimate gift! Temperatures are dropping which means it's time for "Operation Cozy," a time when throw blankets are brought out, candles are lit, and staying in seems like a better option than heading out. Since it's officially candle season, stock up on these beauties to gift to someone this holiday. They're purveyors of fragranced jar candles, hand-crafted with botanically rich, complex essential oils derived from plant product from around the planet. Their candles are created in The Woodlands, Texas, adhering to the principles of OLFACTORY MIXOLOGY: every Farwilde candle reflects their own fragrance aesthetic . . . scents which inspire, transport, and fascinate us are blended and funneled into our jars with the intention that they provide an unforgettable aromatic experience for you. A balanced, scented candle can do wonders for your mood, bringing back joyful memories or awakening a sense of calm in the mind. Turning to science once again, there are numerous studies that demonstrate the power of smell in evoking emotions and memories. There is also evidence that the right smells can help reduce anxiety, promote wellness, and in the case of lavender in particular, even help with chronic pain. They use a specially blended soy and paraffin wax, which holds the fragrance and burns evenly. There are no added colors or dyes in any Farwilde candle and they use only 100% cotton wicks which are lead and zinc-free! They retail for $35. Find them in booth 687
Gift your traveler some cozy pieces from Jade Creek Boutique. While packing thse scarves and cardigans might not actually change your life — it will enhance the way you travel. Cardigans and scarves are not only a stylish addition to any outfit, but they're also amazing multitaskers. They can be used as blankets on cold planes and as neck pillows when rolled up for long rides. They're also sheets on overnight trains and head covers on drizzly days. You can also stay snug in a freezing conference room or restaurant! Jade Creek is a chic boutique that carries fashion forward, comfortable, trendy and realistic styles for the busy mom, frugal fashionista or the everyday teen. They also carry a wide variety of accessories and shoes to pair with any outfit! They are inspired by all women to bring easy style at affordable prices and customer service you deserve. The lightweight cardigan retails for $29 and the infinity scarf retails for $16.00. Find them in booth 640
The Oak Serving Board from A Colorful Orchid is such a wonderful gift and true piece of art. These gorgeous boards not only help you make things from scratch and cook healthy food, they also add beauty to the kitchen and help turn cooking and entertaining into a form of self-care. For the loved ones on your holiday gift list who spend a lot of time in the kitchen, these boards are just perfect! Their boards range in price from $25 -$115. Tracie locally source slabs of wood to make many of her boards. She will also have glass storage jars, earrings, pendants, magnets, coasters and Christmas ornaments for $10-$20. She will also have a lot of cocktail and console tables which range in price from $75-$300. Look out for a new series too called "ocean"! These pieces mimic the waves of the ocean, with the white resin lacing to look like white caps over the waves. Everything she makes is one of a kind. No two are ever alike. Find them in booth 696
Josette Lavender Dry Body Oil $12.95
For beauty fiends, the holidays just wouldn't be complete without an amazing, beauty gift. And this light weight, non-greasy oil is perfect for anytime. However, it is most loved and appreciated when you are in a hurry. You know, when you jump in the shower before you've got to be somewhere quickly! You can blot the excess water off your skin and spritz your body with your favorite scented body oil. It glides on effortlessly, absorbs quickly and leaves the skin feeling soft and nourished. It is great for people that do not like the feel of oils. It can also be used on the hair to tame the frizz too! 100% safe --20% organic --no preservatives! This nourishing oil instantly sinks into dry skin. Find them in booth 295
Trendy Fashionable Pieces from Urban.ish are perfect for that fashion lover on your gift list. Finding the perfect present for the stylish women in your life is no easy feat—but Urban.ish is here to make the process a little easier (and chicer). Urban.ish has some very trendy and fashionable pieces at an affordable price point Hem Crop Flare Jeans and anything rust colored is bound to be on any fashion lover's list. They are located in Duncan, Oklahoma, but will be coming direct to you at the Braum's An Affair of the Heart show in November so you can actually try before you buy! Prices range from $14-$60 Find them in booth 263, 264, and 265
All of Us Old Plantation Soups and Dips
Another sure way to land that invitation to next year's holiday party is gifting your host a fabulous soup and/or dip mix from All of Us Old Plantation Soups and Dips. Today their catalog has expanded to 17 different dips, 25 different soups, three different pies, and a full line of bread and cobbler mixes. They don't use fancy machinery or sophisticated gadgets to blend their mixes. They use a measuring scoop, lots of bowls, and plenty of elbow grease. Every bag is sealed and labeled by hand. Be sure to stop at their booth because they will have tons of samples for you to try before you buy! Find them in booth 001, 002, and 003
Willis Chili Seasoning $5-30
Not only is chili such a nice change from the cookies and candy typically gifted during the holidays, it is something that your hosts get to use all winter long. This is a great mix to give away, but it's also great to just keep in your spice cupboard. It's uses extend far behind a pot of chili, including seasoning chicken and beef, fajitas, veggies on the grill, etc., but take it from Willis himself at the show. Buy some for yourself and keep plenty on hand for last-minute gifts. (neighbors, teachers, etc) Find them in booth 504 and 505