The Tulsa band's new single, "Slammer Song," is out now. In conjunction with the new track, the band started a fundraiser for The Bail Project, which seeks to cut down on constrictive bail bonds. They spoke with us over email regarding their connection to charity and their songwriting process.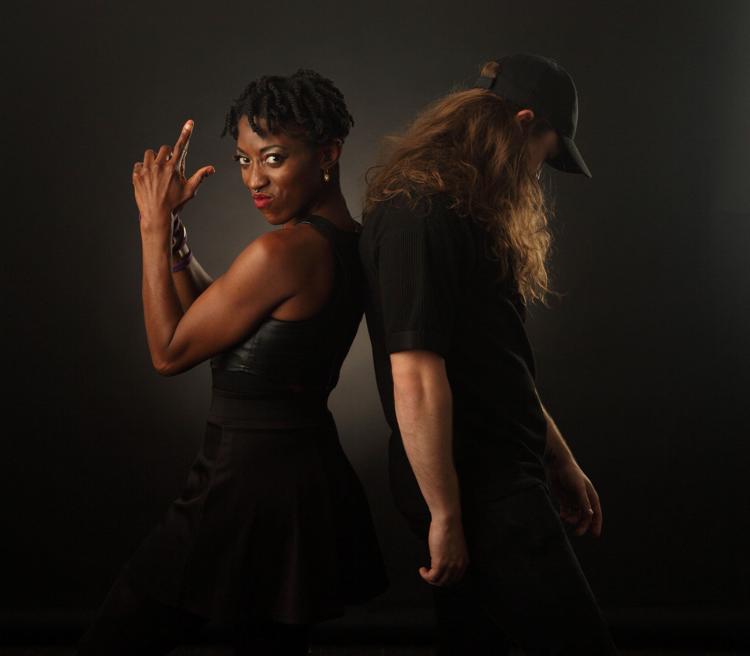 Your new single, "Slammer Song," tackles the issue of unnecessary and constrictive bail bonds in the American justice system. To that end, you're working with Tulsa musician/journalist Damion Shade to raise money for The Bail Project. What inspired this partnership and this fundraising? Was it a specific event or a buildup of injustices over a period of time that prompted you to take action?
Nathan Wright (guitar, vocals): For me, like most people, it was a matter of education. Of course, there are injustices everywhere, but you only know about them when something gets your attention. The criminal justice system in the U.S. is particularly salient for me, not because it is the most important thing worldwide (how would you even find that thing?), but because it shakes my insides so violently that I can't help but take action. … My purpose is to inspire people to mobilize, to make their voices heard, to put money where it truly helps, and to vote when the time comes. If we can do that while making people dance and coloring the airwaves, then we will have achieved a dream.
Branjae Jackson (vocals): I personally feel it is imperative to use our platform to make a difference. I feel this way with all the projects I'm involved in. The prison system is really messed up. It puts fire in my eyes. I'm with Nathan about the education factor. … I mean, how great is it to be able to use music and melody to draw attention to an enormous issue that's been going on right under our noses? It's modern day slavery.
It seems Count Tutu has always been tied with charitable organizations. When and how did you make the choice to merge your art with charity?
Wright: Branjae and I were living and playing with Taylor Graham from Tulsa band Henna Roso at the time they started, and Taylor had a passion for providing meals for the community. I realized just how powerful something like that could be. Music fans are coming together to have experiences all the time. Why not give them a mission to be a part of? The support has been beautiful, and people get to help with minimal effort.
Jackson: Music and community just makes sense to me. I'd say witnessing my friend and roommate at the time, Taylor Graham, waking up early and rolling burritos to feed the hungry was inspiring. I remember years before that, we sat on the couch and he talked all about starting a band that is dedicated to feeding the hungry. I then asked myself, "Why couldn't I do that in the areas that I care deeply about?" Looking around at all these issues we face in our communities, I felt so inspired to make a change, just like he was making one. Taylor seriously has a heart of gold.
Was it a coincidence that so many talented Tulsa musicians should be in such proximity, forming this sort of local-scene-camaraderie, or was it fate? Is Tulsa a binding agent between you all, or merely a backdrop for your music?
Jackson: I simply do not believe in coincidence. I also believe that everything is supposed to happen the way it does. Tulsa is a budding musical city with vast levels of diversity and talent. It's a lot like a musical mixing pot of creative artists with varying backgrounds coming together at the perfect times to create magic. I see layers to it. Not only do we work in different projects with each other, but we learn about friendship, community as well. We learn how to support one another.
You all have been active since mid-2015, but you're only just releasing your debut single. What kept you from the studio for so long?
Wright: We've been through a few different personnel changes to get the culture of the band running effectively. It's difficult to organize nine (and at times 10) people. We wanted to make sure everything worked in an organized and well-funded manner.
Jackson: Recording is something I think we all felt we couldn't rush into. We've made a few attempts and just couldn't really come to a solid agreement. We then took our time to sit and marinate on our next path. I specifically remember we were attempting to record an entire record, while capturing the visual at the same time … live. I think I can accurately say we bit off way more than we could chew at the time!
What's the songwriting process like for Count Tutu?
Wright: It's completely dependent on the song. … Everyone in the band has compositional ability and employs an attention to detail. The lyrics come when they are inspired to come, which is easy to find when you're writing about things that are important to you. … Branjae and I are probably about equal in terms of lyrical volume. We don't really think about it that way though; we only sing lyrics that every member of the band is on board with.
Jackson: Writing is very interesting with this band. I'm a soul singer, so basically the whole riffing- flow thing is how I come up with some ideas. Other times, I prefer to come up with a concept on my own and bring it to Nathan or someone that can help me get it charted. The fellas all read music so many come with sheet music prepared and rehearse the song down that way. We have nine members, so it works for efficiency; that's for sure!
Jumping off that: Nathan, you've got a degree in composition. Can you share a bit about that experience, and how — if at all — your education influenced your approach to songwriting?
Wright: I wrote chamber music throughout college. I was obsessed with string quartets. You could draw a line from that to my four-horn writing, but it wasn't a linear journey. One of the things I was missing in my college education was a general discussion about effect: how does it feel? Does it resonate? These things are difficult to measure and even more difficult to teach. College taught me how to work effectively, but it didn't teach me how to make good music.
Lots of different labels tend to float around in description of your music, but I see one that comes up every time: world music. What does "world" mean to you, if you would identify with that particular label?
Wright: I think this label works particularly well because of its vagueness. All of our members come from different backgrounds and each have their fingers in different styles of music. I'm not certain that Count Tutu plays a particular genre ... we don't have an artistic interest in defining ourselves in that way, and that may have some effects, positive or negative, for us down the road.
Jackson: Labels are so hard. Especially for artists, but I do understand them from a marketing stance. Honestly, I still consider us a funk band with a world music touch. "World" meaning the rhythms and syncopation our percussion and drums bring from other cultures. Most of the time I put forth an effort to simply not label us ... at least from the stage. I sit back and listen to what our fans and listeners say. For the most part, I'm still hearing comments like, "Y'all funky as hell!" And then I sit back and smile inside.
Nathan has spoken about the influence of afrobeat on the music of Count Tutu. A core feature of Afrobeat is in its intricacy, particularly regarding percussion. How do you develop the complex beats that form the basis of such music? To what extent is it collaborative and carefully composed?
Michael Bremo (drums): I wasn't aware that there was a musical genre called Afrobeat until I joined the band in the summer of 2015. As soon as we got done with my first rehearsal with the band I asked the other musicians to give me names of bands and musicians that I should be listening to, and within seconds Kristin Ruyle, who was one of our percussionists at the time (by the way, she's one of the baddest percussionists around here!), told me to check out Nigerian artists Fela Kuti and Tony Allen. Ha! By the end of the night we were all hanging out in the parking lot listening to Fela Kuti.
Being born and raised in Aruba, I was exposed to a wide range of musical genres such as calypso, soca, reggae, rock, funk, blues, Latin, Brazilian and jazz. While living in Rotterdam, the Netherlands, I learned to appreciate other European musical styles such as classical, Turkish, Indian and flamenco. When it came to the creative writing process for Count Tutu, I had plenty of options to choose from.
Ricky [Gonzales] (percussion), who is a phenomenal drummer, makes the creative process feel really natural. Jordan [Hehl] (bass guitar) and Nathan interject their ideas to try to generate the vibe we are after. For each composition we have a set of parts, but also leave space for improvisation, and that's where the jazz comes in. The rhythms can be complex, but at the end of the day we want to want to give people something they can dance to while exposing them to music of different cultures.
What inspired the name "Count Tutu"?
Nathan: We were coming up on our first show and hadn't actually made a decision on our name. Mike Cameron (baritone/alto sax), who started the band and is currently in Boston, kind of blurted Count Tutu as something he wasn't quite sold on yet; a blend of the old Duke Ellington/Count Basie big band culture with the human rights accomplishments of Desmond Tutu. We took it and ran.
I read that you all have finished recording your first album. Can you share any details about that?
Wright: It's a surprise. We're really excited. Join our mailing list at CountTutu.com and follow our social media (Instagram and Facebook) for first access to our releases.
What inspires and influences you all? (Any medium, at any time in your lives.)
Wright: When I was 15 my dad walked into my room and asked, "So have you thought about what you want to be when you grow up?" I had.
"Engineer," I said. I liked building things as a younger kid. I drew floor plans for dream houses and solved household problems with K'NEX and LEGO. There was money there. That was the plan.
Then he said, "Well I don't see you in here building things or taking things apart, I see you in here playing music for hours every day… just something to consider."
He was right. Here I am now, inspired.
Jackson: I feel inspired by love. It sounds cheesy but it's true. All forms of love. Commitment, community, forgiveness, perseverance, support. I love to see other artists/creatives going after it. Just going hard after their dreams. I love to witness change being accomplished. I love the encouragement and consistent fan packages that my mother sends in. I love feeling pushed and appreciated by my bandmates and loved ones. I love the act of people loving and supporting each other. It inspires me. It pushes me to keep moving forward, for people and to make change a reality.
(Editor's note: The following interview was conducted over email and has been edited for clarity and brevity.)