When the Blue Dome Arts Festival was canceled this past spring, artists and patrons alike were disappointed. Jo Armstrong, executive director of the Blue Dome Arts Festival, hopes to recreate the longtime festival's vibe with the new Blue Dome Pop-up Shops, a rare opportunity to go inside Tulsa's historic Blue Dome, 202 S. Elgin Ave., and shop local art every weekend until Christmas.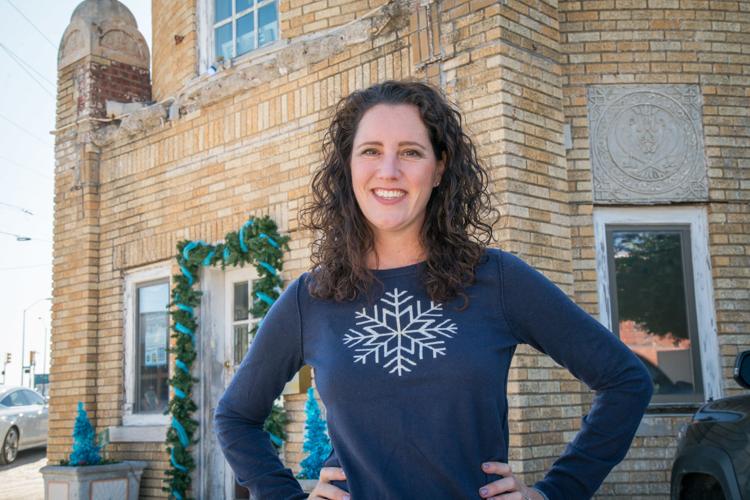 Remind us why the Blue Dome Arts Festival was canceled this past May.
The Blue Dome Arts Festival was canceled due to a host of reasons. The biggest reason, however, was that we simply outgrew our space. In the 15 years since the festival began, the Blue Dome District has grown tremendously and businesses have flourished.
While this is fantastic for the district as a whole, it presents many challenges with street closures and logistics that simply couldn't be overcome. Spaces that used to host a stage with local performers, food truck courts and artists are now becoming hotels and construction projects for major developments. Limiting access and blocking entrances to these new places for four days simply isn't possible. We considered moving the festival, but it just wouldn't be the Blue Dome Arts Festival without being centered around the historic Blue Dome.
We also considered shrinking it substantially, but Tulsa had grown to love what BDAF had become and part of that is the large variety of unique local art. It began as a very grassroots show and grew organically to where it was, so suddenly limiting the number of artists would be a disappointment to the community and also require a much stricter application process. Turning BDAF into a juried art show would have stripped it of that bohemian feel that everyone loved so much. I mean, who are we to say what people will love?
What feedback did you receive from local artists and patrons after the cancellation? Did that play into the decision to host the Holiday Pop-up Shops?
Oh, the feedback ... That was tough. After I finally came to terms with the decision and released the info publicly, I expected to be torn apart. And while there was a little bit of that, I was actually so incredibly moved by the positivity and support.
People seemed to understand and thanked us for the time and the memories they had made. So many shared stories about their favorite piece of art they bought, or the artist they'd reconnect with each year, or the friends they had made, and so on and so on. It absolutely warmed my heart. It was the exact reason that I had loved my job so much ... the people. Watching relationships build and grow between the artists and the community was my favorite part of the festival. I miss that so much.
I am really hoping that these holiday pop-up shops will recreate some of that cool vibe where the guests and artists can connect and create new memories. Whether in your own home or given as a gift, I always feel like any art with a good story behind it is the best art.
Few Tulsans have had the privilege to actually go inside the Blue Dome itself. What is the Dome used for now? Why open it up for this?
The Blue Dome is currently serving as my office and as storage for Arnie's Bar next door, which my husband, Chris, and I have owned since 2004. Regardless of the time of year, people constantly pass by the Blue Dome and take photos. It's a very cool and unique historic building that raises so many questions and leaves people intrigued.
Since the building remains locked, hosting the Blue Dome Pop-up Shops here offers the community a chance to see inside the front room while also checking out local art. I have missed working with the artists and saw this as an opportunity to open up the Dome a bit, while also allowing our amazing local artists a chance to reconnect with the community in a really fun setting.
And selfishly, I've missed the artists, so I've also gotten a chance to reconnect with them. I'm looking forward to shopping with them during these eight weekends leading up to Christmas.
What do you do when you're not facilitating art festivals and pop-up shops? Feel free to comment both professionally and personally.
Well, I definitely stay busy! Chris and I recently completed an exterior renovation on Arnie's that was a lot of fun to work on. We had the front wall rebuilt, added a fireplace to our patio and were able to work with local artists to create new custom stained glass and an incredible custom mosaic of an old Guinness ad for our courtyard.
I've also been doing a little bit or design work on the side for friends with a couple of different businesses. But mostly, I stay really busy with our 9-year-old twin boys, Coop and Kerr. They play every sport under the sun and have more energy and personality than any human should have. When we have any downtime at all, you'll find that we've planned a trip as Chris and I love nothing more than discovering new places and having new adventures with our boys.
In your opinion, why is it important for Tulsans to "keep it local" when they're shopping this holiday season?
Honestly, I think it's important to "keep it local" year round, but when the holidays really amp up how much we're shopping and spending, I think it's critical to support one another. Every purchase here will go directly to the artist who can then grow their business, support their family, sign their kids up for a new sport, or just have some extra holiday spending money.
Shopping online is easy. I get that, and I'm guilty of it, too. But when we shop locally, we're not only supporting our community with tax dollars that stay here, we're also supporting one another. That's where relationships are built. It's no different than choosing to eat at your favorite local restaurant instead of a chain restaurant. Not only do you build a relationship with the owners and staff, you get better food with more originality than that of a menu that is the same from one place to another. That's boring and bland.
Local art is no different in that sense ... our community is filled with artists who offer all different kinds of paintings, pottery, photography, furniture, decor and so much more that is definitely not boring or bland. So whether you're shopping for yourself or a loved one, you can guarantee that what you purchase won't be something you'll find on Amazon. And that's a good thing.
Shopping dates for Blue Dome Pop-up Shops
• Nov. 8-10
• Nov. 15-17
• Nov. 22-24
• Nov. 29-Dec. 1
• Dec. 6-8
• Dec. 13-15
• Dec. 20-22
Visit facebook.com/bluedomefest.