Leslie Daugherty landed a pretty perfect job after graduating from Oklahoma State University in 2003.
She had secured a position at Exxon Mobil, where she worked in human resources. She also earned her Master's in Business Administration, potentially setting the stage for advancement opportunities.
But something was missing. While Daugherty, 28, says she enjoyed her job, she felt as if she wasn't making the impact she wanted.
"I really enjoyed that job," she says. "I really liked what I was doing, but I really just wanted something that had a little more impact. It just didn't feel quite right."
So she gave up the corporate world to try teaching.
As the Seminole native began considering how to make this transition, she recalled learning about the Teach for America program as an undergraduate. The nonprofit organization places recent graduates and professionals in low-income schools for two years.
"As I just researched it more and found out more statistics and the achievement gap and what Teach for America does, I kind of became enthralled with it and really wanted to devote my time to it," Daugherty says.
She completed the strenuous application process, interviewed and was chosen to become part of Tulsa's inaugural Teach for America (TFA) class during the 2009-2010 school year.
Daugherty now teaches 10th- and 12th-grade English at Will Rogers High School, an experience, she says, that has been great but also one of the biggest challenges of her life.
"Every day is a new learning experience," she says. "There's a lot of responsibility that comes with it. I don't think I realized sort of the weight that I would feel in preparing the kids and just really wanting the best for them. So they're kind of all you think about."
'A phenomenal organization'
Daugherty is one of 79 TFA teachers, or corps members, returning to Tulsa Public Schools and Community Action Project Early Childhood Education programs for the 2010-2011 school year, in addition to a new class of 50 TFA corps members who will begin their first year of the program's two-year commitment.
A common objective among TFA teachers is to eliminate education inequality; it is the organization's motto and what most say they hope to have a small part in achieving by taking part in Teach for America.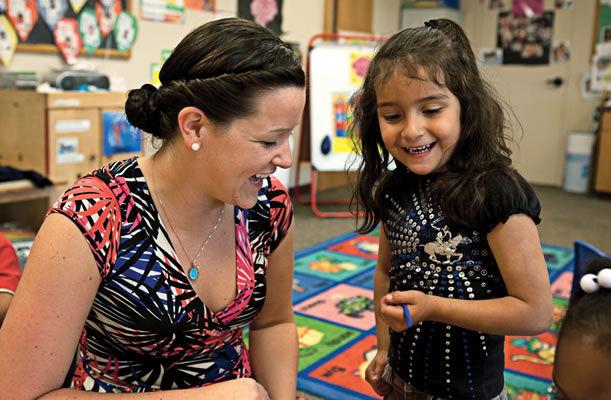 Working with children is nothing new for 23-year-old Vanacore, who graduated from the College of the Holy Cross in western Massachusetts in May 2009 with a degree in psychology and concentration in deaf studies. On track to attend medical school, she hopes to become a child psychiatrist or pediatrician and was heavily recruited by Teach for America.
"I didn't know too much about the program," she says. "I knew it was a phenomenal organization, but I was so one-track-minded to med school that I was like, 'No, no, no. I can't do it.'
"But I finally sat down with a recruiter and realized that this would be ideal for me because my main concern and biggest passion is working with children."
Like many of the organization's corps members across the country, Daugherty and Vanacore did not study education in college, but Vanacore says beginning their training with a "clean slate" is positive for corps members.
Daniel Sexton, on the other hand, always knew he wanted to be involved in education. Sexton, 22, a sixth-grade social studies teacher at Gilcrease Middle School, says he pursued Teach for America because he wanted to teach in a school where he could have the most impact.
Friends began sharing information about TFA with Sexton during his senior year at California State University-Bakersfield.
"Eventually I did my own research and I found the mission statement of Teach for America very much aligned with my own desire to get into education and close the achievement gap," he says.
Whether or not they have a background in education, after corps members are selected to become a part of Teach for America, they participate in an intensive five-week training institute in one of several locations based on their TFA assignment during the summer before they head into the classroom.
"It's called 'teacher boot camp,'" Vanacore says. "It's great. Granted, it's very hard."
The institute includes clinics, training courses and teaching summer school.
"They prepare you so well between teaching summer school and having sessions for hours each day and being observed," Vanacore says.
The teachers continue to undergo training and mentoring throughout their tenures as corps members.
"Collaboration is probably one of my favorite aspects of Teach for America," Vanacore says of the cooperation among TFA teachers and the relationships between teachers and their mentors.
Top of the class
The TFA concept developed nearly 20 years ago from an undergraduate thesis on ending educational inequality by Princeton University student Wendy Kopp. After developing the initial concept, Kopp raised $2.5 million in startup funding, hired a small staff and began the teacher recruitment process. Each year the program has steadily increased the number of those recruited and those on the TFA staff.
In 1990, 500 corps members participated nationally. In 2000, 4,000 applied for 900 jobs. For the 2010-2011 school year, approximately 46,000 people applied for 4,400 positions.
"Truly we are bringing in the country's most promising future leaders," says Lance Tackett, executive director of Teach for America Tulsa.
Tackett says that once participants begin their Teach for America tenure, they recognize the importance of the program's mission.
"Many are unaware of the achievement gap, how it permeates our school systems and the detrimental impact it has on our economy, our community and our country's long-held belief in equal opportunity," he says. "Once exposed to this great injustice, many feel a social obligation to be a part of the solution."
Program leaders take pride in the fact that many graduates of Ivy League universities and other top colleges apply to become corps members. Because of the current economy, many of today's top graduates — who at one time might have headed to Fortune 500 companies — are instead looking for other ways they can make an impact in an area about which they are passionate, Tackett says.
Moreover, most students at top universities are aware of or know someone who has taken part in TFA, he says.
"People want to be a part of that. I think our generation wants to feel a part of something. It's human nature," says Tackett, who taught in North Carolina as a TFA corps member from 2006 to 2008.
As the demand for positions grows, so, too, does the number of locations the organization serves. It has expanded from six placement sites around the United States to 35 urban and rural sites for the 2009-2010 school year. Four new sites — San Antonio, Detroit, Rhode Island and Alabama — will open for the upcoming school year.
Tulsa was one of six new sites to open during the 2009-2010 school year. TFA officials had not planned on opening a site here, at least not any time in the near future. In fact, many officials involved say Tulsa was not even on the short list of possible locations for new sites.
The partnership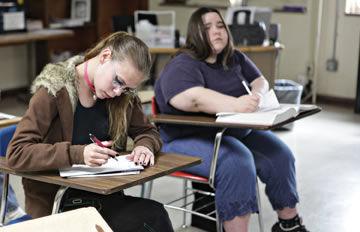 The partnership between Teach for America and Tulsa began with Lynn Schusterman, co-founder of the Charles and Lynn Schusterman Family Foundation. Schusterman learned about the program several years ago and wanted to meet Kopp. Three years ago, the two met in New York City to discuss TFA.
"We started talking about bringing Teach for America to Tulsa, to Oklahoma," Schusterman says. "At the time, we were, like, 30th on the list, and I started talking to her about how much we needed it, how important it was, that we had a governor that believed in education, a mayor who was committed to education. ... That's how it started. I had heard about the program. I contacted Wendy and set up the meeting to meet her, to really hear about the program itself."
One concern Kopp had about bringing the program to Tulsa, Schusterman says, was whether the city would be attractive to young adults. The next hurdle was the financial component, Schusterman says.
In February 2009, TFA challenged the Tulsa community to raise the money needed to bring the program to the city. The Charles and Lynn Schusterman Family Foundation pledged $2 million in financial support, in addition to $1 million pledged by the George Kaiser Family Foundation and $300,000 by the Williams Foundation.
As part of its agreement with TFA, Tulsa Public Schools uses Title 1 American Recovery and Reinvestment Act of 2009 funds, federal money given to low-income schools, to pay TFA for the additional professional development and training for corps members.
To help recruit corps members to Tulsa, the George Kaiser Foundation pledged bonuses of $2,500 to the inaugural class of teachers who complete the two-year commitment.
But for all the accolades, Teach for America has not been without controversy, locally as well as nationally. Critics of the program call it a way for school districts to replace experienced teachers with new employees to work at a beginner's salary and leave after the two-year commitment is up. Some also question how prepared the teachers are for the classroom after just one summer of training.
Locally, the controversy surrounds TPS laying off nearly 300 teachers on temporary contracts because of budget reductions while bringing in more TFA teachers. Keith Ballard, superintendent of Tulsa Public Schools, says the situation is not ideal.
"I see it as being problematic, but I believe you always make your decisions in the best interests of the students, and I believe it's in the best interest of the students that we honor our contractual obligation with Teach for America," he says.
The school district was contractually obligated to bring in 50 teachers for the 2009-2010 school year, but because TPS was in need of teachers at that time, additional corps members from other regions came to Tulsa.
Of the 82 teachers placed at Tulsa Public Schools and Community Action Project sites, 72 are returning for the coming school year. Teach for America had initially planned to bring another 75 teachers to Tulsa for the 2010-2011 school year, but when the district's budget was cut, Ballard reduced that number to 50.
"It's been a burden to them that I've had to back down to 50. It grieves me terribly if in the end we have to lay off teachers while we're taking in Teach for America. I understand that criticism. I truly do understand it," Ballard says, adding that he would answer the criticism this way: "First of all, we have a contractual obligation.
"Secondly, as I've already said, they're going into hard-to-fill areas, and I haven't seen a big line of teachers wanting to go into (those areas)."
Despite the difficult situation, Ballard says he is pleased with the organization.
"I thought we had an excellent year with Teach for America," he says. "I had very high expectations and they met them and, to some degree, even exceeded them.
" … We have this very committed young group of teachers, highly trained, and I do believe they've made a big difference."
He adds that he does not want to denigrate the performance of other teachers, as many of them are excellent, but TFA corps members are "highly trained for the urban city."
Ultimately, Ballard says, "I believe my decision to bring back the 70 TFA-ers and the additional 50 is the correct decision."
In the classroom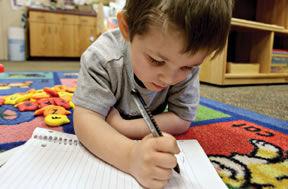 "I'm naturally very energetic, thank goodness," she says.
Vanacore, who teaches at a school located in a predominately Hispanic area of Tulsa, says that half of her 18 students do not speak English as a first language. She says this aspect of the work has been difficult, as some students do not have a basic grasp of the English or Spanish language when they enter the classroom.
Students in Vanacore's class, who are known as "Super Scholars," focus on learning shapes, letters, numbers and colors. The classroom includes a Super Scholar garden on one wall, reinforcing what students have previously learned. This, Vanacore says, allows the students to "grow their brains," a motto they recite often.
Daugherty says her high school-age students, most of whom come from low-income backgrounds, also face obstacles outside the classroom that may impact their time in school.
"Some students have issues at home," she says. "I have students that are not living with their parents, so they're living with grandparents, friends, aunts, uncles."
If they do live with their parents, students may not see them very often. Some of the parents work two or three jobs just to stay afloat. Other students, Daugherty says, live on their own, holding an after-school job.
Sexton says he quickly realized that he could not simply teach to a class; each individual has his or her own interests, likes and dislikes and learning style. He had to learn to adapt to that, he says, by slowly getting to know each student.
Vanacore, Daugherty and Sexton say Tulsa — city officials, school administrators, fellow teachers and the community as a whole — has welcomed them with open arms.
"The community has been phenomenal — anyone you meet in the grocery store to (former) Mayor Kathy Taylor," Vanacore says, noting that Taylor invited those Teach for America teachers who could not return home for Thanksgiving to her home for dinner.
"Then I'll talk to cashiers at Target and they'll see the (Teach for America) lanyard and say, 'Oh, you're in Teach for America? It's awesome to have you,'" she adds. "It's just amazing everyone has been so open to us."