Tulsa Farmers' Market history
Entering its 21st season, the Tulsa Farmers' Market has blossomed from a gathering of 15 vendors into a year-round operation that has sown the seed for a multitude of other area farmers' markets. 
By Judy Langdon
---
If your Saturday morning routine includes a trip to Cherry Street, you are among the thousands of fans of the 21-year-old Tulsa Farmers' Market.
The weekly four-hour outdoor shopping experience stretches from East 15th Street and South Peoria to South Rockford Avenue.
Originally called the Cherry Street Farmers' Market, it has grown from 15 vendors to 80.
Bright, fresh-picked produce are the stars of the show, as well as meat, dairy, honey, nuts and artisan crafts. Local musicians give the area a laid-back vibe. 
From April through October, rain or shine, each market day begins long before the crack of dawn, with street closures at 3:45 a.m., and vendors arriving an hour later. The Market opens at 7 a.m. sharp and closes up at 11 a.m. on the dot, when, after clean-up, Cherry Street goes back to being a normal, busy — but much quieter — midtown street. 
Tulsans Marilyn Ihloff and Susan Simmons attended a 1997 yoga retreat in neighboring Fayetteville, Arkansas. They stumbled upon its town square farmers' market, which planted the seed for Tulsa.
"We talked on the way home about how Tulsa should have something like that,"  says Ihloff, owner of Ihloff Salon and Day Spa.
After she and Simmons returned home, they began plans for a Tulsa market the next spring. Through the help of visionaries Susan Gray, Jim East and Richard Groenendyke, the Cherry Street Farmers' Market opened in April 1998 in the Jason's Deli parking lot with just five vendors. It quickly grew to 15 vendors the first season. "There were several hundred customers supporting the market early on," hence its rapid growth, says Market Financial Director Penni Shelton.
That spurred the creation of a volunteer board of directors.
Ihloff continues to be an advisor and market supporter. As its founder, "she has been a big part of our history," Shelton says.
The Market accepts cash and debit cards as payment, and former board members Mike Appel and Emily Oakley, owners of Three Springs Farm, a certified organic farm in Oaks, Oklahoma, helped the market become the first in the state to accept SNAP (Supplemental Nutrition Assistance Program).
The Market also created the Double Up Food Bucks program, where SNAP recipients can enjoy a 1-to-1 match for dollars spent at the market, up to $20 per visit. Partner organizations include All Souls Unitarian Church and Morton Health Services, which transport Tulsans in underserved communities to the market each week.
In 2009, the market officially became the largest in the state based on data from the Oklahoma Department of Agriculture, Food and Forestry.
Putting together a weekly farmers' market, especially one of Tulsa's capacity, is a two-fold challenge, Shelton says. "Not having a permanent location means we have to literally create a space every single market day," she says. "The amount of work and orchestration to make that happen is stunning. 
"The second part is in funding our multi-faceted infrastructure and community outreach," she continues. The nonprofit is "in a perpetual state of fundraising, to bring Tulsa-area shoppers and underserved members of our community the best and freshest foods that Green Country has to offer."
In 2015, the Market's name changed to Tulsa Farmers' Market to better represent the mission, Shelton says. The much smaller Brookside Market, which began in 2004, is a mid-week market under Tulsa Farmers' Market's umbrella. It runs from mid-May through September at East 36th Street and South Peoria Avenue.
This past November, TFM launched its first indoor facility, the Farm Stand, open year-round inside the Mother Road Market, 1124 S. Lewis Ave. While the Farm Stand does not replace its traditional markets, "it is a curated collection of our top-selling items in a 320-square-foot space," she says.
More markets have sprung up in the area due to TFM's success, although they are separate from the Tulsa Farmers' Market brand.
And organizers are encouraged by the creation of new farms, ranches, food trucks, caterers and artisan crafters, Shelton says. "As they see the potential for their passion projects turning into viable businesses for themselves and their families, we believe that our market continues to have a very real impact on our local economy."
Ihloff continues to shop and appreciate the markets. "I love others have gone on to raise the bar and make this such a very special market."
Shelton attributes the TFM's growth to passion and desire "from farmers and ranchers, and local customers."
But it's connection and outreach that keep customers returning each week, she believes. "There is certainly a special vibe about meeting and getting to know the person that actually grew or raised the food you buy and take home," Shelton says.
"Food is where we can come together and connect. Our outreach into the community makes me so proud of what our market has become."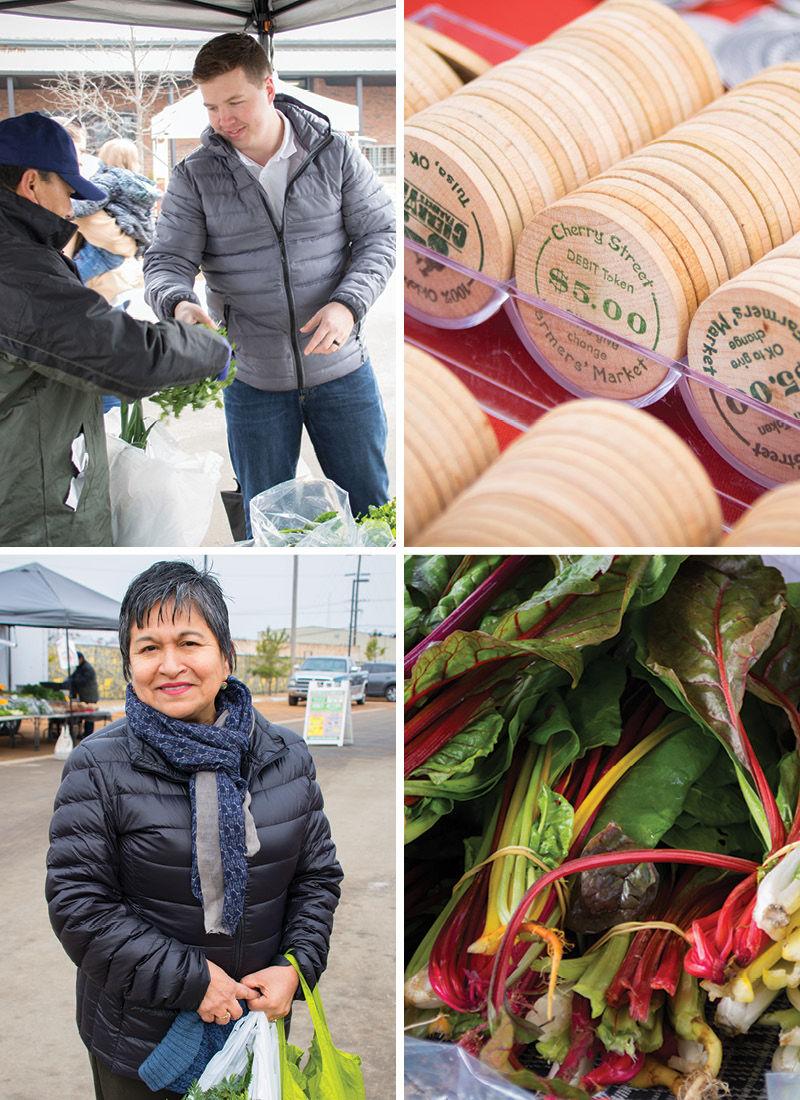 Smart, savvy shoppers 
Meet the Tulsa Farmers' Market regulars Tina Peña and Neil Trumler
By Natalie Mikles
---
The Tulsa Farmers' Market might just be the happiest place in town. Walking down East 15th Street, you'll find any number of little scenes to make you smile.
A toddler carrying a bunch of sunflowers as big as she is. A couple with their fingers laced, sharing a chocolate croissant with their free hands. And farmers in denim proudly showing off the strawberries and asparagus they picked the day before.
Among the crowds of people are the regulars. Some of them never miss a Saturday. Tina Peña is one of them.
She only walks a few steps before one of the farmers recognizes her.
"Hey, Tina, how are you? How's your dad?"
Peña buys the produce she will need for the week at the market each Saturday. She also picks up meat, eggs and sometimes extras like granola or bread.
We shopped with Peña last month when the farmers' market was stationed at Mother Road Market before the spring season.
"We need some bacon," she says. And she knows just where to go to get it. Greenwood Farms carries bacon, bratwurst, sausage and eggs.
Gary Greenwood had something new that day. Jalapeño bacon, which he says takes a BLT to the next level.
"Let's do jalapeño then," Peña says.
Peña comes to the market with a running list of a few staples she knows she'll need, but she leaves herself open to trying new things, like the jalapeño bacon or a new seasonal vegetable.
The bulk of her shopping is buying produce, especially from the Hmong farmers she has gotten to know.
"How's your father?" Neng Thao says.
Everyone seems to know Peña's father, who at the time we were shopping, was visiting family in Peru.
Peña juices for herself and her 92-year-old dad every day, so she stocks up on kale, carrots and ginger. Another of her spring favorites is Swiss chard that she stir-fries with peppers and ginger — all from the market.
As corporate chef for the Justin Thompson Restaurant Group, Neil Trumler shops the farmers' market with two points of view. Most Saturdays he's eyeing what looks good for dinner for himself and his wife. But he's also wearing his chef's hat, noticing what's in season and what would be a good addition to the menus at Juniper or PRHYME.
When we shopped with him last month, his eye was on the purple potatoes. He knew they would be perfect to add a pop of color on a plate at Juniper.
During market season, the Farmers' Market Salad is a favorite on Juniper's menu, and it changes week to week depending on what's in season.
"I talk to the vendors to find out what's fresh," Trumler says. "Sometimes they'll set something aside for me."
Most Saturday mornings, Trumler is at the market by 7:30. It's early for a chef who works late nights, but he says it's worth it to find the best things from the vendors.
On this particular Saturday, he and his wife decided to make one of their favorites, a sweet potato pad Thai with ingredients bought almost entirely at the market: sweet potatoes, cilantro, green onion, chicken breast and eggs.
In the summer, Trumler sources many things from the market for Juniper. He'll buy many pounds of tomatoes, using them in salads and other recipes for the season. But Trumler also thinks ahead, pickling and canning some of those tomatoes and other vegetables to use in the winter. Built on a relationship made at the farmers' market, Trumler sources whole chickens, pork loins and bellies from nearby Prairie Creek Farms to use on the menu at PRHYME.
"It's important to shop at the farmers' market to support local farmers who care about their products and to stimulate your local economy," Trumler says. "Also, it's just a bunch of really great people who care about Tulsa and love what they do."
Spring Bounty
Three recipes with farmers' market freshness and flavors
By Natalie Mikles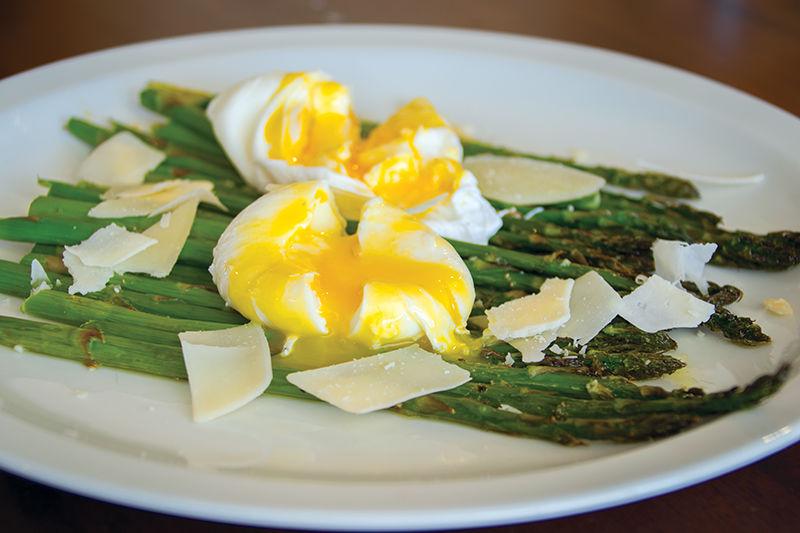 Poached Eggs Over Roasted Asparagus and Parmesan Cheese
Serves 4
2    bunches asparagus
Olive oil
Sea salt and fresh ground pepper
½    teaspoon red pepper flakes
3    tablespoons white wine vinegar
4    eggs
4    tablespoons freshly grated Parmesan cheese
Preheat oven to 400 degrees.
Trim asparagus by snapping off the bottom tough ends of each stalk. Place asparagus on a baking sheet, drizzle with olive oil and sprinkle with salt, pepper and red pepper flakes. Cook for 12-15 minutes or until tender and lightly browned.
Pour 3 inches of water into a large saute pan. Let water come to a boil, then reduce to simmer. Add vinegar. Carefully crack and place each egg into the water. Cook eggs in simmering water, 4-5 minutes. Remove eggs with a slotted spoon.
To serve, divide asparagus between four plates. Place a poached egg on top of each. Sprinkle with Parmesan cheese.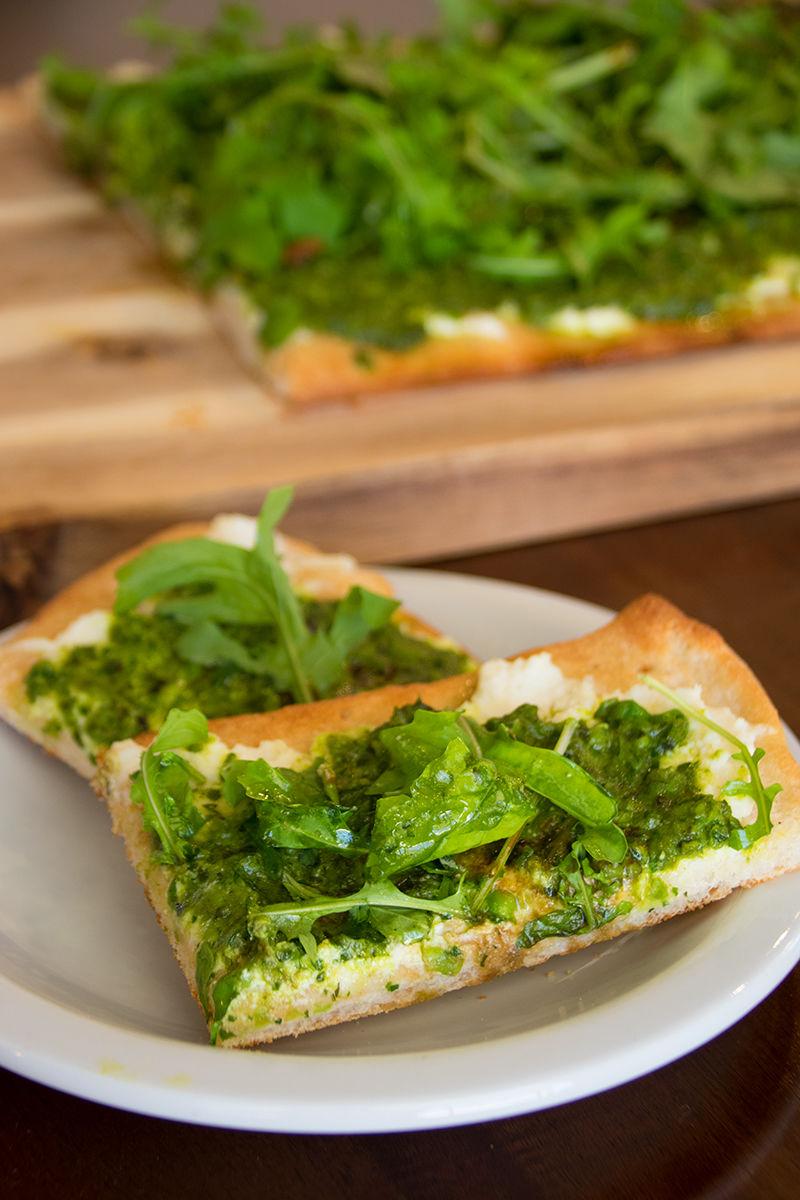 Pea and Pesto Flatbread
Serves 6
Homemade or store-bought pizza dough
1    cup fresh or frozen sweet peas, thawed
1    cup fresh basil leaves
½    cup flat-leaf parsley leaves
¼    cup extra-virgin olive oil
3    tablespoons fresh lemon juice
2    garlic cloves
1    teaspoon kosher salt
1    cup ricotta cheese
½    cup Parmesan cheese
1    heaping cup baby arugula
2    tablespoons balsamic vinegar
Preheat oven to 425 degrees.
Press pizza dough into a 15-by-11-inch rectangle on a baking sheet. Bake on the low rack of the oven until lightly browned and crisp, about 10-12 minutes. Set aside.
In a food processor, combine peas, basil, parsley, oil, lemon juice, garlic and salt, pulsing until smooth.
In a small bowl, combine ricotta cheese and Parmesan cheese.
Spread ricotta mixture over flatbread. Carefully spread pesto mixture over ricotta. Bake at 425 degrees for 3-5 minutes. Remove from oven, and top with arugula and balsamic vinegar.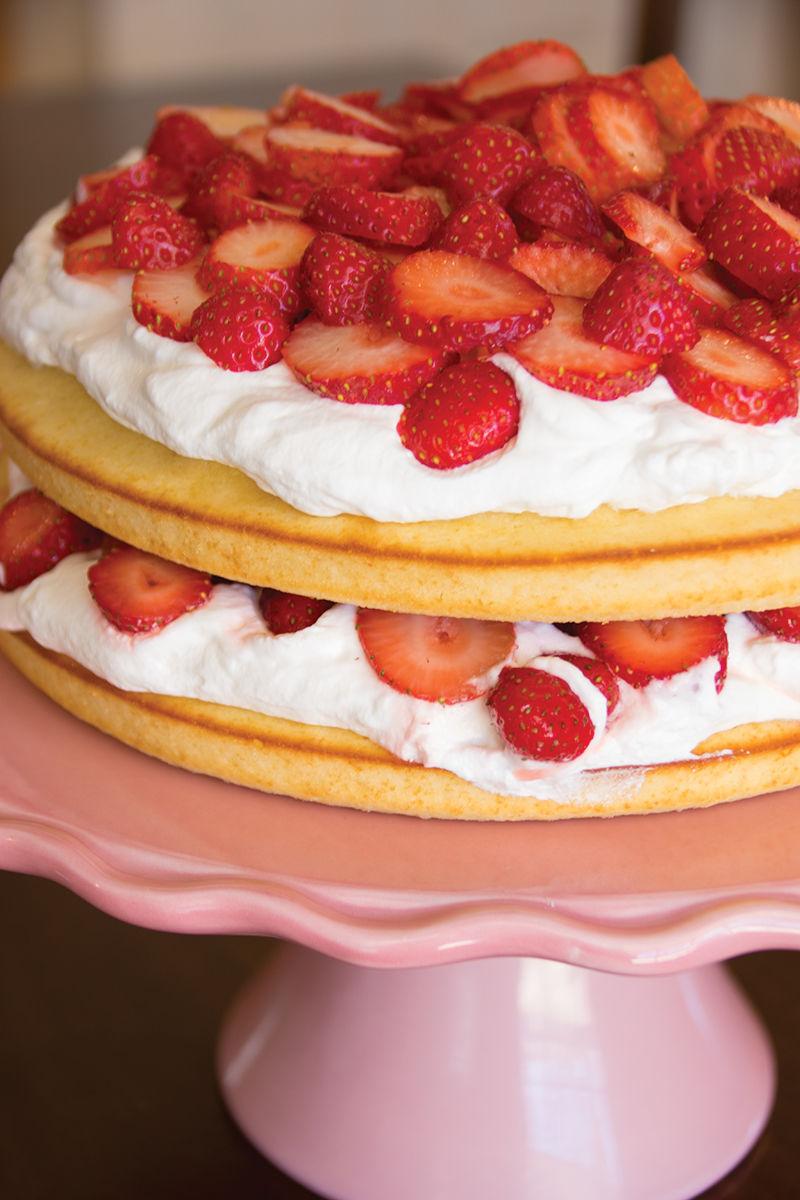 Strawberry Shortcake
Serves 8
3 pints fresh strawberries
½    cup sugar
2¼ cups all-purpose flour
2     teaspoons baking powder
¼    cup sugar
¼    teaspoon salt
1/3    cup butter, softened
1    egg, lightly beaten
1    teaspoon vanilla extract
2/3    cup milk
2    cups whipped heavy cream
Slice strawberries and, in a bowl, toss them with ½ cup of sugar. Set aside.
Preheat oven to 425 degrees. Butter and flour one 8- or 9-inch round cake pan.
In a bowl, combine the flour, baking powder, ¼ cup sugar and salt. With a pastry blender, cut in the butter until the mixture resembles coarse crumbs. Make a well in the center and add the beaten egg, vanilla and milk. Stir until just combined.
Spread the batter into the pan. Bake at 425 degrees for 15-20 minutes or until golden brown. Let cool partially in pan on wire rack.
Slice partially cooled cake in half, making two layers. Place half of the strawberries on one layer and top with the other layer. Top with remaining strawberries and cover with the whipped cream.
---
---
More area farmers' markets
Tulsa
Brookside Farmers' Market
East 36th Street and South Peoria Avenue (Brookside Church)
7:30-11 a.m., Wednesdays, May 1-Sept. 25
Local and organic produce, plants, herbs, baked goods, meats, eggs, cheese, garden crafts; live music.
Greenwood Farmer and Artisan Market
East parking lot of Langston University, 914 N. Greenwood Ave.
9 a.m.-noon, Saturdays, April 27-Sept. 28.
Fresh produce, honey, condiments, bath products
The Farm's Farmers' Market 
The Farm Shopping Center, 5321 S. Sheridan Road
8-11:30 a.m., Saturdays, May 4-Sept. 28 
Fresh produce, honey, eggs, dairy, salsa, meat, baked goods, cooking demonstrations; live music
Regional
Bixby Farmers' Market
50 W. Dawes Ave., Charley Young Park
8-11 a.m., 1st and 3rd Saturdays, May and June; 3rd Saturdays, July-September
Fresh produce, honey, herbs, meat, cheese, eggs, crafts and decor
Rose District Farmers' Market
418 S. Main St., Broken Arrow
8 a.m.-noon, Saturdays, April 6-Oct. 26;
Fresh produce, plants, herbs, meat, dairy, cut flowers, condiments, baked items, crafts, live music
Claremore Farmers' Market
200 S. Lynn Riggs Blvd., Claremore
7-11 a.m. or sellout, Saturdays, May 4-Oct. 26
Fresh produce, herbs, meat, eggs, baked goods, honey, crafts, jewelry
Sapulpa Main Street Route 66 Farmers' Market
222 E. Dewey Ave., Sapulpa
7:30-11 a.m., Saturdays, May 4-Sept. 28
Fresh produce, plants, herbs, meat, honey, grains and educational demonstrations