I'm not sure there is any other place in town where one can enjoy a nice (affordable!) bottle of Chateauneuf-du-Pape with a $23 five-course prix fixe menu. I am a bit hesitant to let you in on this hidden gem, for I am quite certain I may not be able to score a table again after everyone finds out.
Well, you talked me into it. I'll give you the scoop.
Foundations Restaurant is The Culinary Institute at Platt College's full-service, student-operated restaurant, which offers some of the best high-end cooking in town.
The culinary program's 30,000-square-foot facility is home to an enormous commercial kitchen, classroom area and working restaurant. The students rotate through the restaurant every few months as part of the 12-month culinary arts or nine-month pastry arts programs, which are under the supervision of chefs Jeff Howard and Curt Hermann.
What you may not realize is that this restaurant is not only a gourmet food bargain but also a fine wine heaven. Let's start with drinks and move on to dinner.
Thanks to Chef Timothy Fitzgerald, culinary instructor and wine director, the restaurant now has a world-class, award-winning wine list. After he handcrafted the current wine offerings, Foundations was selected to the "World's Best Wine Lists" for 2012 in Wine Spectator magazine — no small feat for a restaurant of even the highest caliber.
The list includes more than 125 bottles from around the world, including the coveted Chateauneuf-du-Pape of the Rhone Valley in France. All wines by the glass are $7 and bottles range from $22-$65, served in Riedel crystal glasses, of course. Fitzgerald specifically selected wines that were affordable, not widely known and have modern, fresh cuisine in mind. He introduced us to a lovely white Rhone blend on the night we visited … the perfect complement to our meal.
From the prix fixe dinner menu, customers may choose three courses for $15, four for $20 or five for $23, from an edited offering of just over a dozen appetizers, soups, salads, entrees and desserts.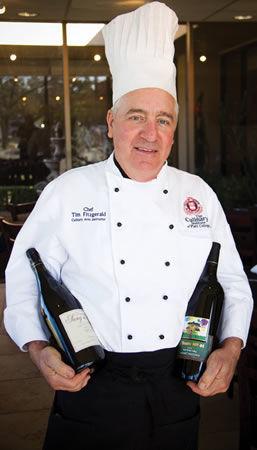 As they are supposed to, our "amuse," a sliver of cured pork with a caper, fresh plum slice and cheese, delivered smoky, sweet and sour in one bite, while the intermezzo, a crisp blood orange and Champagne sorbet served on an icy spoon, cleared the palate for the next arriving course.
Four of us dined on a recent Friday evening. Among us, we were able to try most dishes on the menu. On the night we visited, the kitchen crew — all visible through an enormous window into the kitchen — must have been at the top of the class, for every dish we sampled was outstanding.
Among the standouts was an appetizer terrine of Hudson Valley foie gras — a significant slice of silky foie gras served over toast points with a pickled fig and heavily truffled mayonnaise. We also enjoyed the day-boat scallops, served adrift in a ginger beurre blanc that was worth sipping on its own.
The butternut squash bisque was rich, creamy and flavorful; the Berkshire pork loin stuffed with Hmong sausage was juicy and tender; and the grilled swordfish with butter-poached potatoes and saffron-sherry cream sauce was the best interpretation of the fish I have had in years.
For the price, I was expecting the servings to be bite-sized, but each course was generous enough to let diners sample multiple courses, while still leaving room for dessert.
Our server did a great job of explaining the menu, as well as the program, to us. She was about to finish her rotation and was looking forward to an externship in another one of Tulsa's best restaurants.
The á la carte lunch menu features more casual offerings, including soups, salads, sandwiches and burgers. A few entrees are featured as well, including blackened salmon ($8), grilled ribeye with wild mushrooms ($9) and seared pork tenderloin ($8).
Fitzgerald serves as the sommelier as well as the gardener. The culinary students take advantage of a substantial organic garden on the premises when preparing meals — the best building blocks for a good foundation, don't you think?