Shopping with sustainability in mind has never been so much fun. All these locally sourced products are useful alternatives to plastic and single-use items.
Be stylish and sophisticated at the grocery store with LOQI reusable shopping bags. Many feature famous paintings and colorful graphic designs. $12.95, Philbrook Museum of Art Shop, 2727 S. Rockford Road.
Purchase a bottle of balsamic vinegar or extra-virgin olive oil from Mecca and, once empty, you can bring the glass bottle back in and refill it with your favorite selection. $13.95, 200 ml size, Mecca Coffee Co., 1330 E. 41st St.
Ditch the paper. Fabric napkins are dyed by hand with natural indigo, $24 for set of two; block-printed linen napkins, $28 for set of two (top of page); House Sparrow Fine Nesting, inside Retro Den, 1216 S. Harvard Ave.
A tote with the most uses imaginable. $30, Philbrook Museum of Art Shop.
Corkcicle reusable stainless-steel tumblers are triple-insulated for cold and hot drinks, $30, Mecca Coffee Co.
Join the cities, restaurants and big corporations ditching the plastic straw. Reusable silicone, metal and paper straws are fashionable alternatives. Silicone smoothie straws, $12 for a six pack with cleaning brush, Mecca Coffee Co. Paper straws, $3.99 for a 25-pack, Reasor's, 3915 S. Peoria Ave.
Bees Wrap is a reusable food wrap that is an alternative to plastic cling wrap and aluminum foil. Made from beeswax, organic cloth, tree resin and jojoba oil, it comes in a multitude of sizes and is washable. $19.95, single bread size, The Snow Goose, 1814 Utica Square.
Reusable, machine-washable mesh bags are perfect for picking up produce at your local grocer or farmers' market, $2.49, Sprouts Farmers Market, multiple locations.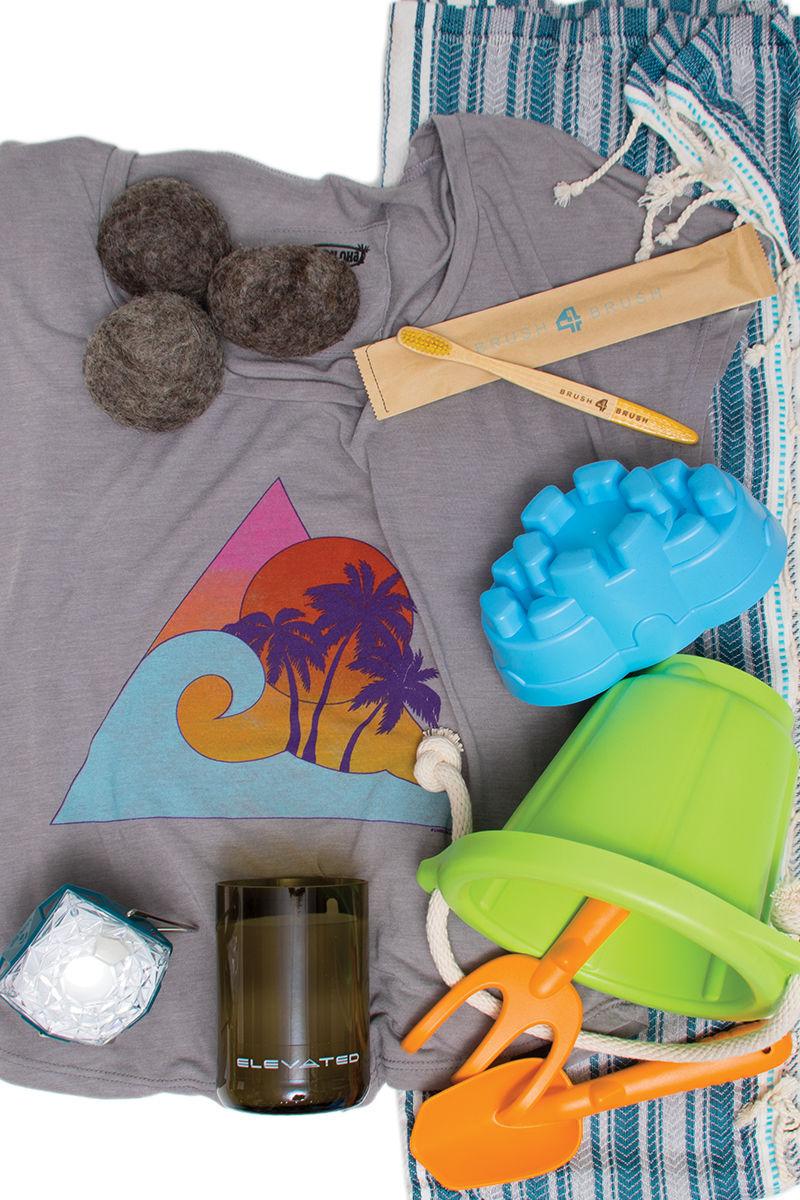 Never buy dryer sheets again. Felted dryer balls are made from 100-percent natural wool and can be scented with a few drops of essential oil. $12 for a set of three, Shepherd's Cross in Claremore, etsy.com/shop/shepherdscross.
Solar-powered Little Sun Diamond provides five hours of bright light. $30, Philbrook Museum of Art Shop
Bamboo is the most sustainable, renewable resource on the planet, and fabric made from its fibers are odor-resistant and cooling. $34, T-shirt; $49, beach blanket; Cariloha, 1760 Utica Square.
Green Toys are made in the U.S. from 100-percent recycled plastic. Blocks, trucks, airplanes and play kits are made for multiple age groups. $21.99, sand play set, Kiddlestix, 3815 S. Harvard Ave.
Handmade in Tulsa, Elevated Candles upcycle wine bottles with natural soy wax enhanced by essential oils. $28, Kitchen 66 General Store inside Mother Road Market, 1124 S. Lewis Ave.
Consume less plastic and help the Tulsa community? That's what one Tulsa company — Brush 4 Brush — does with its bamboo toothbrush subscription program. For every toothbrush sold, the company gives one to a local elementary student while partnering with Dr. Llon Clendenen of Tulsa Braces to teach students proper oral hygiene. $1.99 each, plus shipping and handling, brush4brush.com.