Just over a decade ago, a common complaint in Tulsa was that there was nothing to do. Downtown became a ghost town after 5 p.m. There was no massively popular arena often full of capacity crowds. Just north of the downtown railroad tracks there were a couple of historic music venues and a sprinkling of restaurants. Now that area is bursting at the seams, just like everyone's event calendars.
There is so much to do across the metro, it's impossible not to have fun, no matter your interests. Whether you're a tourist, a new resident or a lifer, there is plenty to entertain you. This handy guide shares info for the concert goers, the art admirers, the naturalists and the animal lovers, along with some hotel recommendations for out-of-towners or those looking for a staycation. And, it's a perfect checklist if you're hosting summer visitors. There's not enough space to share all the great things we have to do, but this is a start.
Are you seeking...
Music | Art | Tulsa 101 | Family Fun | Animals | Nature | Sweet Treats | Cold Drinks | Neighborhood Charm | Local Treasures
For the Music Lover
Tulsa has a long, rich music history, and today's generation is reaping the benefits while ensuring musical acts keep coming back for the foreseeable future.
The BOK Center, 200 S. Denver Ave., is an award-winning venue and it consistently hosts the biggest names in music. Bob Seger, Jimmy Buffett, Michael Bublé, Cardi B and Carrie Underwood are among the upcoming performers.
The historic Cain's Ballroom, 423 N. Main St., started as Bob Wills' Texas swing venue before becoming the stage for a wide variety of acts from indie rock to red dirt to electronica. It's widely considered one of the best small venues in the country.
A couple of blocks away is the Brady Theater, 105 W. M.B. Brady St., (soon to be known as the Tulsa Theater), which is another historic concert hall that has hosted a long list of musical legends.
While in the Tulsa Arts District, plan to visit the Woody Guthrie Center, 102 E. M.B. Brady St., which shares the story of the legendary Oklahoma singer-songwriter and features exhibits about other iconic performers.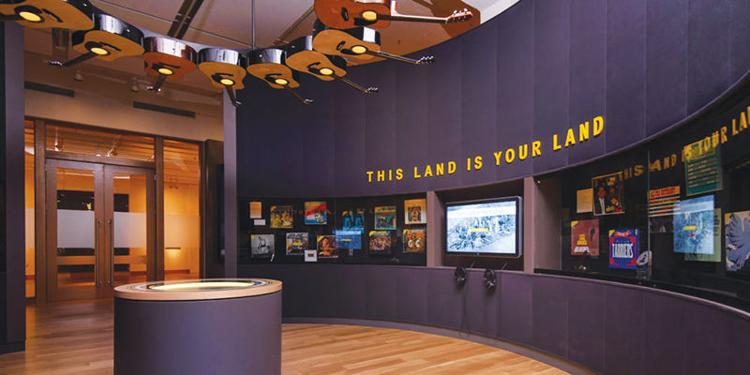 If you're planning to see a downtown show, there are plenty of great dining options, including the recently opened Duet, 108 N. Detroit Ave., which features a modern American menu and live jazz performances.
Three local casinos host performances by national touring acts and offer hundreds of hotel rooms and numerous dining options under one roof. There's The Joint inside Hard Rock Hotel and Casino Tulsa, 777 W. Cherokee St., Catoosa; Paradise Cove at River Spirit Casino, 8330 Riverside Parkway; and Skyline Event Center inside Osage Casino Hotel, 951 W. 36th St. N.
For the Art Lover
The First Friday Art Crawl is an artistic celebration spanning several blocks in downtown's Tulsa Arts District that attracts more than 3,000 people every month to the galleries, museums and studios. It features live demonstrations at places like Tulsa Glassblowing School, 19 E. M.B. Brady St., special exhibits at Living Arts, 307 E. M.B. Brady St., or ahha Tulsa, 101 E. Archer St., and free entertainment at Guthrie Green, 111 E. M.B. Brady St.
If you want to book a hotel room in the area, check in to the nearby and newly opened Hotel Indigo, 121 S. Elgin Ave., which features Prospect Local Bar and Kitchen and Roof Sixty-Six rooftop bar.
If you want to spend a day admiring world-renowned artists' works, Tulsa offers the Philbrook Museum of Art, 2727 S. Rockford Road, and its downtown extension located in the Arts District. Grab lunch or weekend brunch at Philbrook's Kitchen 27 and take a stroll through the 25 acres of gardens.
Listen to an interview with Philbrook Director Scott Stulen.
Just west of downtown is Gilcrease Museum, 1400 N. Gilcrease Museum Road, which showcases the largest collection of art and artifacts from the American West. The museum's restaurant serves lunch and Sunday brunch.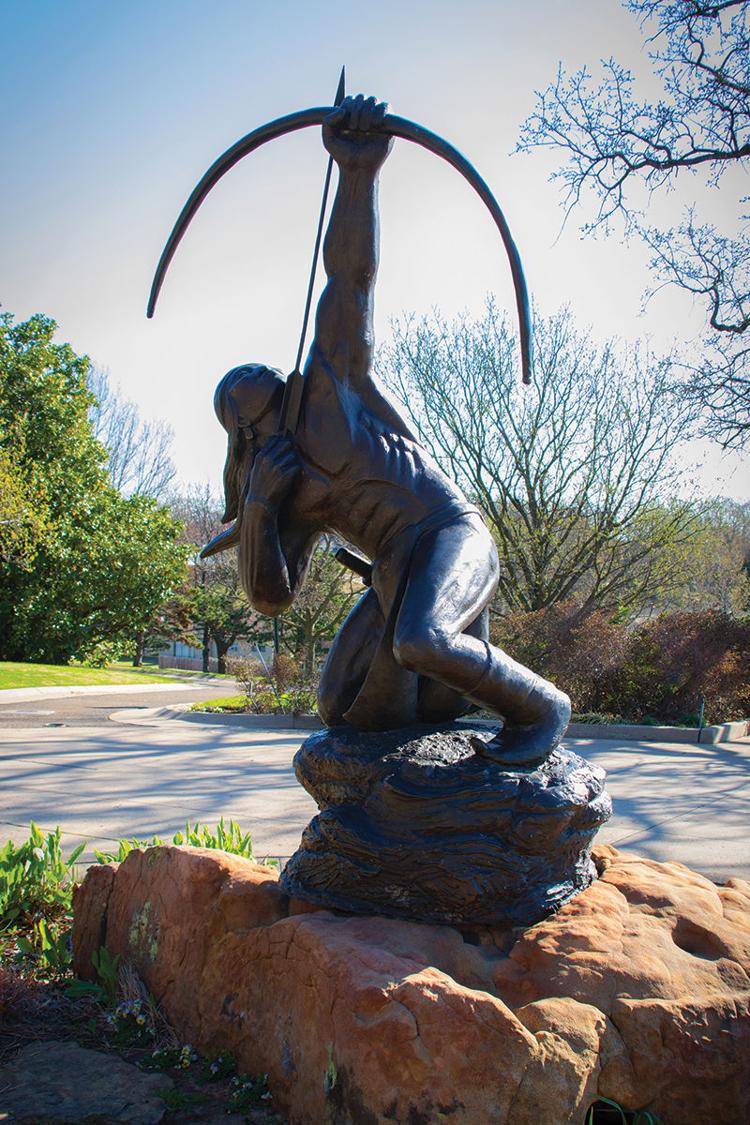 In south Tulsa, the Sherwin Miller Museum of Jewish Art, 2021 E. 71st St. features the largest collection of Jewish art in the southwest.
Special exhibits can be found throughout Tulsa at the Alexandre Hogue Gallery at the University of Tulsa, 2935 E. Fifth St., 108 Contemporary, 108 E. M.B. Brady St., and the Zarrow Center for Art and Education, 124 E. M.B. Brady St.
For those who want to catch a live local theater production, American Theatre Co., 308 S. Lansing Ave., has been producing shows in Tulsa for 49 years. There also is the Pearl District's Nightingale Theater, 1416 E. Fourth St., for your more offbeat and sometimes darker fare.
Just outside downtown on Riverside Drive is the Tulsa Spotlight Theatre, 1381 Riverside Drive, that features the popular Saturday night performances of "The Drunkard" and The Olio, a selection of music and dance. They also have Children's Theatre performances throughout the year.
June 8-9, the Orbit Initiative, a community-wide theatrical education program (as featured on the Tulsa Talks podcast), will present a musical adaption of Shakespeare's "The Tempest" by its cast of community members. Performances are free at the Tulsa Performing Arts Center, 110 E. Second St., but tickets must be reserved.
For the Nature Lover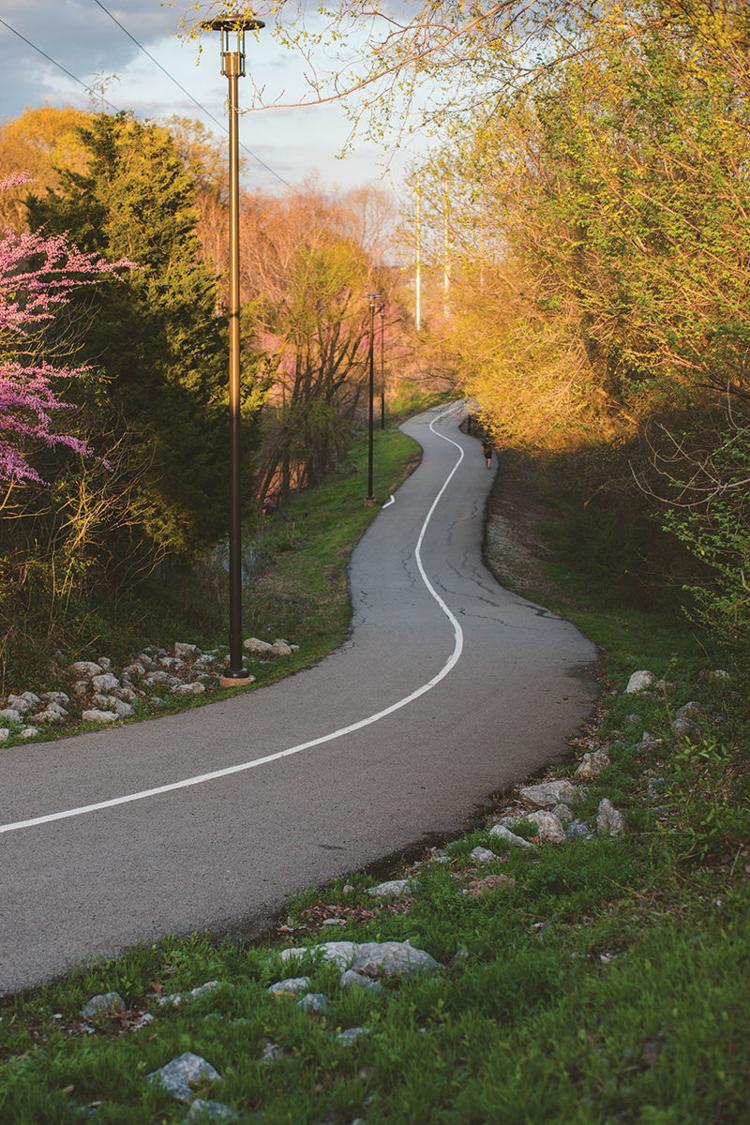 Late spring to early summer is the perfect time to enjoy the beauty of Green Country, and Tulsa is home to numerous breathtaking trails and parks across the metro.
Turkey Mountain Urban Wilderness Area, 6850 S. Elwood Ave., offers miles of scenic trails spanning more than 300 hilly, tree-filled acres on the west side of the Arkansas River. The trails are dog-friendly, but make sure to bring water for your pet and yourself because the only available water is at the trailhead.
The Oxley Nature Center, 6700 Mohawk Blvd., is located in Mohawk Park near the Tulsa Zoo, 6421 E. 36th St. N. and makes a nice combo of adventures.
Listen to an interview with Tulsa's director of Parks and Recreations, Anna America, on the Tulsa Talks podcast.
North and west of downtown is the Tulsa Botanic Garden, 3900 Tulsa Botanic Drive, which features thousands of flowers and plants, along with a children's garden containing giant sculptures and curated activities.
If you want nature-themed lodging, Post Oak Lodge and Retreat, 5323 W. 31st St. N., is located nearby the Botanic Garden and just a few miles from downtown. Cedar Rock Inn, 4501 W. 41st St., is a luxury bed and breakfast 5 miles northwest of Turkey Mountain.
Centrally located is the Tulsa Garden Center at Woodward Park, 2435 S. Peoria Ave. It offers numerous events and programs, including a greenhouse and the Linnaeus Teaching Garden that includes a butterfly garden.
For the New Tulsan
(or those wanting a history lesson)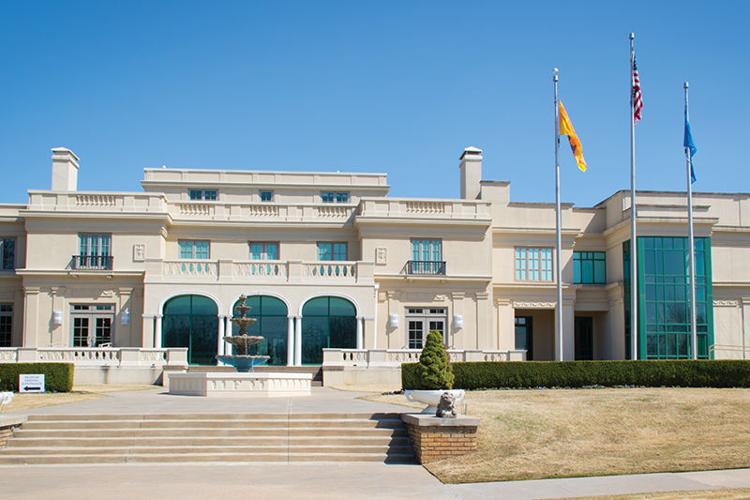 If you're new to Tulsa, here are some ways to learn the history of the city that used to be known as the "Oil Capital of the World."
The Tulsa Historical Society and Museum, 2445 S. Peoria Ave., shares the rich history of the city through many exhibits and artifacts. Admission is free on the first Saturday of the month. It is located next to the Tulsa Garden Center and less than a mile from Philbrook Museum.
Nearby, the Perryman Cemetery at East 32nd Street and South Utica Avenue, is Tulsa's oldest private cemetery. According to the Tulsa Historical Society, it was laid out in 1848 by Lewis Perryman after a cholera outbreak in the Broken Arrow area forced his family to move to the Tulsa settlement. Less than a mile away, at East 41st Street and South Troost Avenue, the site of the first post office is marked by a small park and statue.
If you want to take a scenic journey through Tulsa's past, Tours of Tulsa offers a variety of options, including tours of Tulsa's art deco buildings, historic churches and downtown's tunnel system.
You can't talk Tulsa without mentioning "The Outsiders," a book written by Tulsan S.E. Hinton and made into a film by the same name in 1983. This month, the much-anticipated Outsiders House Museum opens at 731 N. St. Louis Ave.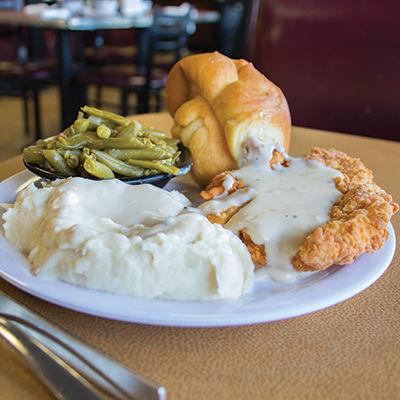 Another way to get a taste of the past is to spend a night at the Mayo Hotel, 115 W. Fifth St., or the Ambassador Tulsa, 1324 S. Main St. Both have nearly 100-year histories and offer exceptional experiences. The Ambassador features the popular restaurant the Chalkboard, and the Mayo offers an unrivaled view of Tulsa from its Penthouse Bar.
For those looking to enjoy a meal at an iconic dining option, there are many, including Coney I-Lander, with multiple locations throughout Tulsa, Nelson's Buffeteria, 4401 S. Memorial Drive, Ike's Chili, 1503 E. 11th St., Celebrity Restaurant, 3109 S. Yale Ave., The Spudder, 6536 E. 50th St., and Billy Ray's Catfish and BBQ, 3524 Southwest Blvd. and 1904 S. Elm Place, Broken Arrow.
For the Animal Lover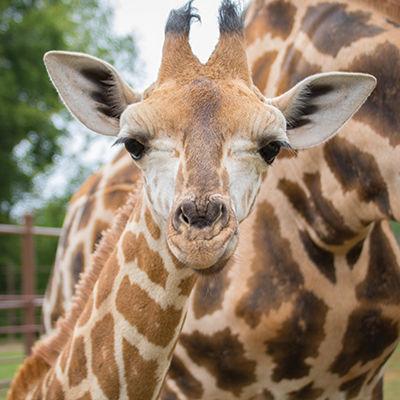 The Tulsa Zoo is a great way to spend a day watching more than 3,000 animals from 400-plus species, and a children's petting zoo. The Lost Kingdom — home to big cats, monkeys and a Komodo dragon, to name a few — is the newest addition to the nonprofit park that hosts more than 600,000 visitors annually.
Meet Ohe, the Tulsa Zoo's baby giraffe.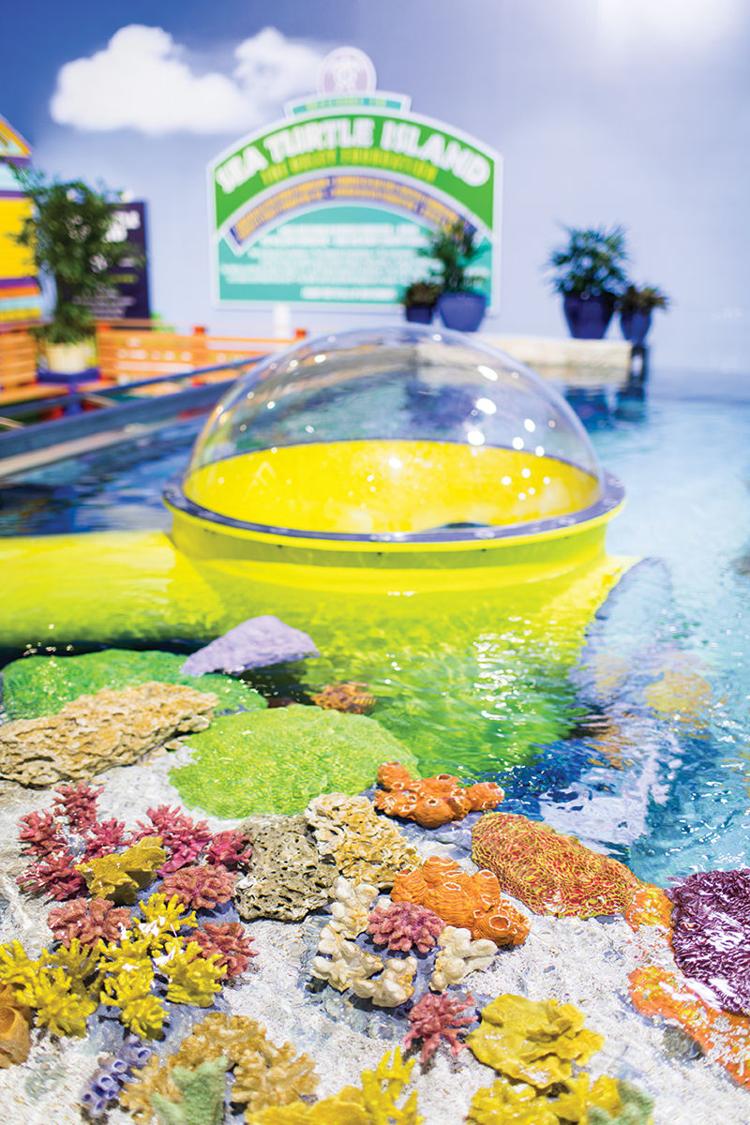 Those who want to devote attention to marine life should visit the Oklahoma Aquarium, 300 Aquarium Drive, Jenks. It features eight permanent exhibits that educate on local and exotic aquatic life as well as some of the sharks and more that swim in our seas. Nearby, Riverwalk's restaurants and shops are nestled next to the Arkansas River, and the center's stage is often filled by local musicians.
If you're traveling with a furry friend, there are a lot of pet-friendly hotels in the area. Among them are downtown's Aloft, 200 Civic Center, and south side's Renaissance Tulsa Hotel and Convention Center, 6808 S. 107th E. Ave.
For the Family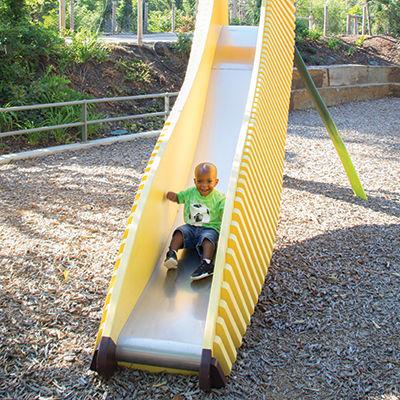 The biggest tourist attraction in Tulsa is appropriately called Gathering Place, 2650 S. John Williams Way, named the best new attraction in the U.S. by USA Today's Readers' Choice Awards. It's a massive public park just south of downtown that must be seen to be believed. There are numerous playgrounds and other children's activities, walking trails, dining and more. The best part is that there's no cost to enjoy it.
Watch: An aerial tour of Gathering Place
If you have kids who are into science, the Discovery Lab, 560 N. Maybelle Ave., in Owen Park is a great place to experiment, explore and play while learning in an informal environment.
Our city has a storied aviation history, which makes the Tulsa Air and Space Museum and Planetarium, 3624 N. 74th E. Ave., a great place to spend time and learn more about the science behind flight. There are various aircraft, interactive exhibits and a state-of-the-art planetarium.
The Tulsa Drillers is the city's Double-A minor league affiliate of the LA Dodgers. They play their home games in the picturesque downtown stadium ONEOK Field, 201 N. Elgin Ave., which also is home to the United Soccer League's Tulsa Roughnecks FC.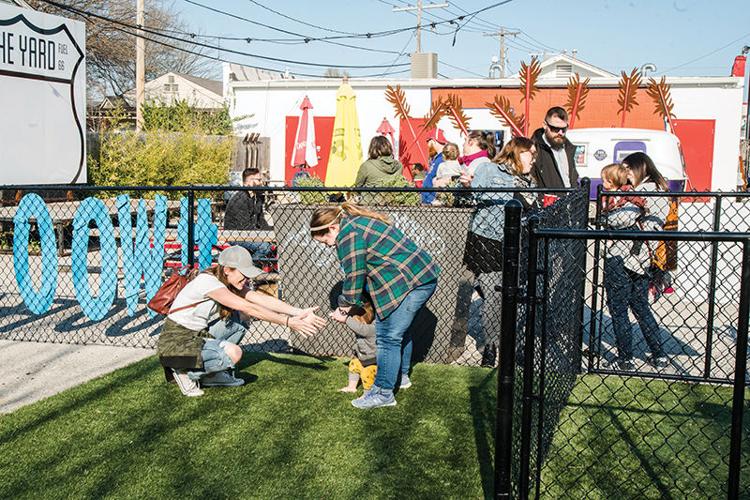 If you have multiple mouths to feed with different tastes, take them to the recently opened Mother Road Market, 1124 S. Lewis Ave., which is the city's first food hall comprised of more than 15 local dining options. Right around the corner is Fuel 66, 2439 E. 11th St., an all-ages food truck park. If you or someone in your clan is a train fan, farther west on 66 is Ollie's Station Restaurant, 4070 Southwest Blvd. It's a great breakfast spot that features 10 trains running the length of the dining room.
Is someone in your crew living the plant-based life? Many local restaurants offer vegetarian options, but highlights include Brookside's plant-based eatery Pure, 3524 S. Peoria Ave., Indian cuisine at Desi Wok, 3966 S. Hudson Ave., and downtown's locally sourced Mexican eatery Elote, 514 S. Boston Ave.
Movies on the Lawn
Philbrook Museum of Art continues its Movies on the Lawn series, which starts outdoors at dusk (approximately 9 p.m.). Bring a blanket or lawn chair
for the family-friendly tradition. In case of inclement weather, movies move into the Patti Johnson Wilson Auditorium in the main building. 
May 24: "Willy Wonka and the Chocolate Factory"
June 14: "Field of Dreams"
June 28: "Almost Famous" 
July 26: "O Brother, Where Art Thou?" 
Aug. 23: "Black Panther" 
Sept. 27: Voter's Choice
Tulsa treasures
By Judy Langdon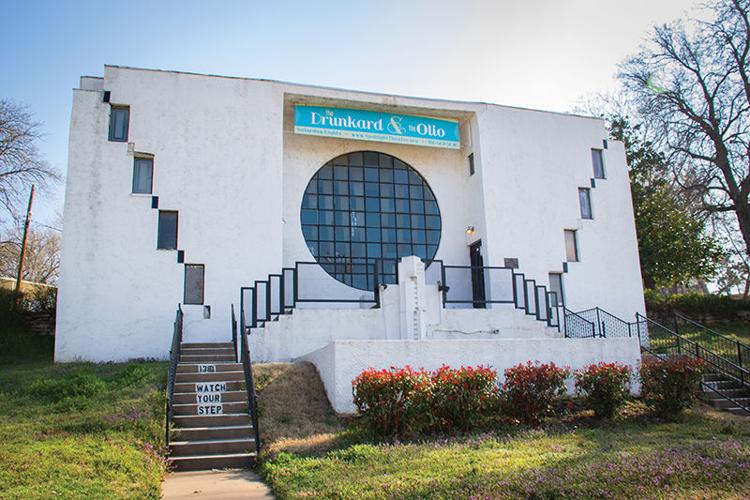 T-Town abounds with one-of-a-kind attractions that can only be found within its city limits. Rediscover — or finally visit — some of Tulsa's treasures.
---
---
Philbrook Museum of Art
2727 S. Rockford Road, philbrook.org
Philbrook, an oil magnate's former Italian villa-turned-world-class-art-museum, offers examples of Renaissance to contemporary art.
Among current and upcoming exhibits are "Windows," multi-media artist Sharon Louden's hanging installation of highly polished aluminum sheets in the main building rotunda through Jan. 5. "Making Modern America: Art and Industry from 1910-60" continues through May 26.
Be sure to see "Equestrian Portrait of Phillip IV" by acclaimed American artist Kehinde Wiley. Installed in December 2017, it hangs in the Italian Room of Philbrook Villa and is the first Wiley work acquired by an Oklahoma museum. Artist Karl Unnasch's "Slumgullion (The Venerate Outpost)" was built from a late-1800s cabin and now sits on the Philbrook grounds. It features stained glass windows and modern LED lighting.
Gilcrease Museum
1400 N. Gilcrease Museum Road, gilcrease.org
Gilcrease has one of the world's largest and most comprehensive collections of art and artifacts of the American West, including an unparalleled collection of Native American art and material.
Through July 14, view "Pulitzer Prize Photographs," directly from The Newseum in Washington, D.C. The exhibit includes photos of the execution of a Viet Cong soldier of 1968, Babe Ruth's Final Farewell, and the shooting of Lee Harvey Oswald, two days after the 1963 assassination of President John F. Kennedy.
Sherwin MillerMuseum of Jewish Art
2021 E. 71st St., jewishmuseumtulsa.org
Sherwin Miller's permanent collection of art and artifacts shows a 5,000-year Jewish history, including the settling of the Jewish community in Tulsa and the American Southwest.
Two new exhibits open this spring and summer. "Jews in Space: The Tribe in Cinematic Sci-Fi," from May 9-July 28, features an exploration of motion picture sci-fi through artifacts, costumes and more, showing Jewish actors, directors and screenwriters. Learn about the legendary Leonard Nimoy as Spock on "Star Trek," Natalie Portman as Padme Amidala, and comedian Mel Brooks' spoof "Space Balls."
From Aug. 8-Oct.6, the museum welcomes works by leading Judaic artist, designer and educator Avrum Ashery. The University of Tulsa graduate has spent decades exhibiting, lecturing and teaching Jewish identity, expression and continuity with Judaic arts as his tools.
Tulsa Spotlight Theatre
1381 Riverside Drive, spotlighttheatre.org
How long has it been since you have attended an old-fashioned melodrama? The Spotlighters Inc. have been producing "The Drunkard" on Saturday nights since 1953 in the historical Tulsa Spotlight Theater.
The audience can whistle and clap for the hero and heroine while booing the villain. During intermission, sandwiches and chips, soft drinks, coffee, wine and beer are served by the cast, all local volunteer actors. A brief variety show, "The Olio," complete with audience sing-along, is held shortly before the curtain. Reservations are required.
Summertime sweets
By Natalie Mikles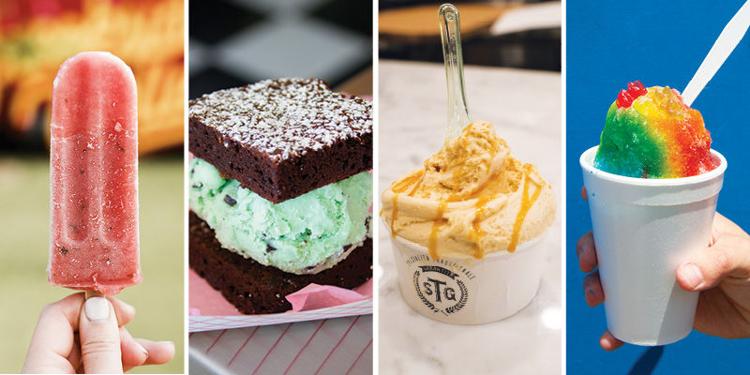 When a summer heat wave hits, there's no better way to cool off than with something super sweet and icy cold.
---
---
Remember the thrill of hearing the ice cream truck making a run through your neighborhood? A trip to the Pop House will bring back that same thrill. But you won't find popsicles dripping with food coloring here. At the Pop House, ice pops are made with fruit or fruit juice in delicious and interesting flavors like watermelon mint, mango chile lime, creamy key lime, root beer float and chocolate-dipped raspberry. 3737 S. Peoria Ave.
What did we do before Josh's? We had to cross our fingers and hope to find a snow cone stand. Now I can go to any number of Josh's sno cone shacks all over town. Josh's first gained notoriety for its fun and innovative flavors. You can still order a classic cherry, grape or orange. But most people like to go for the blends, like Josh's Remix, a swirl of kiwi, mango and passion fruit. We're big fans of Summer Lovin': a mix of cranberry, lemon and peach. Locations all over Tulsa, Broken Arrow and Bixby
Here's a place that will put a big smile on your face. Sweets and Cream says it has the sweetest menu on Tulsa's Route 66, and I believe it. Pair your favorite cookies with your favorite ice cream flavors for custom ice cream sandwiches. Sweets and Cream has a dozen cookie flavors and two brownie flavors to choose from, plus ice cream flavors like French silk chocolate, candy bar crunch and butter pecan. My recommendation: mint chocolate chip between chocolate crackle cookies. 1114 S. Yale Ave.
Don't expect to find 50 flavors of ice cream here. Quality over quantity is more the point of the gelato at STG. Gelato is made the old-fashioned way in small batches, then delivered to the STG locations: the original downtown, a newer location on Cherry Street and a third in Broken Arrow. Foodie flavors like salted caramel, lemon biscotti and cannoli are a dream. 114 S. Detroit Ave., 1601 E. 15th St., 217 S. Main St., Broken Arrow
Summery sips
By Angela Evans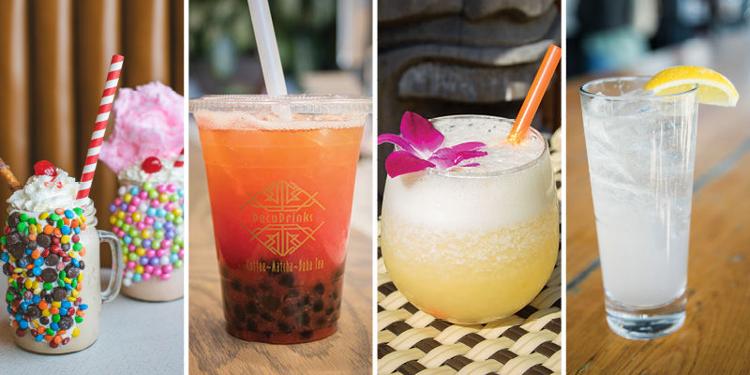 For unique summery sips, Tulsa's cup runneth over with options for adults and kiddos alike.
---
---
Nothing caps off a day of fun in the Oklahoma sun like a chilled-out treat. Instagram feeds are filled these days with over-the-top milkshakes, and MAD Eats, 201 S. Main St., Owasso, has been shaking it up big time. Tall glasses are coated on one side with colorful candies and sprinkles, topped with colorful clouds of cotton candy or cookies.
Kids and adults can find refreshing drinks from the recently opened Deco Drinks, 5097-A E. 51st St. Convenient to LaFortune Park and the waterpark at the Tandy YMCA, Deco Drinks pulls high-quality coffee drinks and teas, as well as fruity and fun boba teas. For a burst of flavor, try the raspberry jasmine Fresca boba tea.
For those seeking a more adult summer respite in the evening, the tiki vibes at the Saturn Room, 209 N. Boulder Ave., will transport you to an island state of mind. The Macadamia Nut Chi Chi is a sweet treat spiked with macadamia nut liqueur, creamy coconut with a lovely pink flower floated on top. The bar also offers a distinguished selection of daiquiris and other delights, including punch bowls that are meant to accommodate at least four sipping participants.
Open Container at the Boxyard, 502 E. Third St, Unit 39, has a top-notch view of the downtown skyline and a full list of local beers and cocktails. Keep your cool with one of its signature draft cocktails, like the spicy Paloma or French 75. An extra boost of CO2  gives the draft cocktails their signature bubbles and is sure to add a dose of effervescence to the Oklahoma sunset.
Must-stop districts
By Judy Langdon
Three local districts that are worth a visit
---
---
Find your kicks in Tulsa's Meadow Gold District, marked by the large neon Meadow Gold sign and clock at East 11th Street and South Quaker Avenue. Browse LPs at Josey Records, 1020 S. Rockford Ave., or head to Jenkins and Co., a modern general store at 1335 E. 11th St. for well-designed, handcrafted products. Is the mouth-watering aroma of freshly baked pizza enticing you? Follow your nose to Bobby O's Slices and Pies, 1502 E. 11th St.
Park at Kendall Whittier Square, then pop in to STEMcell Science Shop, half a block east at 2415 E. Admiral Blvd., which hosts a monthly free Think and Drink Evening of Science and Beer at nearby Heirloom Rustic Ales. Take in a current or classic movie at Circle Cinema, 10 S. Lewis Ave., which opened in 1928, marked with its original marquee. One block west of the theater, you'll find Tulsa Girls' Art School, 2202 E. Admiral Blvd., with its windows decorated by its students.
Tulsa's Pearl District is east of downtown between I-244 and East 11th Street and the downtown Inner Dispersal Loop and South Utica Avenue. Summer fun means eating late, preferably outside. You can do that at Papa Ganouj, 1328 E. Sixth St., with its Lebanese and Mediterranean fare. Catch one of the best views of the Tulsa skyline from the pathway around the pond at Centennial Park, 1028 E. Sixth St. To beat the summer heat, try a Galaxy Pale Ale or Strawberry Blonde at one of Tulsa's newest watering holes, Nothing's Left Brewing Co., 1502 E. Sixth St., in a former Texaco gas station.