Anthony Fobbs has come a long way after enduring a rough start in life in the less affluent section of Fort Worth, Texas.
"I've been an 'overcomer' most of my life," he says.
The restaurant owner and former University of Tulsa basketball player first gained notice as a multi-sport athlete at Fort Worth Southwest High School.
During Fobbs' senior year, TU Head Basketball Coach Nolan Richardson and Assistant Coach Scott Edgar visited Fobbs and pledged to help him get an education.
"I asked him (Richardson) to put that in writing," Fobbs says. "He came back the next day with the letter that included everything we talked about. I signed it and never looked back."
Once in Tulsa, Fobbs adapted quickly to TU's up-tempo game made famous by Richardson.
"We played a 'run-and-gun' style in high school, so I was used to the way TU played," Fobbs explains. "That made the transition so much easier." 
While perhaps not a superstar, Fobbs was nevertheless a key component in TU's impressive run of four consecutive NCAA Tournament appearances.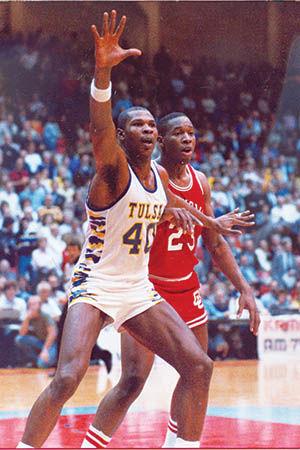 His contributions often came in ways that could not always be measured. Blocking out an opponent's top rebounder, setting screens for teammates or putting the clamps on an opposing team's big man all helped TU claim many victories.
"I always seemed to play better against good big men," explained Fobbs, who at 6 feet 10 inches and 235 pounds made for an imposing presence in the paint.
Fobbs also scored a career high 23 points against Oral Roberts in a crosstown rivalry at the Mabee Center.
After college, Fobbs continued his basketball career by competing internationally. Playing in Mexico, Argentina and Australia provided Fobbs opportunities to see the world.
"I met some amazing people and saw sights that I would never otherwise get to see," he says.
Bad knees finally forced him to hang up his sneakers and return to Tulsa. 
A variety of jobs, including working for a flight simulator company, painting houses and mowing lawns, left Fobbs somewhat unfulfilled.
He started dabbling in a favorite childhood pastime — cooking barbecue.
"My grandfather was a sharecropper in east Texas, and he would also smoke lots of meat," Fobbs says. "I would help him and my dad with the fire and grill. When I was about 9 or 10 years old, they handed me the fork and spoon and simply told me to 'run the pit.'"
Fobbs gradually learned the finer points of grilling, often providing food for his church, the Broken Arrow High School band and football teams and TU Lettermen events.
Encouraged by his friends, Fobbs entered several local barbecue competitions, such as the Bixby BBQ and Blues Festival and The Art of BBQ and soon found himself winning awards and gaining recognition for his culinary skills.
After much soul-searching, Fobbs and his family decided to take the big step and open his own restaurant, Big Anthony's BBQ. 
Wife, Kimberly, daughter Alaiszia and son Anthony Jr. all help at the restaurant when they can. Going into its fifth year, the business is seeing more patrons than ever.
Community minded, Fobbs coaches boys' and girls' Amateur Athletic Union basketball teams. He also served as a referee and assists in area summer camps. He often speaks at the Tulsa Boys Home and helps young culinary students develop their skills through a partnership with the Tulsa Job Corps.
"All this keeps me grounded," Fobbs says.
Big Anthony's BBQ
8151 E. 21st St., 918-561-6227, www.biganthonybbq.com