Julie Courcier never stops.
She knits. She hikes. She goes fishing with her husband of 21 years, Mark. She trains for and runs major marathons around the world.
She also is the co-owner of a popular Tulsa "boot camp" called Fitness Protection Program, where she teaches exercise to a bustling membership.  
And she does it all with one fully formed arm.
"People with two arms ask me all the time how I do everything with only one," says the 45-year-old businesswoman. "I don't know how I would do it any other way, because it is the only way I know how."
A birth defect called congenital amputation left Courcier with a partial left arm that ends just below her elbow. It is a condition in which amniotic bands wrap around a limb in utero, cutting off the limb's blood supply. 
As a child, Courcier remembers her pediatrician insisting she wear a prosthesis with a hook throughout grade school ("which I hated," she says), and she was teased by some of her peers, "who just didn't understand," she says. But by the time she hit junior high, the determined young woman was a cheerleader and played tennis, softball, soccer and the trumpet. 
Courcier grew up in Kansas and Missouri and moved as a teen to Tahlequah, where she attended high school and later earned two bachelor's degrees (in business administration and marketing) at Northeastern State University. 
After moving to Tulsa, where she met her husband, Courcier began her 25-year retail career as a cashier at Walmart. In a speed contest among her fellow cashiers at the store, she nailed first place.
She later worked her way up to become northeastern Oklahoma district manager for Bath & Body Works.
Around that time, Courcier says she noticed herself gaining weight. She started running, but after an overuse injury, her chiropractor recommended she try cross training. She tried a boot camp program and loved it, she says. So much so, she became a certified fitness instructor. Then, "the opportunity arose for me to open a gym and studio" with co-trainer Kasey Kellough — and they did it this past January.
Fitness Protection Program, located at 2605 S. Memorial Drive, just reached 110 members, doubling its space this past summer — a growth "way beyond our dreams," Courcier says. She and Kellough rotate to teach nine boot camp classes a day, between them. All participants fall between ages 12 and 55. Most participants — who the gym owners asked to name the business through a voting process — are women in their late 20s, though about 10 percent are men.
"We strive to provide a sense of feeling and belonging and (a) place to make connections here," Courcier says.
Despite Courcier's professional success, she has often encountered curiosity — and sometimes, insensitivity — about her birth defect.
Courcier was working at the Disney store when an inquisitive child asked about her arm.
"I told him, 'Well, this is the way God made me,'" Courcier recalls.
A woman standing nearby heard Courcier's reply and said, "No, that's not right. God doesn't make mistakes."
Courcier says she responded calmly to the woman, "Ma'am, that is a rude thing to say. I will not be helping you today." She asked another employee to assist the woman, then walked away.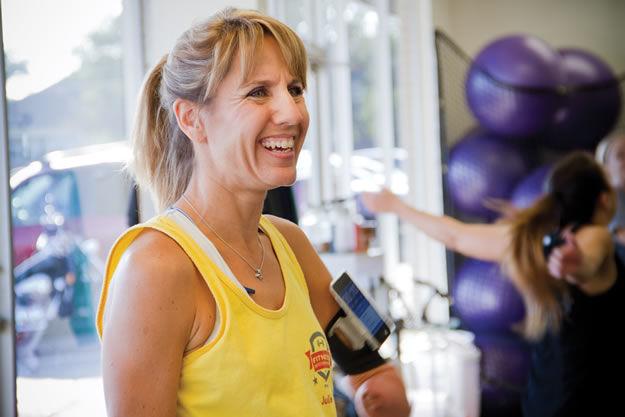 But Courcier doesn't let such reactions get her down.
"We are who we are because of our circumstances," she says.
The Courciers make their home in Broken Arrow with their two dogs. On a typical day, Julie is up at 3:10 a.m. and starts with a run "to get my day going," then heads to her studio. Her first classes begin at 5 a.m. They are Monday through Friday and Saturday, lasting 40 minutes each.
As a longtime runner, Courcier says one of her goals in her 30s was to compete in a marathon. She ran her first one, the Route 66 Marathon, in November 2009.
"To qualify for some marathons ... you must run a qualifying marathon in a certain amount of time," she says, adding that qualification typically takes eight to 12 weeks of preparation.
Courcier hopes to run a marathon in every state and is always looking to beat her personal best (currently 3:53:17). A large map on her office wall is marked with pushpins for each marathon in which she has competed. 
In 2012 she participated in marathons in Hawaii and Ireland, and this month she will compete in the New York Marathon, which she hopes to run in 3:40:00 or less. She also has qualified for and been accepted to run in the 2014 Boston Marathon, another of her goals. Locally, Tulsans can see Courcier at the Tulsa Run and the Susan G. Komen Tulsa Race for the Cure, as well as the Route 66 Marathon.   
In her off hours, she likes to fish and spend time at the lake, hike, travel and ride her Sea-Doo.
"Mark fashioned an extra-high bar and attached it to the handlebar of my Sea-Doo, so I can ride" at a level position, she says.
Her best friend taught her to knit, and she sticks mainly to "scarves, cowl wraps and hats," though she has been working on a baby blanket for six years.
"The main problem with knitting is that I have to constantly look at the knitting," Courcier says. "I can't watch TV, or talk on the phone and knit at the same time."
What does she not like to do?
"Peel potatoes," she groans, illustrating how she does it — by sticking the potato on a fork and holding it with her partial arm, peeling it with her right hand.
As active as Courcier is, stopping to peel potatoes sounds boring.