Tim Blake Nelson, lauded actor/screenwriter/director and Tulsa native, returns home June 24 for the fourth annual Tulsa Awards for Theatre Excellence at the Lorton Performance Center on the University of Tulsa campus. He will receive the 2012 Distinguished Artist Award.
If you don't know his name right off the bat (and you should), you'll likely know his face. This sought-after, hard-working character actor has appeared onscreen in more than 40 movies and TV shows to date, including a memorable performance as Delmar O'Donnell, one of the three lead characters in the Coen Brothers' 2000 masterpiece, "O Brother, Where Art Thou?"
But he does more than act. A 1982 Holland Hall graduate who was born and raised in Tulsa, Nelson received his classics degree from Brown University before attending Juilliard. He is an award-winning playwright and screenwriter whose directorial career got off to a fine start when his first film, "Eye of God," (which he also wrote) became a Sundance Film Festival Grand Jury Prize winner.
Since then, Nelson has directed five more critically lauded films, including "The Grey Zone," which deals with the Holocaust, and "Leaves of Grass," starring Edward Norton in a dual role as two brothers — one a professor, the other a small-time Oklahoma pot grower.
Nelson, who now resides in New York City with his wife and three sons, spoke with TulsaPeople on the phone from Los Angeles (during a shooting break for a new film) about his career so far, his abiding love for Okie accents and his outlook on the film industry.
So…when did you first catch the acting bug?
It was second or third grade. I went in and out of wanting to act and perform for some years after that. I thought maybe I would be a writer or a professor or a teacher.
Then, in ninth grade, they were casting "A Midsummer Night's Dream" at school. I auditioned and had a great time, and I thought, "Well, maybe this is something I would want to do." Then, finally, when I was in college and trying to figure out what to do for the summer, my mother made the unlikely suggestion that I go work at a summer theater. I did … and it was really the final seduction. (laughs)
Ultimately, I have my mother (Ruth Nelson) to thank. She's one of those few parents who actually encouraged their child to go into the arts.
You attended Brown University, studying classics, after graduating from Holland Hall. At what point did you decide to pursue acting full time?
During college, I acted pretty extensively even though I was pursuing a classics degree. And I also did stand-up comedy. I decided one summer to go out to Los Angeles and see how I liked doing stand-up in the clubs. I did open-mic nights at the Comedy Store and got paid to perform at other second-tier venues.
After a while, I realized I would be OK as a stand-up comic, but I really wasn't going to be a real innovator in that field. But I thought I could do stuff as a character actor, perhaps, that others hadn't done or couldn't do. To achieve that, I really needed serious actor training, though. And since I wasn't gonna win any beauty contests, I figured most of my work would come for me later as I got older and grew into my face. My first choice was Juilliard — a four-year training program — and I got in.
How did you get started writing plays?
I wrote a lot of poetry in high school and went to the Summer Arts Institute at Quartz Mountain. That, along with some really good English teachers — in particular Karen Clark at Holland Hall — taught me a lot about writing. I continued to study writing at Brown. And then, when I got to Juilliard, I just kind of missed schoolwork. … I missed the academic rigors that my undergraduate years had afforded me. So I started writing plays for my classmates and me.
When you were writing your first plays — "Cyrus," "Eye of God," "The Grey Zone" — some of which went on to be adapted into screenplays and made into films by you, did you initially imagine them as stage productions or cinema pieces?
Originally I was writing them as stage plays. I didn't think I'd ever have much success as a film actor. I imagined I would be a New York stage actor and that I would write for the theater. I guess I just read the cards wrong. I started to get film work … and some television. But it was the film industry that really took an interest in me. I think it's just because movies need faces that have texture and, um — I don't know — slight deformities.
Oh, come now. You're just trying to say they want character.
Yeah. They're trying to reflect the essence of real life in a very stylized and enormous way. That screen is very big. I had always labored under the assumption that you had to be pretty or super handsome to be in movies; that's actually not really the case. They're much more interested in odd-looking characters than pretty faces for most of the good roles. I never wanted to play leads anyway. Character parts are always more interesting.
What was it like the first time you saw your face 30 feet tall on a movie screen?
I generally just thought I had a lot to learn … and I continue to think that. Whenever I watch myself in films, I'm generally thinking about how I could have done it better.
Does your work as a sought-after character actor help fund your career as a writer/director of indie projects?
That has been the case in the past … but I'm not sure that's necessarily true anymore. The way the economics of the film industry are working right now, I think maybe the next project I do as a writer/director will help fund my acting. It oscillates back and forth. The movie industry right now is actually trying to figure out how to sustain itself. That's impacted what actors are paid in a very dramatic way.
Is that scary for you or are you interested in the challenge of it all?
I don't get scared much anymore because I've diversified my career to the extent where I always know I'm gonna have remunerative work. If I'm not working as an actor, I'm writing. And even when I'm working as an actor, I'm writing. No matter what happens to the film industry, as long as movies are being made, they need scripts and directors. This is all to say one thing: Learning how to write has made a huge difference for me. It's allowed me to be very patient with the acting work.
You've got a wife and kids and a busy career as an actor, and yet you seem quite prolific with your writing and independent film projects. Describe your creative process — do you literally make time to write every day?
Oh, without question. Not so much on the weekends because the kids are home, but I write every weekday. I get the kids off to school and then I'm at the computer.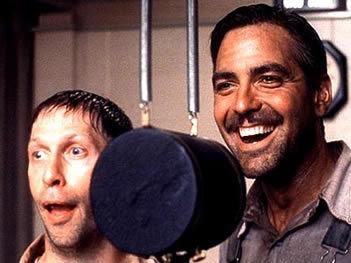 Certainly as an actor. Ya know … Hicks 'R' Us. (laughs) Growing up in Oklahoma and hearing the regional dialect all my life and really loving those people — the people from my home state — has been great for my acting career. Because when I'm playing a Southern character, a Southwestern character or a Midwestern character …
You've got just the right amount of twang.
Yes. It's in my bones. Oklahoma has a bit of all those regions in it. But also as a writer I feel like I've been able to understand the rhythms of the place where I was raised and the points of view of the characters. "Eye of God" and "Leaves of Grass" are directly out of Oklahoma.
"Eye of God" was your directorial debut. You'd only been in the biz for maybe eight or nine years. How difficult was it to get an indie film off the ground at that point in your career?
The person who really deserves the credit for me getting to do that was my brother Mike. He saw the play "Eye of God" at the Seattle Repertory Theater and said, "I wanna produce this. We should make it into a movie … and you should direct it." At that point, whenever I was in a movie, I would always hang around when I wasn't needed and watch the goings on. So I knew a bit about directing from just watching other directors. But then I got into the Sundance Directors Lab, and that was a fantastic crash course.
When was that lab?
The summer of '96. I did the Writers Lab as well.
And you shot the movie in '96?
Yes. I went straight from the Directors Lab to our set.
Given the direction the movie business is heading, would you say it's easier or harder to get funding for independent films these days?
Well … that's tricky. I have a guy — Avi Lerner of Nu Image/Millennium — who's a big believer in what I do. He's funded my last two movies, and it looks like he's going to fund the next one. So that has sort of turned into my home as a filmmaker. But for an actor, indie films have really changed. This is the era of the micro-budget. You can shoot a feature now on a Canon SLR camera. So I find myself in movie after movie with these really skeletal budgets and skeletal crews.
Talk a bit about how your film "The Grey Zone" came about. What drew you to the book "Auschwitz: A Doctor's Eyewitness Account" and made you want to shoot it?
Well, as the son and grandson of Holocaust refugees, I wanted to address that period of 20th century history, which was very personal to me and my upbringing. So I started delving into that period. I found this story about a girl who survived the gassing, and the sonderkommando inmates (Jews who were forced to help the Nazis in the concentration camps) who tried to save her in the middle of a rebellion they were staging. I wrote "The Grey Zone" as a play, never imagining I could do it as a movie. But then when I went to Australia with Terrence Malick to shoot "The Thin Red Line," I started to think maybe there was a way in.
So, when I returned, I started writing the screenplay. When I was done writing it, I thought, "This is too grim; nobody's ever going to make it." That's when I met Avi Lerner.
"Leaves of Grass" was the first time you acted in a film that you also directed. That must have been a bit challenging.
It was at times difficult … but it was also a real gas. I loved it. It was a challenge I wanted to take on, and I think I'm going to do it again on my next film. Though I have to admit, during preproduction, I started to think maybe it was a bad idea. I mentioned it to Edward (Norton … who starred in the film). But he was really excited about the idea of having me as a scene partner … as a guy in a supporting role who was also the director. He said, "No way. … I really want to do the scenes with you." So I couldn't back out. I'm really grateful he persuaded me to remain in the role.
As a director, what is it like working as an actor for other directors, such as Spielberg or the Coen brothers or Terrence Malick? Do you find yourself wanting to jump in and give suggestions?
Absolutely not. Not only do I avoid making suggestions to the directors you just mentioned — who are far more accomplished than I — but I don't even make suggestions that often to first-time directors. The director has to have control of their set. And a director is always gonna know more about his or her process than I will.
As an actor, it's my job to be there in support of them, not to second-guess them or even "help out." The best way I can serve a project is to deliver a performance that the director wants.
Any achievements so far in your career that you're particularly proud of?
Well, I think the movies I've directed came out exactly the way I wanted them to be. And so I'm very proud of having been able to do that. I credit the people with whom I've been able to work who've chosen to support and not interfere as much as I credit anyone … including myself.
Other than that, I got a great piece of advice early on in my career from Lois Smith, a friend of mine who's also an actor. I had just played my first really substantial stage role, the role of Thersites in "Troilus and Cressida" for Shakespeare in the Park in New York City. About three or four days after the show closed, I was sitting in my apartment. The phone wasn't ringing (with offers). Lois called to check in and asked how I was doing, and I said, "I'm really depressed. I just played this big role in Central Park and it feels like nothing has changed for me. She said, "Learn right now that your career is not going to be about life-changing moments. It's gonna be about accumulation. Just keep acting and keep creating and hope to look back upon a body of work of which you can be proud."
That's what I've been trying to do ever since.
What are your feelings on winning the Tulsa Awards for Theatre Excellence Distinguished Artist honor?
Like every plaudit I've received, it's a wonderful and welcome surprise. Right now I'm just worried about what I'm gonna say at the event (laughs) … other than, "Thank you, thank you, thank you, thank you."