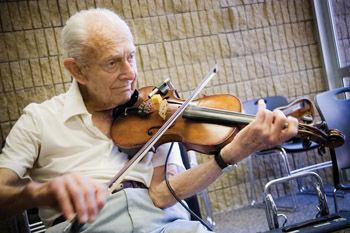 Endurance activities such as walking, raking leaves or biking increase the heart rate and improve the health of the circulatory system. Doctors recommend building up endurance gradually, starting with as little as five minutes of endurance activities at a time.
Strengthening exercises increase metabolism, keeping body weight and blood sugar in check, and build muscle tissue while reducing age-related muscle loss.
Stretching exercises improve flexibility, allowing for more activity throughout the senior years.
Balance exercises help to prevent falls, a significant culprit of senior injuries.
Diet/nutrition
A healthy, balanced and varied diet plan also is a central component of senior health. Seniors should stay hydrated and eat three nutritious meals a day. Meals should be rich with red and green fruits and vegetables, says Carrie Allamby, director of activities and wellness at Montereau in Warren Woods.
She encourages seniors to refer to nutritionists, doctors or their loved ones for help in creating a personal nutrition plan.
Or seniors can opt for healthy, pre-made meals with a visit to one of the several area senior nutrition sites, says Sandy Sullivan, a planner with the Tulsa Area Agency on Aging. The congregate sites serve lunches that include one-third of a senior's daily recommended intake and menus are created by a state-approved staff dietician.
"Not only are you getting a healthy meal, but you're getting that socialization," Sullivan says.
And a healthy lunch plate is not the only thing for which many Tulsa-area seniors are meeting regularly. The nutrition sites also often feature live music, games, exercises and educational opportunities such as blood pressure testing and relevant speakers.
Mental health
In respect to cognitive wellness, experts recommend a "use it or lose it" approach — those who continue to do mental work tend to maintain mental abilities better than those who don't.
To exercise those noggin muscles and keep the mind sharp, Allamby suggests that seniors engage in brain exercises such as crossword puzzles or word searches.
From experience, Allamby praises the Posit Science brain fitness programs, which can be ordered online.
These research-based, highly structured computer programs are designed specifically to address core challenges faced by the aging brain.
Seniors who complete the programs increase their mental processing speed, improve the strength and clarity with which the brain processes signals and information, and enjoy a sharper memory and a stimulation of the machinery in the brain that naturally produces key brain chemicals.
"I felt like I could grasp information quicker," Allamby says of her completion of the program.
For more information on the research behind or programs offered by Posit Science, visit www.positscience.com.
Social wellness
"Flexing your social muscles is just as important as flexing your biceps," Sharp says.
By remaining active and involved at societal and community levels, seniors can continuously try to learn new things, a significant step in maintaining cognitive and emotional health.
"The people who stay engaged are better at weathering the changes that come with aging," Sharp says.
With socialization comes a sense of belonging and connectedness. From church communities to civic clubs, the social bodies within the area — many geared specifically toward seniors — are diverse and numerous.
Keeping a sense of self and purpose also is necessary for healthy aging. Especially after retirement or the loss of a spouse, older adults need a feeling of being valued and connected more than ever.
"All those needs can be met in some way by a meaningful volunteer position," says Claudia Meiling, executive director of the Retired Senior Volunteer Program (RSVP). RSVP provides individuals, who are 55 years of age and older, in the community with local volunteer opportunities.
Giving back to their community is an effective way for seniors to meet new people and prevent isolationism or depression.
"Across the board, almost every national and regional research study shows that volunteerism is a major way of maintaining physical and mental activity," Meiling says.
Chronic disease and fall prevention
From diabetes to organ failure, chronic diseases place a heavy health and economic burden on older adults with related long-term illness, diminished quality of life and significant health care costs.
But while the risk of disease and disability increases with age, poor health can be avoided through preventive measures. Here are a few key measures in preventing the onset of chronic disease as recommended by Janae Smucker, community liaison for Saint Francis Home Health:
Exercise regularly.
Maintain healthy eating habits.
Avoid tobacco use.
Make a habit of early-detection practices such as tests and screenings.
According to the Centers for Disease Control and Prevention Web site, "every 18 seconds, an older adult is treated in an emergency department for a fall, and every 35 minutes someone in this population dies as a result of their injuries."
The following are several of Smucker's tips for creating a fall-proof environment in the home.
If suffering from eyesight or hearing problems, make use of adaptive devices such as glasses, hearing aids or walkers.
Ensure adequate lighting.
Establish straight, clean pathways and eliminate any throw rugs or small items on the floor. "Even beloved pets can be a big hazard," Smucker says.
Be aware of the symptoms that may correspond with your medication. Painkillers can numb the senses, and heart disease medications can lower blood pressure, causing people to get light-headed when rising suddenly.
Be aware that balance can be impaired and increase risk for falling. Move cautiously and establish a resting place, such as a bench, in long hallways if necessary.