It's Wednesday night at The Loony Bin, Tulsa's only comedy club, and I don't know what to expect when I arrive at the home base of Tulsa's funniest rising talent.
I only know I don't want my first audience experience at open mic night to resemble an encounter with someone like the cocky comedic character Buddy Love in the 1963 classic "The Nutty Professor," starring Jerry Lewis.
But instead of meeting Buddy Love, I find myself amongst a group of laid-back, friendly comics. The night's open mic lineup includes a group of individuals with diverse backgrounds and day jobs, but they all look forward to watching one another perform because they also happen to be a close group of comic friends.
"The support between the comics here is very unique," Loony Bin Manager Beth Caudell says. "They make sure to help each other out on every level in this business. Comics are always usually friends, but this group makes the commitment every single week together as a whole to work on developing their talent."
Caudell opened the fifth club in the Loony Bin franchise in Tulsa in 2007. She says owners Larry Marks and Jeff Jones decided to bring The Loony Bin concept to Tulsa because it was in the same region as the other locations — in Little Rock, Ark.; Wichita, Kan.; and Oklahoma City — and because Tulsa didn't have a comedy club at the time.
"Tulsa has been a great comedy market for 20 years, so when we saw that there was not a comedy club here, we knew it was a wonderful opportunity," Caudell says. "Given our success in Oklahoma City, we knew how receptive Oklahomans are to great entertainment."
Since the club's opening, Caudell has worked with local comedians to develop their talent. Every Wednesday evening at 6:30 p.m., she opens her doors early for a standup comedy workshop for anyone interested in polishing his or her work.
Married to a comic herself, Caudell recognizes talent, having also managed and worked at comedy clubs in Phoenix and her hometown of Memphis for the past 16 years.
She says she loves her job because of the local comics and new talent that often comes through the door.
"Every week is different," she says. "The whole atmosphere changes, so you never get bored."
The Loony Bin hosts shows Wednesday through Saturday nights, with two performances on Fridays and Saturdays. Each show lasts approximately 90 minutes, beginning with the emcee comic from open mic night, followed by a feature comic and a headlining comic, both with national audiences. Open mic sessions take place Wednesday nights, with seven comics in the lineup, who are chosen at random from a sign-up list and a drawing a week in advance.
"The Loony Bin is a fun and affordable night of entertainment that has something to offer for everyone, whether you are celebrating something or just enjoying a night out," Caudell says. "The Loony Bin is a great place to relax and have a lot of laughs."
For a sneak preview of some of The Loony Bin's best, here are a few local comedians with national aspirations.
Enjoy the show.
SAM HIGGINS
Comedic inspirations: Mike Birbiglia, Dave Attell, Jeffrey Ross
Favorite one-liner: I have an ant farm; most people call it my kitchen.
Sam Higgins is shy.
In fact, he's a quiet conversationalist who acknowledges his behavior in his e-mail address, "shysockpuppet."
But despite his coy demeanor, he's one of Tulsa's youngest aspiring comedians.
"It's not always easy for me to get up in front of people," Higgins says. "I think it might be the fact that the audience is usually an older demographic, so it's not like I'm trying to impress a girl or even trying to make a new friend.
"It's different being in front of an audience rather than being out with friends or meeting new people. There isn't a rapport between me or anyone. I don't have to get to know anyone, and I don't have to pretend I'm more interesting than I really am … I can be myself, people actually listen to me and, hey, sometimes they even like what I'm saying."
At just 20 years old, Higgins is already well known in Tulsa's comedy scene. Although he's only recently become old enough to go into a comedy club to do standup (the required age is 18), Higgins has performed comedy for five years.
As a sophomore at Bishop Kelley High School, Higgins says he had a "desperate need for positive attention," so he spent his lunchtimes watching taped comedy shows such as "The Daily Show" with Jon Stewart and "Late Night with Conan O'Brien" in an effort to learn comedic material that he could repeat for the lunch crowd.
"I tried working jokes into a conversation," he says. "Sometimes it was something I heard the night before, (before) I would sometimes have the audacity to try something I wrote myself." 
Higgins made his first attempt at standup at a school talent night, where he says the gymnasium had "bad acoustics" and he gave a "mediocre" performance. But that didn't stop him from trying again.
He started organizing open mic events at coffee shops in Jenks on Saturday evenings, inviting comedian friends he had met at local places such as the Gypsy Coffeehouse, which hosts an open mic night every Tuesday.
"At the time, I wasn't old enough to go into an actual comedy club," he says. "I really wanted to tell my jokes in the context of a show instead of trying to work them into a conversation."
Higgins describes his sense of humor as dry, and he says he gets his ideas from being raised in a single-parent household and growing up frustrated and lonely as an only child.
"Sometimes I start my set by saying 'My name is Sam Higgins, but sometimes my mother mispronounces it,' and then I sigh," he says.
He says his material is funny because it's real.
"It takes honesty because the best humor is what someone can associate with," he says.
Higgins continues to perform when he's not taking photography courses at Tulsa Community College, working at a restaurant or writing or creating short films. He plans to finish college and pursue a career in comedy, although he admits that being a traveling road comic would be difficult.
"It would be hard because, to be honest, I've never been on my own away from home," he says. "It would be a good experience to get out in the world, see new places, new things and new groups of drunken people who expect you to make them laugh. I hope to do that someday."
COREY DOUGLAS
Comedic inspirations: Steven Wright, Richard Pryor, George Carlin
Favorite one-liner: I don't use my cell phone while I'm driving because I shouldn't call anyone when I'm drunk.
Standing over 6 feet tall, Corey Douglas makes a large impression on his audience, not only with his height but also his ability to make people laugh out loud.
Douglas has participated in open mic nights at The Loony Bin for the past two years and has recently risen to emcee status. As emcee, he performs a five- to 10-minute show and introduces the evening's seven comics performing open mic standup, as well as the  feature and headlining comedians.
"It's a little bit of the rush of having 'made it' that someone is willing to pay for the funny," he says. "It's also scary because unlike open mic, you are part of the show. But you're not the headliner, or even the feature. You have to warm up the crowd and get them in a good mood."
He also coordinates the Nightingale Theater's  standup showcase presented by "A Murder of Comics," held the first Sunday of every month, in which local comics perform a four- to 15-minute standup routine for an eclectic crowd of family, friends and regulars.
"One of my main focuses is fostering everyone around me," he says. "Primarily it affords the comics more stage time to develop and use a stage outside The Loony Bin."
Douglas, 36, stays busy with his comedy work, although he says he gets his material from "just living life" and "day-to-day" occurrences at his job or at home.
He also chooses his performance material based on the reactions he gets from statements he makes to his friends. He says he prides himself on his quick and witty responses.
"A lot of people say they wish they could say the right thing at the right time," he says. "I do that. A lot. It comes from doing improv, which trains your mind to find the quickest route to something funny."
Growing up in Broken Arrow, Douglas attended the University of Central Oklahoma for theater, where he fell in love with improvisation. Although he received his degree in theater arts, he decided to stray from theater and focus on comedy and improvisation instead.
When he moved back to Tulsa, Douglas joined improvisation troupes before starting his own, called See Dick Run, with a few of his friends.
"As a group, we all truly enjoyed performing together and we started venturing into sketch comedy and writing scenes and monologues," he says. "We were focused on giving the audiences the best possible show, and that led into a few of us doing standup routines as part of our show."
While he continues to work his day jobs at local restaurants as a waiter, Douglas plans to create demo tapes and make a career as a comedian.
"There's nothing more golden than making someone laugh," he says. "I enjoy making people happy."
SUSAN FREEMAN
Comedic inspirations: Jim Gaffigan, Mike Birbiglia, Demetri Martin
Favorite one-liner: I've been sober for eight years. I couldn't have done it without the 12-step meetings … and my coke dealer.
Meeting Susan Freeman is like seeing a friend's mom for the first time. She likes to relax in jeans, starch her hair, wear dainty jewelry and keep her makeup simple.
"People tell me I look like a soccer mom, teachery-like," she says.  "But I don't act that way in my comedy."
A mother and former English teacher, Freeman is one of Tulsa's few female comics who perform at The Loony Bin.
Originally from Vancouver, Wash., Freeman moved to Tulsa in 2005 when her husband of 20 years transferred jobs in the oil and gas industry. She switched from her teaching career to working as a vocational counselor for people with cognitive and physical disabilities.
Although she never considered open mic before moving to Tulsa, especially because she had a history of public-speaking panic attacks, she decided to give it a try.
"When open mic first crossed my mind, I thought, 'Really? That's crazy. Why would I do something like that?'" she says. "But on second thought, I was like, 'Why not?' I figured me surviving an open mic would be a flaming miracle no one who knows me could deny."
After watching one open mic show at The Loony Bin, she planned to go the following week to give her first performance.
"I thought, worst-case scenario, I wet myself on stage and have a story to tell the kids," she says.
Instead, the audience laughed and she survived her first show. 
That was two years ago. Now, Freeman is a regular at The Loony Bin, and although she's a "late bloomer," she says she's found her calling at age 46.
"I do feel like standup comedy is a valuable public service," she says. "There's science to back it up now that laughter really is the best medicine, and in my own life I know I've been blessed with a lot of laughter. And I'm so bad about disciplining myself to do physical exercise, but my abs are rock-hard from regularly getting those good, hard gut-crunching laughs.
" … So if I'm able to bring some health and/or healing to someone by making them laugh, that's really a gift and a privilege to me."
Freeman describes her comedy as dark and concerned with real-life issues such as sex, stereotypes and family dysfunction. She even writes and sings her own nursery rhyme mockeries, which have been a hit with audiences.
"I think part of it is my mommy-ish delivery, 'homemade,' barely in tune singing voice," she says, but she admits that her songs are inappropriate for children to hear because of their adult-themed subject matter.
Freeman now travels to the other Loony Bins as an emcee, a level few comedians ever reach. Although she hopes her comic colleagues will.
"All the guys in Tulsa and Oklahoma City are super talented," she says. "I really feel it in my heart that the whole group is moving forward, and even though we're all individuals, it feels like a group effort."
AARON MICHAEL KING
Comedic inspirations: Dave Chappelle, Jim Carrey
Favorite one-liner: I'm better than poop, but not as funny.
For Aaron Michael King, it's all about facial expressions.
Whether it's furrowing his dark eyebrows, widening his eyes or stretching a smile from ear to ear, the 23-year-old Tulsan uses his animated face for laughter.
"My facial expressions are one of my greatest tools in comedy," he says. "Some people may think that to be a good comedian you have to have a lot of jokes. Well, someone said to me once, 'If you only make jokes, you'll only make broke.'"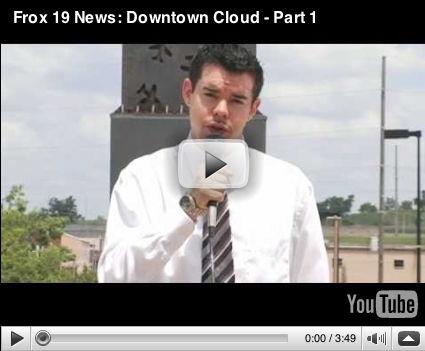 As a computer engineering student in college, King started working in the film industry making short Christian films for kids through a nonprofit organization in Memphis.
These days, he's focusing on his comedy career and working with Reed to develop an Internet comedy skit show called Chicken 'N' Gritz (click image to view). He hopes the five-minute show on YouTube will eventually get its own Web site show.
"I plan to have other local comics write some of the sketches on the show," King says. "I really believe that all these different perspectives mixed with our hilariousness will make the Internet show very successful." 
JAY DEE
Comedic inspirations: Dave Chappelle, Dana Carvey, Chris Rock
Favorite one-liner: I really don't make much money, and I actually have to sleep on an inflatable air mattress, which is really uncomfortable, especially when the blond hair and the stretched-out mouth get in the way.
Just call him Jay Dee. Not spelled J.D. And, no, Dee is not his last name. He's just Jay Dee, and he'll tell you why he doesn't share his last name.
"I have two kids," he says. "A son who is 9 and a daughter who is 12 … I don't want them to get any negative attention or any different type of treatment because of me being a comedian or if anyone likes or dislikes my material."
The father and comic uses his disc jockey-like voice to keep his audience laughing, along with his enthusiastic stage presence and material about current pop culture with jokes about the ShamWow guy, Miley Cyrus and even the McRib.
"McDonald's always makes a big deal about their McRib being 'back,'" he says. "Personally, I don't think anyone asked for it to come back, and I've really never seen so much attention over a piece of processed meat that has been custom shaped to look like a rack of ribs and has grill marks painted on with caramel coloring."
Jay Dee, 29, will be the first to say he has traveled a long road to get to where he is today.
Growing up in Texas (although he was born in Tulsa), he says he was the class clown and the funny guy in the family.
"I was the kid who got in trouble and made his parents laugh to get out of trouble," he says.
It wasn't until several years later, during his mid-20s, when Jay Dee watched a standup comedian "just bomb" on "The Tonight Show with Jay Leno" that he decided to give comedy a try. 
"It was painful to watch," he says. "But I thought, 'I could compete with this.' So I thought, 'Why not?' and decided to give it a shot."
Once he moved back to Tulsa, he inquired around town about open mics and found one at the former Tulsa Comedy Club, which was holding an emcee competition.
"I was very nervous," he says. "My hands were shaking behind the mic and I had terrible stage presence … I wasn't even close to winning."
Despite his unsuccessful attempt to win, Jay Dee says he continued doing comedy because he "could go nowhere but forward."
And he did.
Today, Jay Dee emcees at The Loony Bin and travels to other comedy club venues. He even booked a standup gig in North Hollywood at the legendary HaHa Comedy Club, where celebrity comedians often perform and occasionally catch a show. In fact, the man who performed before Jay Dee recorded a Showtime special, and other comedians around him were featured on NBC's "Last Comic Standing." 
"The opportunity was great, but I'll admit I set high expectations that weren't exactly met with (my) mediocre-at-best performance," he says. "That's when I learned to not set too high of expectations with audiences and to just go up there and have a good time for me. If they jump on board, then hell, yeah, we'll all have a good time. If not, then I don't worry too much about it because not every single show is going to be gold."
While fans can continue watching Jay Dee make his footprint here in Tulsa, he hopes to one day have his own Comedy Central special, collaborate with other comics in sketch comedy or get some of his standup on Satellite radio.
"I still have the drive to bring my comedy to a national level, but until then I'm having a hell of a time putting a dent in the Tulsa comedy scene," he says.
DAN FRITSCHIE
Comedic inspirations: George Carlin, Dana Gould, Bill Hicks
Favorite one-liner: I'm addicted to television, and now I have TiVo, which is kind of like switching from heroin to methadone. You're still an addict; you're just managing your time a lot better.
Dan Fritschie rocks a red-faced Darth Maul watch on his left wrist.
But this is only one of many "Star Wars" items he owns, including framed posters in his living room and "Return of the Jedi" sleeping bags for when he needs "an extra blanket on a cold night," he says.
In fact, Fritschie's fascination with "Star Wars" was one of many reasons he became friends with his comic colleague, Corey Douglas, also a fan, when they met through a common group of friends.
Eventually, Douglas, who was already doing standup in Tulsa, asked Fritschie to perform at The Loony Bin, but Fritschie says he had always wanted to write comedy rather than perform on stage.
"I felt I'd rather be a writer so someone else could perform it," he says. "But now, doing standup has changed the way I write. It's not as dark as I used to be."
Last year was his first year to take center stage at The Loony Bin's open mic night after attending the Wednesday night writers' workshop for two months.
"I'm the kind of guy with the worst-case scenario on my mind before I go on stage," he says, noting that he has often envisioned being pelted with beer bottles by an unhappy audience. "But even if I had done a bad set that night, I would have gone back even if it killed me."
The worst-case scenario never happened and Fritschie has returned to The Loony Bin ever since to perform routines, most of which are based on his life, but with a twist.
"I take something that's true to me and take it down weird avenues," he says. "One part is reality and everything else is not."
Fritschie says that if he has a little kernel of truth, he feels more comfortable because he's a horrible liar.
"I've always been the kind of person who's good at telling a story to someone and embellishing a few of the details for dramatic effect," he says. "It's not a lie; it's a romanticized version of the truth. It's the same thing with my material."
Fristchie seems comfortable doing a solo performance, but he says he channels his nervous energy into sarcasm, which works like a charm.
"There are two subjects that are the trickiest to pull off on stage anywhere: politics and religion," he says. "People are always going to be a bit touchy about those things, especially here in Oklahoma. I don't particularly like doing anything really offensive in my comedy, but every once in a while something comes along that's too good not to do on stage at least once."
Fritschie, 32, did have some background knowledge of live performances. During high school in his hometown of Fort Smith, Ark., he became involved with plays and improvisation competitions.
After attending Oklahoma State University Institute of Technology in Okmulgee for graphic design, Fritschie eventually moved to Tulsa, where he now works as an art director for a local printing company.
"Graphic design was a pretty natural choice. My mother is an artist, and I grew up having her studio in what was supposed to be our den. I knew going out of high school that I wanted to do something creative, but I also wanted to have some decent chance of getting paid for it," he says of his graphic design career.
Although he stays busy with his work, Fritschie makes time to hang out with his friends, who just so happen to be his comic colleagues.
"We support each other," he says. "We always say if one of us makes it, we're bringing the rest of them … They're the best friends a comic could have."