When the pandemic hit, the music industry screeched to a halt. Independent venues were devastated as shows canceled and ticket sales evaporated. The effects extended well beyond shuttered clubs and theaters. The music economy relies heavily on gig workers, independent contractors and part-time workers who found themselves out of a job overnight. Chief among them were working musicians. Masters of the side hustle, many of them turned to second jobs as a creative outlet and to make ends meet. 
Paint and play
Drummer Paddy Ryan is a fixture on the Tulsa music scene, and he's also spent time touring with national acts like The Secret Sisters. Like so many creative people, Ryan's talents aren't limited to one medium. He's also a gifted painter whose hobby is quickly becoming a steady source of income.
"I started doing watercolors on the road about four years ago when John Fullbright got me a travel watercolor kit as a gift," Ryan says. "That Christmas, I painted about 10 pet portraits as gifts for friends."
The paintings proved popular, and commission work followed. He was asked to paint a portrait of singer songwriter Allison Moorer's dog as a gift. Both Moorer and her Texas musician husband, Hayes Carll, have become fans and repeat customers.
"I think I've done something like 10 portraits for them over the years," Ryan says. 
Ryan has begun working in oil, adding portraits of people to his offerings. In a year without live music, he's grateful to be doing something he enjoys.
"As with drumming, getting paid to do what I would be doing anyway is pretty amazing," he says. 
Find more on Instagram at @foderick.
Jammin' jewelry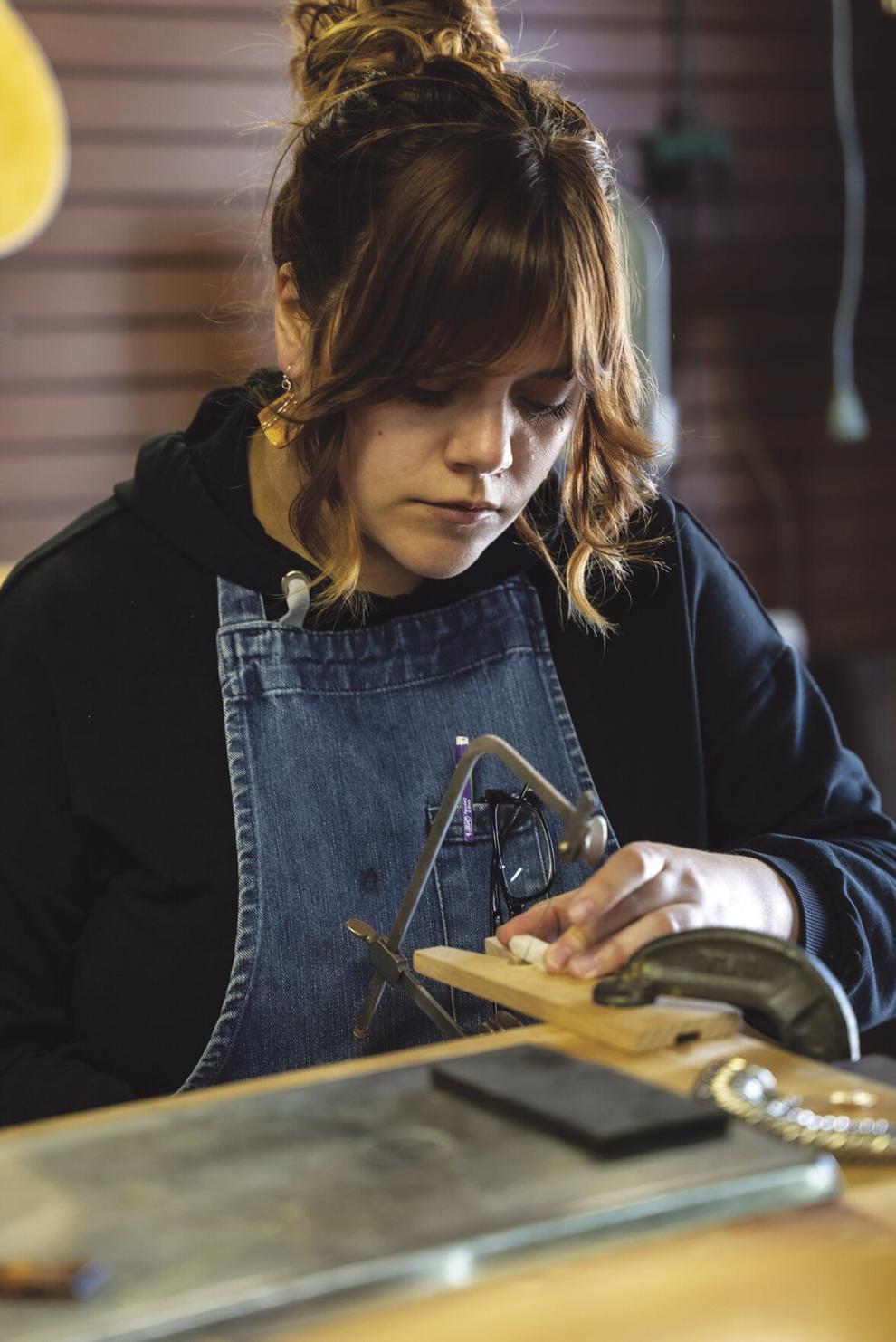 Singer-songwriter Rachel La Vonne created her first piece of jewelry from leftovers.
"My partner Seth Lee Jones builds and restores guitars for a living," she explains. "He always ends up with scraps, and he started saving them for me. My first pieces of jewelry were made of turn-of-the-century piano keys."
"I love using recycled pieces from old instruments," she says. "Each piece has a story, a history of being a part of a sound or a person's past life." La Vonne also has used materials like Italian celluloid, flame maple, onyx and turquoise in her creations, which include earrings and necklaces. Find La Vonne's jewelry on Etsy at "LaVonne Creations" and on Instagram at @lavonnecreations.
Creative carvings
Dustin Pittsley plays a wicked guitar. As leader of the Dustin Pittsley Band, he's a favorite of blues and rock fans alike. He's also a skilled craftsman who makes furniture pieces, and even sculptures and bowls, from wood he often harvests himself.
"I use wood from practically anything, but I really like the process of cutting it down and drying it out," Pittsley says. "I've had friends call me on multiple occasions to tell me they've seen a tree being cut down somewhere. I'll jump in the van and go get some of it."
Pittsley has sold many of his pieces, and he's also exhibited several at Royce Myers Gallery, 1706 S. Boston Ave. 
"This is 100% a creative outlet," Pittsley says. "I would be doing it whether it paid or not. Luckily, it's working out pretty well." 
Go to pittsleycreations.com to learn more.
Artful aesthetic
It's been a busy year for vocalist Sarah Frick. Her glam rock band, Golden Ones, released its first full-length album, "Nowhere Fast," in fall 2020 on Tulsa's Horton Records. In addition to her musical gig, Frick's been a graphic designer for four years. She uses her talents to create the band's album artwork, merchandise, posters, logos and more.
"I draw inspiration from musicians and bands I love, as well as from artwork from the 1920s through the 1980s," she says. "I recently did a series of psychedelic zodiac stickers based on antique art noveau figurines. I pull a lot from vintage fashion and movies, as well." 
Find Sarah's work on Instagram at @sarahfrickcreative, or visit her website