What is it about the banjo? As a musical instrument, it's oddly polarizing. Embraced by traditional bluegrass bands, revivalists and hipsters alike, it's as likely to be the punch line of a corny joke as it is the opening riff to an Avett Brothers song. 
Love it or hate it, the banjo's roots go back hundreds of years, and that clangy, jangly sound is here to stay. For proof of its perennial power, look no further than this year's Grammy Awards on March 14. Nominees for "Best Bluegrass Album" include releases from banjo wizards 28-year-old Billy Strings and 59-year-old Danny Barnes. Both are celebrated for their unconventional, innovative takes on this traditional instrument. 
Barnes creates music on a Bishline Banjo, made right here in Tulsa by luthier Rob Bishline.
"I contacted Danny and told him how proud I was of him for just getting the nomination because he's worked extremely hard in his life to follow his passion," Bishline says. "Like all artists, I think he's suffered for that, and it's nice for him to be recognized."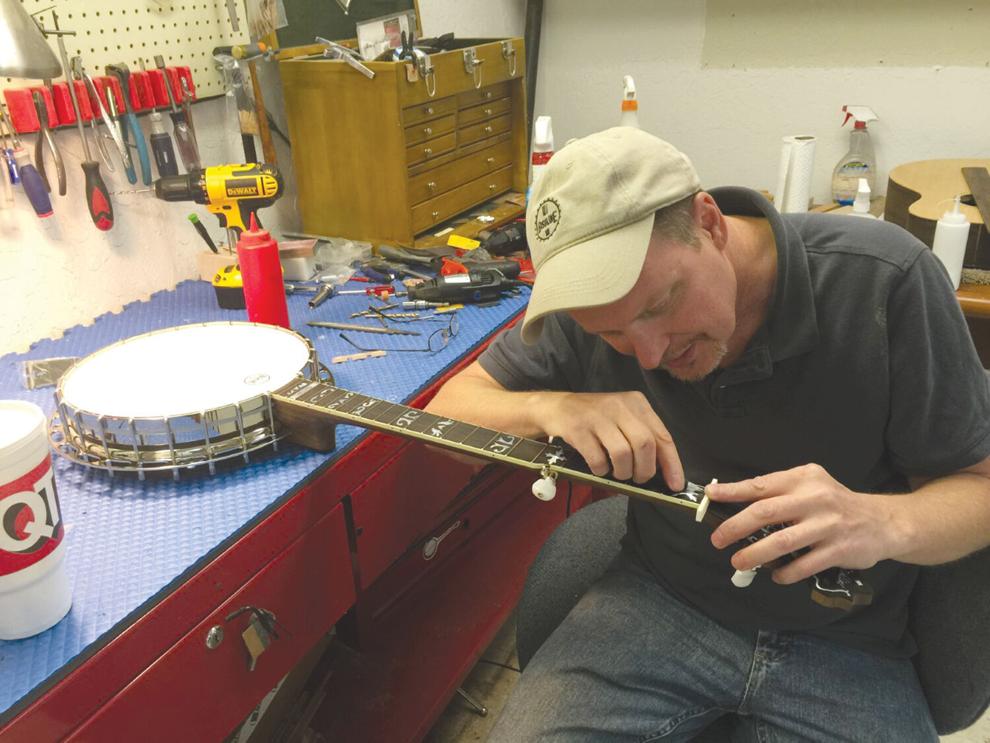 Bishline first met Barnes years ago when Barnes purchased one of Bishline's banjos from his vendor booth during the International Bluegrass Music Association (IBMA) awards. Bishline was impressed with Barnes' talent and his lack of ego. 
"I felt like I'd known this guy my whole life. We really hit it off," Bishline recalls.
They kept in touch as Barnes began playing in front of larger audiences in bigger venues with bands like Yonder Mountain String Band and even Dave Matthews. With the electrified, louder instruments on stage, Barnes soon found he needed a different style of banjo, one he could amplify with less feedback. Bishline modified one of his existing models, using a wooden tone ring (in place of metal) and adding a pickup, or transducer. Thus, the "Danny Barnes" model was born.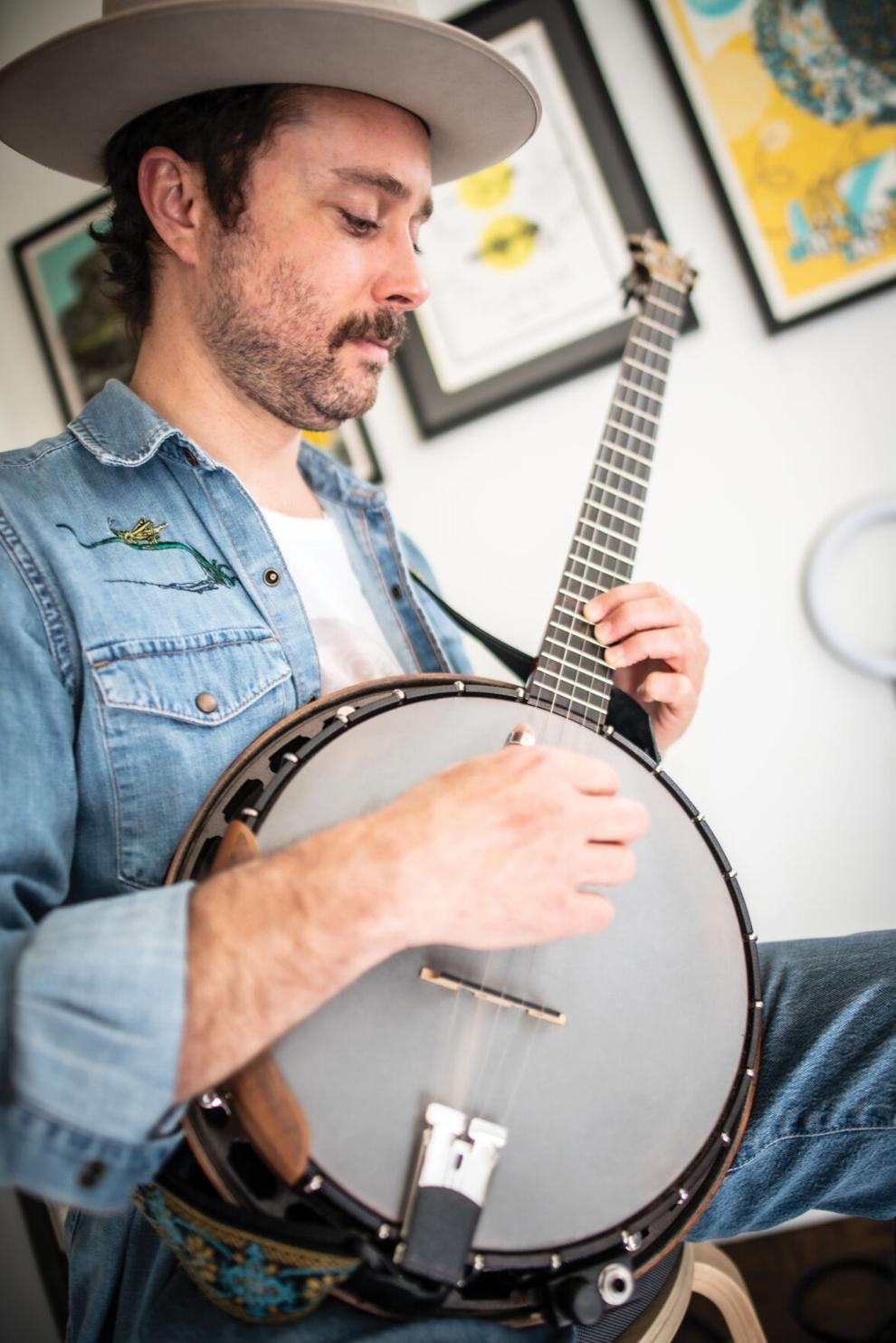 That banjo proved popular with many of Bishline's customers. Lighter than some traditional banjos, it's a good fit for older players looking for a more comfortable instrument with less wear and tear on their shoulders and backs. It's also a favorite of many young, progressive players, who appreciate this banjo's versatility and rock and roll functionality. 
Tulsa musician Cody Brewer has his own custom Danny Barnes Bishline Banjo. He even helped build it when he worked for Bishline. 
"When I first found out about Danny Barnes and that Rob had made his banjo, I was blown away because he's played with Dave Matthews and all kinds of crazy stuff at that level," Brewer says. "And Rob is just a normal dude. You'll never get it out of him that people like (15-time Grammy Award winner) Béla Fleck have been in his shop and that he's made banjos for all of these famous people. He has an unassuming attitude about all of it."
Tulsa wouldn't be home to a world-class banjo maker today if it weren't for the fact that years ago, a 13-year-old Bishline couldn't think of a way to get a drum set up into the tree house he and his buddies had built over the top of a railroad track. 
"So I dumped the idea of being a drummer, and I didn't want to play guitar because that's what my friend was already playing," Bishline explains. "Somehow I got on the track of the banjo. I bought one at Service Merchandise and started playing it. It wasn't long after I got it that I wanted to change this or that, or put a new head on it, or just tinker with it and take it apart."
Bishline eventually went to luthier school in Arizona. After returning to Tulsa in 1984, he sold his banjos through the music store where he worked at the time. The instruments gained a following. One customer, Frank Davenport, who also was Bishline's banjo student, was particularly impressed. Davenport and his friend Andy Oatman decided to form a partnership with Bishline in 2003, which allowed Bishline to pursue his trade full time. The company grew. Bishline Banjos are sold directly to customers as well as through dealers across the U.S., with orders from all over the world.
Although business has been solid, 2020 was a challenging year for Bishline. In addition to all of the pandemic-related issues, Oatman, Bishline's longtime friend and business partner, died after a battle with cancer at the end of 2019. Oatman handled many of the day-to-day aspects of running the physical business, and with his passing, Bishline decided it was time to return to a simpler way of working. He let go of Bishline Banjos' large showroom, workshop and teaching facility 4633 E. 31st St., and is back to making banjos on his own from home. 
"It made sense for me to turn loose of that and just focus on building," explains Bishline, 59. "It's been a really strange year. I'm thankful I've been extremely busy building and selling a lot of banjos. I've gone back to doing everything on the banjo, just like I did when I was younger. My hands are in every single bit of the building process."
---
The 63rd annual Grammy Award Ceremony, hosted by Trevor Noah, will air 8 p.m., March 14, on CBS. To learn more about Bishline Banjos, visit bishlinebanjos.com.