"Streets and their sidewalks — the main public places of a city — are its most vital organs." So said Jane Jacobs, renowned urbanist and author of "The Death and Life of Great American Cities." If it's true, the people flowing through Tulsa's streets and sidewalks are the lifeblood that keep the city's heart beating. 
On a Saturday night in autumn in the Blue Dome District, the streets teem with people. Small groups form at intersections waiting for illuminated walk signs to signal a safe crossing. Drivers negotiate back-in angle parking on East Second Street before joining the flow of pedestrians. 
On a sidewalk, a man steps off the curb and into the street, allowing women to pass. People on electric scooters zip up and over the railroad overpass, crossing into the Tulsa Arts District, where a similar scene unfolds. Families flock toward ONEOK Field for a soccer game.
On North Main Street, Cain's Ballroom ticket holders park in dark lots, cross under Interstate 244 on foot and emerge in a bright, bustling downtown district.
If you've regularly spent time in downtown Tulsa over the past five to 10 years, you've surely noticed the shifting streetscapes. Businesses and buildings have boomed and the City of Tulsa has, in turn, invested in more equitable infrastructure that supports a multi-modal flow of people downtown. 
Jane Ziegler, transportation planner and bicycle and pedestrian coordinator at the Indian Nations Council of Governments (INCOG), says safety is the No. 1 priority, and projects like bike lanes and other Complete Streets projects allow safe travel for all. 
Complete Streets refers to city projects aiming to calm traffic in busy areas and free up right of way for bus stops, bike lanes and sidewalk improvements. They are typically simple re-striping projects that convert a four-lane road to a three-lane road (two travel lanes and one center turning lane) or, in the case of downtown's South Boulder Avenue, a one-way street to a two-
way street. 
Installing bike lanes is less expensive than building automobile infrastructure. However, car-less Tulsans pay the price for inconsistent implementation, according to Kolby Webster, Tulsa Young Professionals' (TYPROS) outgoing Urbanist Crew Leader and cycling advocate. 
Though the city relies on a bicycle and pedestrian master plan, bike lanes in and around downtown have been implemented in fits and starts, like the recently-
striped bike lanes along East Pine Street that were removed entirely after six months.
Residents were caught off guard by what they perceived as a sudden, unannounced rearrangement of travel lanes, according to a Black Wall Street Times report. In response to public pressure, the City of Tulsa removed the 4-mile stretch of bike lanes.
"It cost me my safety as well as 10% of the city of Tulsa who doesn't own a car,"Webster says. "I can't blame the community for being in the dark when the City didn't communicate at all."
Not all lanes are created equally, either. Webster points out the dangers of bike lanes on East Archer Street.
"They are nearly half the size that a bike lane should be at minimum, the bollards that are supposed to separate traffic and commuters are too flimsy to do their job and counterintuitively end up as hazards in the bike lane, and people are constantly parking in it regardless — presumably because they have no direction as to how to navigate them and no consequences for doing so haphazardly," says Webster, who has been hit by a car three times while cycling in Tulsa.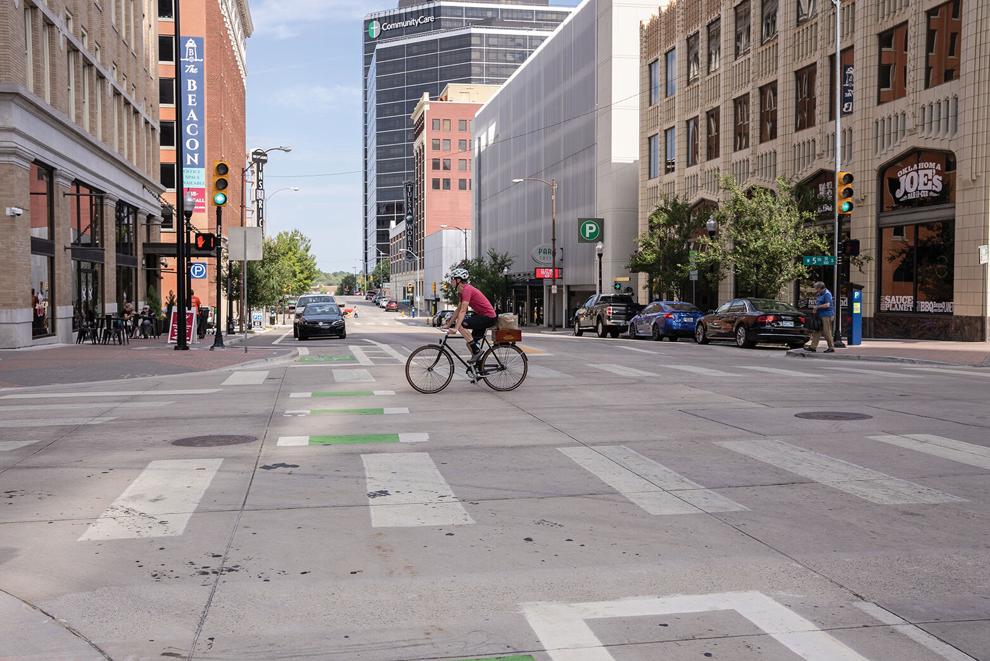 When you're a cyclist or a pedestrian it's tempting to see cars as the enemy, even though behind every car is a person. For drivers, traffic calming measures like bike lanes can seem like an impediment to a free and easy commute.
"Uses of public right of way on a national and international scale constantly evolve," Ziegler says. "For the past 50 years, they evolved with a car-centric focus. Due to new technology, lifestyle and social changes, the use of our public right-of-way has been evolving at a rapid rate over the past few years. This quick change can make people uncomfortable."
If removing a lane of traffic to make way for bike lanes makes you uncomfortable, brace yourself for this big idea: removing an entire segment of Interstate 244. 
Cody Brandt, incoming co-crew leader for TYPROS Urbanist Crew, proposes rebuilding the north leg of the Inner Dispersal Loop (IDL). He presented the group's research in June via Zoom and on Facebook Live. 
The idea is more than a pipe dream for young urban idealists. Tulsa's I-244 was highlighted in Congress for the New Urbanism's "Freeways Without Futures 2021," an annual report that "tells the story of some of the worst highways in America; the ones that have left a terrible legacy and incredible hurdles for the people who live around them."
For Black Tulsans in particular, I-244 tells the story of displacement, blight and the final blow to the historically vibrant Greenwood District, also known as Black Wall Street. The interstate separates residents in other areas like Kendall Whittier and the Heights from what are otherwise walkable areas downtown.
The finished product downtown would be similar to Riverside Drive around the Gathering Place or Peoria Avenue through Brookside, Brandt says. "We're really just changing the infrastructure to be more scaled to the neighborhoods … not getting rid of it. Roads like Riverside, Yale, Memorial, 71st, all carry over 40,000 cars per day, which is more traffic than most sections of the IDL carry daily," he says.
Ben Crowther, program manager at Congress for the New Urbanism, says the report showcases the urban highways in America that are prime for transformation.
"If we went back a decade or more, people would think this was crazy," Crowther says. "But we've done this 15 times (across the country) and every time the result has been an improvement. This idea is not crazy; in fact, there are a lot of benefits."
Those benefits include returning approximately 150 acres of Oklahoma Department of Transportation right-of-way to the local community; Brandt points out ODOT does not pay property taxes, while homeowners and business owners do.
His presentation estimates the project at $250 million for demolition and street grid restoration; the investment is expected to pay dividends through economic development and tax revenue. In 2017, Rochester, New York, spent $25 million to remove the eastern section of its downtown interloop. Crowther says it has already seen a $229 million return in the first two years through construction and expanding housing and commercial space.
Just as bike lanes have been met with resistance, the demolition of a highly trafficked segment of highway is sure to be met with opposition. But unlike the bike lanes, I-244 removal wouldn't happen suddenly. Removal relies in part on finishing the Gilcrease Expressway Loop, according to Brandt's presentation. Crowther says these projects often take a decade or more to complete. 
"We've built a system in America where highways are the natural order of things for anyone who's grown up in the past generation," Crowther says. "Putting forward this idea, you're challenging the perceived order of things."
Changes are happening on a national scale. The Biden-Harris Administration released a plan June 1, the 100th commemoration of the Tulsa Race Massacre, to rebuild Black wealth in America. This includes federal funding for community-led civic infrastructure projects..
Webster believes putting people first should be the natural order of things if we want to continue building social and economic wealth in Tulsa, a city inequitable in many ways. "(The inequity) is most violently seen in the life expectancy disparity of north Tulsans versus south Tulsans. In order to undo this injustice, we have to start with how we use this land," Webster says. "If we don't address the land where the roots of all our problems lie, we will never solve the dire immediate issues, the slow violence killing and sickening our neighbors, or the overall wealth of our community. Land use and infrastructure are how we must begin the process of undoing the tragic and fatal inequities of this city."
Though no one at the City has made specific comments about the TYPROS presentation publicly, the idea has been shared with City staff, Brandt says. The group has talked with City Councilors Kara Joy McKee and Vanessa Hall-Harper, and with people in the Mayor's Office and County Commissioner's Office. 
In June, McKee announced she and other councilors were planning meetings to discuss Interstate 244 in the Greenwood District, but those meetings are being delayed because of COVID-19, Brandt says. The group is also working with Rep. Regina Goodwin on an interim study about the idea, which is scheduled for this fall.