Some parking spaces outside downtown businesses have been converted into parklets, extending the outdoor space where drinkers and diners can dwell while adhering to social distancing guidelines.
Parklets can be temporary, like the ones seen Sept. 20 on Park(ing) Day, a community collaboration to transform on-street metered parking spots into temporary outdoor spaces, but some locations have become more permanent fixtures thanks to the City of Tulsa's Parklet Permit Program and TYPROS' Street Cred: Project Parklet.
Andolini's Sliced 
This downtown restaurant is a one-stop shop for pizza and gelato. Some of the hand-spun pies are available by the slice, and include Andolini's style, Roman style rectangle slices, New York City style and more. Gelato flavors change out frequently, so there's always something new and sweet to try. 
114 S. Detroit Ave. | andopizza.com
Chimera
Take a seat along Main Street in the Tulsa's Arts District outside of Chimera, where you can enjoy coffee concoctions, libations and creative dishes. Many dishes are vegetarian or vegan and include bowls, sandwiches, salads and tacos — the crowd-favorite Teenage Riot sports scrambled eggs, fauxrizo (vegetarian chorizo), caramelized onions, cheddar jack cheese, avocado crema and cilantro. The glass case of rotating treats is sure to satisfy your sweet tooth, and for those who have resolved to eat better in 2021, the juice of the day is always a refreshing, healthy option.
212 N. Main St. | chimeratulsa.com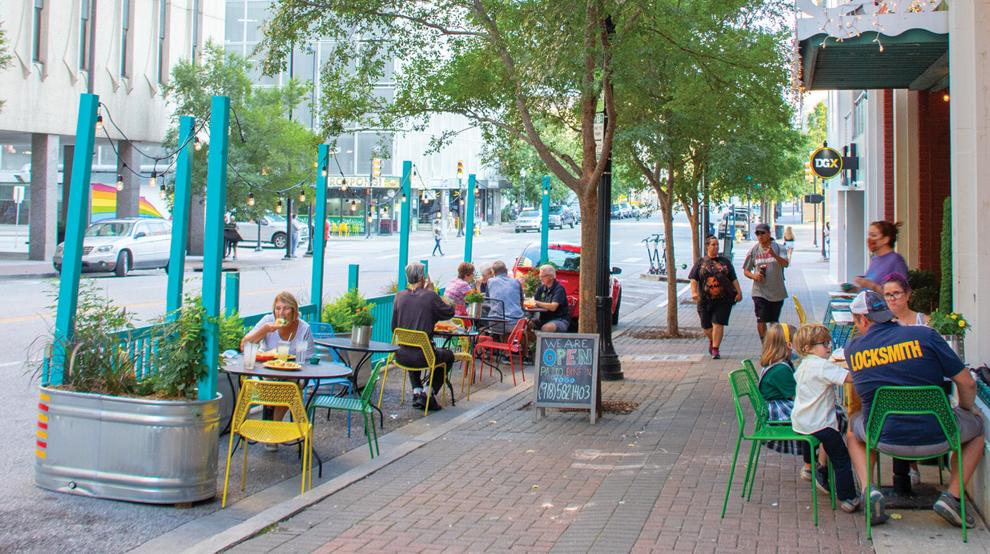 Elote
It's hard to beat the downtown view looking north on Boston Avenue, and Elote's parklet capitalizes on that urban vibe. Bright teal posts, colorful flags, and planters filled with native grasses and other plants set off the longtime restaurant known for its puffy tacos, tamales and dishes made with fresh, organic ingredients. Elote has an extravagant margarita menu and serves a range of Mexican beers, which makes it the perfect happy hour spot for chips and guacamole. Don't discount al fresco dining on cool nights; Elote's parklet, as well as its small, covered patio, has several outdoor heaters.
514 S. Boston Ave. | elotetulsa.com
Lone Wolf
The popular former food truck has expanded seating at its downtown location into a parklet shared with adjacent businesses in the strip. Lone Wolf's spicy and savory kimchi fries can be a flavorful appetizer or a filling meal on their own. Banh mi sandwiches, banh mi burgers, rice bowls and salads are other entree options with several flavors or creamy house aioli like Thai chili, cilantro pesto and roasted jalapeño. For dessert, snag a cookie or swirl of soft serve.
203 E. Archer St. | lonewolftulsa.com
Que Gusto
With colorful potted pansies, plenty of seating and the glow of strung lights, this parklet in the Tulsa Arts District makes for a cozy spot to grab dinner or dessert. Que Gusto is known for its flavorful empanadas and yucca fries, but its quinoa and black bean salad is definitely worth a try, too. For dessert, order the sweet plantain cake, which is naturally sweet and gluten free. In fact, there are several vegetarian, vegan and gluten-free options on its breakfast, lunch, dinner and dessert menus.
105 N. Martin Luther King Jr. Blvd. | quegusto.com