How many people does it take to write a children's book about Tulsa? 
If the book is "Opal's Greenwood Oasis," set in 1921 in an almost idyllic Tulsa district on the eve of calamity, the answer is three. The three heavy hitters are a collaborative team with deep credentials in writing, illustration, education and a dedication to historical research.
Quraysh Ali Lansana, co-author and team leader, has written some 21 books of poetry and nonfiction and children's literature, and studied Black Greenwood and the Tulsa Race Massacre for 17 years. He taught Civil War history to seventh- and eighth-grade students in Chicago's South Side, "a war zone itself," he says, so he knows how to make history engaging to youth.
Skip Hill, a mixed media artist presently based in Tulsa, scoured color advertisements of 1921 to make sure he had the right color palette of the period.
"We look at history through sepia tones," he says, "but the past was full of vibrant color." He combined drawings and historical photographs into a colorful collage so effectively, nearly every page is frame-able art.
Co-author Najah-Amatullah Hylton, an Oklahoma City high school teacher and poet, used her knowledge of literature to develop 8-year-old Opal into a strong and engaging protagonist. On her bicycle, Opal gives the reader a tour of real-life businesses and people thriving in a close and caring community and tells us, "In Greenwood, we have everything we need ..." It is one of the most important lines in the book, Hylton says. And one of the most heartbreaking for those who know the horror of the massacre.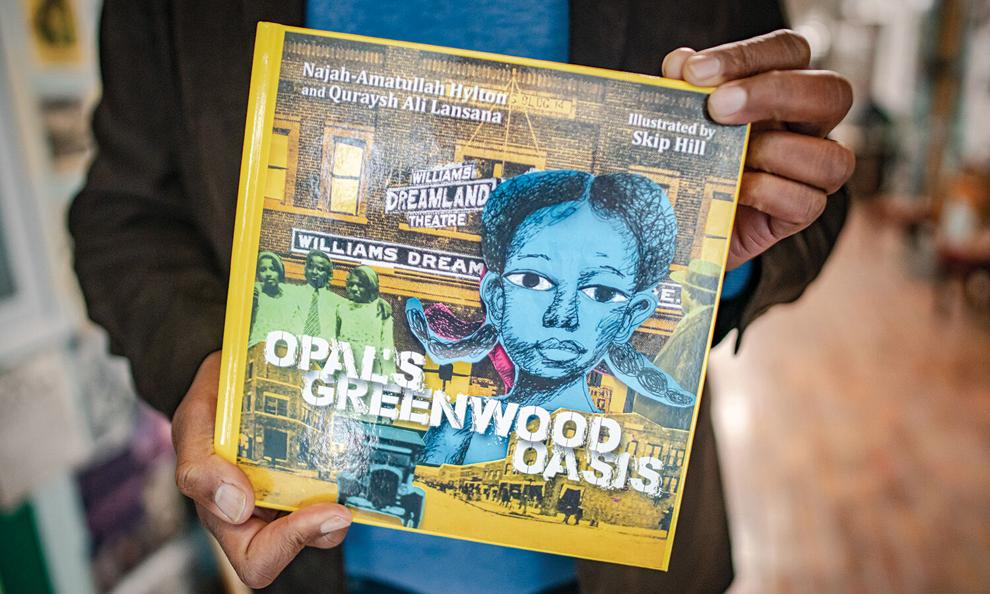 The history of Black people is more than being slaves and subservient to Jim Crow laws, Hill says. It's important for children in economically disadvantaged neighborhoods — north Tulsa and elsewhere — to see a neighborhood like Opal's thriving with economic vibrancy and cultural significance, Lansana says. This book is a way to "instill dreams in children to see a place like Greenwood in their lifetime." 
Opal's Greenwood was not a once-upon-a-time fairytale. It was a real place. "Even in Oklahoma under incredible obstacles and challenges," Hill says. 
"I believe in looking back to look forward," Hylton says. Her hope is the book will find its way to every public school and every public library and inspire people to look at the past and think of the future differently.
The team started working on the book in 2019, and it will publish Feb. 3. "Opal's Greenwood Oasis," published by Tulsa-based Calliope Group, was written for ages 7 to 12 but is of historic interest to adults. The book is available locally at Fulton Street Books and Coffee, Magic City Books, and online.