A bald eagle perched in its nest high above the Arkansas River pierces the crisp late-winter morning air with its high-pitched staccato whistles. A tiny painted bunting with its iridescent blue head, reddish-orange breast and shimmering green back flashes across a sunny spot in the trail, an astounding sight not far from a meadow that was salted and peppered by impressive clouds of black-and-white bobolinks a month earlier.
Meet just a few of the birds of Tulsa, a genuine birding hotspot by any measure. "Birding" is what the cool kids call it, by the way. No one goes "bird watching" anymore.
"We are kind of in the center of the country so Tulsa, which is the prettiest part of the state, and all of Oklahoma with its diverse set of ecosystems, sees a wide variety of migrants and has several hundred species around at any given time," says Jeff Cox, a longtime Tulsa Audubon Society member and organizer of the club's annual Christmas Bird Count.
The club founded in 1935 — though local birders studied and counted area avifauna years before that — reflects just how good Tulsa has been to the birding community. Avid birders of this east-meets-west, north-meets-south group try to notch around 400 species on their
Oklahoma "life list," an accounting of all the different birds they've seen, Cox says. The overall Oklahoma state list stood at 484 species in 2019.
"Years ago it was fairly easy to see 300 species just in Tulsa County," he says. "We're a little more developed now, but you can still get close to that number (after a few years of birding)."
What this means for beginning birders is that Tulsa is a great place to get started. It's as easy as picking up a Sibley's or Peterson's or Kaufman's field guide to the birds and some 7- or 8-power binoculars and stepping out your back door.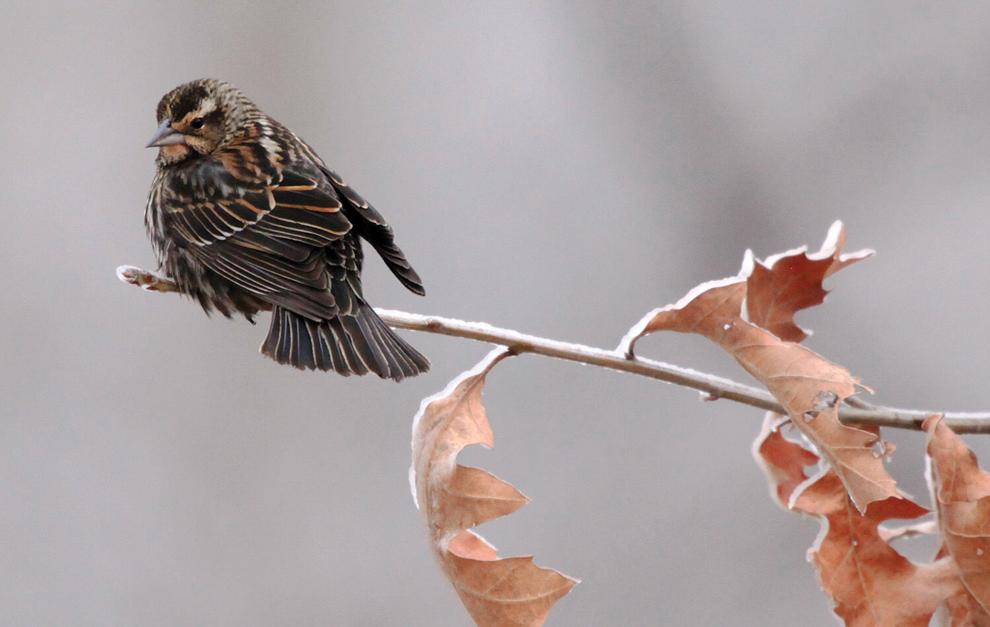 Binoculars and a field book are the time-proven basics, but the added new tools include the mobile app eBird, which helps birders track their sightings and browse what other eBird users are discovering around the area — even with maps that show exactly where to go.
Merlin, a related mobile app, assists with quick and basic bird identification and links to eBird for listings with a happy declaration of "This is my bird!" The app is helpful but not quite a replacement for the detailed information and illustrations offered on a single page in a good field guide.
Facebook is another birder's tool these days, and it only makes sense to connect with Tulsa Audubon Society or groups like Oklahoma Bird Watchers or Oklahoma Ornithological Society to keep tabs on unusual sightings or events where beginners can learn and make friends to help guide them along, Cox says.
With the simple gear and willingness to go, a birder is ready to begin finding the subjects of their new affliction.
"It starts with the greatest state bird of any, the scissor-tailed flycatcher," Cox says. "They aren't common in just every state you visit. In the winter we have a common bird here, too, that comes to backyard feeders, the Harris' sparrow, which nests all the way up in the Churchill, Manitoba (northern Canada), area."
Tulsa's Jim Arterburn chased life-list tallies and learned about birds for many years, but for the past 20 he has focused on photography that features dozens of species found just a couple of miles away — a 30- or 40-minute drive for a birder.
His online portfolio presents pretty photos, but it also shows viewers the variation in the males, females and juveniles of many species seen locally — differences that can be vexing identification puzzles for even the most avid of birders.
"The challenge of finding those birds that don't quite fit in is just part of what makes it fun,"
Arterburn says.
Choosing different places a short drive from Tulsa can increase the odds of finding a specific kind of bird known to be in the area, but the truth is you never know what you'll find, he says.
Along the Arkansas River on the Tulsa River Parks trails or at Gathering Place, the probability of seeing bald eagles is high. Least terns, great white pelicans, great blue herons, great egrets and other shore birds and waterfowl frequent the river, but that doesn't mean a tiny yellow-rumped warbler won't pop out of the brush near the river.
Areas to the south, in Bixby and Broken Arrow, the wide-open recreation areas are great places to see ground-feeding birds like sparrows, meadowlarks, and even Lapland longspurs or bobolinks during late winter and spring migration.
To the north and east are Oxley Nature Center and the Redbud Valley Nature Preserve, great places to find woodpeckers, those exotic-looking painted buntings, indigo buntings, eastern bluebirds, warblers and other woodland species.
"I really enjoy the birds," Arterburn says. "I used to go out to see how many different species I could see or find the rare ones. Now I go out and try to find an owl or a loon or something I really want to photograph, but if I don't find what I'm looking for I can always find something to photograph around here. There's just a lot out there."
---
Better to see them with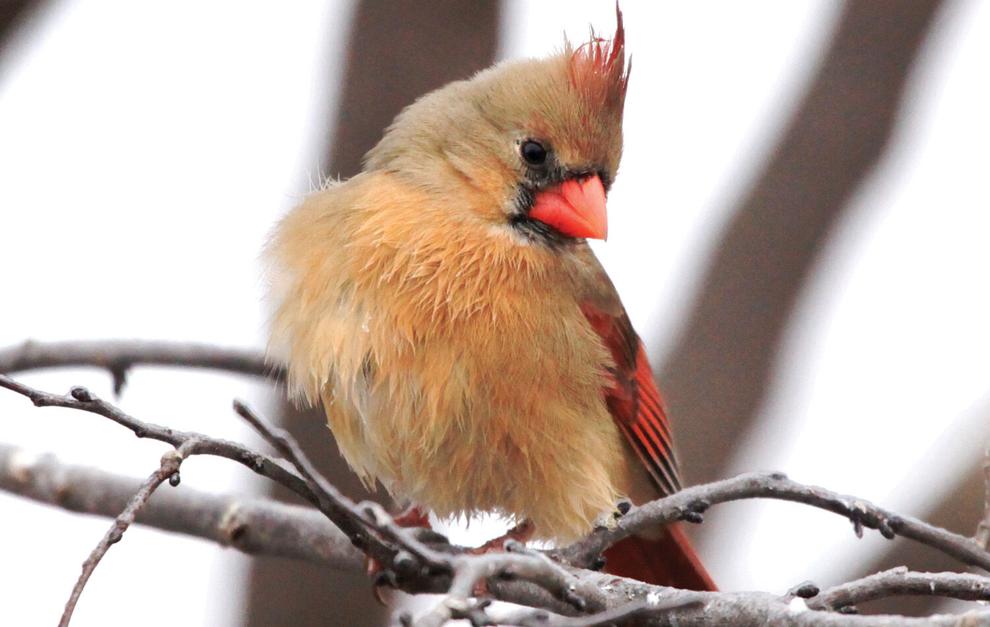 Choosing a pair of binoculars to start birding can be a daunting task. Everyone's eyes and hands are different, and spotting something in the distance and zeroing optics on it takes practice.
Most experienced birders use a high-
quality 8x42 binocular and carry a 20-60x spotting scope and a tripod. Some might have several thousand dollars invested.
A beginner will do just fine with a pair of 7-power or 8-power mirrored or Porro prism binoculars that allow in plenty of light for a bright and wide view and can cost less than $100.
Resist the temptation to buy 10-power binoculars. With higher magnification they might be darker, harder to hold steady and not allow as wide a field of view.
Those new to the game should not start with compact binoculars or zoom binoculars.
The place to start looking — literally — is at a local sporting goods store where you can put the optics up to your eyes, and preferably outdoors if the store allows it.
Physical features to consider are the weight and the comfort of the spread (to accommodate wider or narrower set eyes). The eye relief and adjustable eyecups are especially important for people who wear glasses.
Finally, the simple comfort of the optic in your hand and the ability to focus quickly and easily are key. You'll have to be able to keep them steady while searching and examining what might be a moving target, one that soon might disappear altogether.
---
Where can I find birds?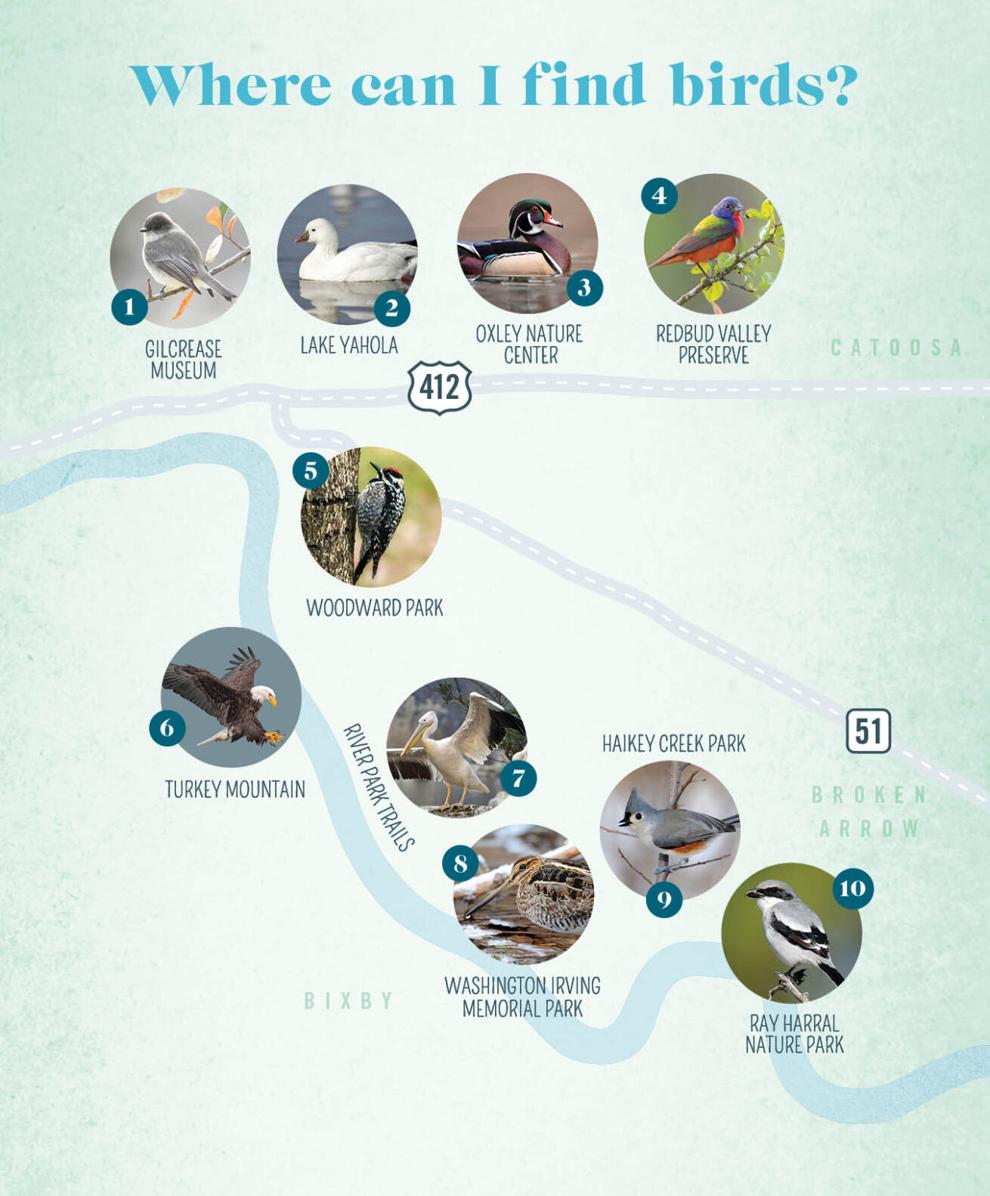 Tulsa Audubon Society has a long history of providing "A Guide to Birding in Oklahoma," first published by George Miksch Sutton in 1973, to members as a fundraiser. The guide ceased publishing in the mid '80s. Tulsa Audubon Society President John Kennington manages the TAS website and digitized the birding guide and other info. Find out more at tulsaaudubon.org/birding-guide.
Between the maps and listings on the TAS website, tips found by following social media and real-time notifications in the eBird app, birders in Tulsa will find there's just not enough time to hit all the great places.
Here are 15 birding hotspots near the city:
Gathering Place: great egret, green heron, common goldeneye
LaFortune Park: red-shouldered hawk, red-headed woodpecker, blue jay
Bixhoma Lake trails, Bixby:
pied-billed grebe, barred owl, white-eyed vireo
Woodward Park: yellow-bellied sapsucker, Carolina wren, cedar waxwing
Turkey Mountain: bald eagle, red-tailed hawk, pileated woodpecker
Lake Yahola: Ross's goose, common loon, purple martin migration in August
Washington Irving Park, Bixby: Wilson's snipe, Bonaparte's gull, Carolina chickadee 
Haikey Creek Park, Broken Arrow: sharp-shinned hawk, tufted titmouse, American goldfinch
Redbud Valley Preserve, Catoosa: white-breasted nuthatch, brown thrasher, painted bunting
Tulsa River Parks Authority Trails: bald eagle, great white pelican, belted kingfisher
Ray Harral Nature Park, Broken Arrow: loggerhead shrike, golden-crowned kinglet, brown creeper
Gilcrease Museum: yellow-billed cuckoo, chimney swift, Eastern phoebe
Keystone Lake Dam (with State and Corps of Engineers lake parks): redhead duck, greater scaup, double-crested cormorant
Oxley Nature Center at Mohawk Park: wood duck, green-winged teal,
yellow-rumped warbler
Skiatook Lake (with State and Corps of Engineers lake parks):
spotted towhee, great-tailed grackle, song sparrow
Visit jim arterburn's online portfolio at pbase.com/oklahomabirder.
---
Editor's note: Kelly Bostian has been an outdoors writer and editor for 35 years, working in Fairbanks, Alaska, and Tulsa. He now shares stories, how-tos and more through his All Things Outdoors newsletter at kellyjbostian.substack.com.