When a group of friends from Skiatook wanted to break into the cannabis industry, they knew working together would get them the results they needed to make a splash in a rapidly growing business landscape. 
They started Ruby Mae's, an edible company, in February 2019, says Ruby Mae's CEO Travis Hunter. Before launching Ruby Mae's with co-owner Eric Withrow (president) and Kyle Winton (director of operations), none of the business partners was a chocolatier. Lana Harrell joined Ruby Mae's shortly after inception as executive chef and lead sales consultant, tackling the challenge of finding the right recipes.
Now its recipes include handmade medicated chocolates filled with peanut butter, caramel or coconut. They come in packs of six, and each chocolate has a consistent dose of 20 mg of THC. Harrell says consistent dosing is important to the company because you don't always know what you're getting with edibles. 
"I'm scared to try other edibles, too, because you're (often) spending a lot of money, so you need to know that your dosing is going to be accurate," Harrell says. 
Once they nailed down recipes, they started looking for other brands to acquire.
"We knew if we wanted to survive and stick around, we had to just keep growing, add other brands and just keep building (business)," Hunter says.
That's why today three companies operate out of Hunter's building in Bixby: Ruby Mae's, Simply Bare skincare products, and the Culture and Cannabis media agency and brand. Ruby Mae's has grown to include six other brands and has expanded its product line to include gummies, hard candies, vape cartridges and pre-rolls infused with distillate (THC concentrate) and kief (THC crystals sieved from flower). 
Culture and Cannabis, a Las Vegas company launched by former Tulsan JC Coats and his partner Anthony Lee, specializes in producing media about cannabis, but the company also has pre-rolls and "Ready to Roll" kits that include rolling papers, filter tips and flower.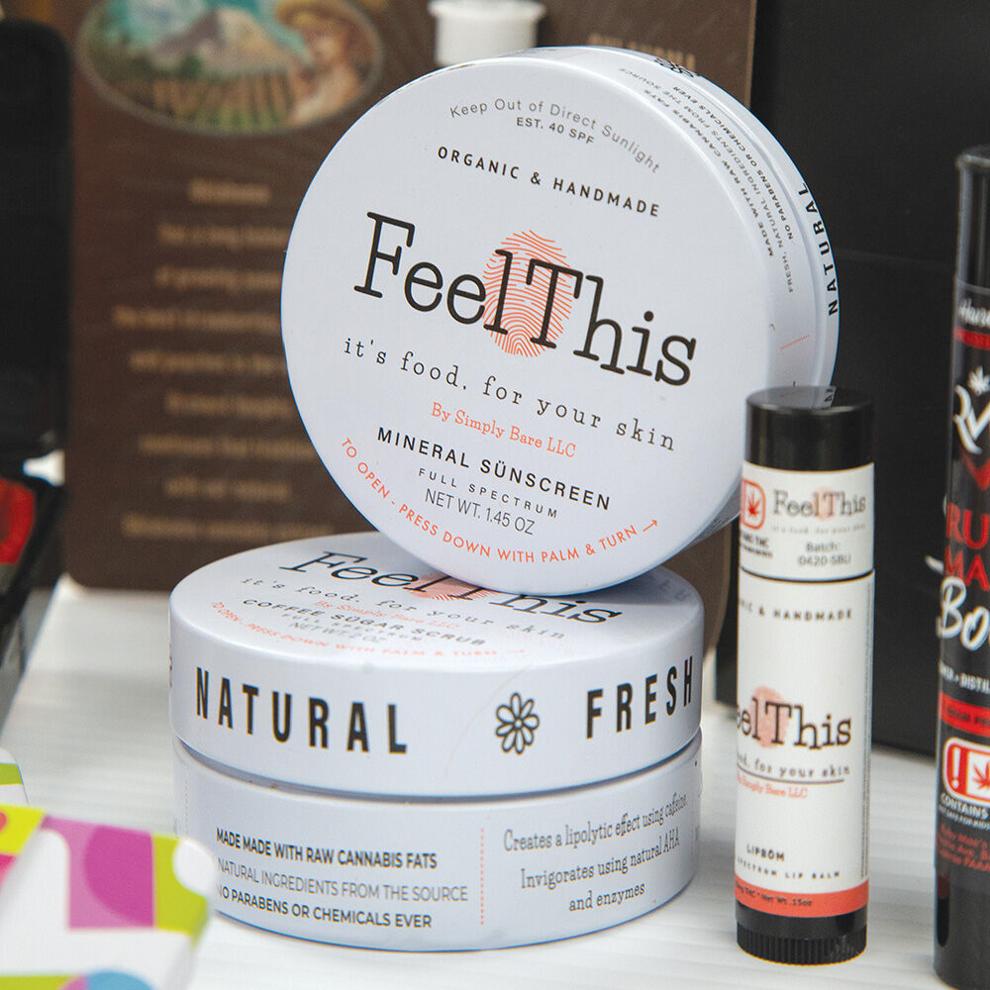 Simply Bare LLC produces a brand of organic THC- and CBD-infused skincare products like body butter, deodorant, a coffee-sugar scrub, chapstick, suncreen and more called "Feel This," created by Tulsan Asma Whitekiller. 
"I wanted to introduce a company into the cannabis industry that's completely free of chemicals — no additives, no alcohol," Whitekiller says. The THC infused in the products won't get you high. Instead, Whitekiller explains, it functions as a natural antibacterial and anti-inflammatory ingredient. "Whenever you put (THC) in skincare, if you've got an open wound or rash or dry, cracked lips — whatever — it is literally cleaning your skin cells and then calming them down." 
Whitekiller uses recyclable and biodegradable packaging and is passionate about creating awareness and eliminating plastic and chemical waste in oceans and waterways. 
"I think the biggest issue in the cannabis industry amounts to plastic," she says. That's why she held a recycling contest at local dispensaries in December, giving away a basket of products to the person at each location who brought in the most plastic to recycle. "I'm trying to change a lifestyle," she says.