The movement to support Black-owned businesses is not a new concept; backing the idea has long bolstered the Black economy and kept dollars within the community. Yet the Black community has been aware minority-owned businesses typically face more barriers to success. These barriers make Black-owned business more vulnerable to economic downturn like those presented by the COVID-19 pandemic.
Indeed, as the virus swept the nation last year, minority-owned businesses were disproportionately impacted, forcing many to permanently close. This was due to structural barriers to financial health and disproportionate representation in industries most susceptible to economic trauma, according to a study by consulting firm McKinsey and Co. At the same time, the racial reckoning that has recently shaken the country has inspired some people to change their spending habits as they have been exposed to long-standing economic inequalities.
Just over a year after the death of George Floyd, the centennial of the 1921 Tulsa Race Massacre approaches. During the Massacre, the businesses on Black Wall Street were destroyed by a racist white mob. Thankfully, many Black business owners rebuilt in the face of barriers and thrived, even in the face of continued hardships.
Tulsa's rich entrepreneurial history in the Black community continues today with a wide array of businesses offering goods and services. And while consumerism will not end centuries of racial inequality, one productive way Tulsans can remember this anniversary is to support Black-owned businesses by spending money intentionally and investing dollars in the community.
Meet four business owners, plus a guide to local Black-owned businesses:
Dragonslayer Games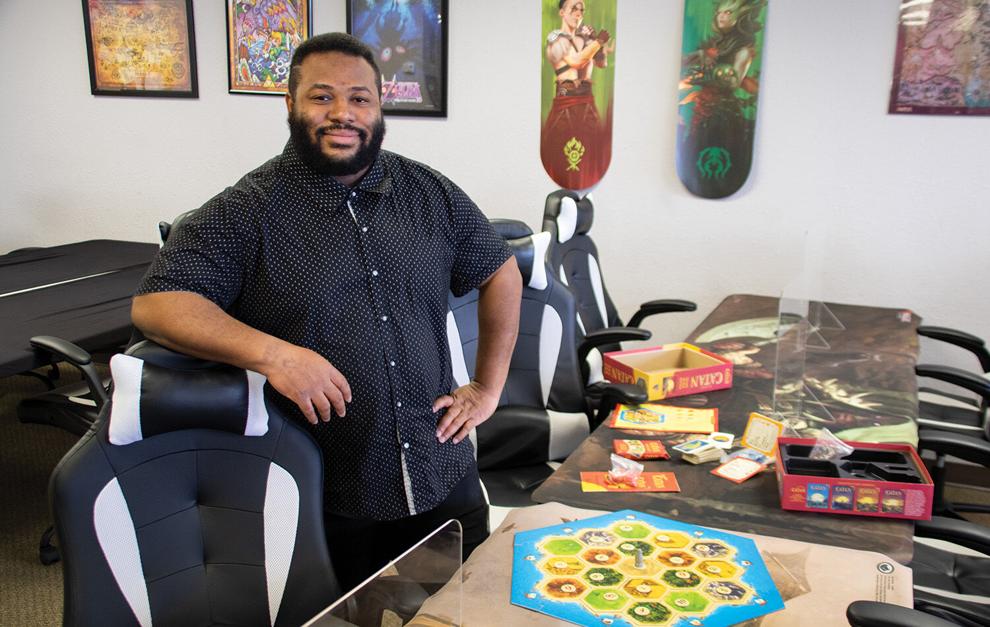 Dragonslayer Games, 3944 S. Hudson Ave., is a mixed-media gaming and hobby shop dedicated to providing its customers, who range anywhere in age from 6 to 55-plus, with a unique, customer-oriented gaming experience. Originally started as an online business, Dragonslayer opened its storefront in February 2016. Owner Daniel Parham is accustomed to a pre-COVID gaming world of interactive game nights. "We had card game events; we used to have board game and tabletop night, and that was something that I truly miss," Parham says. "We did have quite a few tables of D&D (Dungeons and Dragons) players. The whole place would fill up. We would have 50 people in the store (and) obviously, that does not work now." 
During non-COVID-19 times, tournaments take place in the store's game lounge where guests can take advantage of the snack bar. The store carries a wide variety of gaming essentials such as tabletop games, trading card games and video games, as well as Japanese collectible toys and anime-themed items. 
Since COVID-19, Parham has been forced to police mask wearing, something he never imagined doing as a business owner. "I feel like I've gotten a lot of a lot of training for when I go forward and (decide to be a) parent," Parham says. Parham looks forward to the day he can host a packed house again in his 3,000-square-foot store. 
Parham, who has played all kinds of games since middle school, has always wanted to run a business like Dragonslayer Games.
Habit Boutique 
Tulsa native and Booker T. Washington graduate Shavonna Caldwell opened Habit Boutique in May 2016. After spending some time in corporate America after college, Caldwell was looking to make a career shift as well as foster positive change in the community. "I was a little disturbed there weren't shopping options in north Tulsa," Caldwell says. "I have a background in fashion (retail), and my degree is in business management, so that's where the idea for the boutique started."
Caldwell hopes more businesses like hers will open in north Tulsa, bringing jobs and opportunity to residents. "Black Wall Street and the Greenwood District were my primary inspirations," she says. "To hear the stories of what once was and what isn't anymore is just heartbreaking for me because I was born and raised in Tulsa. Being inspired by the people who came before me is really what even pushed me to make the sacrifice to begin with."
Located at 1717 N. Peoria Ave., Suite 12,  Caldwell's shop offers a variety of women's contemporary clothing and accessories. Over her nearly five years as a business owner, Caldwell has seen the typical ebbs and flows of a small business, but nothing quite compares to running a clothing store in a global pandemic.
"The majority of my business is done online now," Caldwell says. In addition to store pickup and delivery, Caldwell offers customers a curbside option. 
Prior to the pandemic, Caldwell's shop hosted an array of private events such as birthday parties and showers — dubbed sip and shops. "I have customers that have had birthday parties after hours here every year since I've opened, and last year was the first year we didn't get to do any of that. So we really took a hit," she says. Caldwell hopes to host events in the future but feels an obligation to her customers to hold off until it is completely safe.
Bravo Doors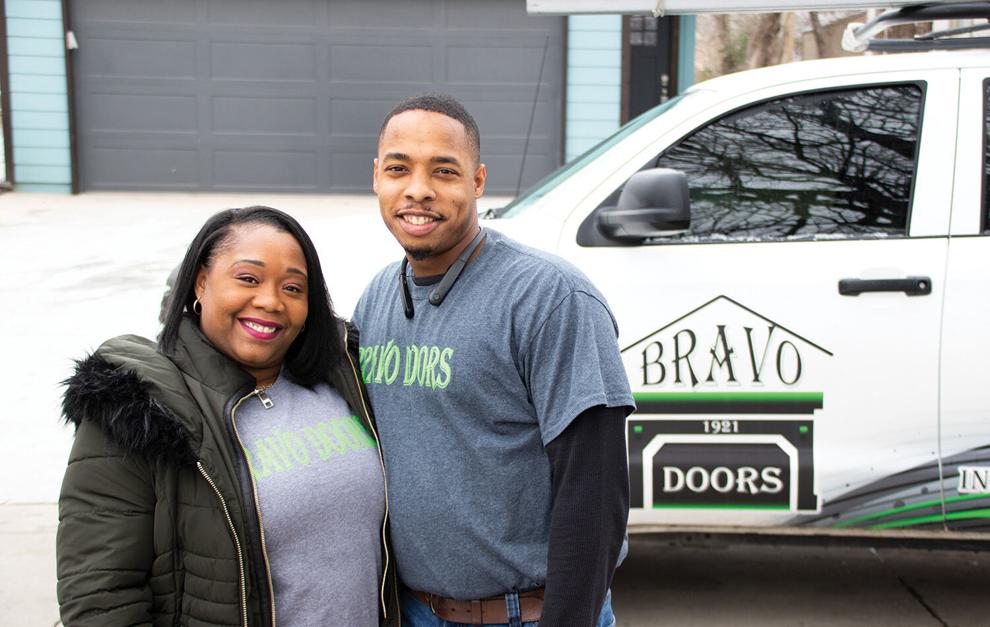 Countless businesses have suffered major losses during the COVID-19 pandemic while some industries are booming. According the latest U.S. Census Bureau report, home improvement businesses saw a year-over-year increase of 22.6% in sales. Lessie and Johnny Simon opened their garage door sales, service and repair businesses in February 2019, and they have noticed an increase in sales during their short time as entrepreneurs. "A lot of times we put things off because we don't have the time, but when the world shuts down there's all the time to work on home projects," Lessie says. 
After gaining experience within the garage door industry, Johnny made the decision to break off on his own. "I worked for my uncle off and on and it felt like there was a market for us as far as our customer service," says Johnny, a Booker T. graduate who has lived in the same north Tulsa home his entire life. He takes pride in knowing his 11-year-old daughter attends the same elementary school he did. 
Other than wearing a mask, Johnny has not been forced to make too many adjustments because his work is already socially distanced. Co-owner and spouse Lessie handles all the office work, outreach and marketing of the business. While she is still able to network virtually, she noticed a difference in how her side of the business operates. "As far as the way I move, there has definitely been some changes," she says. "I'm used to meeting with people in a group setting. There are still network marketing groups that I do, but it's not as beneficial as when you're face-to-face." 
Lessie and Johnny hope their entrepreneurial success will inspire others to make similar leaps. "I look at it as a motivation for the community; if you know your neighbor owns a business and it is profitable, you're more likely to raise your standard of living," Lessie says.
Poppi's Spa and Lounge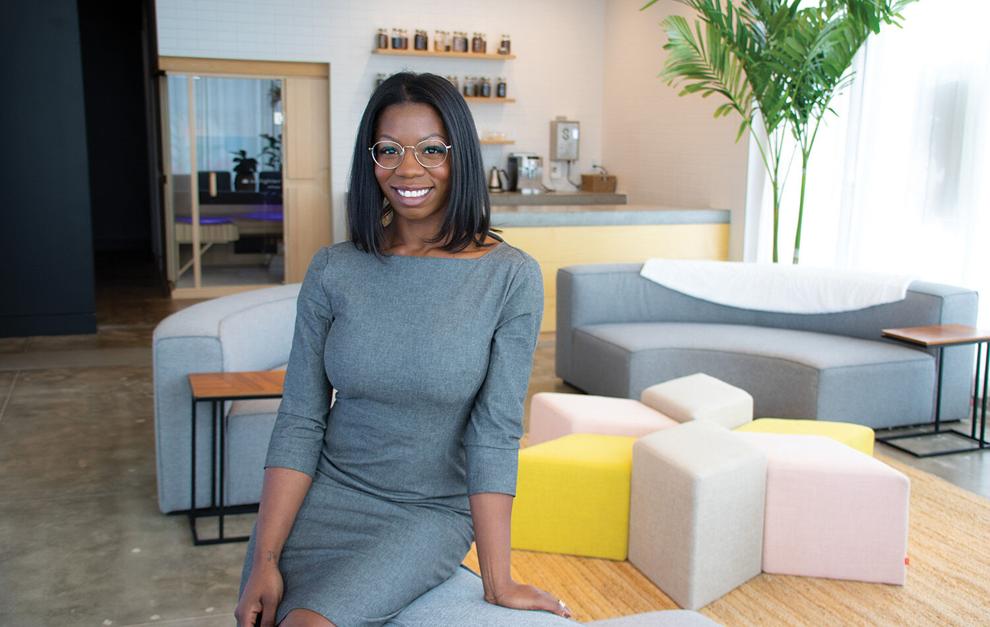 With stress at an all-time high amid the pandemic, Poppi's Spa and Lounge is here to service your self-care needs. The inspiration to open the spa originated from owner and entrepreneur TJ Woodberry's personal desire to enhance her personal care habits. "Poppi's started as a passion project for me after I had sold my previous business and really started working on my own self-care journey," Woodberry says. "I'm a restless person, so I started working on this project because I thought what Tulsa needs is a really amazing, safe place for people to gather, center and focus on self." Poppi's opened for business in August 2019.
Located in the Blue Dome District at 302 S. Frankfort Ave., Suite C, Poppi's Spa and Lounge is divided into two spaces: the lounge side and the spa side. The lounge offers customers treatments in the color therapy pod, the infrared sauna or the salt room. "It is really great for your respiratory system (and) for your skin," she says of the room literally covered in salt. "Color therapy is a really great treatment for anxiety, for subtle mood issues; it's a really great calming space." Color therapy is done in a semi-enclosed space and delivers different colored lights which affect different moods. The dry, infrared sauna is good for detoxification and muscle aches.
The spa offers services in waxing, facials, massages and body treatments, with an option to purchase a spa package with various services. For Woodberry and her dozen employees, adapting to business during COVID-19 has been a challenge considering they offer high-contact services, but they have managed to adapt in creative ways to ensure the safety of their customer base. "When summer hit, one thing we did that was really awesome and unique for us was we took our services outside," Woodberry says. "We have a patio, and we enclosed it using some impermanent enclosures and were doing massages and facials on the patio. It was nice, everyone really loved it, so we'll probably bring that back this summer. COVID or not, it was fun." 
Woodberry is grateful for the continued support she has been shown from the community and sees the value in offering residents curated business guides. "That's a great way for people to be more intentional with their spending," she says. "Rather than going to a big-box spa or a chain, they could go somewhere that's not just Black-owned, but locally owned, woman owned." Woodberry has increased safety protocols throughout the pandemic and has been able to host small events such as birthday parties, bridal showers, baby showers and hosted a "Galentine's" event in February.
---
2021 Black-owned business guide
UPDATED: Oct. 4, 2021
This guide has been compiled through personal research as well as online at tulsago.com, tulsabobn.com, bwboamerica.com/tulsa and whownetwork.org. Email contactus@langdonpublishing.com to make any suggested additions.
ARTS AND ENTERTAINMENT
ART 4ORMS
BLACK MOON Collective
Black Pearl Diamonds Publishing (ASCAP)
blackpearldiamonds.com | info@blackpearldiamonds.com
Black Wall Street Gallery
10 N. Greenwood Ave., Suite B | 918-521-8201 | bwsgallery.com
Boss Encounters
bossencounters.net | info@bossencounters.net
Creeseworks
Creeseworks.com | @Creeseworks
EDUREC Youth and Family Fun Center
5424 N. Madison Ave. | 918-430-3947 | edurectulsa.com
Expressions of Eddye K. 
expressionsofeddyk.com | @eddykaaane
Dreamland Studios
918-853-3303 | sneakthepoet@gmail.com
Greenwood Cultural Center
322 N. Greenwood Ave. | 918-596-1020 | greenwoodculturalcenter.com
Harvey Media
harveymediallc.com | @harveymedia
High Frequency Photography
918-856-7130 | www.highfrequencyco.com
Inspire Vision
weinspirevision.com | @weinspirevision
Intent Productions
Intentfilms.com | e.sanders@intentfilms.com
JW Photography 
jameswaynejr.com | @jwaynephoto
Lasting Impressions Photography 
liphotography.com | info@liphotography.com
No Parking Studios
Shaquia Verner
paintedvisionz.com | @paintedvisionz
Taylor Finley Productions
taylorfinleyproductions.com | @finleytaylored
Theatre North
Various performance locations | facebook.com/theatrenorthtulsa
Tri-City Collective
918-807-3886 | tricitycollective.com
Tyler Thrasher
Wise Moves Academy 
wisemovesacademy.com | @wisemovesdanceacademy
---
EVENTS AND CATERING
36th Street North Event Center
1125 E. 36th St. N. | 918-200-9046 | 36theventcenter.com
Chef Charlotte Shores
509-554-7044 | charlotteshores.com
Jamie James Kitchen and Catering LLC
918-510-8277 | facebook.com/jamie-james-kitchen-and-catering-103608587653048
Sei Kitchen & Events
918-840-2660 | Seikitchen.com | Seikitchenandevents@gmail.com
Tashika Thompson/Fruit Head LLC
918-240-1435 / imafruithead@gmail.com
Tisdale23 Event Planning and Catering
918-899-2005 | facebook.com/tisdale23catering
Tristen's Special Occasions
918-852-3100 | facebook.com/tristenspecialoccasion
Yvonne V. Matthews Business Center
240 E. Apache St. | 918-955-2283 | facebook.com/yvonnevmatthewscenter
---
FOOD AND DRINK
Alpha Grill
5970 E. 31st. St., Suite J | 918-853-5789 | alpha-grill.website.spoton.com/welcome
Black Wall Street Liquid Lounge
10 N. Greenwood Ave., Suite 101 | 539-867-2477 | bwsll.com
The Burger
405 E. 46th St. N. | 918-428-2008 | facebook.com/the-burger-best-burgers-in-town-140176802838638
Cajunboil Catering
205 E. Pine St. | 918-230-2541 | cajunboiltulsa.com
Dipped by Brandie
918-407-8471 | facebook.com/dippedbybrandiellc
Elegance Dessert Bar
918-840-7229 | elegance-dessert-bar.com
Elmer's BBQ
4130 S. Peoria Ave. | 918-742-6702 | facebook.com/elmersbbqtulsa
Evelyn's Soul Food
3014 N. 74th E. Ave. | 918-835-1212 | evelynsoulfood.com
The Freeze
212 E. 46th St. N. | 918-425-8102
Frios Gourmet Pops
105 N. Greenwood Ave. | 918-949-9879 | friospops.com
Juicemaker Lounge
3508 S. Sheridan Road | 818-209-6345 | facebook.com/juicemakermusic
Just Us Spudz N Stuff
918-934-8537 | facebook.com/justusspudznstuff
Leon's Smoke Shack BBQ
601 S. Sheridan Road | 918-798-7907 | leonssmokeshack.com
Le Roux's Kitchen
Love More Hookah
2314 E. Admiral Blvd.| 918-907-2242 | facebook.com/love-more-hookah-101209898285066
Mack's Wings
782 E. Pine St. | 918-551-7626 | facebook.com/mackswings
Mamo's Seafood
1747 S Boston Ave | 918-853-5059 | www.mamosseafood.com
Margaritas Too Go
Mrs. T's Kountry Kitchen
2115 N. Martin Luther King Jr. Blvd. | 918-794-8894 | facebook.com/mstskountrykitchen
Oklahoma Style Bar-B-Q
2235 N. Harvard Ave. | 918-835-7077 | facebook.com/oklahomastylebbq
Oklahoma Toffee Co.
1124 S. Lewis Ave. in Mother Road Market | 918-480-1400 | oklahomatoffee.com
Onifade's Cookie Co.
918-972-8080 | onifadescookieco.com | Onifadescookieco@gmail.com
Paradise Donuts and Java Dave's Coffee
1717 N. Peoria Ave., Suite 9 | 918-895-6264 | paradisedonutsandjavadavescoffee.com
Reba Dale's BBQ
782 E. Pine St. | 918-425-1122 | facebook.com/rebadalesbbq
Retro Grill and Bar
800 N. Peoria Ave. | 918-587-3876 | facebook.com/retrogb30
Rich Melanin
7122 S. Sheridan Road, Suite 2 | 918-409-2366 | richmelaninwater.com
Rozay's Wingz
2627 E. 11th St. | 918-592-4140 | facebook.com/tulsawingspot
Rubicon
2248 N. Harvard Ave. | 918-398-0306 | rubiconrestauranttulsa.com
The Seafood Queen
14 N. Utica Ave. | 918-863-8033 | instagram.com/theseafoodqueen918
Sugar by Charlotte
509-554-7044 | sugarbycharlotte.com
Sweet Lisa's Cafe
1717 N. Peoria Ave. | 918-561-6099 | facebook.com/sweet-lisas-cafe-714043995377313
T.A.P. in Wine & Spirits
4748 N. Peoria Ave | 918-764-8929 | www.facebook.com/TAPInWineAndSpirits
TNT Wangs (food truck)
Often parked at 409 N. Main St. | 918-955-1739 | facebook.com/tnt-wangs-239773939772042
Umberto's Pizza
3147 S. Harvard Ave. | 918-712-1999 | umbertostulsa.com
Waffle That!
2115 Martin Luther King Jr. Blvd. | 918-932-8081 | facebook.com/wafflethat
Wanda J's Next Generation
111 N. Greenwood Ave. | 918-861-4142 | wandajs.com
You Got the Juice
918-982-4382| yougotthejuice.com
---
GOODS STORES
3 Leafs Dispensary
2464 N. Yale Ave. | 918-764-8183 | facebook.com/3-leafs-dispensary-102703208114262
Bethel Pharmacy
205 E. Pine St., Suite 7 | 918-505-9650 | bethelholisticclinic.com
Black Opulence Clothing Co.
instagram.com/blackopulence_clothingco
Black Wall Street Market
5616 N. Osage Drive | 918-770-6020 | blackwallstreetmarket.us
CBD Pharm
2324 E. Admiral Blvd. | facebook.com/cbdpharmtulsa-214240389318781
Dragonslayer Games
3944 S. Hudson Ave. | 918-991-0264 | facebook.com/dragonslayergamesok
Elder Sports
8307 E. 111th St. S., Unit I, Bixby | 918-973-0313 | eldersports.com
Enlighten Candle Co.
918 954-4200 | enlightencandlecompany.com
Fulton Street Books and Coffee
210 W. Latimer St. | 918-932-8646 | fultonstreet918.com
LegaCy Tees LLC
MJ Tulsa 
2311 E. 12th Place, | 918-591-3990 | www.mjtulsa.com
Mocha Books
5525 E. 51st St., Suite 205 | 918-845-6520 | readwithmochabooks.com
Natural Health Clinic
112 N. Greenwood Ave. | 918-587-4500 | nhgreenwood.com
Noitavonne
7021 S. Memorial Drive, Suite 275B | 832-866-7422 | noitavonne.com
NUAIRS
2121 S. Columbia Ave., Suite 103 | 918-804-6070 | nuairs.com
Sheigh Lounges
SoulFame Co.
918-361-8151 | soulflameco.com
Star Touched Customs
etsy.com/shop/startouchedcustoms
TerranMade
The What Not Shop
4747 N. Peoria Ave. | 918-425-5811 | facebook.com/pages/thewhatnotshop/162235420461613
Young Budz Cannabis
9419 E. 31st St. | 918-587-4885 | youngbudzcannabis.com
---
INSURANCE AND FINANCE
5 Star Solutions
8218 E. 71st St. | 918-863-3000 | facebook.com/weare5starolutions
GWB Financial Solutions
gwbfinancialsolutions.com | @gwb_financialsolutions
Insurance Made Easy (IME)
918-955-6755 | 123ime.com | facebook.com/EAInsuranceMadeEasy
James Collins, Agent at Farmers Insurance
6819 E. 15th St. | 918-388-3938 | agents.farmers.com/ok/tulsa/james-collins
NextGen Tax Services
7806 E. 106th St., Suite 200 | 918-600-2299 | nextgentaxcpa.com
Smiley Elmore and Associates
4158 S. Harvard Ave., Suite E-2 | 918-745-9154 | moneyconcepts.com/celmore
Keith Ewing, Agent at Farmers Insurance
116 N. Greenwood Ave. | 918-388-3934 | agents.farmers.com/ok/tulsa/keith-ewing
The Pillar Group LLC
136 N. Greenwood Ave., Suite 136 | 918-392-5665 | yourpillargroup.com
Raise the Bar Investments
940-247-2333 | rtbinvestments.org | www.instagram.com/RTB.Investments/
Rose Tax Solutions
107 N. Greenwood Ave. | 855-818-2937 | rosetaxsolutions.com
That's Wyse
918-732-9422 | thatswyse.com
---
MEDIA
ASLUT
The Black Wall Street Times
Eaton Media Services – KBOB 89.9 FM
1533 N. Norfolk Ave. | 918-480-1725 | kbob899.com
Focus: Black Oklahoma
New Tulsa Star
The Oklahoma Eagle
P&J Publishing Inc.
918-280-9265 | pandjpublishing.com
Relyt Studio
---
SERVICES
918 Solutions
918.solutions
A&M Healthcare Clinic LLC
3606 N. Martin Luther King Jr. Blvd. | 918-728-8512 | amhealthcareclinic.com
A&M Welding and Fabrication
Allie's Crown Florist
250 E. Apache St. | 918-430-1250 | alliescrownflorist.com
Amayesing Skillz Counseling Services
6028 S. 66th E. Ave. Suite 103 | 918-932-8774 | www.amayesingskillz.com
Avenu Consulting
918-943-0514 | facebook.com/avenuconsulting
Barbara's Graphic Arts and Word Processing Services
240 E. Apache St. | 281-903-6068 | barbara.middlebrook@yahoo.com
A Better Lawn Experience
918-841-2378 | facebook.com/abetterlawn918
Biglow Funeral Directors Inc.
1414 N. Norfolk Ave. | 918-592-2233 | biglowfunerals.com
Black Women Business Owners of America
36 E. Cameron St., #15 | 539-302-2686 | bwboamerica.com
Body Sculpting by Landry
7935 S. Memorial Drive | 918-809-9680 | facebook.com/bodysculptingbylandry
Boss Encounters
Bravo Doors
918-833-2411 | bravodoors.net
Chandler Creative Services
Charity Marcus - strategic consulting
charitymarcus.com | info@charitymarcus.com
Ditch Laundry Day
Doc J's Heat and Air LLC
918-921-4240 | docjsheatandair.com
Don Thompson Images
918-814-4262 | donthompsonimages.com
Dreamstart
918-732-9846 | mydreamstart.com
Dyer Memorial Chapel
2103 E. Third St. | 918-425-5549 | dyermemorialchapel.net
E-Nanny
enannyok.com | erikaslade@enannyok.com
Elizabeth Hill
1236 S. Lewis Ave. | 918-810-1302 | ehillhomes.com
Essential MD
essentialmdtulsa.com | info@essentialmdtulsa.com
Excel Professional Grant Writing and Nonprofit Services LLC
877-313-9235 | grants4me2.webs.com
ExposureU
918-607-0825 | www.exposureuniversity.com
Giant Slayer Consulting
Goudeau's Drain and Services
918-527-9722 | facebook.com/goudeaus-drain-and-services-106166881401114
Griffin's Heating and Air
918-418-2297 | facebook.com/sgriffinhvac
Hurd Family Studios
2609 S. Memorial Drive, Suites C and D | 918-850-8253 | facebook.com/hurdfamilystudios
I Am Designs - apparel
iam-designs.us | @_iamdesigns_
iGlass iPhone Repair
918-639-1087 | facebook.com/tulsaiglass
Innovations Lactation and Breastfeeding
3336 E. 32nd St., Suite 107 | innovationspcfitllc.com
Intent Productions - Corporate Video Production Service
525 S Main St., 307 | 918-671-2991 | info@intentfilms.com
Jack's Memory Chapel
801 E. 36th St. N. | 918-428-4431 | jacksmemorychapel.com
Jenkins Consulting Group
3768 N. Lansing Place | 918-808-6935 | jenkinscg.com
Joy Christian Counseling 
joychristiancounseling.com | @joychrisitiancounseling
Ke Concepts
Kenya's Way
kenyasway.org | @kenyaswaycounseling
Kimberly's Janitorial Service
918-816-8311 | kjservices24.com
LasTop Management Co. Inc.
918-794-5150 | facebook.com/lastopmanagement
LasTop Lawn Maintenance and Landscaping Inc.
2629 E. 36th St. N. | 918-853-8364 | lastoplawnmaintenance.com
Lewis Home and Landscape Designs
lhldesigns.com | info@ihldesigns.com
Lumos Chiropractic
7171 S. Braden Ave. | 918-960-0826 | lumoschiropractic.com
Mental Health Vitality
mentalhealthvitality.com | tenaye@mentalhealthvitality.com
Metamorphosis Counseling Services
205 E. Pine St., Suite 5A | 918-932-8390 | gethelptulsa.com
Modern Woodmen of America
130 N. Greenwood Ave., Suite 401 | 918-884-7474
Nichols And Sons HVAC
1517 E Admiral Blvd. | 918-260-7786 | nicholsandsonshvac.com
One Nine Lettering Co.
instagram.com/onenineletteringco
On the Spot Delivery
Organizher
myorganizher.com | @organizher_llc
P&J Publishing
Petit Home Solution
918-324-3848 | petithomesolution.com
The Pin Man
802 E. Sixth St. | 918-587-2405 | positivepins.com
Rock Your Party Inc.
1408 S. Denver Ave. | 918-367-0248 | rockyourparty.org
Settle & Settle Cleaning
Shoe Smiles
4606 E. Admiral Place, Suite A | 918-636-1462 | shoesmilestulsa.com
Silo Design Build
516 South Boston Avenue | 918-742-4600 | www.silodesignbuild.com
Skip's Body Shop
3251 N. Peoria Ave. | 918-425-1635
Social Media Tulsa
918-928-2767 | socialmediatulsa.com
Stingray Printing and Graphics
4533 N. Frankfort Place | 918-810-1207 | facebook.com/stingraygraphics/?rf=1921454221420569
Styl.ish Styling Agency
thestylishagency.com | @thestylishagents
Tulsa Dream Center
200 W. 46th St. N. | 918-430-9984 | tulsadreamcenter.com
Tulsa Window Tinting and Graphics
Locations in Tulsa, Owasso, Broken Arrow, Jenks, Bixby, Sapulpa and Sand Springs | 918-889-9477 | tulsawindowfilms.com
Utopia Plastix
866-988-6742 | utopiaplastix.com
VickyB's Dance Co.
130 N. Greenwood Ave., Suite 124G | 918-928-9500 | vickybs.com
Vintage Sports Therapy LLC
6614 S Memorial Dr. | vintagesportstheraphy@gmail.com
Visions by Dee
346-386-3633 | visionsbydee.com
Women Helping Other Women
918-401-0771 | whownetwork.org
Xclusiv Body Suit Health and Holistic
getsuitedxv.com | @getsuitedxv
---
STYLE AND SELF-CARE
918 Barber Lounge
book.the.cut.co/918barberlounge |  @918barber
aNAILized by Anti
405-456-9356 | anailizedbyanti.com
Aubrey Shine Cosmetics
aubreyshinecosmetics.com | @aubreyshinecosmetics
Beads Please LLC
918-720-6420 | facebook.com/mybeadsplease
Black Label Grooming
6373 S. Memorial Drive, Suite B | 918-270-3444 | blacklabelmg.us
Blow Out Hair Studio
109 N. Greenwood Ave. | 918-576-6200 | facebook.com/blow-out-hair-studio-545115525519870
The Blu Print Studio
10 N. Greenwood Ave., Suite D | 918-986-2804 | thebluprintstudio.com
Concept C LLC
Eezzy Fitness
eezzyfitness.com | @coach_eezzy
Elegance Beauty Supply and Gifts
205 E. Pine St. | 918-582-5858 | elegancebeautygifts.com
EnhancingBeautyTP LLC
Essential MD
7806 E. 106th St., Suite 205 | 918-600-2233 | essentialmdtulsa.com
Exkurzion by Kera
918-999-0777 | facebook.com/exkurzion
Fearless Cosmetics 
www.EnhancingBeautyTP.com/products
Get Beaded Waist beads and Custom Jewelry
918-313-3469 | https://www.facebook.com/schirrapapa/
Greenwood Ave.
Habit Boutique
1717 N. Peoria Ave., Suite 12 | 918-986-9500 | habitboutiquetulsa.com
Howell's Designer Suits
202 E. Marshall Place | 918-633-9564 | howelldesignersuits2.com
Hurricane Training Center
htc918.com | htctulsa@gmail.com
Jaded Onyx Soap and Beauty
2005 N. Owasso Ave., Owasso | 918-904-9382 | jadedonyx.com
Khaotic Bliss
@khaoticbliss__ | fizzidyer4@gmail.com
Keezy's Pitstop Barbershop
1108 S. Yale Ave. | 918-954-2222 | keezypitstop.setmore.com
Kimberly Kween Tulsa Stylist
5517 E. 41st St., Suite 125 | 910-896-6776 | styleseat.com/kimberlykween
Kimmyscents
918-896-6776 | kimmyscents.com
Locks and Strands Salon
2248 N. Harvard Ave. | 918-282-2018 | facebook.com/locks-and-strands-beauty-salon-196362130476331
Lord Primo
Lux Grooming Quarters
luxgq.com | @lux.gq
Luxurious Turquoise Sun
812 N. Gary Place | 918-264-2324 | luxuriousturquoisesun.com
Made to Stand Out
Mandy's Beauty Supply
7212 E. 41st St. | 539-525-0833 | mandysbeautysupply.com
MLB Artistry
mlbartistry.com | @mlbartistry
My Glamdolls
918-814-5616 | myglamdolls.com
My Joy Custom Tee's and More
918-280-9664 | facebook.com/myjoycustomteesandmore
Natureluxe Beauty
natureluxe.myshopify.com | jaeblocker90@gmail.com
NCrowd Clothing Co.
Nu Celebrity Impressions
1717 N. Peoria Ave., Suite 159 | 610-467-7377 | nucelebrityimpressions.com
Nuni Products
609-351-2039 | nuniproducts.com
Off the Racks Boutique (online store)
918-381-0398 | offtheracksok.com
Poppi's Urban Spa
302 S. Frankfort Ave., Suite C | 918-932-8181 | tulsapoppi.com
Prerolled Co.
Purple Rain Collections
782 E. Pine St., Suite B | 918-928-2613 | linktr.ee/purpleraincollections
Queen Kisses
1400 W. Princeton Court, Broken Arrow | 918-406-5875 | myqueenkisses.com
Ralph's Menswear
736 E. 36th St. N. | 918-425-3933
She-PHIT Athletics
918-973-7448 | she-phit.com
Silhouette Sneakers and Art
10 N. Greenwood Ave., Suite C | 918-732-9166 | silhouettetulsa.com
Simply Rooted Wellness
1312 S. Garnett Road, Suite C | 918-947-9832 | simplyrooted-wellness.com
SistaDos Salon and Fine Grooming
6614 S. Memorial Drive, Suite 29 | 918-346-8397 | facebook.com/sistadosalonfinegromming
SpeakOut Wear
918-808-3120 | speakoutwear.com
Style by Lisa J
405-633-1693 | facebook.com/lisajbrands
Styled by Maia Treleaven
facebook.com/styledbymaiatreleaven
The Stylish Agency
629 W. First St., Suite 5 | 405-633-1693 | thestylishagency.com
Sultana Steam
1441 S. Carson Ave. | sultanasteam.com
Sun People Yoga
8250 E. 41st St. | sunpeopleyoga.com
Tai B. Beauty and Makeup Artistry
Tee's Barber Shop
120 N. Greenwood Ave. | 918-584-1189 | tees-barber-shop.edan.io
Total Family Wellness
3336 E. 32nd St., Suite 107 | 918-398-3586 | tfwok.com
T-Town Essence
TulsaFit918
tulsafit918.com | @tulsafit918
The Twisted Sistar Designs
918-928-9781 | facebook.com/1Sistar
Twisted & Loc'd
@twistedlocd
UWS Alterations and Design
205 E. Pine St., Suite 16 | 918-382-1766 | unitedwestandok.com
Virtuous Jewels
5840 S. Memorial Drive | 918-850-2108 | shopvirtuousjewels.com
Vivid Salon LLC
@vivid_clarece | clarecestyles@gmail.com
Whole Healthy Living
918-960-0392 | wholehealthylivingwhl.org
The XclusiV Body Suit Health and Holistic
5930 E. 31st St., Suite 175 | 918-986-4627 | getsuitedxv.com